Colorado No-Fault Divorce—From Top to Bottom
Divorce proceedings are not easy for anyone. Things can get heated fast, making the process even more traumatic and nerve-racking. The worst you can do at that moment is start pointing fingers and blaming each other for the breakdown of the marriage. Luckily, that is now avoidable!
In this handy guide, you can find all the information you need about a Colorado no-fault divorce and a step-by-step guide to filing for one.
What Is a No-Fault Divorce?
When filing for divorce, the petitioner or plaintiff is supposed to state legal reasons for the dissolution of the marriage. In no-fault divorce cases, it's enough to claim that the marriage is over due to irreconcilable differences. Neither one of the spouses has to take the fall for the termination of the relationship.
Many couples prefer this option because it:
Takes less time
Is less demanding
Reduces the conflict
Lowers the attorney fees
Fault-based grounds for divorce usually include:
Adultery
Incarceration
Mental illness
Domestic violence
Absence or desertion
Alcohol or substance abuse
Is Colorado a No-Fault Divorce State?
As of 1970, Colorado is a no-fault state for divorces. The divorce court doesn't recognize fault, meaning that neither party takes responsibility. A judge doesn't consider any alleged misconduct during the court proceedings—adultery, absence, or desertion won't affect their decisions regarding matters such as alimony or division of debt.
A person can file for marriage dissolution in Colorado based on the claim that the marriage is irretrievably broken and caused by irreconcilable differences.
What Are the Requirements for a No-Fault Divorce in Colorado?
Meeting residency requirements is the first step to getting divorced in Colorado. To file for divorce, you must meet the following criteria:
At least one of the spouses must have lived in the state for at least 91 days before filing the petition
If the case involves a minor, the child must have lived in the state for at least 182 days
Uncontested No-Fault Divorce in Colorado
Having a no-fault divorce makes the whole process easier. If you want to go one step further and simplify the procedure even more, you should choose an uncontested dissolution of the marriage. Besides being quicker than the regular method, it's cheaper because you don't need a lawyer.
To file for this low-cost option, all of the following has to be true:
Either you or your spouse has to meet the residency requirements
You and your spouse:

Agree on the grounds of divorce
Don't have marital property
Have no minor children (born or adopted)
Don't expect a child
If you have marital property or minor children together, you must sign a divorce settlement agreement that defines the terms you've agreed on.
How To File for an Uncontested No-Fault Divorce in Colorado
If you agree on every important issue and meet the residency requirements, the process shouldn't be too complicated. In the following table, you can find the step-by-step guide to filing for a friendly divorce in Colorado:
Steps
Process
Prepare the divorce papers
Collect the required Colorado divorce forms, fill them out, and make copies of each
File the original documents with the court
Keep in mind that you cannot submit these forms online. You need to take the original petition and other uncontested divorce papers and deliver them in person to the local clerk's office
Serve divorce papers
There are two ways to serve your spouse:

Via certified mail
Via personal service

Make a divorce settlement agreement
Once you've agreed on important matters with your spouse (alimony, child support, parenting plan, division of property), you should put it all in writing. Avoid pricey lawyers and complicated procedures—, and we'll do the grunt work for you!
Attend a hearing
During the hearing, the judge will:

Determine whether you meet the requirements
Review your divorce settlement agreement
Approve the document if it covers all essential matters
Issue a decree of dissolution of marriage
DoNotPay Can Fast-Track Your Divorce Process!
A divorce settlement agreement is one of the most important documents you need when you're getting an uncontested divorce. To make sure the judge approves it, you have to draft it with utmost care. If you don't want to pay the earth for a lawyer's assistant, you can download a template and write it on your own. Even though it may sound appealing, using templates from unreliable websites is not the safest option.
Are you wondering whether it's possible to acquire a professionally drawn-up divorce settlement agreement for a low price? With DoNotPay, it is!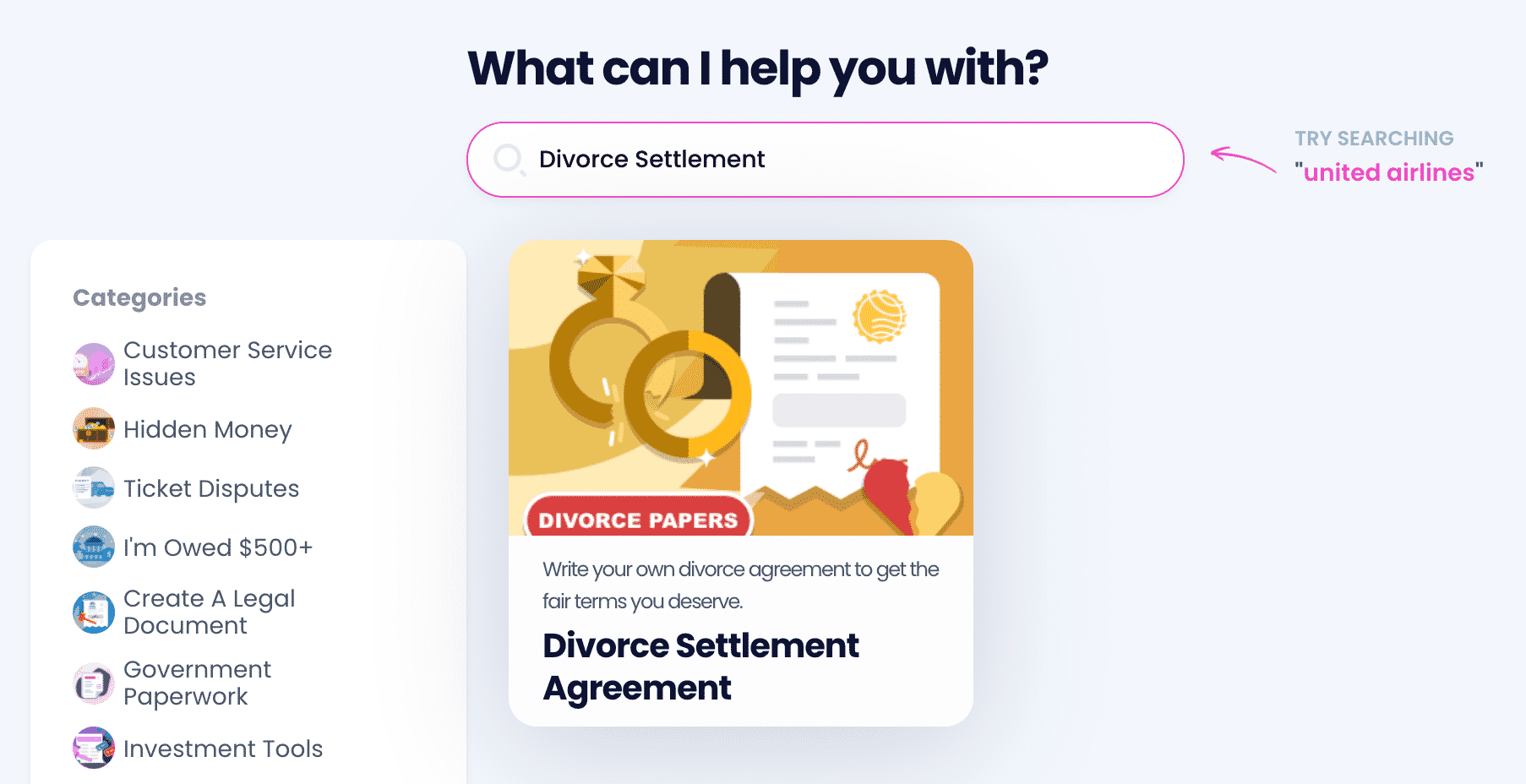 Our AI-based app can personalize the document in three easy steps! Here's what you need to do:
Choose the Divorce Settlement Agreement product
Provide information about your spouse, children, and finances
We'll use our comprehensive divorce laws database and the information you provided to create a rock-solid divorce settlement agreement within minutes!
That is not all! If you need to get the agreement notarized, we'll connect you with an online notary in a breeze! All you need to do is notify us while filling out our questionnaire.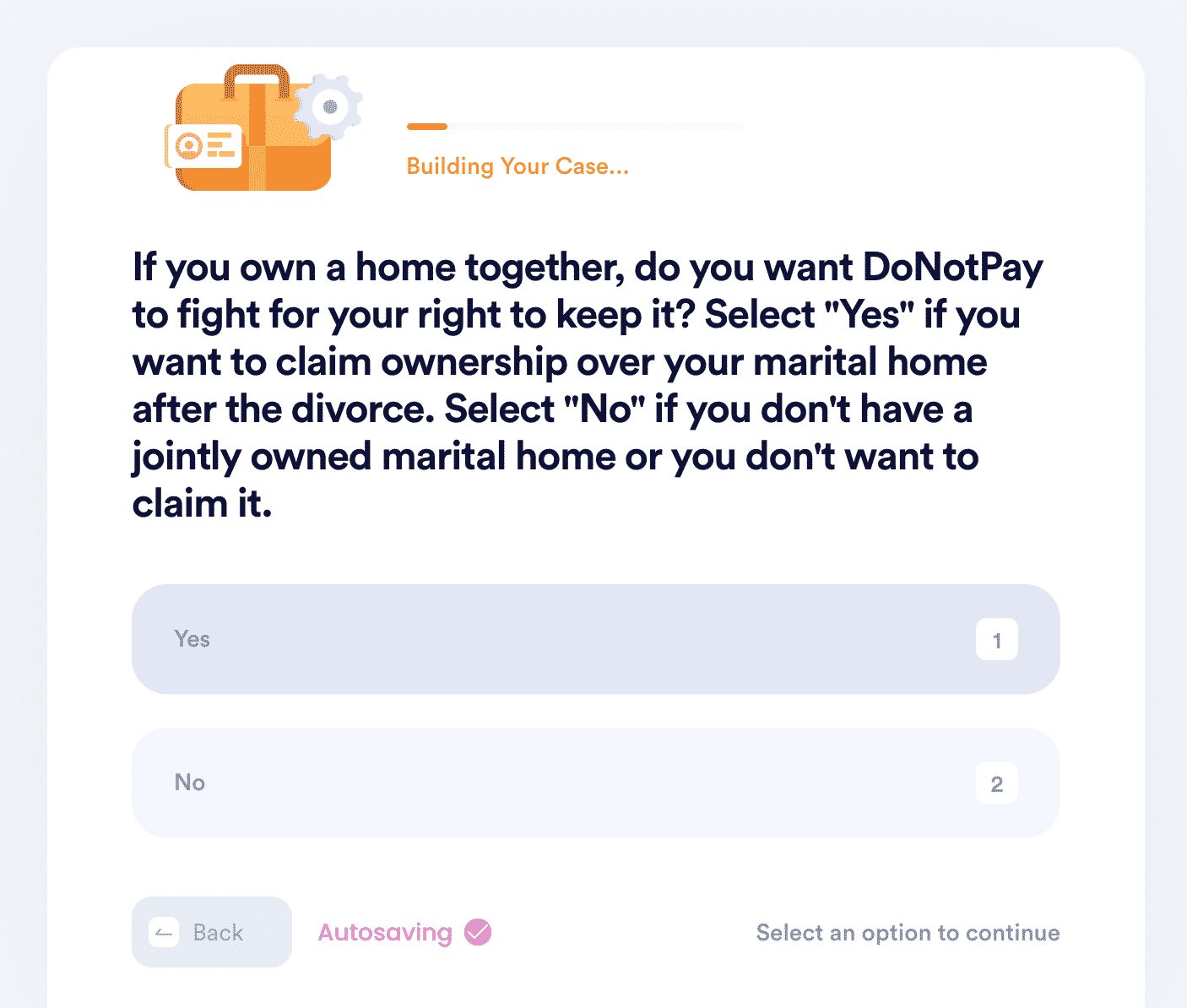 Is there something else you need help with? We can answer any divorce-related questions you might have. In the following table, you can find some of the most frequently asked ones:
DoNotPay Is Righting Wrongs Left and Right
DoNotPay is a platform that puts its subscribers' safety in the first place. We can keep you safe from sex offenders, stalking, and harassment. In case you're a victim of a crime, we can help you get compensation.
Fight for discrimination at your workplace with the world's first robot lawyer or sue any company or person in small courts if you feel like you've been wronged.
Is There Anything DoNotPay Can't Do?
The short answer is no, and the list of our AI-based app's features keeps growing by the day. We offer professional assistance with issues that no other platform can help you with. Sign up now and: