Get a Customized Colorado LLC Operating Agreement Fast
Even though the Centennial State doesn't require limited liability company owners to draw up such a contract, you should not start a company without a Colorado LLC operating agreement!
If you're feeling at sea with writing contracts, you're not the only one. Drafting legal documents is tricky work for anyone who isn't a professional lawyer—which doesn't mean that you can afford to spend tons of money on one. You also shouldn't waste your days deciphering outdated information in contract templates you find online.
This article will help you learn what LLC operating agreements are, how they work in Colorado, and why you need the agreement for your business. You will also see how you can get a personalized LLC operating agreement for your company without any effort!
Understanding What an LLC Operating Agreement Is
An LLC operating agreement is a legal document that details all the specifics about the company and how it will operate.
There are different types of LLCs—such as a multi-member or single-member LLC—so there are also different kinds of LLC operating agreements. Even within these categories, LLC operating agreements differ since not one limited liability company is like another.
What every LLC agreement should include is the information about:
What the company is

How it will manage revenue and expenses

Who the members are
A liability statement is the main part of the LLC operating agreement since it protects all the members against bearing liability.
Why Do Companies Use LLC Operating Agreements?
Even though only a total of five states obliges limited liability companies to use an LLC operating agreement, you should definitely have one if you are about to launch an LLC.
A properly crafted LLC operating agreement ensures that:
The business can operate on the terms you set rather than the state's general rules

Any future issues within the company's management and operation will be resolved

You and your partners are protected against carrying liability for the business

The business will be dissolved in the way that everyone agrees with or will be bought out by a third party on your terms
How To Write an LLC Operating Agreement?
There are several ways to draw up an operating agreement for your LLC. Besides hiring an expensive lawyer, you can:
Use a contract template

Draft the agreement on your own

Generate a customized LLC operating agreement with the help of DoNotPay
Why You Shouldn't Use a Contract Template
Templates may seem like an easy solution when you need a legal document, but they are far from it. If you decide to use a contract template you downloaded from the internet, be prepared to: 
Have watermarks all over your contract, which renders it unprofessional

Deal with Incomplete information inside the template

Find grammar and spelling errors

Research all the clauses in the template to check whether the information is up-to-date

Deal with additional work of adding sections that you need and that the template lacks
Writing an LLC Operating Agreement on Your Own
If you decide to start from scratch and write the contract yourself, here are the details you need to include in it:
Information About

What It Details

Company structure

What the company is about and its full legal name

When the business was formed

Organization

Whether the company has one or multiple owners

Who the owner is

How many members there are and their names

Management

Whether there is a hired manager or the company is managed by its members

How the company members will make decisions—for example, whether each member gets one vote in the decision-making process or certain members have more voting rights

Capital contribution

How much money each member puts in to found and run the company

What action will be taken to raise funds for future projects

Distribution

How much profit goes to each member

Who is responsible for overseeing the distribution of revenue

Organization changes

What happens when there is a need to change an owner or another member of the company

How replacing members will work

Whether a third party can buy out the company at some point

Company dissolution

How the company will be dissolved

Who gets to decide to dissolve the company
Get Your Colorado LLC Operating Agreement With DoNotPay Right Away
Using DoNotPay's Legal Documents feature is the optional choice if you need to write an LLC operating agreement from scratch. In only a few minutes, you can get a completely personalized contract for your business without having to lose any time or nerves.
Here's how the process works:
Create your DoNotPay account

using any web browser

Type in

LLC Operating Agreement

in the

Search

tab

Give our chatbot specific details that need to be included in your agreement

Download the agreement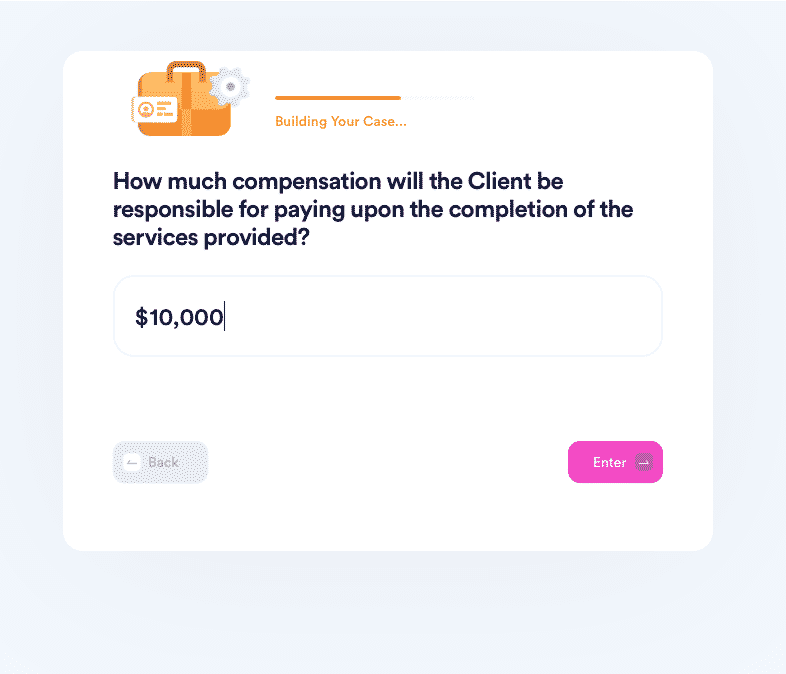 If you live and work in Colorado, you can also use our knowledge base to learn about other contracts and how to write them, such as a:
What Documents Can You Get With the Help of DoNotPay?
Using an LLC operating agreement means that you need additional contracts attached to it, such as a non-compete or non-disclosure contract. Signing up for DoNotPay gets you all these legal documents in three short steps.
Say goodbye to dealing with cumbersome templates or paying pricey lawyers and generate these documents with the help of DoNotPay effortlessly:
Promissory note

General business contract

Child care authorization form

Estoppel certificate

Quitclaim deed

Intent to purchase real estate

LLC operating rules document

General affidavit
Do Not Let Companies Burn Your Pocket—Fight Back With DoNotPay
In the golden age of consumerism, it's easy to fall for greedy corporations' tricks and waste your money, sometimes without even knowing it. We are here to nip the money-grabbing techniques in the bud!
With your DoNotPay account, you'll be able to sign up for free trials without worrying about losing money once the trial expires. Are you also concerned about your privacy since most free trials require credit card info? With DoNotPay's virtual credit card, your privacy will remain intact.
Say goodbye to drawn-out refund and cancellation processes with the virtual assistant extraordinaire by your side.
If you need help returning an item or claiming its insurance or warranty, we'll help you throughout the entire procedure.
Need Some Extra Money? Find Unclaimed Funds or Get Compensations
Whether you need help with bills, you're strapped for cash, or you just want to get your money back but you can't bear dealing with customer service, we know what to do!
DoNotPay can help you overturn your parking tickets, apply for a college fee waiver, lower your property taxes, and get free raffle tickets. We can also show you the best way to discover your unclaimed money and obtain different types of refunds and compensation involving airlines, gift cards, and late deliveries.