All About the Colorado Lease Agreement
Renting an apartment in Colorado comes with a set of rules you need to follow, whether you are a tenant or a landlord. As both parties' intention is to achieve a beneficial relationship, the best way to ensure it is to write an enforceable contract.
If you aren't familiar with legal documents, we got you covered. Find out more about a Colorado lease agreement and learn how to compose it with zero effort using DoNotPay!
What Is a Lease Agreement?
A lease agreement is usually a fixed-term contract between the property owner (landlord) and the person who occupies the property in exchange for a predetermined rent amount (tenant). The purpose is to define the conditions and rules that apply during the rental period. The document needs to protect the rights and state the duties of each concerned party.
Are There Any Requirements for Leasing Out a Property in Colorado?
According to the Colorado Revised Statutes, Title 38 regulates the state rules regarding property lease. The landlord must align with particular criteria to lease out their apartment. They must:
Lease out the property to someone regardless of their gender, race, sexual orientation, or disability

Provide a habitable residence for the tenant with all the living necessities such as:
Hot water

Proper sewer system

Trash receptacles

Heating system

Good lighting

Secure locks on windows and doors

Proper gas and plumbing installations

Clean and habitable premises clear of rodents or other pests
Tenants' responsibilities include taking care of the premises and informing the landlord if they become inhabitable or any problem or damage arises. You can find another useful guide on the rights and responsibilities of landlords and tenants on the official website of the state of Colorado.
Is the Colorado Lease Agreement Legally Binding?
Verbal agreements are usually hard to prove once an incident happens, which is why the state recommends putting all contracts in writing. To make their lease agreement legally binding, both parties need to sign and date it.
What Terms and Clauses Should You Include in Your Lease Agreement in Colorado?
In most cases, the parties are allowed to add any clause they consider important to their contract, but there are certain dos and don'ts which you should respect:
The Agreement Should Contain
The Agreement Shouldn't Contain

Personal information of the landlord and tenant—full names, addresses, contact details

Signatures of both parties

Term of the lease—weekly, monthly, annual, etc.

Start and end date of the agreement

Property address

Short property description—age, size, number of available premises, including bathrooms, bedrooms, and additional rooms, etc.

Rent payment details—how much the tenant needs to pay, what the payment schedule looks like, and what payment method the parties can choose

Security deposit information—Colorado doesn't propose any deposit limits, but the landlord has 30 days to return the money after the tenant leaves the property

List of potential damages or dysfunctions

Terms concerning property repairs or maintenance

Utility bills policy

Notices

Pet clause

Smoking clause

Lease violations

Lead-based paint disclosure

Landlord's right to entry

Clauses that waive the right to sue the landlord in case of any duty neglections

Terms that take security interest on the tenant's personal belongings

Clauses that allow the landlord to enter the property without prior notice or agreement

Provisions that allow the parties to end the lease without prior notice, arrangement, or court order

Sections that forbid participating in a tenant's union

Terms that enable the landlord to evict the tenant who is a domestic violence victim

Provisions that allow the landlord to make the tenant pay the remainder of rent before their due date if the tenant is called into military service
Dealing With Legal Documents Becomes Simpler With DoNotPay
Lease agreements may not be easy to compose, and free online contract templates aren't always applicable. This is why DoNotPay designed an easy-to-use feature that enables you to pick one of our customizable templates and modify them to match your needs.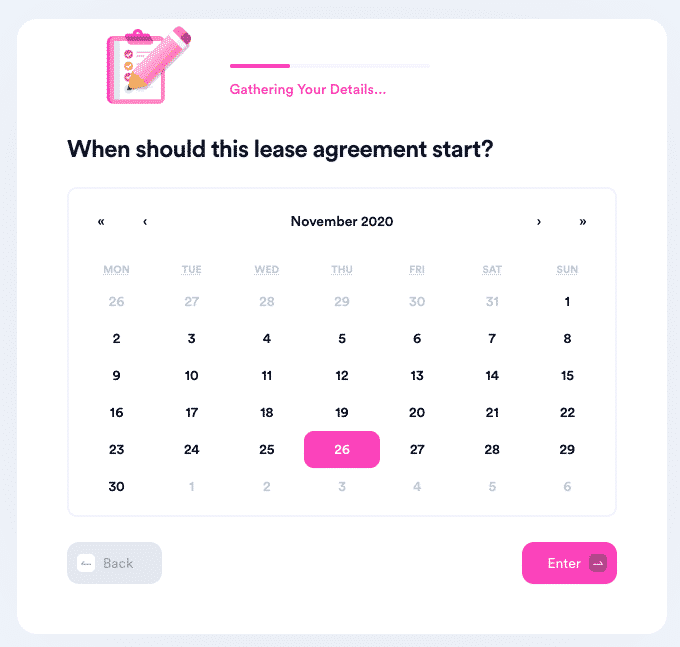 Here's how you can do it:
Open DoNotPay in any preferred

Navigate to the desired document by using the search field

Type in a few details our chatbot needs for creating your agreement
The result is a fully personalized contract ready for signing!
You can choose from a variety of standardized legal documents, including:
General Affidavit

Intent To Purchase Real Estate

Promissory Note

Estoppel Certificate

Child Care Authorization Form

General Business Contract

Quitclaim Deed

Residential Lease Agreement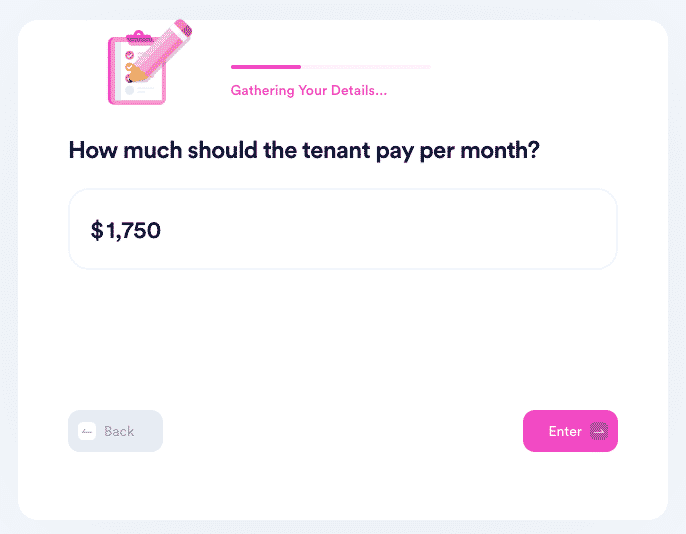 Let DoNotPay Help With Other Agreements
We have created a vast with numerous guides to lease agreements in many U.S. states, including Virginia, New Jersey, Utah, Nevada, Alabama, Indiana, and Tennessee.
If you are interested in finding out more about other contracts, check out the articles about:
Our Robot Lawyer Gets Rid of All Admin Tasks
What makes DoNotPay so unique is that it helps you get back what is rightfully yours in many different ways. You can appeal parking tickets, find unclaimed money, demand a refund for canceled or delayed flights, get help with bills you cannot pay, or get your college application fees waived with the help of our platform.
If you're sick and tired of annoying robocalls, spam emails, copyright violations, text message spam, or stalkers and harassers, DoNotPay can assist you in getting rid of them once and for all.
DoNotPay Can Help You Save Money
Have you ever subscribed to a service's free trial you forgot about after a few days? Many Americans have, which is why DoNotPay has a free trial feature that will help you avoid getting charged once the trial is over.
If you want us to scan all your active memberships and help you not pay for the ones you don't use, connect your email address or credit card to DoNotPay. Our cancel feature will ensure that you don't waste your money on subscriptions you don't even remember exist.
If a merchant charges you once the free trial is over, though, you can use our robot lawyer to request a refund and skip the phone queue when doing so.
In case a company refuses to grant you a refund, you can also use our app to sue them in small claims court.