Get Help Claiming a Colorado Home Warranty in a Few Simple Steps
Everyone likes to feel secure in their home, and that's why many people choose to purchase home warranties. DoNotPay can help you claim any home warranty in Colorado with a few clicks. Home warranties aren't the only warranties we help with—you can use DoNotPay to claim any manufacturer warranty, car warranty, and extended warranty for used cars.
How To Claim a
Colorado Home Warranty
The process of claiming your Colorado home warranty will depend on the company's rules. You can find the details about claiming a warranty from the top five companies in Colorado in the table below:
Home Warranty Company
How To Claim the Warranty

Contact an agent at

1-888-531-5403

Sign up to DoNotPay and submit a claim

Call

844-996-0624

and request service

File a claim with DoNotPay

Request service

online

Rely on DoNotPay

Call

1-855-613-4555

and request service

Go to the

official website

and submit an online service request

Use DoNotPay

Call

866-225-7958

to request service

Have DoNotPay do it on your behalf
The Easy Way To Claim Your Colorado Home Warranty—DoNotPay
DoNotPay created the Claim Warranty feature because we wanted to make sure that our users are protected in the best way. Most companies don't make it easy for their customers to claim warranties. They prolong the cases and make claiming warranties a time- and energy-consuming process.
With DoNotPay, you can claim any home warranty in under five minutes and without leaving your home or having long conversations over the phone. You can claim your home warranty quickly by opening our platform in any web browser and following these steps:
Find the

Claim Warranty

feature

Select

Home Warranty

Give us detailed information about your home warranty providers and issues you're experiencing

Click on

Submit My Claim
After you complete this process, DoNotPay will create a warranty claim letter and send it to the company. The service provider will contact you directly regarding the maintenance appointment.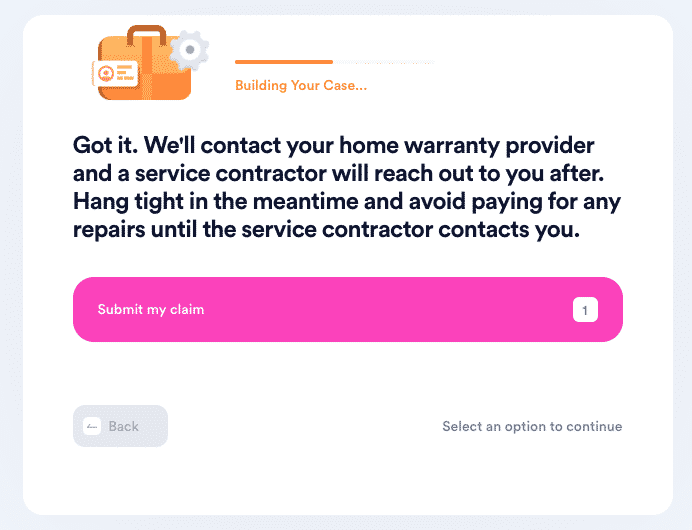 You Can Appeal a Rejected Warranty Claim With DoNotPay's Help
Companies often deny first-time warranty claims in hopes of customers dropping the case. They do this so they wouldn't have to spend resources on you.
You shouldn't give up your warranty claim. You should join forces with DoNotPay and file an appeal. 
Here's how you can file an appeal with the help of DoNotPay:
Find the

Claim Warranty

product

Click on

Appeal a Denied Warranty Claim

Specify which kind of service provider you're appealing against—in this case, that would be an

Extended Warranty Provider

Include your original warranty claim in your appeal and provide details about the company

Hit

Submit
We will generate an appeal letter on your behalf and send it to the vendor automatically. After they receive your appeal, they will contact you directly.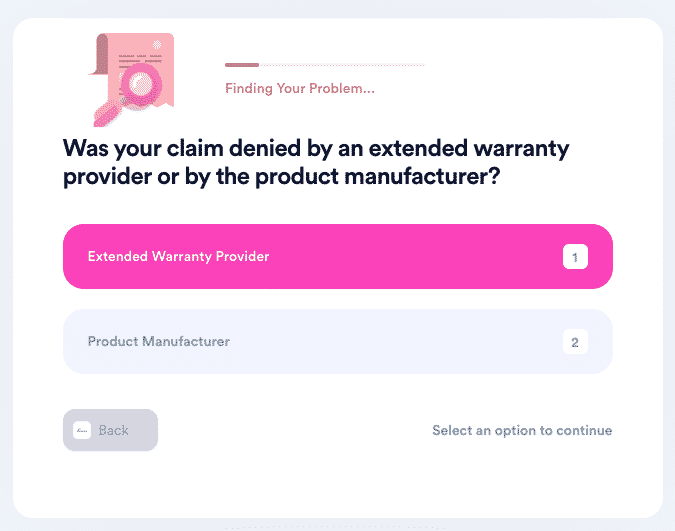 If You're Having Administrative Issues, DoNotPay Will Solve Them for You
When it comes to issues with warranty claims, our platform is a true expert in helping our users claim theirs. 
We can help with dealers who refuse to cancel extended warranties but also with choosing the best home warranty in America if you're planning to switch companies. Check out our home warranty reviews to find the most suitable home warranty company for you.
Dealing with warranty claims isn't all DoNotPay can do! There's a sea of features created to make our users' lives easier. If you live in Colorado, you're in for a treat—DoNotPay can help you locate unclaimed money in Colorado, find the best clinical trials in Denver, pass your Colorado driving test with flying colors, avoid Denver parking tickets, cancel The Denver Post, and much more.
Open our app in any web browser, and check out what else we can do for you. We offer help with:
Appealing speeding tickets

Fighting traffic citations in the U.S.