DoNotPay Helps You Get Ready for Colorado Divorce Mediation
If you want to lower the cost of your divorce or make it less painful, divorce mediation might be the option you need. Not sure what this process is or how to prepare for it? Don't worry—DoNotPay has your back!
We've prepared a guide to help you go through Colorado divorce mediation. You'll also learn how to get the perfect divorce settlement agreement to finalize your divorce!
What Is Divorce Mediation in Colorado?
Divorce mediation is a process that helps spouses reach an agreement on crucial divorce issues. The mediator is a neutral third party who has open discussions with them in a safe environment. The divorce aspects they need to discuss are:
By helping the spouses reach a middle ground, the mediator helps them qualify for an uncontested divorce.
What Is an Uncontested Divorce?
An uncontested divorce is for couples who don't need a judge's help to solve disputes and can part ways without playing the blame game (a no-fault-based divorce). It has many benefits as it's:
What Is the Goal of Divorce Mediation in Colorado?
The goal of divorce mediation in Colorado is to help you and your spouse get divorced on fair terms, which you'll write down in your divorce settlement agreement. The divorce mediator will guide you through the process, which consists of several steps:
| Step | Explanation |
| --- | --- |
| Providing the essential information | After you give the mediator the essential information about your case, they will tell you all about the mediation process and anything you need to know regarding the divorce, such as how to file for one, where to get divorce papers, and how to serve them if necessary |
| Collecting your documents | The mediator will need to collect certain documents before proceeding to the next step. These might include bank statements or balance sheets |
| Identifying your issues | The mediator will identify what you and your spouse are struggling to compromise on and will help you by suggesting solutions |
| Helping you with a settlement agreement | You will be given various options and suggestions on what should go into your settlement agreement |
How Much Does Divorce Mediation in Colorado Cost?
If you're getting divorce mediation in Colorado, you will be charged per hour. Mediator fees can go around $150. On average, couples pay anywhere from $450 to $1,200 for mediation. If you have children, you'll need to go to more sessions. In case you don't, the process will take much less time to complete.
Drawing Up a Divorce Settlement Agreement
The divorce settlement agreement contains the resolutions you and your spouse have come up with, and it will be reviewed by the judge before they finalize the divorce. This is why it needs to be drafted with utmost care.
The mediator can't draw one up for you unless they're a lawyer. So, you'll either have to hire a divorce lawyer or write the document yourself. Neither of these options is advisable as you'll have to spend big bucks on attorney fees or waste time writing the agreement on your own.
The safest and most affordable option is to use DoNotPay. We'll create a personalized settlement agreement and send it your way in minutes!
DoNotPay Offers the Solution You Need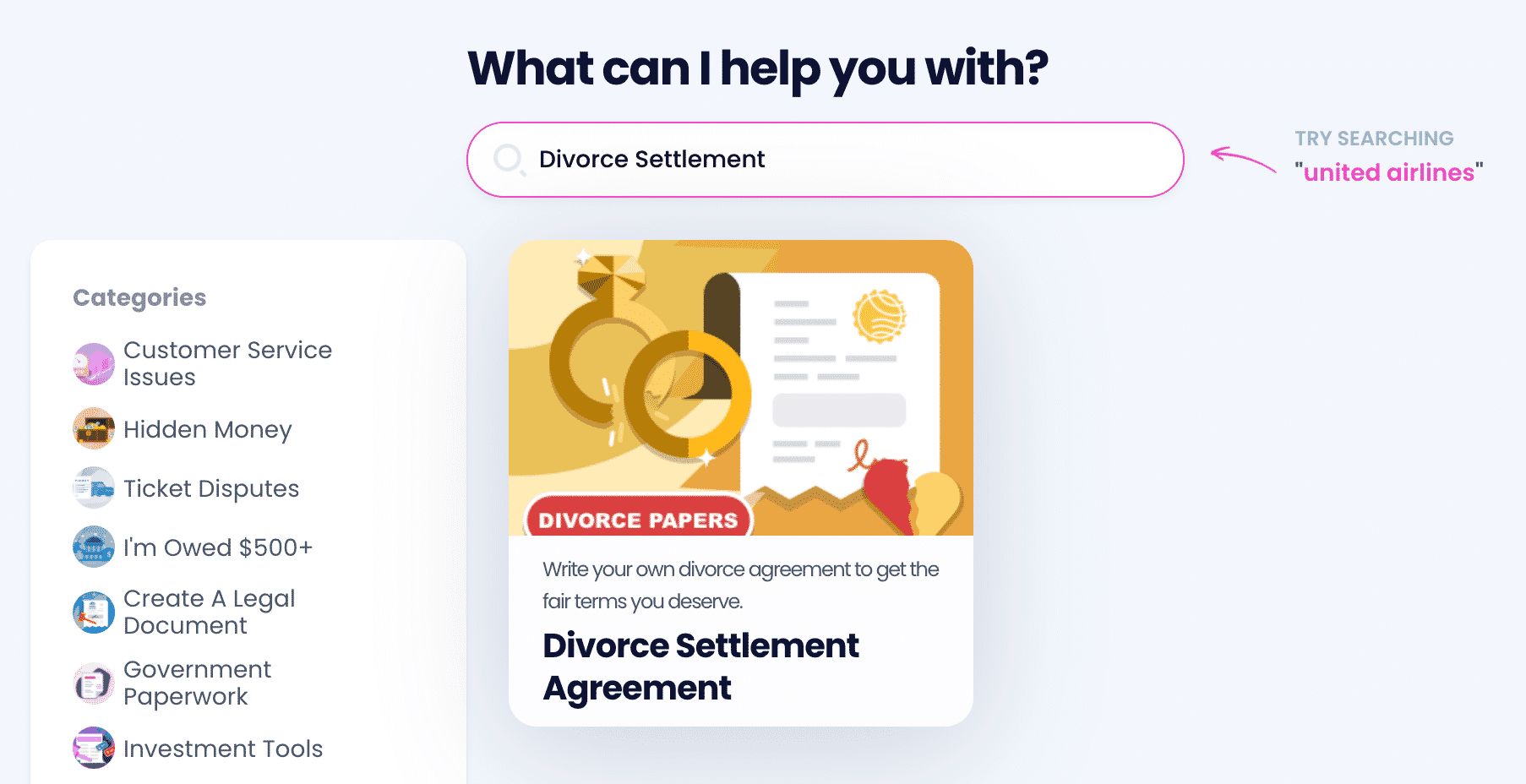 Having a professional divorce settlement agreement is crucial if you want to get divorced on the terms you deserve. We'll help you get this key document hassle-free, and all you have to do is:
Locate our Divorce Settlement Agreement tool
Answer our chatbot's questions regarding your:

Spouse
Children (if any)
Assets
Income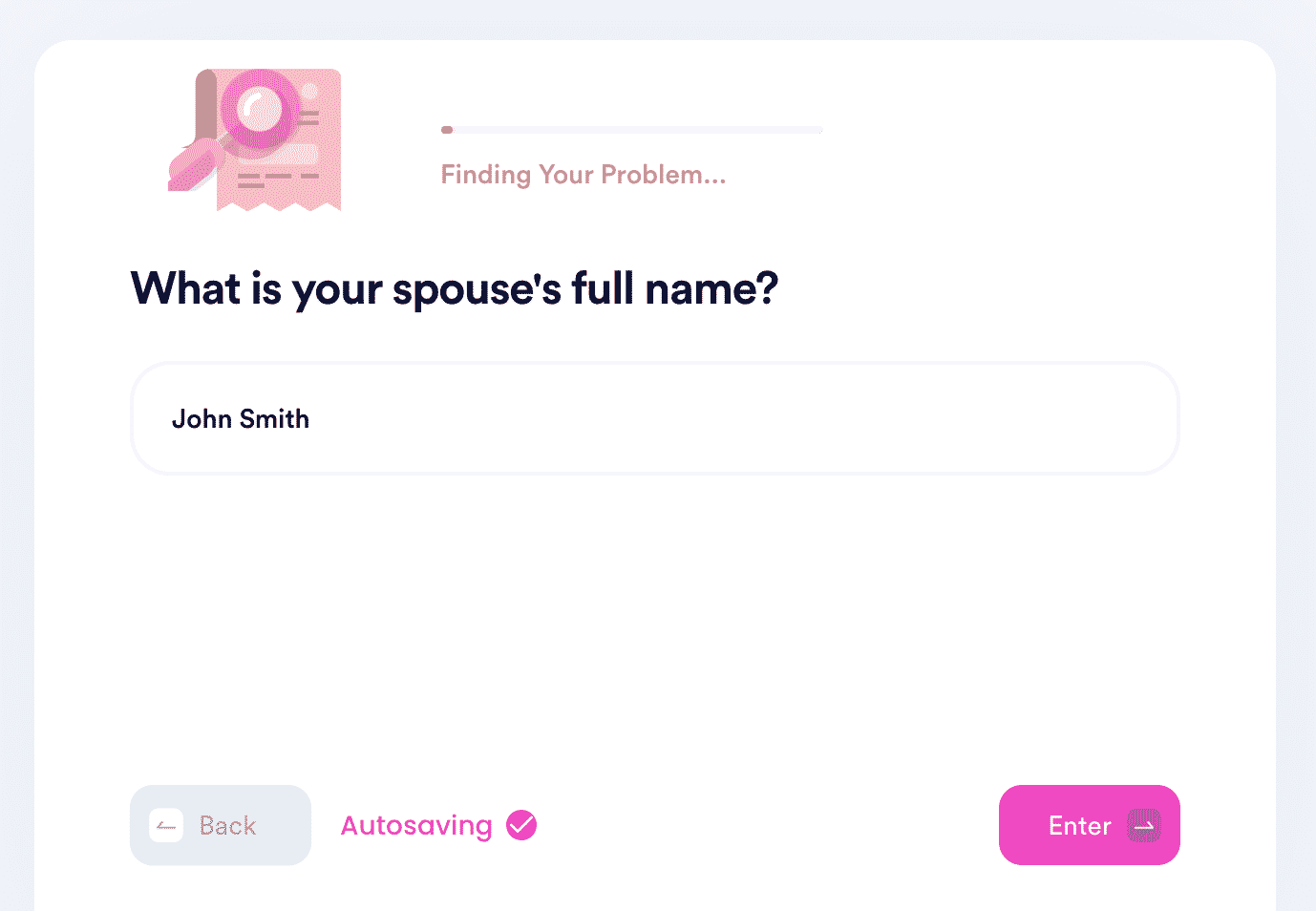 Once you submit your request, we'll process the details you give us and use them to create a tailor-made divorce settlement agreement. You will receive via email, along with a link, which you can follow to schedule an appointment with an online notary. This way, you can get the document notarized from the comfort of your home.
Don't forget to check out DoNotPay's invaluable learning center! We've prepared various articles to help you with your divorce, including:
You can also read all about divorces in different Colorado counties, such as:
Use DoNotPay To Complete a Variety of Tasks at Any Time
Why waste time and money completing mundane tasks on your own when you can let DoNotPay assist you? Take a look at the table below to find out what our AI-powered app can do for you:
| DoNotPay Can | Services |
| --- | --- |
| Protect your safety and privacy | |
| Draft legal documents | |
| Help you get your money back | |
DoNotPay Has More in Store for You!
Since communication is key, you'll appreciate our feature that helps you get in touch with customer service reps quickly! We'll also show you how to send faxes online and have your documents notarized by an online notary with ease!
Going on vacation? Use DoNotPay to take a valid passport photo at home or get a tourist visa!