Learn Everything About Colorado Divorce Forms
When going through a divorce in Colorado, it is crucial to inform yourself of the papers you will need for the process. If you and your spouse plan to end your marriage in a friendly way, you should file for an uncontested divorce. This type of divorce comes with many benefits but also a particular set of documents.
DoNotPay has the essential information about Colorado divorce forms and can tell you where to find and file them. We will also help you create a divorce settlement agreement.
What Colorado Divorce Papers Will You Need?
Most of the divorce papers you need in Colorado are the same regardless of the county you live in, but there might be slight differences. This also depends on whether you are the one filing the papers (the petitioner) and whether you have children.
You can find the forms on the Colorado Judicial Branch website. Here are the forms the petitioner needs to collect and complete in most counties:
Petition for Dissolution of Marriage or Legal Separation (Form JDF 1101)
Summons for Dissolution of Marriage or Legal Separation (Form JDF 1102)
Sworn Financial Statement (Form JDF 1111)
Parenting Plan (JDF 1113)—if you have children
The spouse being served the papers (the respondent) needs to complete the Response (Form JDF 1103). If you and your spouse wish to avoid going to court, you can submit an Affidavit for Decree without Appearance of Parties (JDF 1201) together.
Facts About an Uncontested Divorce in Colorado
An uncontested divorce in Colorado comes with many benefits—the process costs less, finalizes faster, and is not as stressful as a contested divorce.
You have to meet certain requirements to file for an uncontested divorce in the Centennial State. You and your spouse need to:
Have lived in Colorado for more than 90 days (at least one of you)
Agree that the marriage is irretrievably broken
Have a divorce settlement agreement that states your decisions regarding property division, child custody, visitation, and alimony
DoNotPay Can Help You Create a Divorce Settlement Agreement
A divorce settlement agreement is a staple of an uncontested divorce. It makes the entire process go more quickly and easily.
Creating this document properly is of crucial importance—DoNotPay can help you do that! With our assistance, you will have a divorce settlement agreement tailored to your needs!
You only have to follow these simple instructions:
Choose our Divorce Settlement Agreement product
Give us the relevant info about your spouse and children if you have any
Provide us with the essential details about your income and financial assets
When completing the short questionnaire, you can also choose to have your legal document notarized with DoNotPay's help!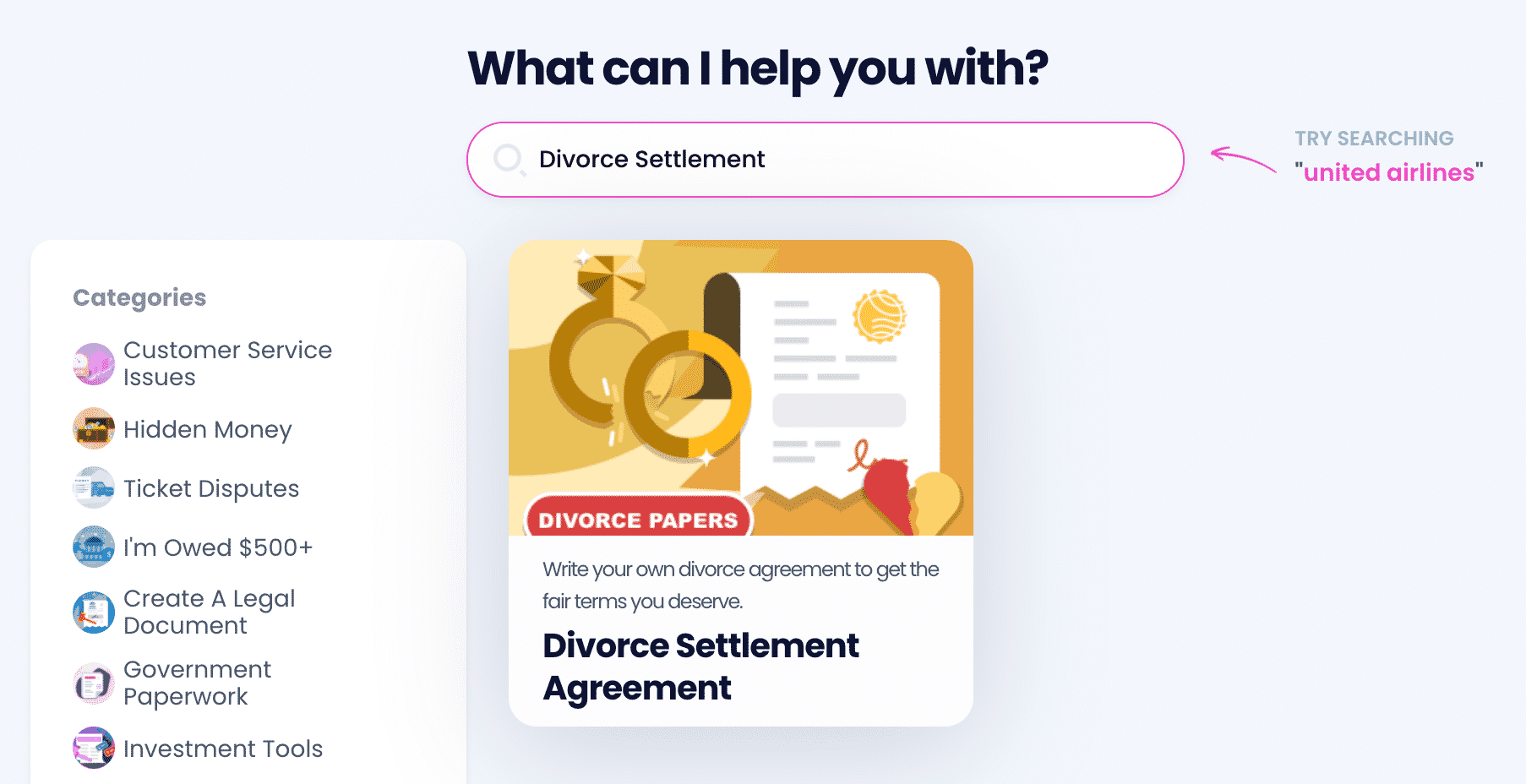 DoNotPay has some additional information about divorces you could find useful, such as:
Can You File for Divorce Online in Colorado?
Even though you can find and complete the necessary forms online in Colorado, the State usually requires that you submit them in person. You can file the forms with the court in the county you or your spouse reside.
If you live in one of the counties listed in the table below, you can file the forms online:
| | | | |
| --- | --- | --- | --- |
| Weld | Teller | Saguache | Routt |
| Rio Grande | Rio Blanco | Pitkin | Park |
| Moffat | Mineral | Mesa | Larimer |
| Jackson | Grand | Garfield | Fremont |
| El Paso | Douglas | Custer | Costilla |
| Conejos | Chaffee | Broomfield | Arapahoe |
| Alamosa | Adams | | |
What Does the Rest of the Colorado Divorce Process Look Like?
After you've collected and completed the necessary forms, there are a few other steps that you should follow to finalize your divorce. Make sure to:
Make copies of the forms—You will need copies for yourself, your spouse, and the court
Serve the forms to your spouse—If you and your spouse file the affidavit for decree as co-petitioners, you do not have to serve a copy of the affidavit to your spouse. In case you are the sole petitioner, you will need to ask your county sheriff to serve your spouse
The judge will decide whether they will grant you the divorce immediately or request that you attend a hearing.
You will have to wait at least 91 days from the moment you file the affidavit to get a decree of dissolution of marriage.
How Much Does It Cost To File for Divorce in Colorado?
If you are having an uncontested divorce in Colorado, the cost of the process will be lower than with a contested divorce.
For an uncontested divorce, you will have to pay the filing fee for a petition for dissolution of marriage, which is $230. You can count on a higher divorce cost if you hire a lawyer or ask the sheriff to serve the papers to your spouse.
Do More With DoNotPay's Useful Features
DoNotPay offers a unique service when it comes to filing for divorce or drafting a divorce settlement agreement, but we don't stop there! Our app can also help you draft, fax, and get other legal documents notarized in a flash! From powers of attorney to child travel consent forms—we assist you every step of the way!
If you need to file an insurance claim, fight workplace discrimination, or sue a company in small claims court, you can use our app to get it done with ease.
Deal With Companies Stress-Free
If you like to shop and you often make purchases, you know that companies can cause all kinds of issues along the way. DoNotPay has a trick up its sleeve that helps you deal with any issue a company causes like a pro!
Wasting hours waiting for a customer support rep to pick up becomes a thing of the past once we get involved. We'll show you how to request a refund, cancel a subscription, apply for free trials, use a virtual credit card, and claim a warranty easy-peasy!
If your package is damaged or missing, we'll show you how to track it and file a missing package claim.