The Ins and Outs of the
Colorado Disabled Veterans Property Tax Exemption
Property tax exemptions are a useful way of lowering property taxes for people who can't afford to pay them in full. Across the country, different tax relief options are available. In Colorado, disabled veterans property tax exemption is one of the choices. 
Use DoNotPay to see if you may apply for this exemption and learn about other ways of reducing these annual expenses!
Colorado Property Tax Exemption for Disabled Veterans
—Crucial Info
People who qualify for the property tax exemption for disabled veterans in Colorado can get 50% of the first $200,000 in the value of their principal residence exempted. The state will exempt this part of the property tax for them if they:
Are a 100% disabled veteran

Were injured on duty in the United States Armed Forces

Were members of the National Guard or Reserves who got a service-related injury on duty

Have been rated by the

U.S. Department of Veterans Affairs

as permanently disabled (VA unemployability rewards are not valid for determining if the veteran is eligible) 

Have owned and lived in the dwelling as their primary residence on January 1st of the year in which they are applying for the exemption
In case the veteran's spouse is the homeowner, the veteran may still apply if the couple was married in or before the beginning of the year in which they are applying. They must have used the property as their primary residence since the first day of the year as well.
The property the veteran or their spouse owns needs to be classified by the county assessor as residential. In the case of multiple dwelling units property, the veteran can get the exemption only for the unit that is their principal residence.
What Other Property Tax Exemptions Exist in Colorado?
In addition to the property tax exemption for disabled veterans, residents of the Centennial State can apply for these Colorado property tax exemptions:
Homestead exemption
Homestead Exemption in Colorado
You can use the Colorado homestead exemption for:
Single-family detached homes

Townhomes

Condominiums

Mobile homes

Manufactured homes

Trailers
If you decide to apply for this exemption, you may exempt $75,000 from the assessed value of your property.
Seniors Citizens Property Tax Exemption in Colorado
Elderly residents of Colorado who are 65 or older have the right to apply for the Colorado property tax exemption for seniors. It is important that they used the property they own as their primary residence for ten years before applying for this exemption.
Is There a Property Tax Exemption for You in Colorado? Use DoNotPay To Find Out!
Researching property tax exemptions and finding out the requirements to apply for them is not an easy job. You shouldn't go through that procedure on your own—and you don't have to! DoNotPay is at your service and can help you find out if you meet the requirements for any of the exemptions available in Colorado. You only need to proceed as follows:
Find and choose the

Property Tax

product

Answer some questions about yourself

Provide some answers regarding the property you own
In case you meet all the criteria for any of the exemptions, you can count on DoNotPay to assist you with sending in your applications.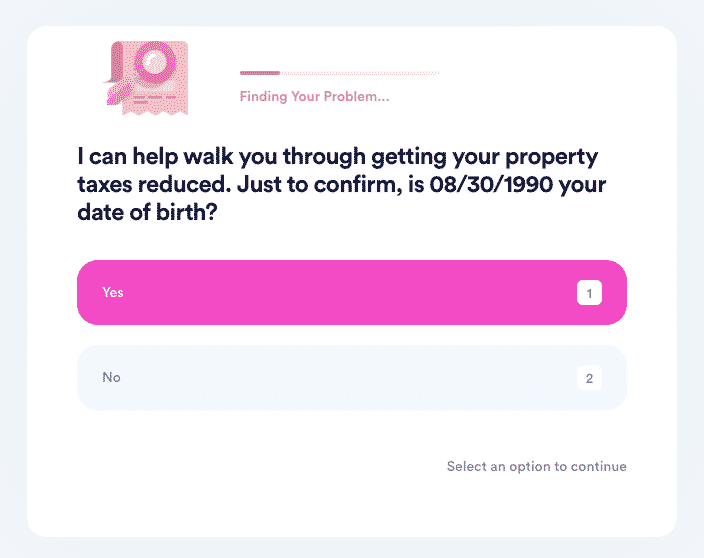 Want To File a Property Tax Appeal? Use DoNotPay!
In some situations, a property tax appeal is the best way to reduce your property tax bill. It could happen that you find a significant difference in the amount you need to set aside for property tax compared to the previous year. Sometimes, property tax assessors make mistakes. They might evaluate the house twice or include property that you used to own in the new tax assessment.
If you notice a mistake, you can to appeal your property tax assessment. We know how you should deal with the property tax assessor and what evidence to gather to reduce the tax assessment value. Don't fret if it comes to a property tax appeal hearing—we have all the info you will need!
Other Options for Reducing Property Taxes
If you need help paying property taxes, it could be a smart choice to find out what else you can do to lower these costs. Take a look at the table below to see your additional options:
| | |
| --- | --- |
| Property Tax Reduction Method | How It Works |
| Avoiding renovation of the property | You should skip any home improvements before the assessment takes place because it can add to your home's value and increase property tax |
| Looking for inaccuracies on the tax bill  | It is possible that a mistake goes unnoticed. If you happen to find one on your tax bill, you should inform the responsible authorities and lower the cost that way |
| Following the property tax assessor around the house | You should stick around the house and shadow the property tax assessor while they are evaluating the property. This way, you will be certain they are doing their job properly |
Don't Let Companies Take Your Hard-Earned Money!
People love to subscribe to all sorts of services—especially if there are free trials involved. The problem is that most of them forget that they signed up for anything in the first place. Companies are aware of this, which is why they auto-renew memberships as soon as the free trials expire.
Don't let them get away with it—use DoNotPay to sign up for free trials and cancel subscriptions right before they renew. If you want to save even more money, use our platform to learn how to handle high bills, parking tickets, college application fees, canceled or delayed flights, or faulty services you should get refunded for.
Use DoNotPay To Stop Illegal Activities and Earn off Scammers!
Our AI-powered platform can assist you in dealing with all sorts of scammers. If you got any of the following, the world's first robot lawyer will help you seek justice:
Do you want to protect yourself and your loved ones from stalking and harassment as well? Use DoNotPay to learn how! If the situation with a stalker escalates, our app is going to help you take them to small claims court by preparing all the paperwork and your court statement.
Don't stop there—check out how you can bypass phone number verification, claim any type of warranty, or pass any government test with flying colors!