Find Out Whether You Need a Colombia Tourist Visa Before Your Next Vacation
Colombian coffee, nightlife, and street art are like nowhere else, and you're one tourist visa away from experiencing it first-hand—or are you? A Colombia tourist visa application can be a hassle to complete, but you might not have to! DoNotPay explains all you need to enter Colombia with no issues!
Colombia Tourist Visa—Do U.S. Citizens Need It?
No, U.S. citizens do not need a tourist visa to enter Columbia as long as they stay fewer than 90 days per entry and 180 days per year. Check the following table to find out what paperwork you do need to enter Colombia:
Mandatory?
Documents
Yes

Your passport, valid for at least six months after your estimated entry date
The address of your temporary residence in Colombia
Your return or onward ticket

No, but they might be helpful throughout your stay

Your student ID if you have one
Medical insurance
Your driver's license
Photocopies of your:

Passport
Credit cards
Medical insurance
ID
If you need to stay longer than 90 days in Colombia, you can request an extension of up to 90 days. If you fail to extend your stay in time, you will receive a fine and will not be able to leave Colombia until you pay.
When departing Colombia, you might need to pay an exit tax of COP 80,000 (around $20), but tourists staying fewer than 30 days are exempt from this fee.
Does Colombia Impose COVID-19 Restrictions?
No. You can enter Colombia without testing negative for COVID-19. All you need to do is complete the Check-Mig registration form 24 hours before your flight. You should still inquire with the Embassy of Colombia about entrance requirements before your trip as they are subject to change.
Who Can You Contact if You Have Any Questions?
If you have any concerns about your trip to Colombia, you can contact the Embassy of Colombia or any of the 12 consulates using the information from the table below:
Diplomatic Mission
Phone Number
Email
Embassy of Colombia
202-387-8338
embassyofcolombia@colombiaemb.org
Consulado de Colombia en Washington D.C.
202-885-9279
cwashington@cancilleria.gov.co
Consulado de Colombia en Atlanta
1-404-254-3206
catlanta@cancilleria.gov.co
Consulado de Colombia en Boston
1-617-536-6222
cboston@cancilleria.gov.co
Consulado de Colombia en Chicago

1-312-923-1196
1-312-923-9034
1-312-923-9035

cchicago@cancilleria.gov.co
Consulado de Colombia en Houston
346-204-4664
chouston@cancilleria.gov.co
Consulado de Colombia en Los Ángeles
1-888-764-3326
closangeles@cancilleria.gov.co
Consulado de Colombia en Miami
1-305-902-4602
cmiami@cancilleria.gov.co
Consulado de Colombia en Newark
1-888-764-3326
cnewark@cancilleria.gov.co
Consulado de Colombia en Nueva York
1-888-764-3326
cnuevayork@cancilleria.gov.co
Consulado de Colombia en San Francisco

415-495-7195
415-495-7196

csanfrancisco@cancilleria.gov.co
Consulado de Colombia en Orlando
407-650-4274
corlando@cancilleria.gov.co
Consulado de Colombia en San Juan

1-787-754-6885
1-787-754-1675

csanjuan@cancilleria.gov.co
What You Should Know Before Traveling to Colombia
The U.S. Department of State—Bureau of Consular Affairs advises tourists against traveling to Colombia for the following reasons:
Massive COVID-19 outbreak
High levels of criminal activity such as:

Kidnapping
Drug trafficking
Robberies

Civil unrest
You should contact the Embassy of Colombia to inquire about any security concerns you have before you depart.
The Do's and Don'ts in Colombia
Before you depart to Colombia, keep in mind that:
You can bargain for lower prices at small markets and shops, but don't push it
Colombians don't like being stereotyped as drug traffickers or compared to other Latin American natives
Natives will frown upon you and avoid you if you make jokes about cocaine, guerrillas, or Pablo Escobar
It is almost certain that you will be robbed if you flash money or other expensive objects in the street
Colombians love to dance, so if they invite you to the dancefloor, don't reject the invite as they might take it as an insult
Locals might often offer you a shot of their homemade spirit as a friendly gesture and an attempt at bonding
Louder settings are standard in Colombia
You should use an app or ask the hotel/accommodation service to order a taxi for you, rather than hail one
Get the Latest Info About Tourist Visas With DoNotPay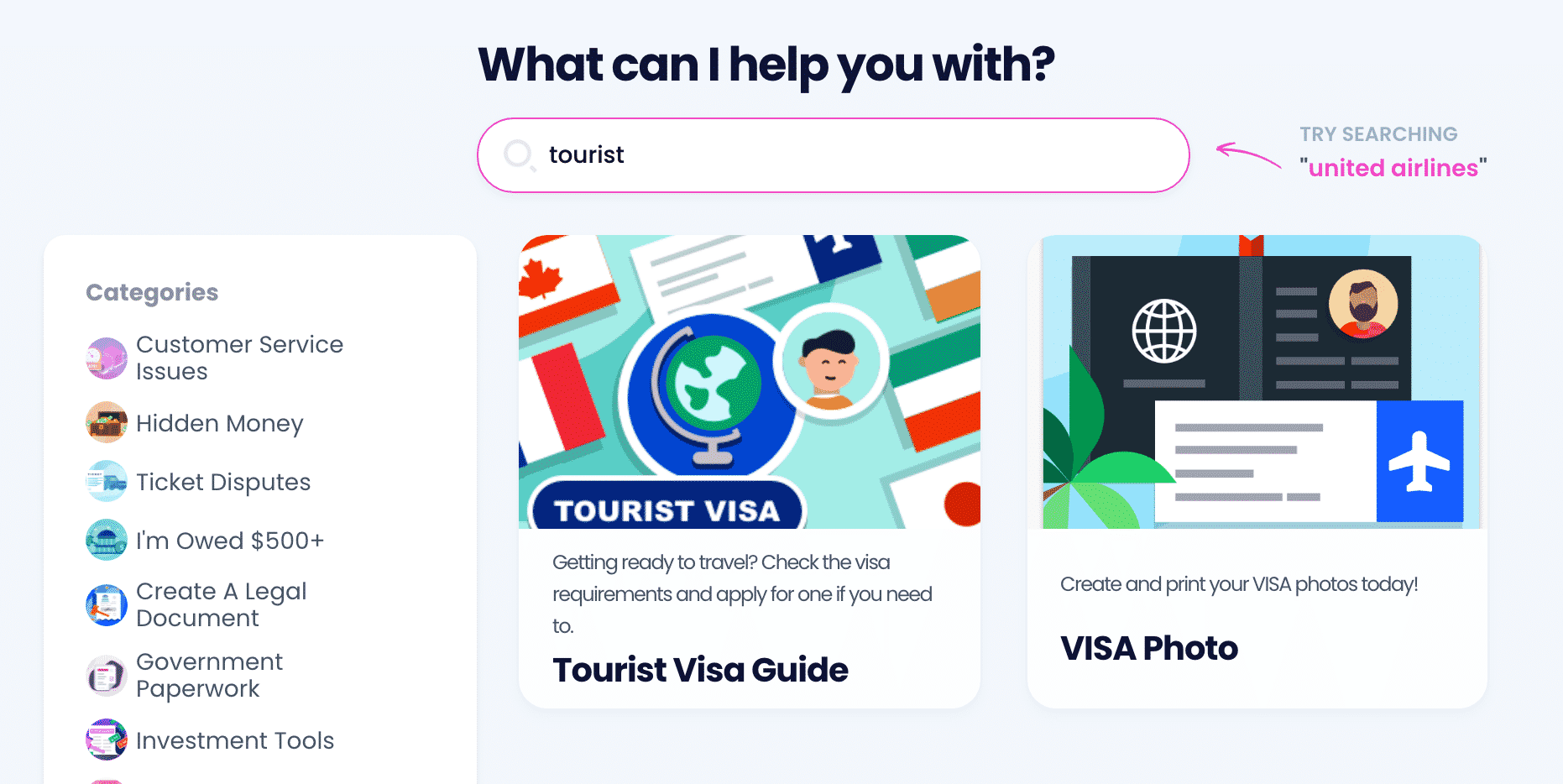 Some countries offer visa-free entry for U.S. citizens, but many don't, and that's why DoNotPay developed a feature that can inform you about:
The number of days you can stay if the country does not require you to apply for a tourist visa
The necessary paperwork to apply for a tourist visa to successfully enter countries that require one
Remote application options if there are any
The details of the tourist visa application process
You are only three steps away from always being up-to-date with visa requirements for any country:
Search for Tourist Visa Guide
Type in your next destination
Answer our chatbot's questions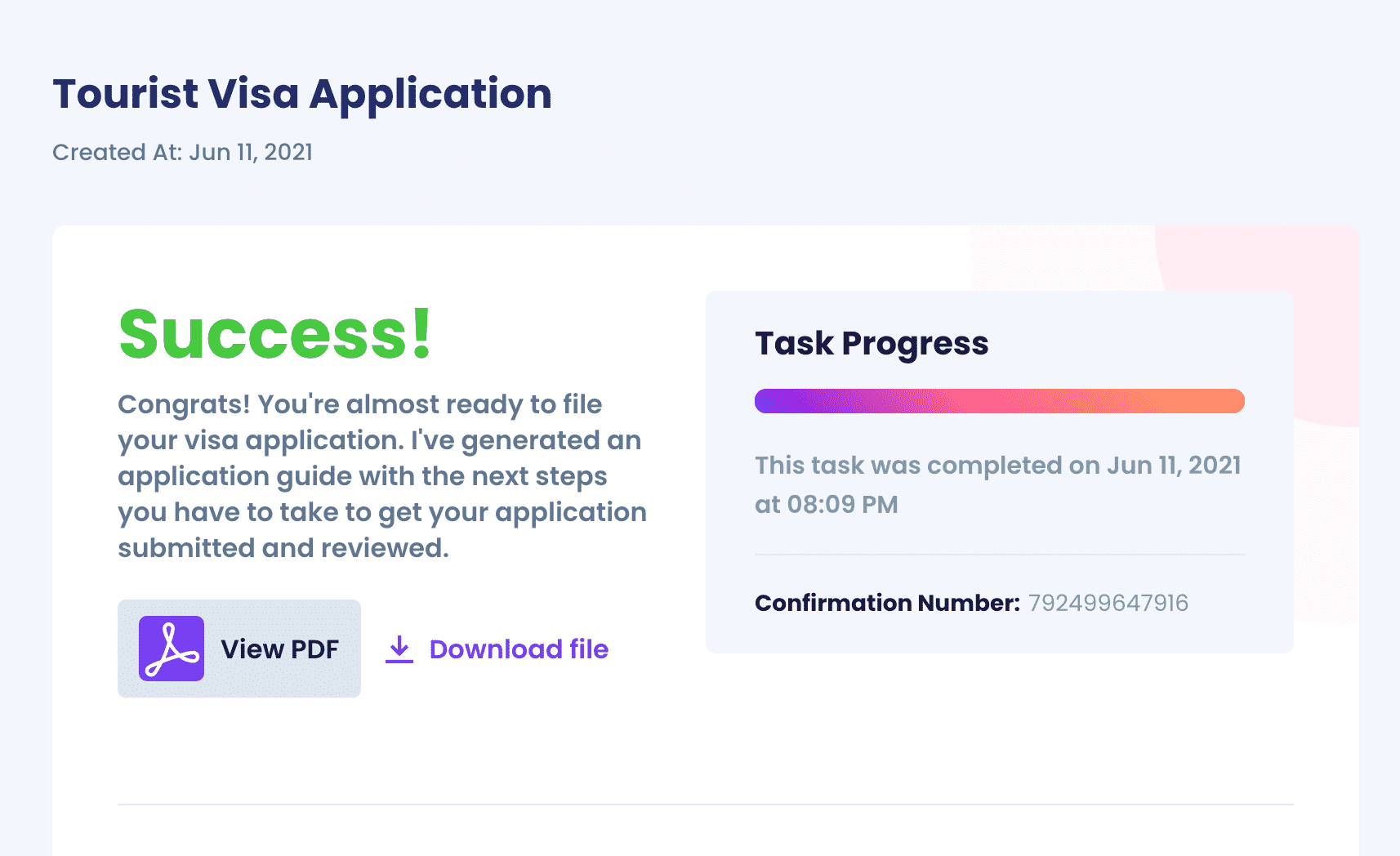 South America Within Your Reach With DoNotPay
Did you get a taste of Latin American culture, and now you're hungry for more? Subscribe to DoNotPay to find out more about tourist visa requirements for the following Central and South American countries:
DoNotPay Helps You Tackle All Kinds of Problems From the Comfort of Your Home
Are you too busy to go to Target, Walmart, or photo studios to get your passport photos taken? DoNotPay offers you the possibility of taking them yourself and having them edited without going anywhere!
Thanks to our app, you don't need to visit the post office if you want to initiate a return. You can also skip going to a notary office because we'll help you get your documents notarized.
Here are some other tasks you can complete with ease using DoNotPay:
We Help You Get Fuss-Free Subscriptions to Any Service
Interested in a specific service or platform? Make sure to get the best out of your free trial without getting charged and ending up with an unwanted paid membership. Even if you make a mistake, DoNotPay can end your subscription in a few simple steps!
Our system allows you to generate virtual credit card numbers to prevent platforms from getting your real bank details and using them for unauthorized transactions. We also offer burner phone numbers that will help you go through any subscription or verification procedure without disclosing personal details.