Perform a Collier County Warrants Search the Easy Way
Did you know there are more than 2 million open arrest warrants in the US at any given moment? An open arrest warrant is like having a dark cloud following and raining on you everywhere you go. They can inconvenience you at the worst possible times, say when you're getting married! That's why it's essential to run a .
Unfortunately, this process isn't as breezy. There are numerous forms to fill and legalities involved, plus you might need to go through different departments. In other words, a warrant search can be a stressful affair.
Say goodbye to all that with DoNotPay's faster, more convenient, automated, less frustrating way to search for warrants.
Why Run a Collier County Warrants Search
There are many reasons why you may need to run a Collier County . You will especially want to check if there is a criminal record or outstanding warrant in your name or loved one before you do any of the following:
1. Plan to travel
An open arrest warrant is like moving around with a bull's eye on you. It might restrict you from traveling internationally, domestically, or even within Florida. Also, moving to a new country, especially one with an extradition treaty with the US, as a visitor or planning to settle there permanently might be a problem with an open arrest warrant.
2. Apply for school admission
Certain institutions, especially law schools in the U.S, Canada, and New Zealand, among others, require you to fill out whether you have any open arrest warrants in your name. You can't get in unless you complete these forms truthfully, ergo, the warrant lookup.
3. Run for public office
A US public officer should be a model citizen and upholder of the law. How can you run for a public office when there's an arrest warrant on a judge's desk with your name? However, you'll still need to look up the warrant.
Warrant Search Brings Peace of Mind
Law enforcement can execute an arrest warrant anytime and anywhere when they spot you. Whether you are aware of the arrest warrant or not won't protect you from getting arrested. Run the search and have peace of mind so you can move around freely.
How to Do a Collier County Warrant Search on Your Own
After gathering enough courage to run a Collier County Warrant Search, there are various DIY methods you can use.
Florida Department of Law Enforcement (FDLE)
The FDLE consolidates information on warrants from multiple law enforcement agencies in Florida. You can run the search through the following means:
Clerk of Court
You can visit Collier County circuit court's criminal department and request a search. You can either visit in person (not healthy or safe due to intermingling with other people) or request via mail. Either way, you won't get the results until you pay the search fees.
Collier County Sheriff's Office
At times, the FDLE might lack updated information on open warrants. If your warrant search doesn't return any results, don't assume there's no open warrant with your name. Collier County sheriff's department has more updated records you can request through:
Online Resources
Under Florida Sunshine Laws, criminal records are public. Various online resources utilize this fact to provide warrant searches online.
Some of them include:
While such online sources claim they return your search results, they might also charge you, give incomplete results or not be up to date.
All these methods are easy and convenient. However, they are full of significant setbacks such as:
Search charges
You risk getting arrested on the spot, especially if you request the search in person.
Uncle Sam might track you through your phone number or IP address, especially with the current advanced technology.
I Can't Do a Collier County Warrant Search. What Next?
Suppose you can use any of the above methods to successfully run a Collier County warrant search, don't fret. There are other ways you can deploy to run the warrant on your own.
Third-Party Vendors
These vendors usually charge significantly higher fees than you'd pay when performing the courts' searches yourself. However, they get the job done and eliminate the risk of getting arrested if there's a warrant out.
Hire an Attorney
Bench warrant attorneys can run warrant searches in any court system in the country. If you have any bench warrants, they can resolve the matter and eliminate any penalties associated with the warranty keeping you out of jail.
Regardless of the method you follow, there's always a high chance of failing. It could be due to the search fees (especially third party vendors and lawyers), risk of getting arrested, or inability to search due to lack of skills. That's where you use the only reliable method, DoNotPay.
Let DoNotPay Run a Collier County Warrant Search for You
No matter how advanced your DIY methods of looking up Collier County warrants are, there's a high chance of getting undesired results. More so if you don't know the tips for doing the warrant search.
Increase your chances of getting positive results with DoNotPay in just four steps, easy peasy:
Go to the Check for Warrants product on DoNotPay.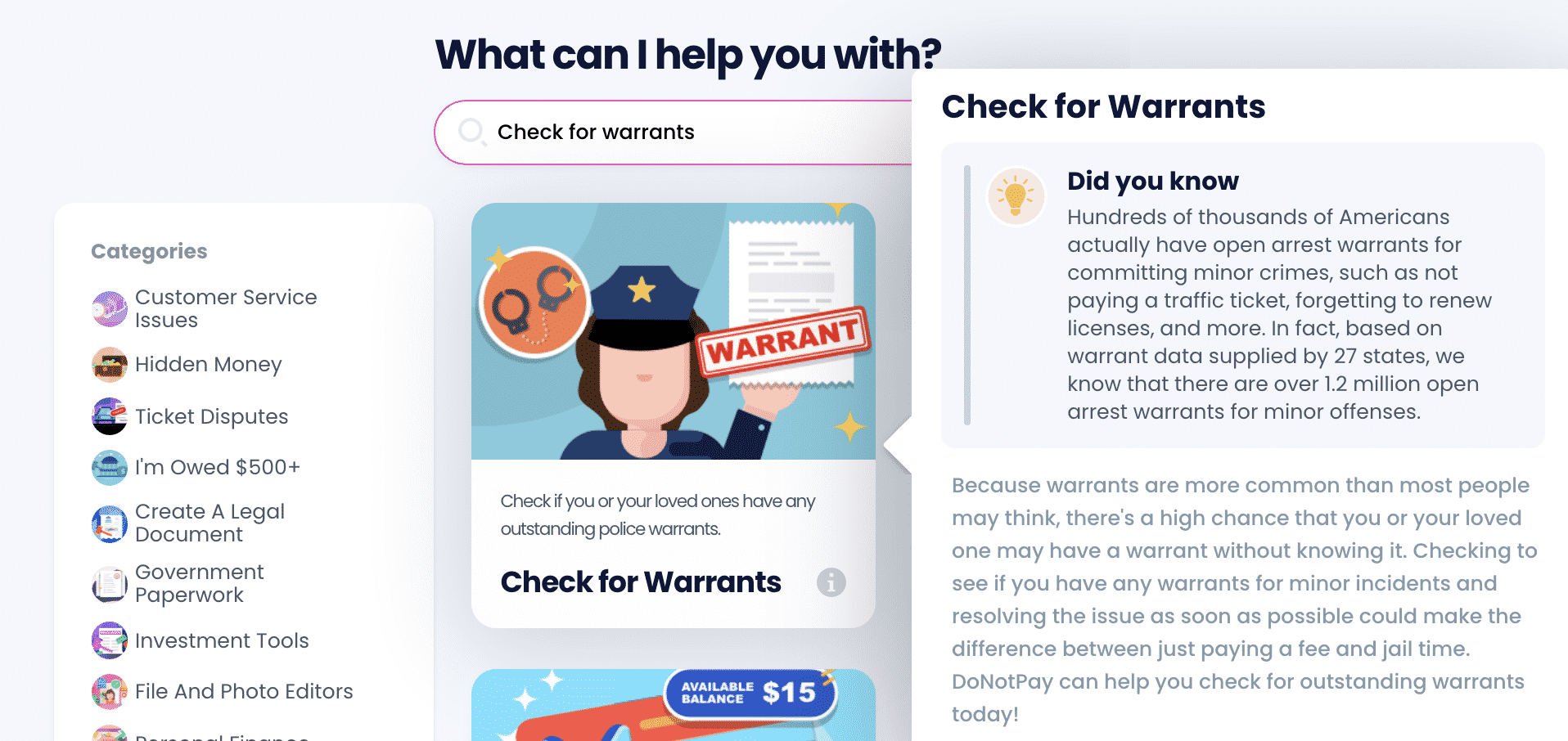 Choose whether you want to search for yourself or someone else, and answer a few questions to help us narrow down the search results, including current and previous addresses, age, the names of parents/relatives, and any known aliases.

Select how you would like to receive the results in the case where we have to contact the police station on your behalf (by mail or email).

Enter your contact information, including email, address, and phone number.
Warrant Search Beyond Collier County
DoNotPay provides the best way to connect to other parties or entities with the click of a button. After running a Collier County warrant search, you can look up warrants from different locations, including:
Make Use of DoNotPay's Versatility
Finished conducting your Collier County warrant search? Good. But that's not all that DoNotPay can help you achieve. Appealing a banned account, renewing your car registration, or making hotel reservations using a burner card has never been this convenient!
We can also:
And best of all, this is just a fraction of our reach! There are a whole lot more solutions where these came from.