College Financial Aid Calculator—What It Is and How It Works
Do you need help with estimating the amount of financial aid you can get so you can prepare for your application and enrollment? This guide explains what a college financial aid calculator is, how it determines the types of assistance you can qualify for and what steps to take to make the most out of your school's financial aid program!
The Basics of a College Financial Aid Calculator
A college financial aid calculator is a feature that helps students estimate the amount of financial support they can get from a school of their choice. Since a lot of factors contribute to the final financial aid offer, a calculator cannot show 100% accurate results, but it can help students with:
Finding out whether they can afford to go to a specific school
Planning ahead in case they receive less aid than expected
Prospective students should use college financial aid calculators alongside net price calculators to get a more realistic estimate for the study program they plan on enrolling in.
Most schools offer their own calculators, and you can usually find them on the financial aid page on their websites.
How Is College Financial Aid Calculated?
The process of calculating your financial aid offer contains two steps:
Estimating your eligibility for need-based aid
Checking whether you qualify for other types of aid
The amount of need-based financial aid you will receive depends on multiple factors, such as your:
Total cost of attendance
Expected Family Contribution
Financial need
Your financial need is the difference between the total cost of attendance and the Expected Family Contribution (EFC). Schools can choose whether or not to meet 100% of your financial need based on the information you provide in the Free Application for Federal Student Aid (FAFSA) and your College Scholarship Service (CSS) Profile.
After a school determines the amount of need-based aid you can receive, it will check if you qualify for any other awards.
What Information Is Used To Calculate Financial Aid?
Check out the following table for examples of information schools take into account when creating your financial aid offer:
Category
Information
Household information

Number of family members
State of residence
Number of college students

Parent income and assets

Parent income
Child support received/paid
Retirement plan contributions
Investments
Real estate
Businesses/farms
College savings
Trust funds

Student information

Student income
Student assets
Cost of attendance
Federal income tax paid (if applicable)
How To Secure the Most Financial Aid Possible From a School
Steps you can take to maximize your financial aid offer include:
Submitting your application before the priority deadline
Checking whether your application misses any of the required documents or has any errors that would require corrections and a longer processing time
Preparing all documentation you may need if you get chosen for federal verification in advance
What To Do if You Receive Less Financial Aid Than the Calculator Predicted
Be aware that schools offer financial aid on a first-come, first-serve basis. The funds are often limited, so you shouldn't be surprised if your award letter states a lesser offer than what the calculator predicted.
If you're not happy with the amount of aid a school offered you, you can:
File a Satisfactory Academic Progress appeal if you're a continuing student
Write a financial aid appeal letter if you're a first-year student
Convincing a school to increase your award is no easy task and requires a good reason, for example:
Loss of a parent/spouse
Separation or divorce that leads to a spouse leaving the household
Loss of employment
Decrease in wage or work hours
Change of jobs resulting in a reduction of income
Loss of child support
Emergency medical expenses
Extensive care of a family member
If you don't know how to write an appeal letter or you just don't have the time, our app can help you get one on its way to your school in minutes! Subscribe to DoNotPay for the easiest way to create a convincing letter you can use to appeal your school's decision!
Use DoNotPay To Request More Financial Aid From Your School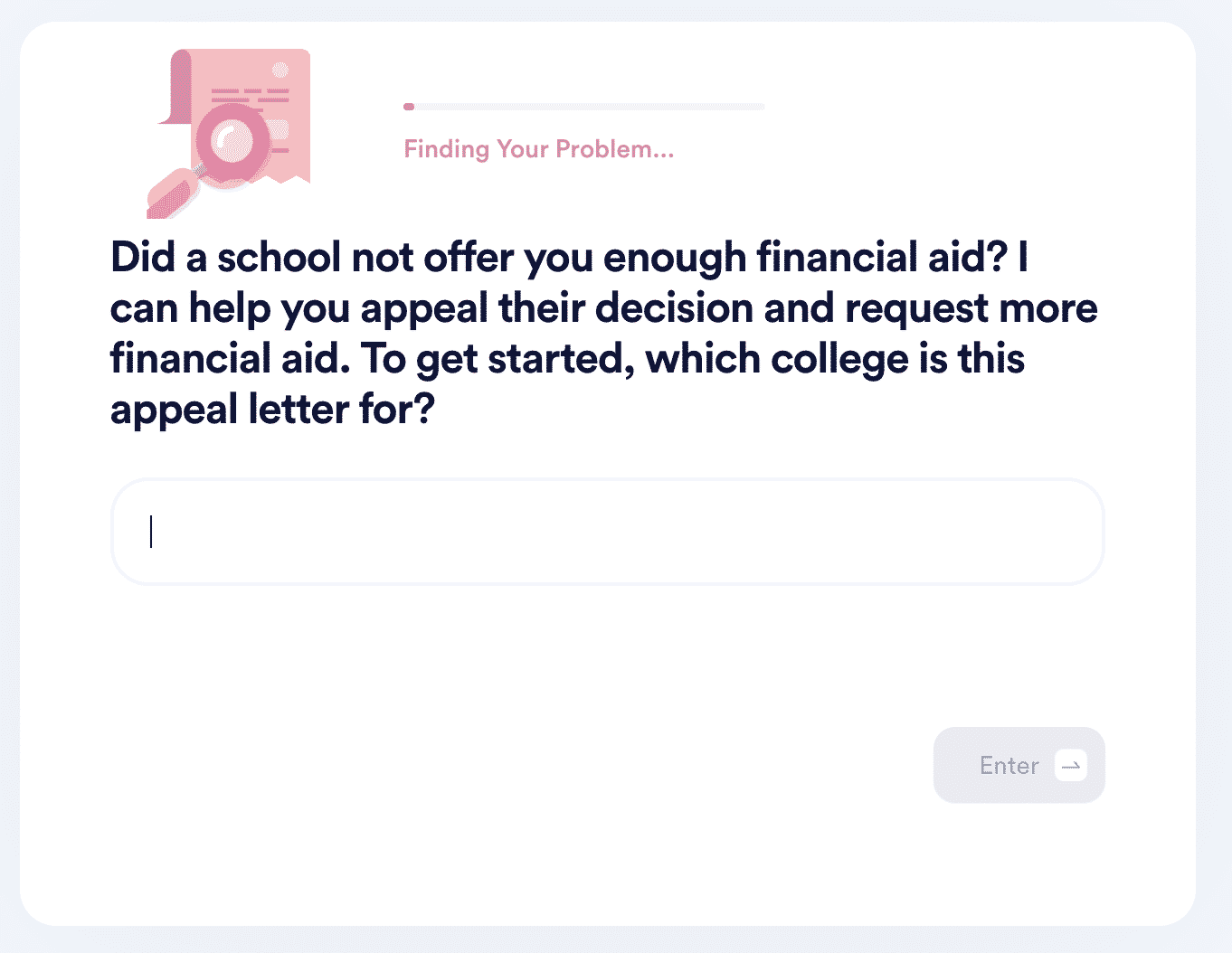 DoNotPay can help you reduce your educational expenses, and all you have to do is follow these simple steps:
Open DoNotPay in any web browser
Type Appeal for More Financial Aid in the search bar
Explain the financial setbacks you experienced that demand a more significant amount of aid than you received
Include offers you got from other schools
After you complete all steps, we will create and send a custom appeal letter to your school on your behalf.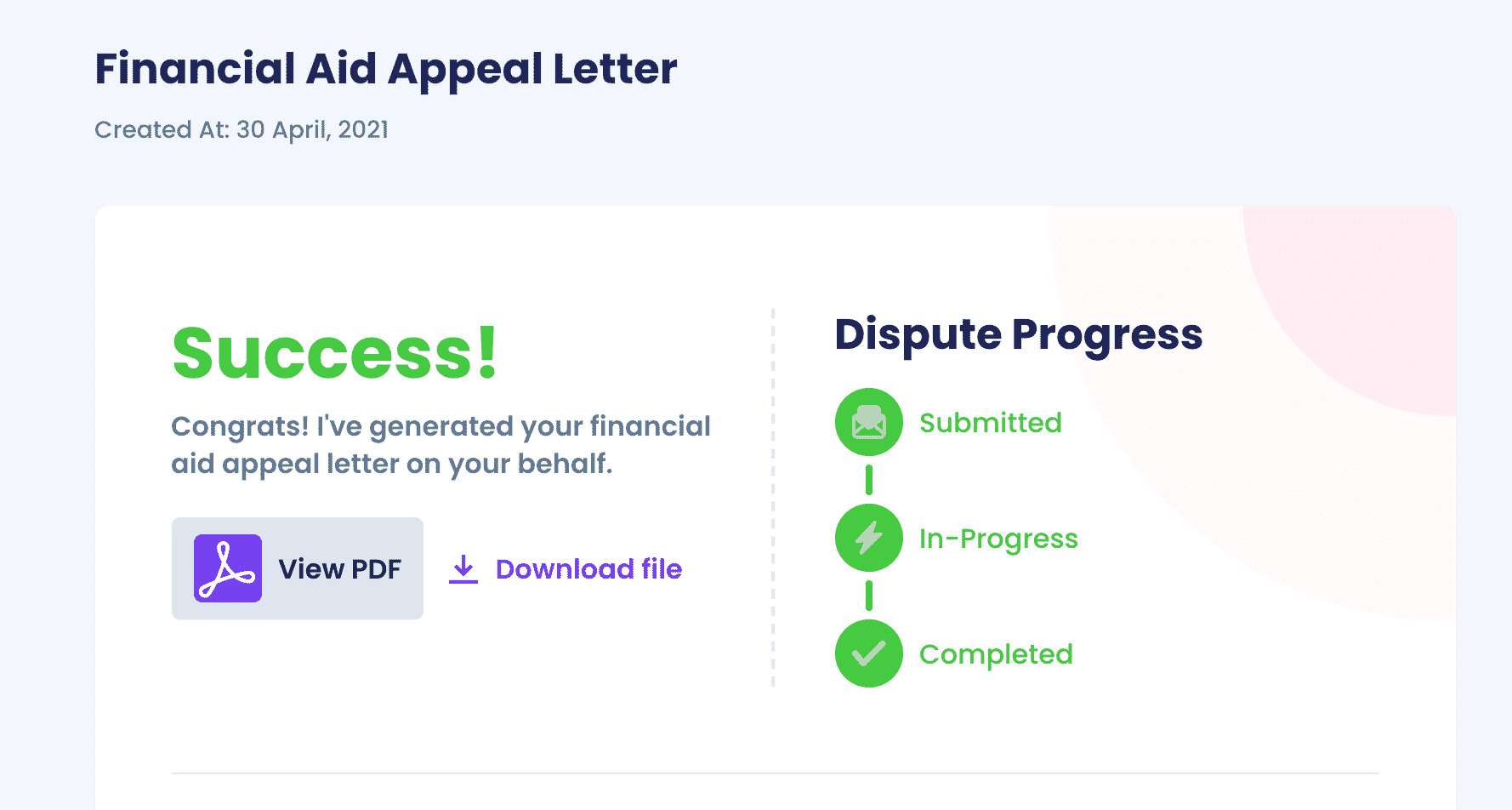 If you're getting acquainted with financial aid or looking to expand your knowledge, explore our learning center for more guides, such as:
If you're still looking for your future school, check out some whose financial aid programs we explained so you can know what to expect:
Solve All of Your Bureaucratic Issues With DoNotPay
Do you need to file an insurance or warranty claim? Need help with setting up DMV appointments or appealing parking tickets around the U.S.? Don't worry because your AI-based helper can step in!
We can help you get professional powers of attorney and divorce agreements, so you don't have to waste money on expensive lawyers! Once we draw up these documents for you, we'll set you up with an online notary, and you can get them notarized in no time! Subscribe to Various Services Hassle-Free With DoNotPay
Did you ever get charged by a subscription service after using their free trial? DoNotPay can put a stop to that once and for all! We can get you a virtual credit card or a burner phone number, which you can then use to subscribe to any service stress-free! When you want to cancel a subscription, turn to your virtual assistant for help, and we'll do it for you in seconds!
If the company is giving you a headache, we'll hook you up with their customer support or even sue them in small claims court. Possibilities with DoNotPay are endless!
DoNotPay can also turn mailing into a piece of cake and save your inbox from email and text spam!