Collection Demand Letter—When and How To Write It
When a client owes you money for services under an agreement and refuses to pay an invoice, they are in breach of contract. One way to resolve this issue is to send a collection demand letter to the breaching party.
In this article, we will explain how to write a legal and professional demand letter to collect a debt. If you want to create a breach of contract demand letter straight away, sign up for DoNotPay.
What Constitutes a Breach of Contract?
A breach of contract happens when one party fails to perform the terms of an agreement. For instance, you entered into a contract with a client promising to do specific services for compensation. You completed your obligations, but the client refuses to pay, which means they are violating your agreement. Since they failed to honor the very purpose of the contract, they committed a material breach.
What Is a Collection Demand Letter?
A collection demand letter is an official document that serves as a reminder to your client that they owe you money for performed services. It also informs your client about the damages and other remedies you will seek if the matter proceeds to court.
The purpose of a collection demand letter is to:
Formally inform the debtor that their payment is due—The letter notifies your client about the debt
Start payment negotiations—You can allow your debtor to create a new payment plan that will work for both sides
If you decide to take the matter to court, a collection letter will serve as proof that the debtor was informed of your demands before any legal action.
Collection Demand Letter Types
There are several types of collection demand letters, and each addresses a specific issue. Consult the table below for a brief overview:
| Type of Debt Collection Demand Letter | Description |
| --- | --- |
| Reminder letter | The reminder letter is the first letter that you send to your client. You assume that they only forgot to make the payment, or they are facing financial difficulties. A reminder letter is typically sent two weeks after the invoice's due date |
| Inquiry letter | If your client did not respond to the reminder letter, you should send the inquiry letter to find out the reason behind their late payment. You should not mention legal actions yet, but be polite and professional to keep a good relationship with your client |
| Appeal letter | If the client ignores your inquiry letter, it is time to send an appeal letter. This letter should describe the urgency of the situation while maintaining fairness. You should describe all your previous attempts to contact the client |
| Debt warning letter | A debt warning letter comes after all other letters have been ignored. It is a final collection letter that you send before filing a lawsuit. In this letter, you give your client an ultimatum—pay the debt or go to court |
How To Write a Collection Demand Letter
When writing a collection demand letter, you need to make sure that it complies with the Fair Debt Collection Practices Act (FDCPA)—a federal law that protects clients from abusive practices. The FCPA violations include:
Requesting a higher payment than what is owed
Harassing the client
Threatening the client
Here are some guidelines for writing a collection demand letter:
Write the name of your client
Add the amount that your client owes you
Indicate what action is required
Set the deadline
Specify the consequences
DoNotPay Helps You Create a Watertight Demand Letter Quickly
There is no need to rely on generic templates or pay sky-high attorney's fees to get a demand letter. DoNotPay will create a completely customized letter that complies with your state's laws in a few simple steps.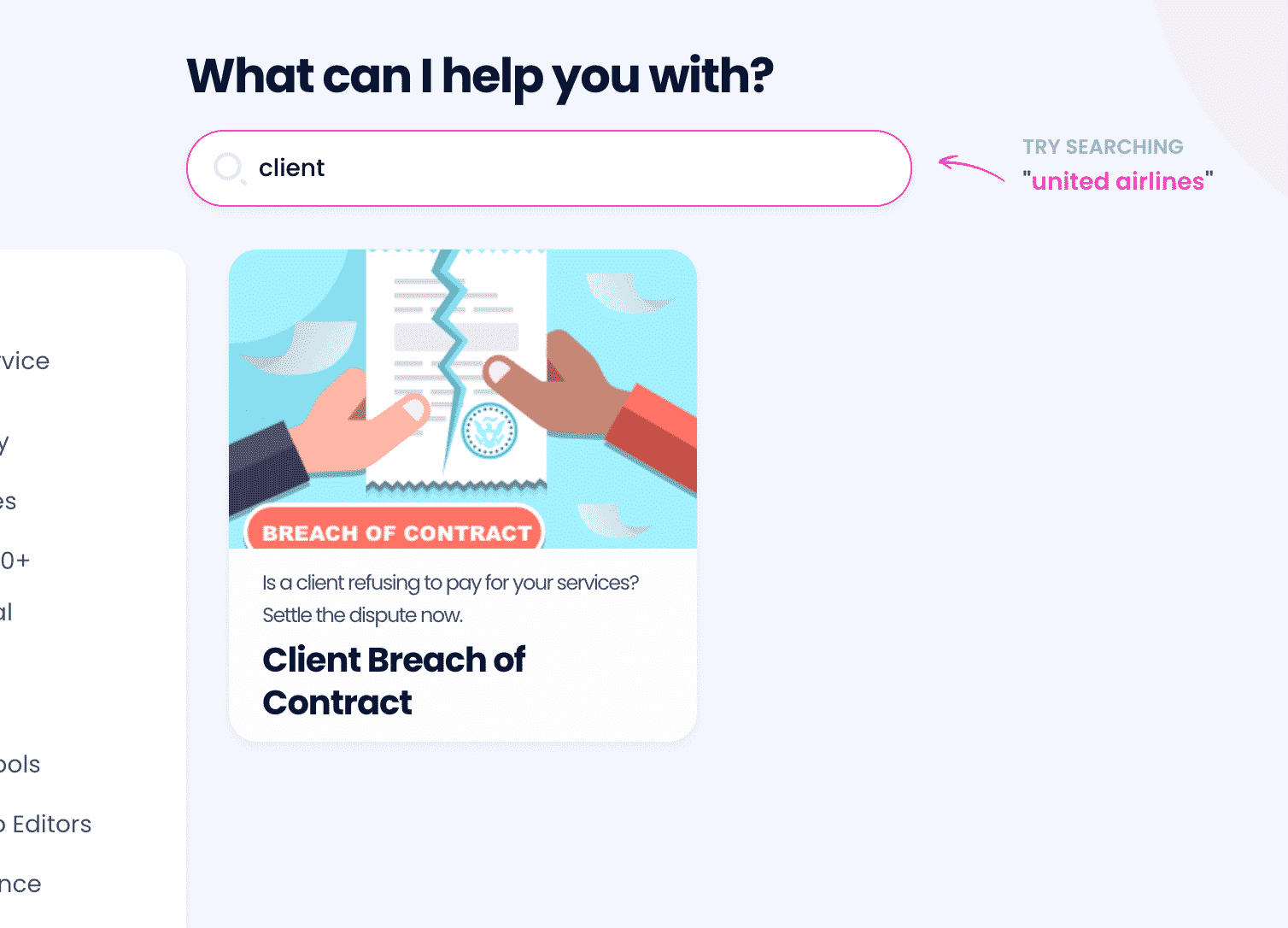 All you need to do is log in to your DoNotPay account and follow the steps below:
Select the Client Breach of Contract tool
Add the required information about your case, such as:

Client's name and address
Amount your client owes you
Date of your last payment request
Services you performed for the client

Set a new deadline for your client
After you provide all the necessary details, DoNotPay will draw up your letter.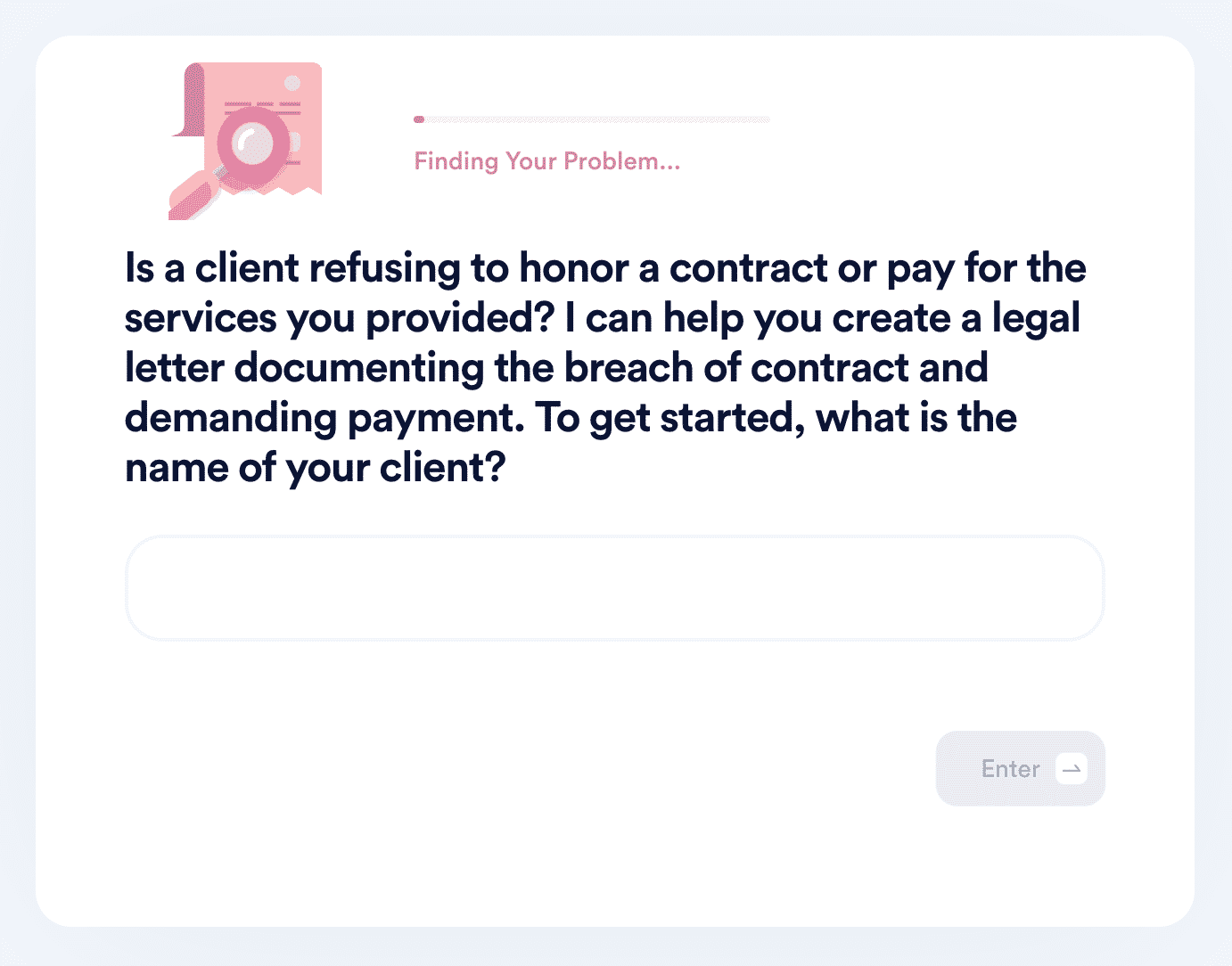 Are you wondering about state-specific regulations? DoNotPay provides information regarding breach of contract in various states, including:
Sue Your Client in Small Claims Court With DoNotPay
If you decide to take your client to small claims court, you should rely on DoNotPay for help. Our AI-powered app can help you by:
Collecting the required court forms
Filling out the paperwork
Filing your claim
Creating a script you can use in court
Keep in mind that you will need to prove the breach of contract elements—otherwise, the defendant might use the lack of evidence as their defense.
DoNotPay Offers More Help for Your Business
Running a small business is no small feat. When you're drowning in red tape, DoNotPay is here to lend a helping hand. Whether you need to register your trademark or protect it later on, we have got it covered. With our help, you will keep your logo, slogan, and business name safe.
Are you also yet to register for an Employer Identification Number (EIN)? Not to worry—our app can file the IRS SS-4 form in a few clicks. With the world's first robot lawyer at your fingertips, you will also be able to create your 83(b) election forms with ease—ready for your employees to sign them right away.
In case you are struggling financially, we can assist you with a business loan application.
Communication Has Never Been Easier With Our App
Keeping up with clients can be challenging, especially if each has a preferred method of communication. Luckily, our multifunctional app makes it easy to both fax and mail contracts, letters, and documents.
You can also count on our assistance when you need to:
Fight fake negative reviews online
Deal with a client regarding a breach of contract
Dispute fraudulent chargebacks
Thanks to DoNotPay, there is no need for back-and-forth communication. We will handle the necessary demand letters and forward them on your behalf.
We can also help you manage your DMCA agent registration and Privacy Shield program self-certification.