Everything You Need To Know About a Collateral Agreement
If you want to create a collateral agreement, you should have all the information you need beforehand. 
DoNotPay can answer all your questions about collateral agreements, show you how to write any contract, and explain how legal documents work.
What Is a Collateral Agreement?
A collateral agreement is an independent document between parties in the original contract regulating a separate issue or deal. It can also determine the conditions under which one party can enter an agreement with an outside contractor.
For example, an individual X is renting their house to Y and promises to fix the electricity problems before Y moves in. In this case, the rent agreement is the original contract. X's promise to repair electricity is the collateral agreement beyond the main contract. If X does not get it repaired, Y can sue X or demand financial compensation for the inconvenience caused.
Collateral contracts set out additional terms for the main agreement. If the primary contract has any error or is missing important information, the collateral agreement serves to rectify the mistake.
You can use collateral agreements alongside many contracts, such as:
Why Do You Need a Collateral Agreement?
There are many reasons for a collateral contract, and the most common ones are listed below:
The original contract might miss an important element

There are errors or conflicting statements in the main contract

A mediator is required to resolve conflicts

Both parties do not want to overstep the primary contract's boundaries
Types of Collateral Contracts
Check out the table below for an explanation of the three main collateral agreement types:
| | |
| --- | --- |
| Collateral Contract | Brief Explanation |
| Unilateral | One party makes a promissory note in exchange for funds |
| Bipartite | Both parties in the original contract enter the collateral contract |
| Tripartite | A third party, not in the original contract, issues a promissory statement |
Collateral Contract Requirements
Your collateral contract must meet the following criteria to be valid:
It must not contradict the original agreement

The contract should be promissory

A statement should follow the promise

It has to contain all legal elements of a contract

It should be made before or at the time of drafting the main contract
How To Create a Collateral Contract Yourself
If you want to create the collateral contract yourself, search for contract templates online to get a gist of how to make it. Although using a ready-made document seems easy, online templates are usually outdated and might not have the exact information you require. 
When drawing up a collateral contract, make sure that you include the following information:
Names, contact information, and addresses of all parties

Terms and conditions of the collateral contract

Indication of a promissory note

Duties and responsibilities assigned to each party

The effective date of the agreement

Signatures confirming that all parties have read and understood the terms and conditions
Once all parties have signed the contract, you should get the document notarized to confirm that every participant is willingly signing the pact and is not being coerced into it. If you need help finding a notary, DoNotPay can guide you through the process.
Is a Collateral Agreement Legally Binding?
A collateral agreement is a separate contract and not a part or clause of the main contract. If one party fails to honor the collateral contract, the other can file for legal action, while the original contract will still be valid.
A collateral contract is only legally binding if it is in writing. Verbal agreements cannot be enforced in a court of law. 
Create Your Legal Documents With DoNotPay
Ideally, you should consult a lawyer when drafting contracts, but what if you don't have the budget to hire an attorney? Creating legal documents yourself can be quite a hassle if you don't understand legal and business jargon. 
Don't let this bring you down because DoNotPay has got your back! For an affordable monthly fee, we can draw up numerous contracts and agreements for you!
All you have to do is follow these steps: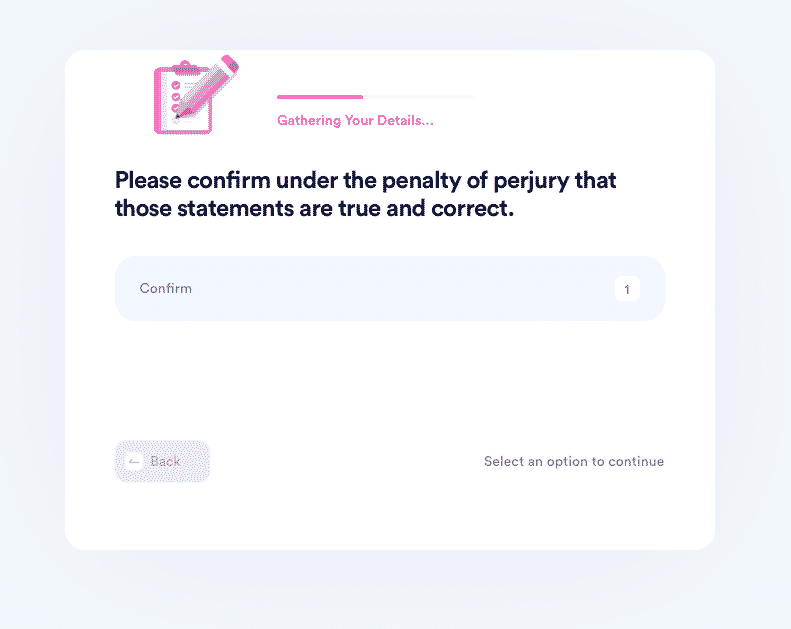 Type the name of the document you need

Add details to help us customize your contract
DoNotPay will send you a personalized document within minutes! All you need to do is download, print, and sign it.
Here's a list of the documents we can create:
Real Estate
Business
Other

Quitclaim Deed

Intent To Purchase Real Estate

General Business Contract 

General Affidavit

Promissory Note
Can't find what you're looking for? DoNotPay is working around the clock to add more documents, so stick around to find out more!
Easy-Breezy Ways To Deal With Not So Breezy Issues
Administrative and similar tasks don't have to be as complicated as we've known them to be. With DoNotPay, dealing with paperwork and companies is done in a few clicks. Let the world's first robot lawyer help you:
Money Troubles? I Don't Know Her!
As our app's name says, DoNotPay's mission is to put a stop to losing money and overpaying. We will help you get your hands on free trials and snatch free raffle tickets. DoNotPay can also provide solutions for you to get help covering bills and reduce your property taxes.
If you want to get some additional funds, use our app to sign up for clinical trials. You may also take our practice tests to ace a government test and land a better-paying job.
It doesn't hurt to check whether you are owed some unclaimed money, and we can help you with the application.