Getting a Collaborative Divorce in NJ? We Have All the Deets
Are you thinking about getting a collaborative divorce in NJ? You're in the right place! We'll tell you all there is to know about a collaborative divorce—what it entails, who is eligible for it, what the pros and cons are, and how to file for it.
DoNotPay will also present an affordable alternative in the form of an uncontested divorce. If you opt for an uncontested divorce in NJ, DoNotPay will help you draw up a divorce settlement agreement effortlessly.
What Is a Collaborative Divorce?
A collaborative divorce is a method of dispute resolution that happens out of court. In a collaborative divorce, the parties meet together with their respective lawyers to reach a mutually acceptable agreement regarding the terms of their divorce. It is similar to mediation in that both parties work together on solving the issues instead of attending a trial.
For this type of marriage dissolution to work, both parties need to be willing to negotiate the terms of the divorce—the most important being:
What Does the Collaborative Divorce Process Entail?
The steps to starting a collaborative divorce are:
Spouses hire an attorney—It's best if the spouses hire a lawyer who is experienced in collaborative divorces and understands the negotiation process
Parties meet with their lawyers privately—Parties need to convey what they expect from the divorce and how they want the issues like alimony, splitting assets, child custody, and similar to be handled
Both spouses meet with each other and their attorneys—Once both spouses decide what they want from the divorce, they will meet with each other and their respective lawyers to discuss whether the terms work for both of them
Parties attend mediation in NJ (optional)—If the parties disagree on some aspects of the divorce, they can hire a mediator to assist them in reaching a compromise
The couple signs a "no court" agreement—The "no court" agreement ensures that the parties are willing to cooperate and reach an agreement without proceeding to a trial. This agreement also directs both lawyers to withdraw from the case if it goes to court
Spouses create a divorce settlement agreement—A marital settlement agreement is one of the crucial documents in a marriage dissolution, and it needs to spell out all the terms of the divorce
Parties file the divorce papers—Parties need to go to the appropriate county clerk's office to file their divorce papers. Since they are having a collaborative divorce, the filing won't be complicated
What Are the Pros and Cons of a Collaborative Divorce in NJ?
As much as a collaborative divorce can be your ticket to a friendly divorce, it has its pitfalls. Consult the table below to see the benefits and downsides of a collaborative divorce:
Advantages of a Collaborative Divorce
Disadvantages of a Collaborative Divorce

The couple remains in control of the divorce
Collaborative divorce focuses on the needs of children (if the couple has any)
The information discussed during negotiations stays private
It costs less than a traditional divorce

It is not suitable for couples who are in conflict
This type of divorce often requires hiring experts—such as financial and divorce specialists—to help the couples settle their differences
It typically costs a lot more than an uncontested divorce
The couple has to start over with new attorneys if the process doesn't end in a settlement
There's no need to hire a lawyer if you and your spouse already agree on all terms—filing for an uncontested dissolution of marriage is your ticket to a low-cost divorce.
Can You Get an Uncontested Divorce in New Jersey?
You can file for a quick and uncontested divorce in New Jersey if you meet the following requirements:
| Requirements | Description |
| --- | --- |
| Residency requirements | One or both partners must have resided in NJ for at least one year before the uncontested divorce papers are filed |
| Grounds for divorce | The only acceptable grounds for a no-fault divorce are irreconcilable differences and separation longer than 18 months with no prospects of reconciling |
How To File for an Uncontested Divorce
To file for an uncontested divorce in NJ, you'll need to complete the following steps:
Collect all necessary divorce forms—You can find these forms on the New Jersey Courts website or acquire them from the clerk at the county courthouse. Numerous online divorce services also offer divorce form templates
File the paperwork—You must file the documents with the clerk of the New Jersey court in your or your spouse's county of residence
Pay any filing fees—The amount you'll need to pay for filing the divorce papers depends on the county you live in. If you can't afford a filing fee, you can request a fee waiver
Serve the divorce papers—You can serve the papers through a professional process server or a sheriff's deputy
Create a divorce settlement agreement—You can have a lawyer draft a marital settlement agreement, but that will cause a great financial setback. If you want a more affordable option, subscribe to DoNotPay
Use DoNotPay To Draw up a Divorce Settlement Agreement in Minutes
Don't waste your time and money on creating a divorce settlement agreement—let DoNotPay do it for you! DoNotPay has the intel on all divorce rules and regulations in the U.S. and will generate a fully personalized document that complies with your state laws.
Complete the following steps to create your marital settlement agreement:
Select the Divorce Settlement Agreement tool
Answer a few questions about your divorce and indicate whether you need a notary
We will create your document within a few minutes and help you get it notarized without leaving your home!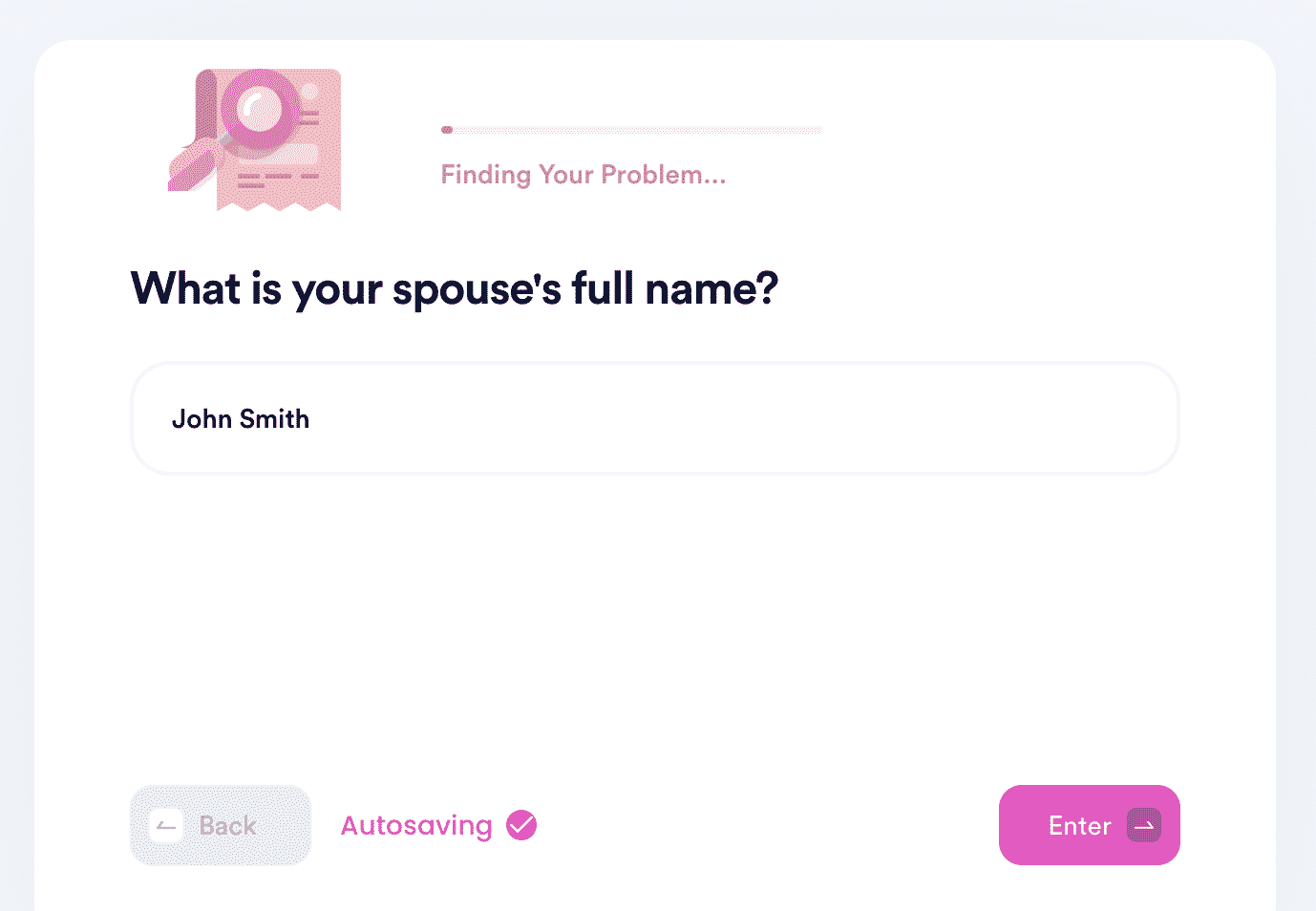 If the topic of divorce still confuses you, DoNotPay has a comprehensive knowledge base you can use to clear the confusion. We can answer all of the following questions and more:
DoNotPay's Vast Collection of Features Keeps Expanding
Determined to simplify bureaucratic procedures and help you with various daunting items on your to-do list, we created DoNotPay—the world's first robot lawyer! With us, you can:
Streamline Different Tasks by Using DoNotPay's Practical Features
Are you looking for an efficient way to gain back your unclaimed money or get a refund from a company? Do it with DoNotPay without lifting a finger! Our app provides excellent money-saving features that will increase your budget and make all unnecessary expenses disappear.
We can assist you in terminating unwanted subscriptions, recovering your unused gift card funds, reducing your bills, and requesting late delivery refunds. You don't even need to hire lawyers to write a financial aid appeal letter, an HR complaint, or a child travel consent form in your stead—our app can do all this!