The Easiest Way To Draft a
Collaboration Agreement
Creating legal documents by yourself is a tiring task. From figuring out what to include in the agreement to drawing it up—you can expect a bumpy ride. Luckily, we can help!
We'll explain all about the collaboration agreement and walk you through it step by step!
Subscribe to DoNotPay and use our app to draw up numerous contracts in a few taps!
What Is a
Collaboration Agreement
?
A collaboration agreement is a contract signed between parties working on a specific project together.
If you're participating in a commercial project with other partners, you'll find the collaboration agreement especially useful. It determines the duties and responsibilities of the involved parties.
The collaboration agreement should define the working arrangement between the participants and include the details of the revenue distribution.
The agreement also helps avoid any confusion regarding confidentiality or contract termination issues.
Is a
Collaboration Agreement
Legally Binding?
The collaboration agreement is a legally binding contract. Once you finish writing the agreement, you will have to:
Make sure everyone agrees on the terms set in the contract

Get all the parties to sign it
Signatures automatically make the agreement enforceable.
How Can I Get the
Collaboration Agreement
Notarized?
Notarizing a collaboration agreement isn't mandatory, but it may provide additional security should any legal issues or disputes arise.
You can visit a notary or opt for an easier method and get your agreement notarized online.
How To Write the
Collaboration Agreement
To draw up a valid collaboration agreement, add the following clauses to it:
Clause
What To Do

Parties

Start by stating the full names of the parties involved in the agreement. Follow it up with relevant info, such as: 

Addresses

Contact details

You should add the effective date of the agreement as well

Collaboration goal

Be clear on the overall goal of the collaboration. Include the specifics of how the parties plan to reach that goal and distribute the revenue

Projects and project schedules

Provide a full description of the project and how the specific tasks will be executed. Specify all expenses and who should cover them

Confidentiality

State that no information about the project can be leaked to anyone outside the agreement. Having a confidentiality clause isn't mandatory, but it protects sensitive data if one of the party drops out of the project

Termination

Define what steps a party should take to terminate the agreement early. Explain the conditions, whether a notice should be given, and what happens if anyone fails to give it
Tired of Writing Contracts by Yourself? DoNotPay Will Do It Instead of You!
If you are on a tight schedule and don't want to spend hours writing a contract, DoNotPay comes to the rescue! We can draw up various legal documents for you in no time!
All you have to do is provide us with info about the agreement you want, and we'll use the specifics to draw up your contract. Follow these instructions to get your agreement:
Sign up for DoNotPay

from any web browser

Type the

name of the document

you want in the search field

Answer a few questions about you and your agreement
Once you complete the process, we'll draft your contract. You can either download or print it, and all that's left is to sign it with other parties.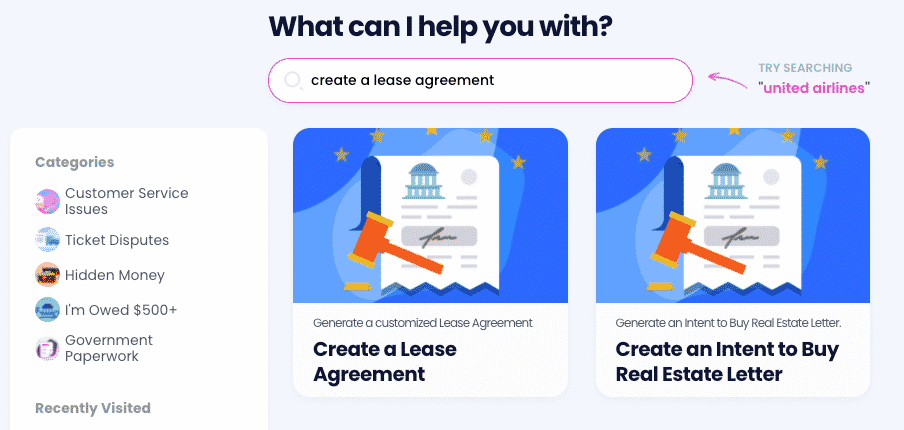 DoNotPay also offers step-by-step guides for various other contracts! Check out the list of our customizable contract templates alongside the ones we demystify for you:
Documents We Draft for You
Documents You Draft With Our Help

Intent To Purchase Real Estate

Estoppel Certificate

Quitclaim Deed

General Affidavit

Promissory Note

General Business Contract
DoNotPay Helps You Notarize Documents As Well!
If you need a simple way to get your document notarized after drafting it, you can use our app to finish the process stress-free! Sign up for DoNotPay and gain access to a feature that connects you to a remote notary in a few minutes!
You'll be able to go through the entire notarization process from the location of your choice, and you won't have to do anything in person! A notary will witness the signing procedure in a video meeting and provide his or her signature digitally. The best part is that you can schedule your appointment with a remote notary at any time since our service works 24/7.
Enjoy Services Worry-Free With DoNotPay
Do you want to try out a new service but are worried about being charged if you forget to cancel it before it ends?
With DoNotPay, you can sign up for free trials without worrying about auto-charges. Our virtual credit card makes sure you enjoy your trial run of the service and prevents any company from taking money out of your real account.
This free-trial card also protects you from email spam because it generates an alternate email address for the free trial sign up.
If you want to keep your phone number private and deter robocallers and text spammers, use DoNotPay's Burner Phone feature when subscribing to services.
In case the company does charge you, initiate a chargeback on your credit card transactions instantly with our app.
Discover DoNotPay's Amazing Features
DoNotPay is a virtual lawyer app that can take over annoying bureaucratic tasks from you.
We can cover anything you may need help with—dealing with customer service reps, booking appointments with the DMV, securing refunds and compensation from airlines, disputing your parking tickets, or getting you an extension on bill payments.
Our app can help you draft any legal document in minutes or access public records from state and federal databases.