Is a Cohabitation Agreement a Good Idea?
Did you know that, according to Census, there are 17 million unmarried couples in the USA living together? While marriage is a social institution regulated by various laws, cohabitation is a unity that can't protect the rights of its members unless it's determined by a specific document. 
Whether you and your partner are planning to move in together without getting married, or you want to know more about a cohabitation agreement in general, we got you covered! Besides learning the ins and outs of writing a valid contract, you will find out how to get a perfectly drafted legal document in only a few clicks! 
Cohabitation Agreements in a Nutshell
A cohabitation agreement is a special contract between two people who are in a relationship regardless of whether they live together or not. Bearing in mind that non-marital cohabitation isn't legally regulated like marriage, unmarried couples need a document stipulating their rights and responsibilities within the union. 
Partners sign this agreement to protect their interests and rights in the case of conflicts, separation, or death of the other party. Cohabitation contracts must be precise and define the expectations and conditions of both union members. The nature of these documents is often financial, which means they usually specify the rules regarding mutual funds, property, or debts.
When Do You Need a Cohabitation Agreement?
There are many reasons for introducing a cohabitation agreement in your non-marital union, but you may find it most helpful in the situations described in the table below:
| | |
| --- | --- |
| Reason | Details |
| Buying a house or property together | If you and your partner are planning to purchase a home even though you aren't married, this agreement will regulate the ownership and financial terms. It specifies the property division rules if you break up  |
| Buying a house or property with your inheritance money | You can sign a cohabitation agreement if you want to buy a property with the money you got from your deceased family members. The document will state that you were the one who paid for the house |
| Buying a property by getting a loan | If you get a loan to buy real estate, the contract will protect you as the rightful owner of the property and stipulate the repayment method |
| Ensuring that your property will be divided rightfully in the case of death | This can be a practical solution for older unmarried couples who want to make sure their money and possessions will be appropriately distributed after their death |
Cohabitation agreements are also recommendable if you are:
A person who doesn't believe in marriage as a social institution

Someone who wants to avoid any expensive litigation and court proceedings in the case of a breakup
What Does a Cohabitation Agreement Need To Cover?
Unlike many other contracts, cohabitation agreements should be written in straightforward and comprehensible language. Composing the document without many complicated expressions or legal terms will make it easier for both parties to understand the rules and avoid misinterpretations. 
You can decide on how many details you wish to include in your agreement, but the recommendable information and sections are:
Names of the union members

Start date of the contract

Short description of the agreement purpose

Terms related to property distribution, including the property accumulated before and during the relationship

General and household expenses, such as whether the debts and expenses are shared, and if not, who pays for them

Financial support

Health care insurance responsibilities

Terms related to separation or death

Dispute resolution

Termination or modifications of the agreement

Signatures of both parties and witnesses if necessary
DoNotPay Provides the Best Legal Document Templates 
Whether you need a cohabitation agreement or any other contract, you must do your best to compose a rock-solid and straightforward document. This isn't simple because most people are unfamiliar with legal terms and local regulations. Lawyers offer their services at exorbitant prices, usually unaffordable for a single-contract draft.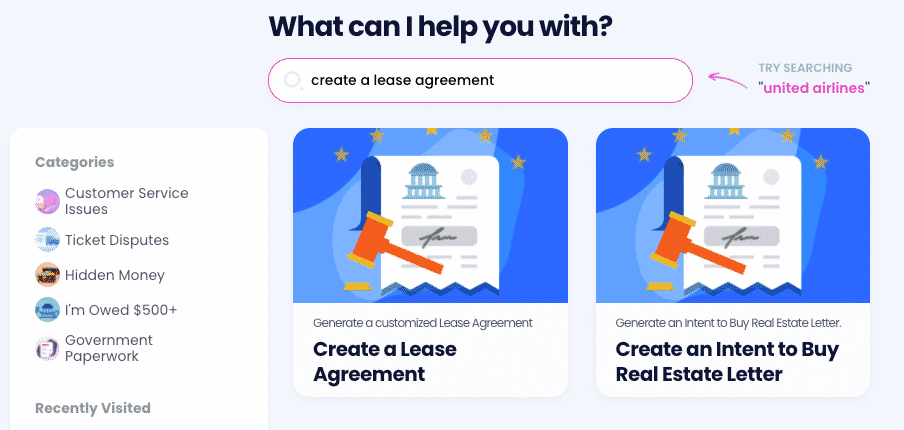 DoNotPay, the world's first robot lawyer, has a practical solution. Our app offers the best and most comprehensive contract templates you can modify according to your needs and make your agreements in record time!
Here's what you need to do to use our service:
Open DoNotPay in your preferred

web browser

Find the document you want to customize

Provide us with details you wish to include in your contract
After submitting your answers to our chatbot's questions, we will generate the desired document. It becomes enforceable once you sign it or have it notarized!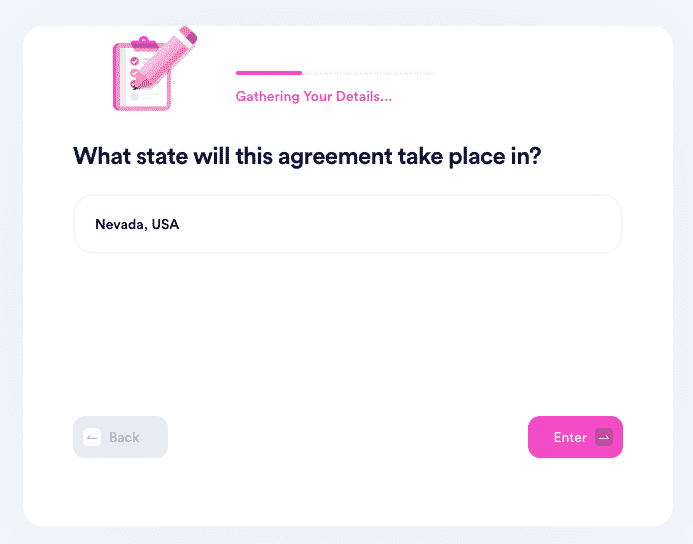 Besides the guide on cohabitation agreement, DoNotPay's database contains tips for making:
Do You Need Other Legal Documents? Create Them With DoNotPay
The best part of DoNotPay's service is generating as many legal documents as you wish! You can choose several template categories:
Real estate documents

Estoppel Certificate

Quitclaim Deed

Intent to Purchase Real Estate

Business documents and contracts

General Business Contract

Miscellaneous documents

General Affidavit

Promissory Note
Discovering DoNotPay Will Make Your Day
If you feel overwhelmed by tons of paperwork flooding every area of your life, you can finally breathe out and let go of that stress. DoNotPay is the world's first robot lawyer that handles your bureaucratic chores for you. 
Some of the benefits that come with our service include:
Why Get a Lawyer When You Have DoNotPay?
Our agenda has one major goal—provide easy legal access to anyone who needs it. Every new feature we come up with relies on AI technology that simplifies bureaucratic procedures and saves you time and money. 
If you're wondering how to navigate tasks like contacting imprisoned friends and family members or reducing your property taxes, DoNotPay has the answers. Our service cuts through the red tape even if you need to deal with stalking and harassment, claim forgotten assets the proper way, or secure compensation for crime victims.