Wake Up and Smell the Coffee Shop Startup Costs
In 2021, there were 63,524 coffee & snack businesses across the United States, creating an $11.3 billion market. If you would like a sip of that cup, you can open a coffee shop of your own, but know that there are many business expenses that come with becoming the next Howard Schultz.
In this article, we will show you what coffee shop startup costs there are and how big of a budget you need to cover them. We will also explain how you can use DoNotPay to get a small business loan and kickstart your business.
Coffee Shop Startup Costs
Like with any other business, you need initial capital to get your company going. Startup costs for a cafe business are split into two categories:
One-time investments
Recurring expenses
One-Time Cafe Startup Costs
Before you can start serving coffee to your customers, you will need to buy a place to do that. A coffee shop can cost anywhere between $25,000 and $200,000, depending on the size and the equipment it comes with. If you want to go for something more subtle, you can get an espresso stand for $16,000–$25,000.
When you have a place to work, it is time to move on to other expenses. Take a look at the following table to see the average startup costs for a coffee shop you need to pay upfront:
| Expense Item | Amount |
| --- | --- |
| Signs | $1,000 |
| Layout and design | $6,000–$10,000 |
| Indoor furniture | $1,000 |
| Outdoor furniture | $1,000 |
| Refrigeration | $1,000–$2,000 |
| Water filtration | $800 |
| Espresso and drip coffee grinders | $2,400–$4,200 |
| Espresso machine | $10,000–$20,000 |
| Drip coffee maker | $1,500 |
| Additional coffee-making equipment | $600 |
| Serving items | $400 |
| Point-of-sale system | $600–$800 |
| Licenses and permits | $1,000–$11,000 |
| Total | $35,300–$62,300 |
Any business should begin with a 15% contingency stashed aside for unexpected costs. This means that your initial coffee shop startup costs can go up to $71,645, and that excludes the cost of buying a shop.
Recurring Startup Costs for a Coffee Shop
Bear in mind that you do not have to buy a shop to start your cafe business. If you decide to rent, the amount you have to pay will depend largely on the location of the coffee shop. Getting a store in a small town in Oklahoma will not cost as much as opening a shop next to Central Park.
You should create a business plan and make projections of your yearly profit. It is good practice to keep annual renting costs under 15% of your profit.
The majority of the recurring costs are about the products themselves, such as:
Coffee
Tea
Milk
Pastries
Sugar
Syrup
Napkins
All of the above amounts to around $3,500 a month. You should also consider utilities that cost approximately $2 per square foot.
The highest recurring coffee shop startup cost is the staff, i.e., their salaries. The good news is that baristas and waiters rely on tips, for the most part. The minimum wage depends on the state you are in.
Those who do not work for minimum wages are shop managers and consulting professionals, who earn as follows:
Coffee shop general managers—Around $3,000 a month
Consultants:

Lawyers—$500 an hour on average
Accountants—The cost ranges from $30 to $400, depending on the task
Can't Afford Coffee Shop Startup Costs? Get a Small Business Loan
If you go big and choose the best options for your cafe, you can end up with a bill of over $1 million for the first month. If you are not a millionaire, that should not discourage you from going ahead with the plan—you can take out a startup loan that will cover the initial expenses.
Small business loans offer help to entrepreneurs, but they do not do it for free—they have terms in the shape of interest rates, collaterals, and repayment schedules.
Most lenders, such as banks and credit unions, set high criteria through which business owners need to qualify. If, for example, you do not have a high credit score, you can turn to online loans that come with fewer conditions but have higher interest rates.
You will also need to specify the purpose of the loan. Lenders like to know what exactly they are giving their money for—new equipment, land acquisition, daily costs, other business improvements, etc.
Another aspect of a loan you need to consider is its type. You have many loans to choose from, and they all offer different conditions and amounts and are meant for varying purposes. Some of the best loans include:
Obtain a Small Business Loan for Your Coffee Shop With DoNotPay's Help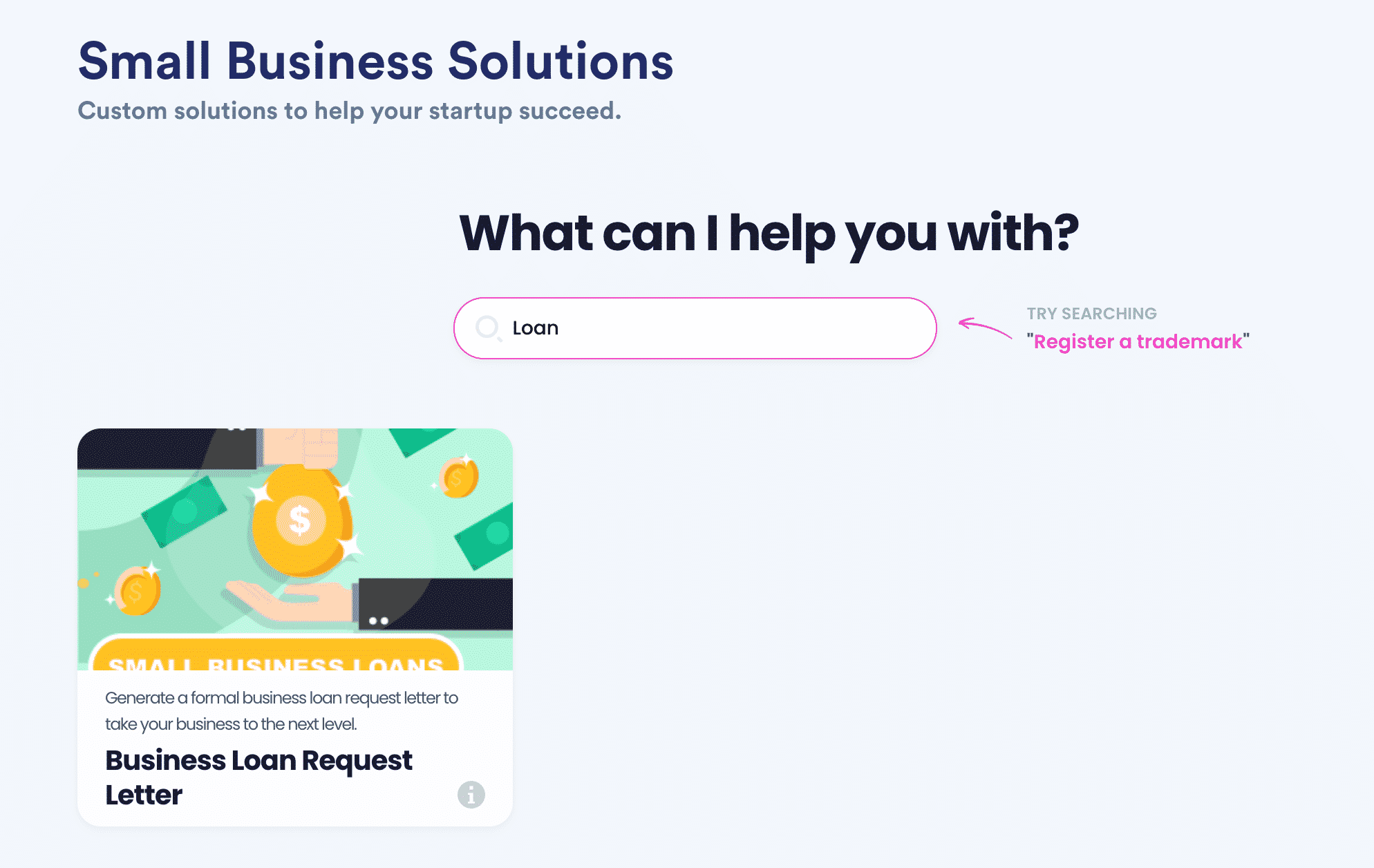 Getting a small business loan is complicated. A loan application form requires you to provide plenty of information about yourself and your company. Aside from sending a formal loan request letter, you also need to submit a variety of documents, such as:
Financial statements
Budget sheets
Business plan
Resume
Collateral
Credit score reports
DoNotPay can assist you with obtaining a loan and kickstarting your coffee shop. Our app will guide you through the entire process and make sure you do not omit any piece of paperwork or information.
Once you sign up for DoNotPay, you only need to:
Select the Business Loan Request Letter tool
Gather your personal and business credit scores
Prepare paperwork to prove you qualify
Answer a few questions
Upload all the necessary documents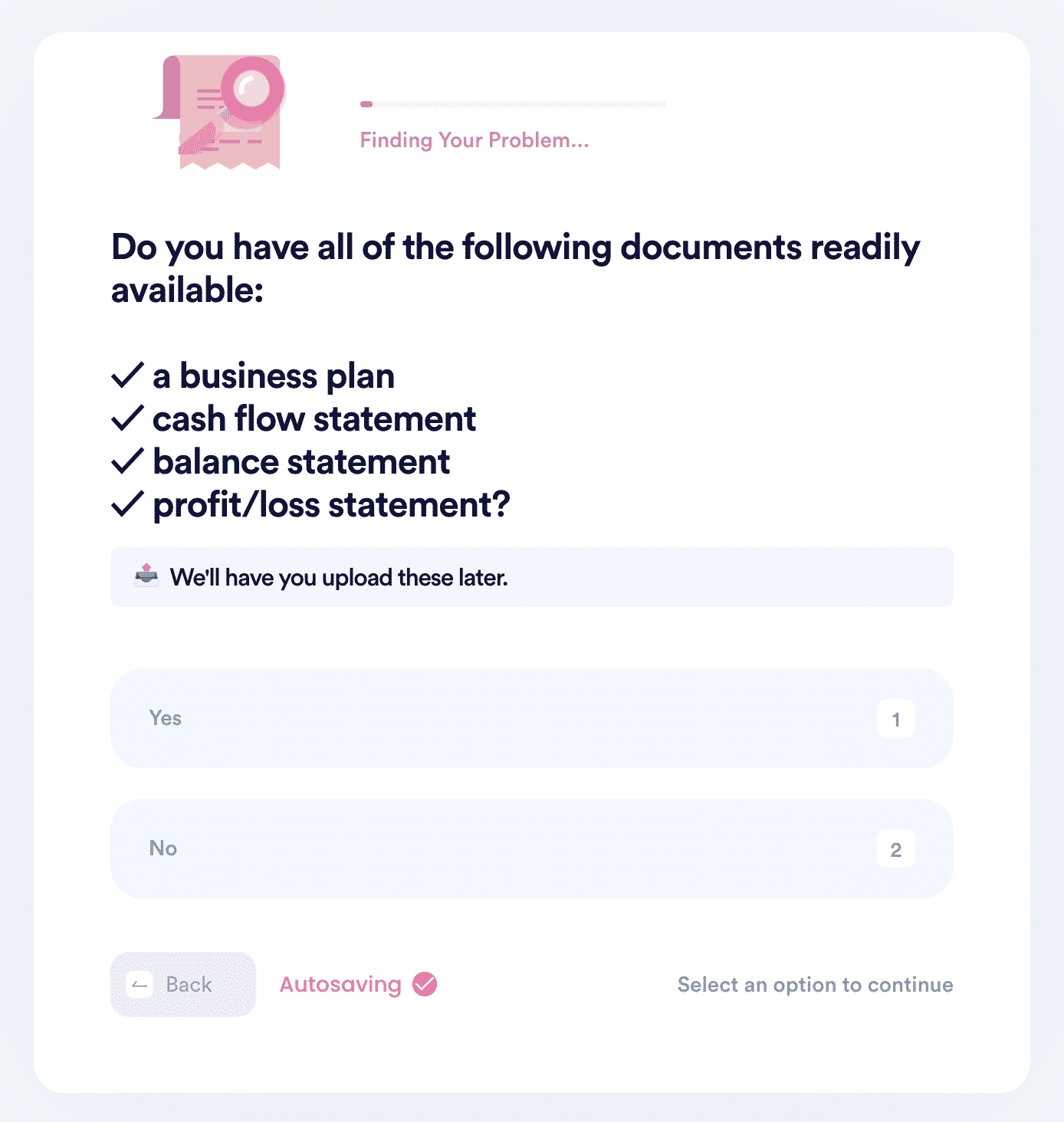 DoNotPay Finds the Best Lenders for You!
If you're still uncertain as to which lender you want to take out a loan from—we can assist you in finding the best one!
You can opt for our Find Online Business Loan Lender feature to get a list of three best lending institutions for the type of loan you need.
Alternatively, you can kill two birds with one stone—fire up our Business Loan Request Letter tool, tell us you don't have a specific lender in mind, and let us find you one and draft a letter you can send to them right away!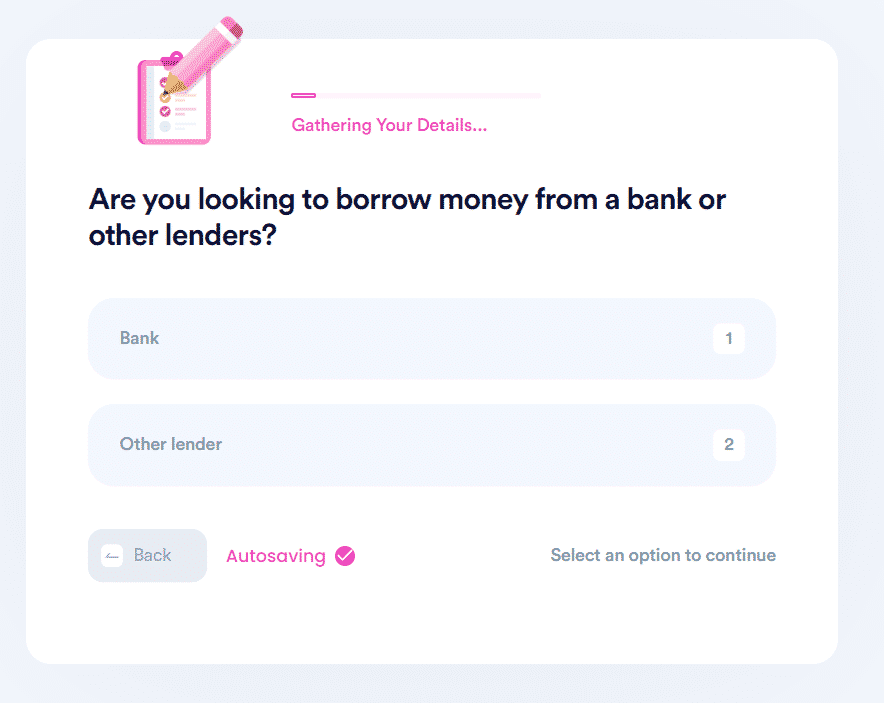 Take Care of Pesky Business-Related Procedures Effortlessly!
As a business owner, you are bound to deal with various complex processes. Luckily, DoNotPay can help you handle most of those procedures stress-free. Do you need to register your business name as a trademark, file the self-certification request with the Privacy Shield program, or report illegitimate and inappropriate negative reviews? Our app enables you to do it within minutes.
That is not all we can do for you! With our nifty products, you can make the filing of 83(b) election forms a breeze and take care of DMCA agent and Employer Identification Number (EIN) registration in no time.
Need a solution that will facilitate correspondence with your business associates or clients? DoNotPay has the right faxing and mailing product for you!
Don't Spend a Small Fortune on Lawyers—Draft Various Documents With DoNotPay's Help
Drafting legal documents does not have to be complicated or expensive. DoNotPay has a variety of tools that you can use to get a:
Letter requesting a loan for your small business
Cease and desist demand regarding your trademark (if someone tries to use your business name, logo, or slogan)
Formal demand letter requesting a client to pay for your services
Personalized chargeback rebuttal document based on the:

Chargeback reason
Chargeback code
Service you offer