Learn Everything About Cobb County Property Tax Exemptions
If you are a Georgia resident, you should learn more about the possible ways of lowering your property taxes. In Cobb County, property tax exemptions are one of the popular options for reducing these expenses. DoNotPay can let you know if you meet the criteria and help you file property tax appeals if needed!
What You Need To Know About Property Tax
The amount of money that homeowners give to the state each year for owning property is called property tax. These taxes vary across the states and counties, but they are all based on the same factors. The sum you ought to set aside for owning a house is affected by the property's age, size, type, and location.
The property tax assessor will take all those factors into account when they come to appraise your home. They will also look at the neighborhood and the land surrounding your house.
Taxes are necessary because they make state institutions function by funding:
Schools

Hospitals

Libraries

Law enforcement
How Do You Calculate Property Tax?
To calculate property tax, you will need to know your county's property tax rate, the assessed value of your property, and possible property tax exemptions you qualify for. Multiply the property tax rate with the assessed value of your property, and you will end up with your tax bill. If you are eligible for a tax exemption, that also needs to be considered.
What
Cobb County Property Tax Exemptions
Are Available?
States look for ways to help the less fortunate with paying their property taxes. This generally involves exempting veterans, widows, senior citizens, and disabled persons from paying a portion of their property taxes. Check out the table below to see property tax exemption options in Cobb County:
Property Tax Exemption

Details

Basic Homestead

$10,000 exemption in the school general and county general tax categories

School Tax (Age 62)

Total exemption for people who are 62 or older in the school general and school bond tax categories

State Senior (Age 65)

$4,000 exemption in the state, county bond, and fire district tax categories for persons who are 65 or older. Their annual income shouldn't exceed $10,000

State Person With Disability

A $22,000 exemption in all tax categories except the state tax. The applicant needs to be disabled and have an income that is not over $12,000

State Veteran's Disability

Exemption available in all categories. The individual needs to have 100% service-connected disability or be compensated at 100% because they cannot be employed

State Surviving Spouse

Exemption available in all categories. A person should be an unremarried widow of a member of the U. S. armed forces killed in any war and getting spousal benefits from the

U. S. Department of Veterans Affairs

State Surviving Spouse of a Firefighter or a Peace Officer Killed on Duty

The individual needs to be an unremarried surviving spouse of a firefighter or a peace officer who died in the line of duty
For each of these exemptions, you'll need to provide appropriate documentation as proof of your situation.
Can You Get a
Cobb County Property Tax Exemption
? Find Out With DoNotPay!
If you are looking for an easy way to find out whether you meet the Cobb County property tax exemption criteria, you should use DoNotPay! Our app will let you know if you can apply for any of the available options for lowering property tax in a matter of minutes.
Follow these easy steps:
Access DoNotPay from a

Locate and choose the

Property Tax

feature

Answer some questions about yourself

Tell us more about the property you own
Your virtual assistant will generate you a guide to property tax reductions. We will also make sure you know what documents you need to gather and how to submit your applications.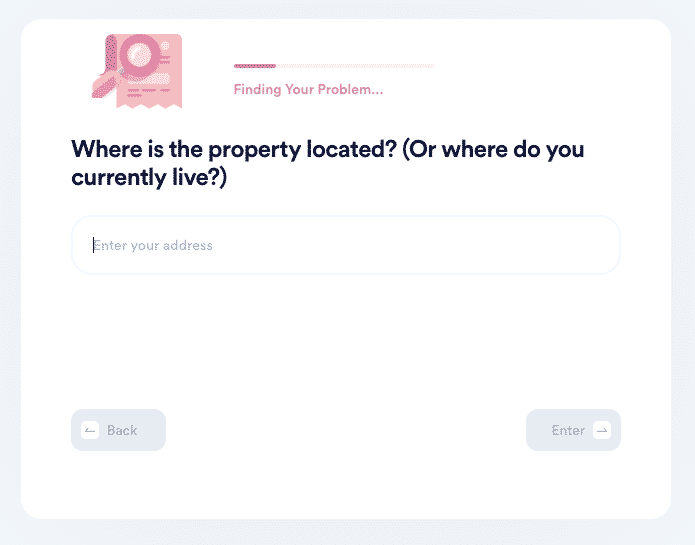 If you wish to know more about states with low property taxes, you can check out our guides for:
Lower Your Property Taxes by Appealing Assessments With DoNotPay
You may use DoNotPay to appeal past property tax assessments and reduce property tax costs this way. The procedure is simple:
Open our app in any

Find the

Property Tax

feature
Your virtual assistant will help you gather evidence to lower the dwelling's assessed value and let you know what to say to the assessor to help out your case.
What Happens if You Don't Pay Your Property Taxes on Time?
Property taxes ought to be paid on time, and if you are late with these payments, it may not end well for your property. The smartest move is to explain your situation to authorities. If you have a valid reason for being late, they might let you extend the time to pay these taxes. If no such excuse is available, you could lose your home.
DoNotPay Is the Champion of Customer Advocacy
If you've never experienced an issue with a purchased item, you should consider yourself extremely lucky. When shopping goes wrong, you usually have to brace yourself for unpleasant and annoying exchanges with customer support centers.
DoNotPay is here to make exercising your consumer rights easy. Long holds when calling customer service reps and incessant marketing spam emails can stay in the past. We will help you avoid irritating text messages from online retailers by teaching you how to bypass phone verification when signing up.
Ask for refunds, claim warranties, fix credit card issues, or sue retailers in small claims court—these are just some of the services our platform provides.
With DoNotPay, you can start free trials for new services risk-free. If you want to get out existing subscriptions, canceling them has never been easier!
Wait, There's More!
Our full portfolio includes features as diverse as contacting inmates and requesting college application fee waivers for students from low-income families.
If you have a problem with bureaucracy, the chances are DoNotPay knows how to fix it with your minimal involvement.
Leave the grunt work and unnecessary expenses behind. We will help you pass various government tests with flying colors, find unclaimed money in all states, or get out of parking tickets before you know it!