Book a
Cobb County Notary
in Five Minutes!
Finding a quick way to get a document notarized in Georgia is not an easy task. Visiting a Cobb County notary public is a valid option, but we can offer you a simpler solution!
Sign up for DoNotPay and schedule a meeting with a remote notary in Cobb County in five minutes or less!
What Can a
Cobb County Notary
Do for Me?
A notary in Cobb County witnesses the signing of documents and adds their stamp and signature to confirm the required legal protocols have been followed.
The standard in-person visit to a notary public requires you to:
Locate a notary

Find the contact info to set up an appointment

Schedule your meeting

Learn what fees you will need to pay

Prepare all the documents and your ID

Show up to the meeting in person

Prove your identity

Pay the fees

Sign the documents while the notary witnesses the process

Wait for the notary to sign and stamp the documents
This method is tedious and outdated, so let us present you with alternative options you can choose instead, such as mobile and remote online notarization.
How To Locate a
Cobb County Notary
To find a notary, you should browse online registries or visit certain institutions that offer notarial services.
Finding a Notary Online
Visit any of the following online registries to find a notary near you:
Locating a Notary in Public Places
If you would prefer to do this in person, you can visit these public places that offer notary services:
Different
Cobb County Notary
Services
Besides the conventional in-person notarization, you can use the alternatives presented in the following table:
Notarization Option

Description

Online notarization

Notarizing documents online became popular during the

COVID-19 pandemic

. It minimizes the health risks since the entire process can be handled from your living room via video call

Mobile notarization

Seeing a mobile notary helps you avoid traveling to a notary's office. They visit the clients at any location. While convenient, this option can get quite expensive because of the travel and mileage fees added to the fixed price

Electronic notarization

Choosing an electronic notary (eNotary) is the same as visiting the standard notary public. The difference is only in the format of the documents—eNotaries use PDF formats and provide digital stamp and signature

Notary signing agent

Going for a notary signing agent is a convenient option if you need to notarize a loan document. You can locate a notary signing agent by using various online registries
What Documents Can a
Cobb County Notary
Notarize?
There is no shortage of documents that a notary in Cobb County can notarize for you. Some of the common ones are:
Business documents

—Vendor contracts, MOU documents, employment contracts, commercial leases, and articles of incorporation

Legal documents

—

Wills

, trusts, advanced directives,

affidavits

, executorships, custody and guardianship agreements,

powers of attorney

, and court documents

Financial documents

—Mortgage closing papers, property deeds, and loan documents
Book a Meeting With a
Cobb County Notary
in Minutes Using DoNotPay!
If you are looking for a fast and efficient way to book an appointment with a notary, DoNotPay is a perfect choice! We offer a 24-hour service, so you can schedule your appointment whenever it suits you!
The process is streamlined to a tee! Here's how it works:
Select the

Notarize Any Document

feature

Attach your documents and give us your email address
We'll send you a link with a timetable, and you can book your appointment in a few minutes!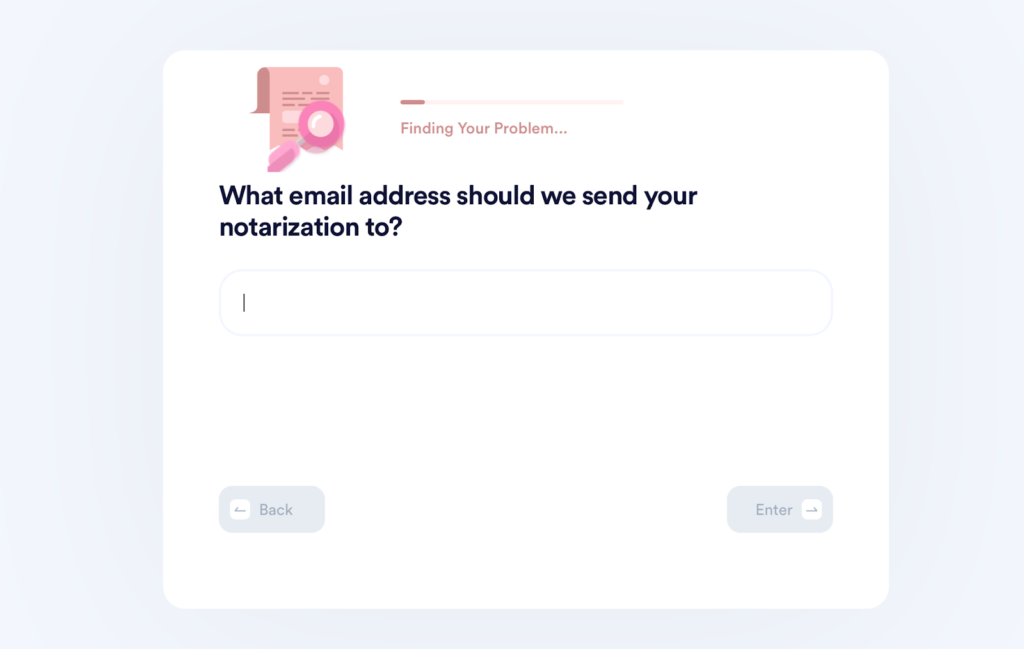 The entire notarization process will be handled via video call, and a notary will provide their digital stamp and signature after they witness the signing.
DoNotPay Answers Your Commonly Asked Notary-Related Questions
Are you still unsure about certain aspects of notarization and different notary services? We are happy to clear up any confusion! Check out the list of the common notarization-related questions we'll answer for you:
Say No to Spam and Unnecessary Paperwork
If your inbox, mailbox, or to-do list is overflowing, our app is exactly what you need! Check out ways to declutter your life:
You can have your cake and eat it too—DoNotPay makes it possible to cut down on unnecessary red tape and save you money—all in one full swing. We can help you overturn your parking tickets, apply for a college fee waiver, uncover missing money, submit a FOIA request, and much more.
Discover Numerous Fast and Easy Solutions
DoNotPay is all about helping you through a complicated task by coming up with simple solutions: