Co Trustees Revocable Living Trust
Want to know how co-trustees can share the role in a living trust? We can help. We'll walk you through the process of creating your living trust with co-trustees and help you decide if this process is right for you! At the end, learn how you can set up a living trust with co-trustees with .
What Is a Living Trust?
Trusts are an estate planning tool that can be used to leave assets to beneficiaries. Like wills, revocable living trusts can be altered. Unlike wills however, trusts do not go through probate and the courts do not oversee the transfer of assets - trustees do.
Setting up a living trust or joint revocable trust that has co-trustees can complicate things or be the most convenient solution for you and your spouse, partner, or anyone you share assets with. 
Who Should Be My Co Trustee?
In short: anyone. However, it makes sense in many cases to make the co-trustee of an agreement your spouse, domestic partner, or a business partner, as you may have shared assets to give to common beneficiaries. Some trusts, however, may have several co-trustees with assigned roles (detailed in the trust) to lessen the burden on one successor trustee (not the original asset owner). In trusts that are shared, your co-trustee will have equal decision making power and responsibility for how the assets are distributed.
In this case, whoever is named as the successor trustee will take responsibility for the trust upon the death of both co-trustees. Before you enter into a joint trust, it is worthwhile to make sure that you know your partner has a clean credit score, is not in debt, and does not have any extra-marital children that are unknown to you or would complicate your agreement. 
What if we disagree?
As mentioned before, co-trustees can have different roles within the trust, and in this case, disagreements will fall to the trustee assigned the task. 
In an equal partnership with no assigned roles, decisions must be unanimous, and disagreements can be directed to the court for advice. 
How to Set Up a Living Trust With Co-Trustees
Choose a type of trust to create. Living trusts (named so because you are living while they are created!) can be revocable or irrevocable.

Revocable trusts

can be altered at any point, while

irrevocable trusts

are extremely difficult to modify after signing. Check out this guide on

revocable vs irrevocable

living trusts.

Figure out how you'd like to

set up your living trust

. You can write one on your own, use an

online template

, hire a

lawyer

, or use DoNotPay.

Identify the assets that will be placed in the trust. Assets that don't need to be included in trusts are: c

ars,

HSAs,

IRAs, and

UTMAs or UGMAs.

Choose and name your beneficiaries and what assets they will be getting. This will become instructions for your trustee(s) to divide and give out the assets. If you no longer have specific assets to give away, residuary beneficiaries will receive all or a portion of everything not specifically given away to other beneficiaries. 

Choose your trustees. You can add

co-trustees

that split the duties or assign them specific jobs.

Name a back-up trustee in the case both co-trustees are incapacitated. He or she will manage the assets without taking any for themselves (unless specified) and is obligated to treat each beneficiary equally. 

This trust will become active as soon as it is notarized.
Get a Revocable Living Trust From DoNotPay
DoNotPay can help you create an error-free retractable living trust in minutes. Once you're ready, here's what you need to do:
Log-in to

and search for the Revocable Living Trust product
Enter the state you live in
Provide us with details about the trustees and beneficiaries
Enter the assets that will go under the trust
Provide the state the document will be notarized in
That's it! Your revocable living trust will be ready for download in minutes!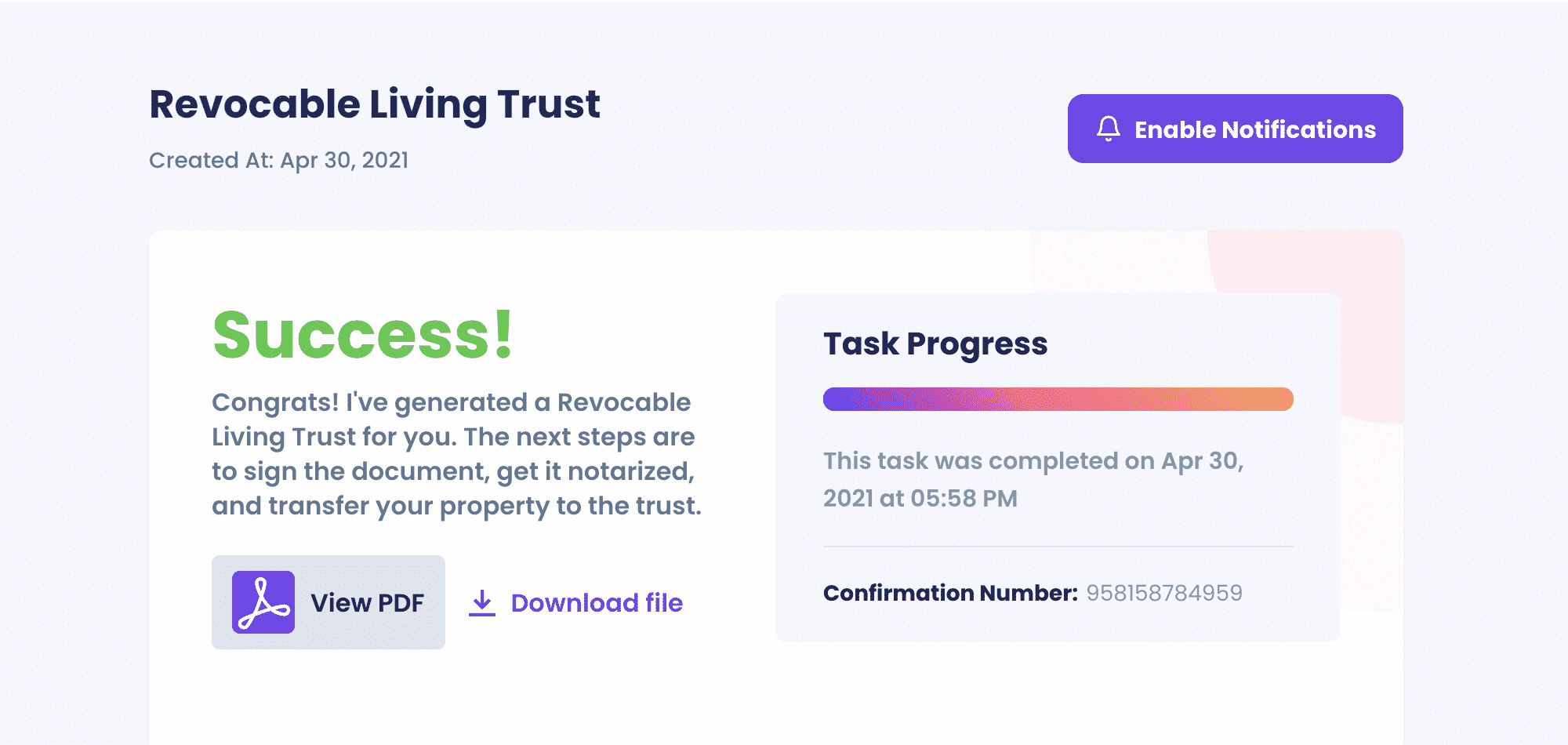 Living trust guides by state
We realize estate planning can be stressful, and you want to have all of the information possible. We've written several guides to give you background on all aspects of living trusts for each state.
How Else Can DoNotPay Help?
DoNotPay doesn't stop at helping you write cease and desist letters. The AI-powered robot lawyer can help you with day-to-day issues such as cancelling subscriptions, creating passport photos, appealing parking tickets, and so much more! Here's what else we offer: