Is the Garment District Beckoning? Understand Clothing Boutique Startup Costs With DoNotPay!
Following your dream of entering the clothing retail trade is a route that beckons if you have a talent for style, design, and fashion.
You still need sound business sense to become—and stay—successful.
Your startup costs can be high and have to be recouped in as short a time as possible. You are dependent on your ability to buy good stock, market your store, and generate constant customer growth.
If you are at the beginning of your journey, DoNotPay can help with our breakdown of the typical clothing boutique startup costs.
Should You Look at Physical or Online Boutique Startup Costs?
Before you even think about what kind of fashion you want to specialize in, you need to decide whether you want your store to be:
An online retailer
A physical outlet
Online Retailer
As an online retailer, you can avoid many upfront costs in securing premises, but you may have to hold higher levels of stock to cater to your clientele.
You will also be competing against some heavy hitters, so will need to set yourself apart through your:
Products
Brand identity
Online presence
Trying to beat the large online clothing retailers at their own game may be a recipe for failure.
Physical Outlet
With a physical store, your clientele is more limited, but you have greater control over your business.
If you can find a convenient location with the right kind of customer in the vicinity, you may be able to carve out a niche for yourself.
What Retail Boutique Startup Costs Can You Expect With Each Model?
Depending on the business model you choose, your boutique startup costs could be considerable, as follows:
Boutique Type
Startup Cost Elements
Online boutique
Your website is your storefront, so you need to invest heavily in:

Website design
UX
Product images and presentation
Ecommerce functionality and security

Physical inventory has to be:

Bought in enough sizes to satisfy likely demand
Stored securely and accessible for quick dispatch
Replenished

On the marketing side, you will need to spend on building brand awareness while competing against larger online retailers with deep pockets

Physical boutique
A physical outlet needs to be sourced, leased, and decorated to represent you effectively.

You will incur upfront costs for:

Leasing premises
Redecoration and shopfitting
Infrastructure—tills, card machines, and POS systems
Display equipment—hangers, accessories, mannequins, and window dressing material

You may also need to recruit and hire competent staff—you may have to spend considerable amounts on the recruitment process before you find the right person
The average startup cost for a boutique can range from $50,000 to $150,000, depending on your:
Business model
Location, if you have opted for a physical outlet
How Can You Fund the Startup Cost for a Clothing Store?
Recent events have made the clothing retail industry a high-risk business.
While online retailers have survived—and even thrived—physical outlets have suffered at their hands and as a result of the COVID-19 pandemic.
Whether you are trying to enter the online or physical clothing retail business, financial institutions may regard you as high-risk.
If you have built up enough financial credibility to have sufficient access to credit or have enough cash to cover your upfront costs, your path is relatively easy.
If you need a small business loan or startup finance, you may face a struggle to qualify for finance at acceptable terms of repayment.
To secure a small business loan, you will need to do your homework and present:
A logical and comprehensive business plan
Well thought-through budgets and sales projections, backed by cost control measures
A history of financial credibility
There are several types of small business loans available, and the sources you can investigate include:
Credit unions or other financial services providers
The better you can present your business, the better loan offer you will receive, with more acceptable:
Repayment periods
Securities or collateral required
The willingness of a financial institution to loan you the money to cover your boutique startup costs depends on your ability to offer them security and guaranteed repayment.
This is where DoNotPay steps in to help—our Business Loan Request Letter product can make sure your business is presented in the best light!
DoNotPay Can Help You Go From Dreams to Dolce!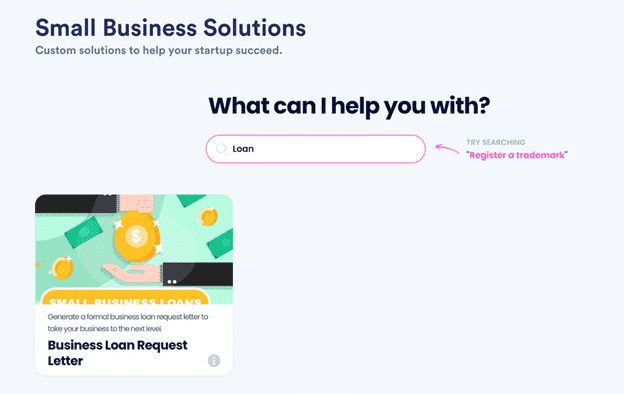 Dealing with financial institutions involves generating trust in you, your business, and your prospects.
DoNotPay can help you create the right impression in your search for startup financing by generating a loan request letter that is:
Professional
Logical
Comprehensive
Here's what you need to do to get your loan request letter set up:
Navigate to our Business Loan Request Letter feature
Gather your credit scores and financial documentation and upload it
Tell us about your plans, financial needs, and growth strategies
We will handle the rest—you will receive a customized loan request letter to submit to your financier that ticks all the boxes.
To make your life even easier, we can source potential lenders for you.
If you use our Find Online Business Loan Lender feature, we can give you a list of the top three lenders that meet your criteria, including rates, terms, and speed of service.
Your fashion dreams start here!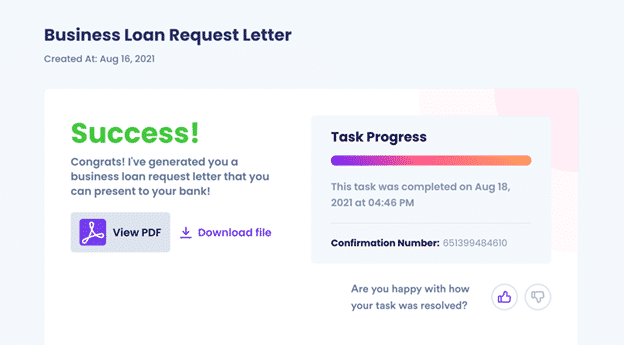 Use DoNotPay To Stay Ahead of the Curve
Why would you do things the old-fashioned way when we can help you pave the way? Use our mailing and faxing service to send letters and documents online without leaving your office or using an obsolete machine.
Do not sit on your hands when faced with complicated issues—DoNotPay offers easy solutions. Whether it's a breach of contract, fake review, or fraudulent chargeback, we know what to do. We will make sure every solution takes several clicks.
To keep growing and bettering your business, you may need additional funds. With DoNotPay's help, you will be able to submit small business loan applications swiftly.
There Is No Shortage of DoNotPay Products That Help Your Business
Running a business comes with numerous benefits but also with endless paperwork. Let us take some tasks off your plate by handling the following:
Employer Identification Number (EIN) registration
Privacy Shield Framework registration
83(b) election forms submission
If you want to have a designated DMCA agent, we can help you register them with ease. DoNotPay can also assist you in getting a trademark registration. You can rely on us to also provide monthly trademark infringement checks to keep your business safe.