Client Refusing To Pay Invoice? Write a Demand Letter With DoNotPay
Have you found yourself in a situation where your client is refusing to pay an invoice? That is never an easy situation, and it takes patience and professionalism to resolve this type of dispute. Refusing to pay the amount outlined in an agreement is a material breach of contract, and as such, it requires legal action. Before you resort to a lawsuit, you should consider sending a demand letter.
If you sign up for DoNotPay, our app will create the perfect breach of contract demand letter on your behalf.
What To Do When a Client Won't Pay
It can be frustrating when you have a customer who refuses to pay for the work done, but you have several options to deal with a situation like this:
Send several payment requests
Find out whether the client is unhappy with the work you have performed
Send a collection demand letter
Create a final demand letter before a lawsuit
File a claim in small claims court
Sending Frequent Payment Requests
Sometimes persistence pays off. If you send a payment request and get no payment, it is time to send another one.
In case that does not work, you should contact your client to ask why they are refusing to pay you.
Find Out Why Your Client Is Not Paying You
Your client may refuse to pay you because they are unhappy with the work you have done. They might even claim that you breached the contract because you failed to perform as outlined in your agreement. If they can prove breach of contract elements, you can try to reach a settlement that will satisfy both you and your client, such as:
Giving your client a discount
Lowering the amount of the payment
Fixing the mistake you made (if applicable)
If you believe that you have not made a mistake and that your client is in breach of contract, you should send a demand letter.
Writing a Collection Demand Letter
If your attempts to contact the client have been futile, or you disagree that your work is not satisfactory, it is time to send a demand letter. In your letter, you should include the following:
Details about both parties
Services you performed for the client
Total amount that the client owes you
Deadline for the final payment
Warning that you will file a lawsuit if they ignore the letter
You should get familiar with your state's laws to make sure that your requests comply with them. Consult the table below for information on your state:
Sending a Final Demand Letter Before Litigation
If there is no response to your demand letters, you can send a final demand letter to give your client one final chance to pay you. The final demand letter implies that if your client does not pay you by the deadline, you will proceed to court.
You should be polite and professional when writing your final demand letter, especially because it will serve as evidence that you wanted to resolve the dispute without involving courts. Keep in mind these guidelines when writing the letter:
Type the letter
Include every detail
Be clear about what you are demanding
Set a deadline by which the client must pay you
Make copies of the letter
Send the letter via certified mail and keep the return receipt
How To Prepare a Demand Letter With DoNotPay
You do not have to use unreliable and generic templates to create your request because DoNotPay will generate a fully personalized demand letter that complies with your state laws.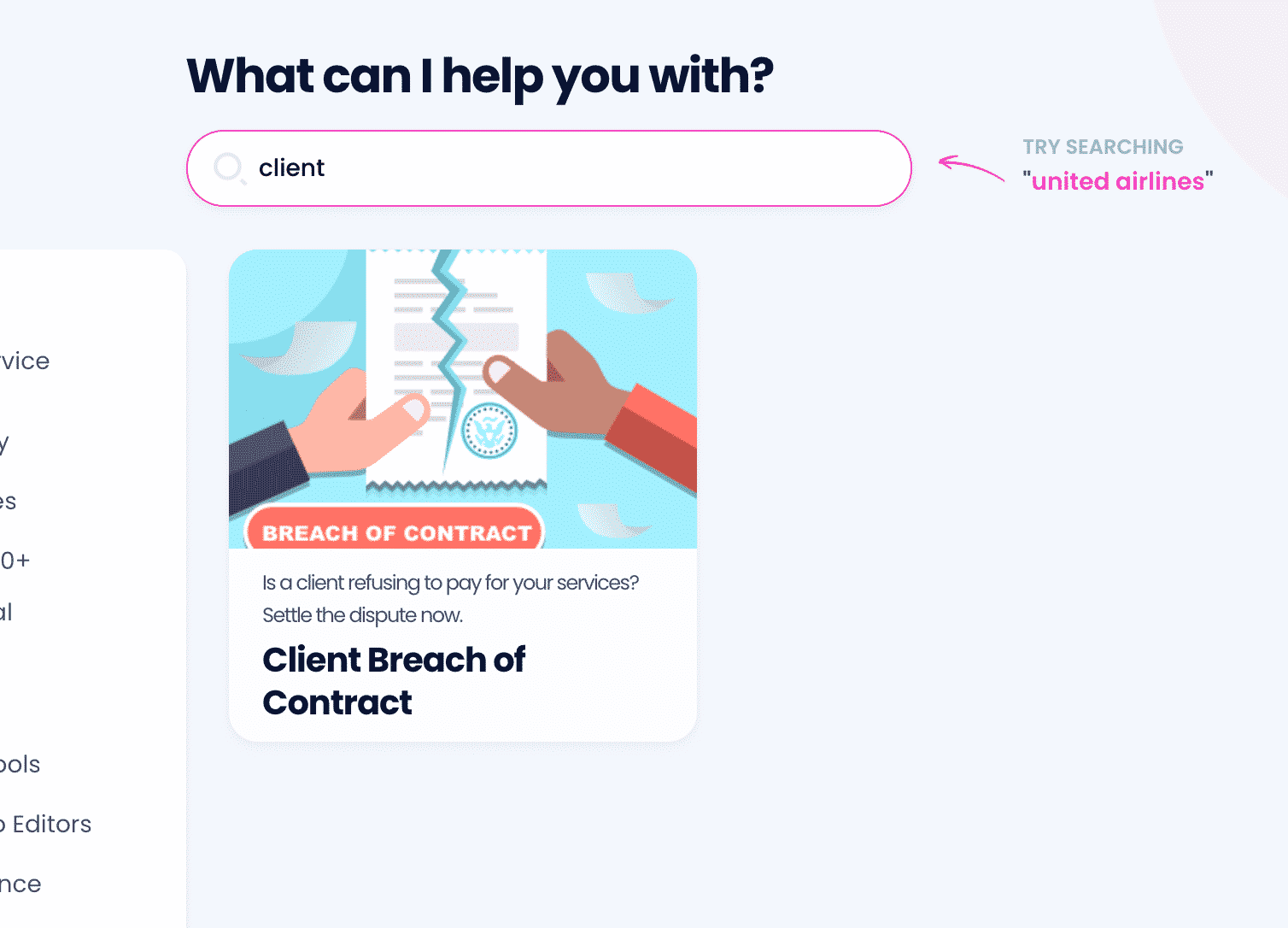 Once you sign up for DoNotPay, you should:
Access the Client Breach of Contract product
Provide details about your case, such as:

Information about the client
Amount that the client owes you
Services you performed
Due date by which the client was supposed to pay you

Set a new due date by which the client needs to pay before you file a lawsuit
Add photo proof (if you have any)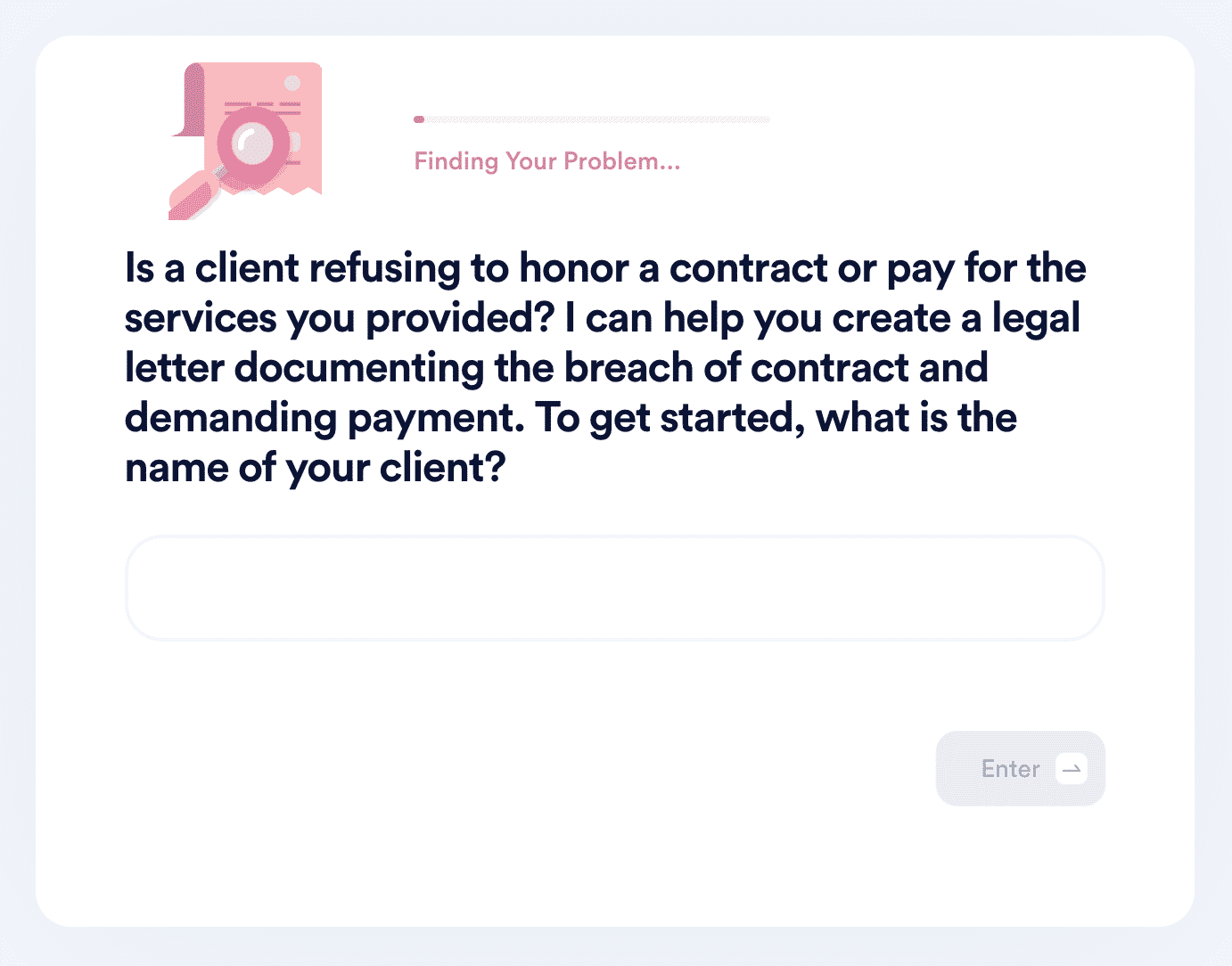 Take Your Client to Small Claims Court With DoNotPay
You sent your final demand letter, and the client is still ignoring you? It is time to take them to small claims court to seek remedies and collect damages. If you want to win a case, you need to demonstrate the following breach of contract elements:
Existence of a valid contract with the client
Defendant's failure to pay the debt
Evidence that you fulfilled the terms of the agreement
Losses you suffered due to the breach
If you cannot prove the breach of contract elements, your client might use it as their defense.
DoNotPay can help you by:
Compiling all the necessary paperwork
Filling out the court forms
Filing the paperwork on your behalf
Generating a script you can use at your hearing
Get the Upper Hand With DoNotPay
The business world is extremely competitive—that is why it is always good to have some extra capital set aside when you need to invest in your company. You can leave the bureaucratic task to us—DoNotPay will draw up business loan request letters in your stead.
If your finances are taking a hit, rely on our app. With our assistance, you will be able to:
Fight fraudulent chargebacks
Remove fake negative reviews online
Register and protect your trademark
Send mail and faxes at no additional cost
Handle clients breaching contracts and get what you are owed
Whatever the task at hand, our AI-powered app will see it through successfully.
DoNotPay—The Assistant Every Business Needs
You cannot escape bureaucracy in business. What you can do is let DoNotPay deal with it. Whether you need to register a DMCA agent or complete an Employer Identification Number (EIN) registration, our app will lead the way.
Using DoNotPay, you will also not have to worry about 83(b) election forms or Privacy Shield self-certification. From generating to filing important documents and from dealing with employees to handling clients on your behalf, our AI-driven app is your go-to solution.
Grow and protect your business with the world's first robot lawyer!