A Client Refuses To Pay a Contractor—What To Do
Did you put an excessive amount of time and effort into your work, only to see that the client is refusing to pay for the performed job? When a client refuses to pay a contractor, it can create additional problems, such as the contractor not being able to pay the subcontractor. This makes the situation more complicated because there are multiple breaches of contract present.
If your client did not pay you for the performed services, you should get familiar with your rights to legal remedies. This article explains what your options are when dealing with the situation and seeking damages. DoNotPay will also explain how to resolve the matter out of court by writing a solid demand letter.
What Type of Breach Occurs When a Homeowner Refuses To Pay the Contractor?
Not paying for the services of a contractor when the agreement clearly outlines the prices and terms is a severe violation of the contract. This type of breach has all the elements of a material breach of contract.
A material breach of contract occurs when a party fails to carry out their part of the agreement in a way that renders the contract seemingly pointless. By refusing to pay, the client violates the contract in such a way that makes the injured party suffer significant losses. Suppose that the contractor spent days, weeks, or even months completing the job, hired subcontractors, and spent money on materials. If the client refuses to pay, the contractor will suffer significant losses.
Customer Refuses To Pay for the Work Done—What Now?
What can you do when your client refuses to pay you? Here are some options to consider:
Talk to your client in person
File a mechanic's lien
Discussing the Situation With Your Client
Before taking any legal action, you should ask your client why they did not pay you. They might not be happy with the work you did. Maybe they will claim that you had not upheld your end of the bargain.
Whatever the reason may be, you should arrange a meeting, head over to your client, and check whether their claim is true. If it is, see how you can fix the mistake you made. If not, tell them that you believe you performed your part of the agreement and ask them to perform theirs.
Filing a Mechanic's Lien
If your client refuses to pay you even after the discussion, it is time to take a different approach. A mechanic's lien is a legal claim that a contractor or a subcontractor places against the homeowner and their property. This type of claim makes real estate difficult to sell or refinance.
You can file a mechanic's lien at a clerk's office in the county where the property is located.
Sending a Demand Letter
If your client is unwilling to negotiate and settle the matters out of court, you can send them a demand letter before taking legal action. A demand letter is a formal document that:
Notifies your client that they did not uphold their end of the deal
Proposes potential solutions to the breach of contract
Informs the client of your intention to sue should they fail to perform their contractual obligations
If your case reaches court, a demand letter will serve as solid proof that you were willing to resolve the issues without filing a lawsuit.
Consult the following table for options on how to draw up a breach of contract demand letter:
| How To Write a Demand Letter | Details |
| --- | --- |
| Hire an attorney | Having an attorney write a demand letter for you sounds like a good option, but you should prepare for sky-high fees |
| Find an online template | If you are not familiar with legal requirements and lack experience in writing formal demand letters, you might resort to online templates. You should keep in mind that they are unreliable and might not comply with your state's laws |
| Use DoNotPay | Our affordable and easy-to-use app can generate a fully personalized demand letter in minutes |
Filing a Claim in Small Claims Court
If your client ignores your demand letter, the next step is to take legal action. In court, you will need to prove that:
A valid contract exists
The other party refused to carry out their part of the deal
You suffered damages and losses due to the breach
Keep in mind that not being able to prove some of these elements might give the breaching party an opportunity to use affirmative defenses against you, which could dismiss your claim.
How To Create a Demand Letter With DoNotPay
Instead of relying on generic templates or paying expensive lawyer fees, you should use DoNotPay to get a fully personalized demand letter in minutes. Why DoNotPay? We have a comprehensive database of relevant state laws, which we will use to create a professional demand letter. We will ask you a few questions about your case to make a document that caters to your specific needs.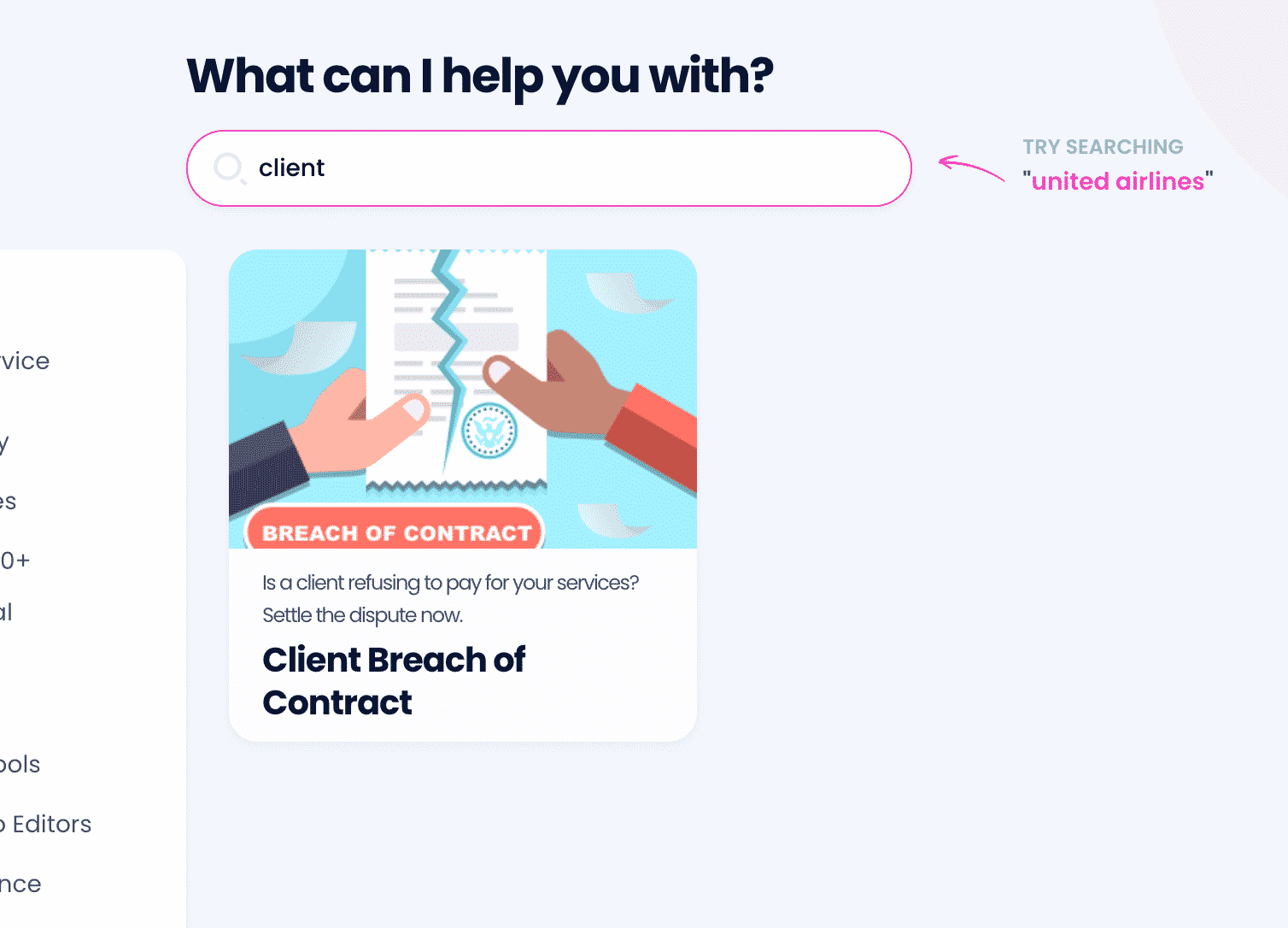 To use our Client Breach of Contract product, sign up for DoNotPay and complete the following steps:
Select the product
Add the required information, such as:

Client's name and address
The date the payment was due
The amount they owe you

Specify the final due date
Describe the provided services
Provide photo proof if you have any
Once you provide all the necessary information, we will create your letter automatically.

Get Down to Business With DoNotPay
If your to-do list is getting longer by the day, we offer numerous solutions. You can focus on growing your business while we handle the endless administrative tasks.
Here are some of DoNotPay's products and services that will assist your company tremendously:
DoNotPay Feature
Our App Will
Trademark Registration

Complete your company name, logo, or slogan registration application
Submit the application in your stead

Trademark Protection

Perform monthly checks
Notify you in case there is any trademark infringement
Help you file cease and desist letters

EIN Registration

Fill out and file your Employer Identification Number (EIN) application
Notify you of your new EIN

Register a DMCA Agent

Complete the DMCA agent registration process
Register the designated agent with the U.S. Copyright Office
There Is Even More We Can Do for You
Navigating the business world can be overwhelming. If your paperwork is piling up and disputes keep emerging, start using our app and declutter your workday from numerous chores.
The world's first robot lawyer can help you deal with the following:
Chargeback scams
Business loan applications
Faxing and mailing
Negative online reviews
83(b) election forms
Self-certification with the Privacy Shield program