The Client Confidentiality Agreement Explained
Two parties entering a collaboration often have access to each other's private information. Other times, a client will entrust a service provider with their personal details. Both situations call for signing the client confidentiality agreement. That way, they ensure the information they shared will remain a secret.
In this article, DoNotPay will provide an insight into the workings of a client confidentiality agreement and its benefits. We will also show you how to create various other legal documents without a hitch!
Basics of the Client Confidentiality Agreement
A client confidentiality agreement is a contract that forbids the signers from disclosing each other's private information without authorization. The info usually treated as confidential includes:
Financial records
Trade secrets
Formulas
Information about customers, pricing, or marketing
Details about the business operation or strategies
Any other proprietary information
Breach of a confidentiality agreement typically leads to serious legal repercussions. In most cases, the breaching party has to provide significant material or monetary compensation to the injured party.
When Should a Client Confidentiality Agreement Be Used?
Various collaborations call for the client confidentiality agreement. Check out the table below for more details:
| | |
| --- | --- |
| Situations That Require a Client Confidentiality Agreement | Description |
| Sharing information with a lawyer | Clients typically have to reveal private information to their attorneys. A confidentiality agreement is necessary because the disclosure of that information can hurt the client's case and create other legal consequences |
| Hiring a contractor | A contractor hired to build something for a client may gain access to the company's confidential information. By signing an agreement, the contractor guarantees not to disclose that info to the public |
| Revealing private details to a consultant | Clients usually disclose information about their careers, personal life, or mental health to their consultants. A client can ask the consultant to sign a confidentiality agreement to ensure their private details will remain safe |
| Disclosing sensitive information to a physician | Physicians are obligated to keep their client's health information a secret. Even if they want to use the details for research or a study, the confidentiality agreement can prevent them from disclosing the patient's name or any other personal information |
What Should a Client Confidentiality Agreement Outline?
General sections a client confidentiality agreement should include are:
Description of the involved parties, including names and identification
Date the agreement becomes effective
Reason for creating the contract
Description of the confidential information
Details to be excluded from the agreement
Specifics of what the other party is agreeing to
Consequences for breaching the contract
Duration of the agreement (for a specific period or indefinitely)
Due to the nature of the client confidentiality agreement, it is best to have a lawyer draw it up. If you choose to write the agreement yourself or customize a contract template, an attorney can revise it. That way, you won't spend as much money, but you'll be sure the document has all the necessary details.
Getting the client confidentiality agreement notarized can add to its legal weight. DoNotPay can spare you from searching for a notary yourself and help you get the agreement notarized online!
What Are the Advantages of the Client Confidentiality Agreement?
The client confidentiality agreement is highly beneficial for all involved parties and their cooperation. This document helps with:
Building and maintaining trust between the service provider and client, which results in a stable working relationship
Keeping private information off-limits to individuals who shouldn't know about it
Making clients feel comfortable with disclosing their personal information to people who can help them, such as mental and physical health experts
Highlighting consequences for breaching the agreement, which reduces the chances of information disclosure
Let DoNotPay Create Legal Documents for You
Hiring a lawyer to draw up every contract can be expensive and unnecessary. If you subscribe to DoNotPay, you can get many documents created with a few clicks.
Our app generates business, real estate, and personal contracts based on your requirements and state laws.
All you have to do is complete these simple steps:
Access our Standardized Legal Documents product
Enter the document name in the search field
Answer questions to help us customize your document
Download or print the contract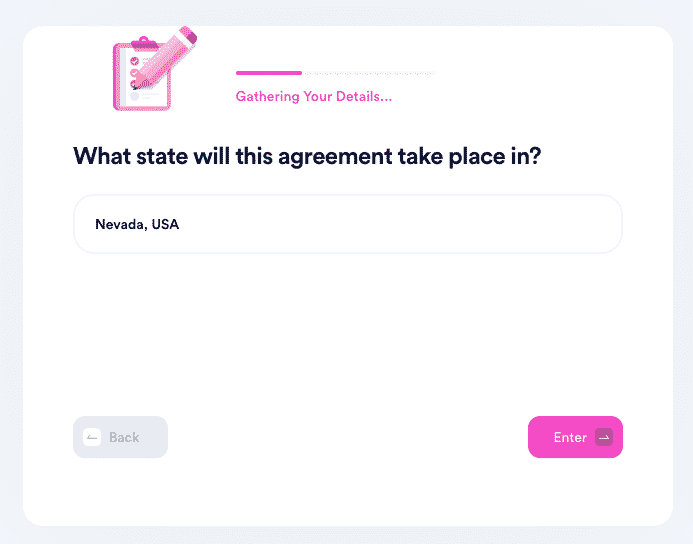 Which Contracts Can You Create With DoNotPay?
We are constantly providing additions to the list of contracts our app can generate. Sign up for DoNotPay and let us create many documents, including the ones presented in the table below:
Types
List of Legal Documents
Business

Independent Contractor Agreement
General Business Contract

Real Estate
Other

Child Care Authorization Form
General Affidavit
Promissory Note
Learn About Numerous Contracts and Agreements
Apart from creating legal documents for you, we also provide useful info about various types of contracts, such as:
Let DoNoPay Help You With Your Paperwork
Why waste time on bureaucracy if you can rely on DoNotPay to handle pesky tasks for you? Cancel all your subscriptions at once, find unclaimed funds in a matter of minutes, appeal parking tickets hassle-free, and discover the best way to get your documents notarized remotely.
In case you need help paying bills or you want to earn some money by participating in paid clinical trials, DoNotPay is here to help you out!
Fighting workplace discrimination is of utmost importance, but the entire procedure seems rather complicated. The same goes for the crime victims compensation application in most states. DoNotPay is here to change that. We will help you file a report, request compensation, and create numerous other documents, including demand letters for neighbor complaints.
Keep Your Online Safety in Check!
While internet safety should be one of your top priorities, staying anonymous while surfing the web is almost impossible. If you want to avoid giving out your number when registering for services, you should try out our Burner Phone product.
DoNotPay can also protect your credit card info, name, and email address, all through our handy virtual credit card. Sign up for free trials without worrying about unexpected charges.
With our app, you will learn how to deal with stalkers and harassers and how to access public records the easy way.
DoNotPay offers many other useful products that can help you prepare for government tests, have your college fees waived, and manage any annoying issue in minutes.