How to Get ClickFunnels Free Trial Easily With This Virtual Credit Card

ClickFunnels is a legitimate marketing tool with over 14000 entrepreneurs making a living on it. If you're looking to generate serious leads and sales, build amazing websites, and learn how to sell products online, ClickFunnels will definitely make your work easier.
ClickFunnels offers two packages: the first starts at $97 a month, while the second starts at $297 per month. These are not cheap and you may not want to give away your credit card information before you know if the product suits you.
In this guide, we'll discuss how to safely subscribe to  with the help of DoNotPay.
What Is ClickFunnels?
ClickFunnels is a marketing tool that provides features that a company or individual needs to market, sell, and ship their products or services. The tool focuses on automating the marketing process, therefore, earning you a seemingly passive income.
ClickFunnels integrates tools like the following, making it a one-stop-shop for all your products.
Email marketing
A/B split test
Funnel sharing
Payment systems
Many entrepreneurs enjoy using ClickFunnels because of its features, such as:
It's easy to build pages using their drag and drop feature
It is packed with different templates to choose from
It helps generate leads and sales
It has many courses to shorten your learning curve
The main purpose of ClickFunnels is to help you create complete marketing funnels that the system will automatically send your customers as soon as they subscribe. It's supposed to keep them informed and hooked on your product until they make the purchase.
ClickFunnels Free Trial
ClickFunnels offers two pricing plans: the basic and platinum plans. Here are some key differences:
Plan
Cost
Features
Basic
$97/month
 

Best for people who're just starting digital marketing and still learning.
Limited marketing tools and a course section.

 

Platinum
$297/month
 

Good for individuals who own multiple brands and manage them simultaneously.
Added tools to track funnels faster and host up to 27 domains in one account.

 
 to all new members, no matter the pricing plan you choose. You can access important ClickFunnels features to see if the platform is suitable for you.
Does the ClickFunnels Free Trial Automatically Renew Into a Paid Subscription?
Yes. When your trial period is over, your card will automatically be charged an amount equal to the plan you subscribed to. Since most people subscribe to the $97 basic plan, they often get billed for this on their cards.
However, if the payments did not go through, you can easily cancel your subscription, without getting charged any hidden fees or penalties. That's why we recommend using a DoNotPay virtual credit card to avoid charges you don't want.
Avoid Automatic Renewal With DoNotPay Virtual Credit Card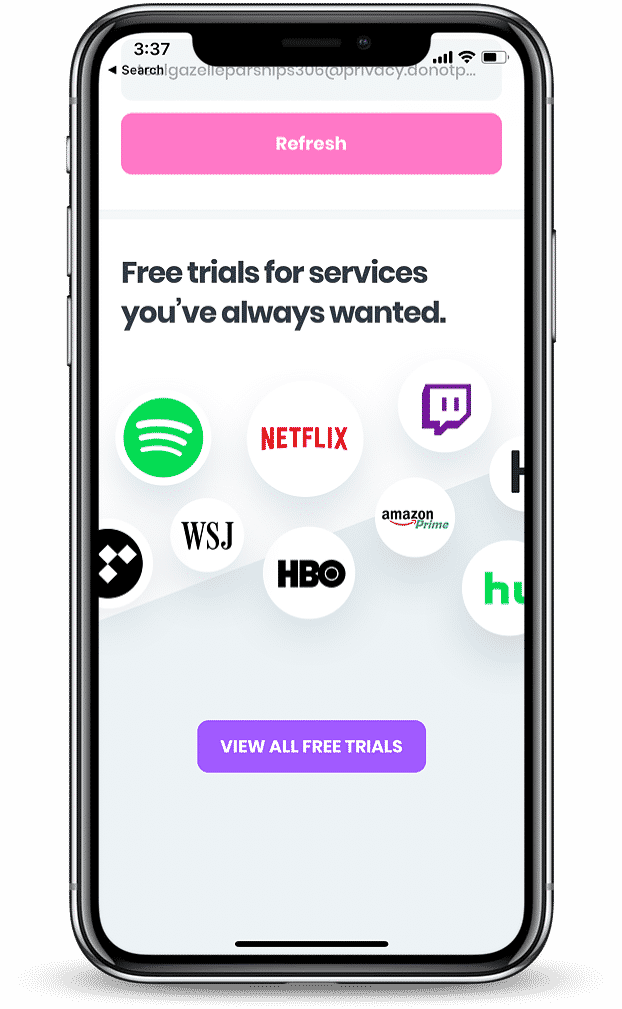 Most people subscribe to  and forget about it when they realize that the platform isn't for them. This is dangerous as they're giving away their personal information, and one can get billed for a service they don't use.
Since it's difficult to keep track of all the free trials you sign up for, DoNotPay has developed a new and more convenient way of saving your money and time spent unsubscribing -- a Free Trial Card 
Using a virtual credit card, you can sign up for a free trial in any company or make purchases online. Although they're connected to your actual credit card, they help to conceal your bank information by giving you a randomly generated virtual credit card number, expiration date, and CVV.
When you use a DoNotPay credit card, the company will only receive a single-use token that's only valid for the purchase or transaction you make to get a free trial. This protects you against credit card thieves and automatic charges you don't want.
What Else Can DoNotPay Do?

DoNotPay is a versatile product that many people have come to rely on for solutions in their lives. It helps people solve issues with their landlords, subscriptions, hotel managers, bank managers, and many other culprits.
You can open DoNotPay today to see how it can help you with almost anything! Including:
Disputing traffic tickets
Fighting speeding tickets
If you want to build marketing funnels to attract and delight your customers and lead them to make the purchase, then ClickFunnels might be the solution for you. As a new member, you're eligible for a free trial to see what the product can do for you.
If you're not confident about using your credit card info to sign up for a free trial, try out DoNotPay's virtual credit card. It allows you to hide your bank info and avoid automatic transactions. Register today to find out about the Free Trial Card.