The Ultimate Guide to Registering Your Class 29 Trademark
Registering for a class 29 trademark is essential for culinary businesses. As a brand grows out of the small business market and enters a new echelon, it becomes more important to protect it from imitators and infringers.
We will tell you everything you need to know about the trademark registration process—or you can skip the hard work and .
Trademarks 101
Trademarks protect aspects of a given brand from unauthorized use by other entities. If you do not file for a trademark with the United States Patent and Trademark Office (USPTO), your brand is not officially protected. You can register the following as trademarks to keep them from being used by your competition:
If another company uses your trademark, you can sue them for infringement. Keep in mind that a trademark is not the same as copyright, which applies only to works of authorship, and service marks only protect the service-providing brands.
What Does Trademark Class 29 Protect?
There are 45 classes of trademarks, and class 29 protects the following categories of goods:
Meat
Fish
Poultry and game
Meat extracts
Preserved, frozen, dried, and cooked fruits and vegetables
Jellies, jams, and compotes
Eggs
Milk and milk products
Edible oils and fats
Meats, Fish, Seafood, and Mollusks
Check out the complete list of goods below:
Bacon
Broth concentrates/bouillon concentrates
Caviar
Clams, not live
Fish fillets
Fish, not live
Fish, preserved
Fish, tinned
Liver
Lobsters, not live
Meat, tinned
Pork
Poultry, not live
Sea-cucumbers, not live
Spiny lobsters, not live
Dairy Products and Dairy Substitutes
The following dairy products fall under class 29:
Cheese
Condensed milk
Milk
Milk beverages, milk predominating
Milk products
Milkshakes
Milk ferments for culinary purposes
Milk of almonds for culinary purposes
Peanut milk for culinary purposes
Birds Eggs and Egg Products
Class 29 also covers eggs and egg products. Check out the list below:
Albumen for culinary purposes
Edible birds' nests
Powdered eggs
Non-alcoholic eggnog
Oils and Fats
Various oils and fats—meant to be consumed fresh or cooked—are covered by trademark class 29:
Aloe vera prepared for human consumption
Almonds, ground
Bone oil, edible
Coconut oil
Edible oils
Fat-containing mixtures for bread slices
Fatty substances meant for the manufacture of edible fats
Olive oil for food
Palm kernel oil for food
Palm oil for food
Linseed oil for culinary purposes
Flaxseed oil for culinary purposes
Processed Fruits, Fungi, and Vegetables
Check out the comprehensive list below to confirm that class 29 covers the product you want to register:
Ajvar
Aubergine paste/eggplant paste
Crystallized fruits/frosted fruits
Lentils, preserved
Pollen prepared as foodstuff
Preserved garlic
Sauerkraut
Seaweed extracts for food
Soya beans, preserved, for food
Vegetable soup preparations
Soups and Stocks, Meat Extracts
Class 29 is the right choice if you want to trademark:
Meat jellies
Meat, preserved
Sausage Skins
Anything related to sausages falls under class 29:
Sausages
Sausages in batter
Prepared Insects and Larvae
Check out exotic items covered by class 29:
Silkworm chrysalis, for human consumption
Snail eggs
Required Steps in the Class 29 Trademark Application Procedure
The trademark application process begins with double-checking that your brand does not conflict with another registered trademark. Once you have determined your business is valid for registration, follow these steps:
Visit the Trademark Electronic Application System (TEAS)
Sign in or create an account for TEAS
Start a new application for a class 29 trademark
Fill in the requested information about your brand
Submit the application
Trademark Timelines
There are several time frames involved in the trademark registration process:
| Event | Timeframe |
| --- | --- |
| Confirmation of receipt of application | Within 14 days of submission |
| Approval/denial of application | 9–12 months |
| Renewal of trademark | Within 5–6 years of registration |
| Expiration of trademark | Ten years from registration (if not renewed) |
How Much Does the Trademark Registration Cost?
You must pay a filing fee for each trademark class under which your product or service falls. The USPTO offers two types of fees:
TEAS Plus—$250/class
TEAS Standard—$350/class
TEAS Plus is often better for first-time applicants who can find a description in the Trademark ID manual that fits their goods or service. TEAS Standard is for brands that require a custom definition of their goods or service.
In addition to the filing fees levied by the USPTO, you will likely need to hire a trademark lawyer to assist in the process. This can be an expensive prospect for growing businesses, so the more cost-effective option is to use DoNotPay.
DoNotPay Makes the Trademark Registration Process Simple
Registering a class 29 trademark for your small business does not have to be a costly and time-consuming process. DoNotPay is an AI-powered robot lawyer that manages tedious yet unavoidable procedures.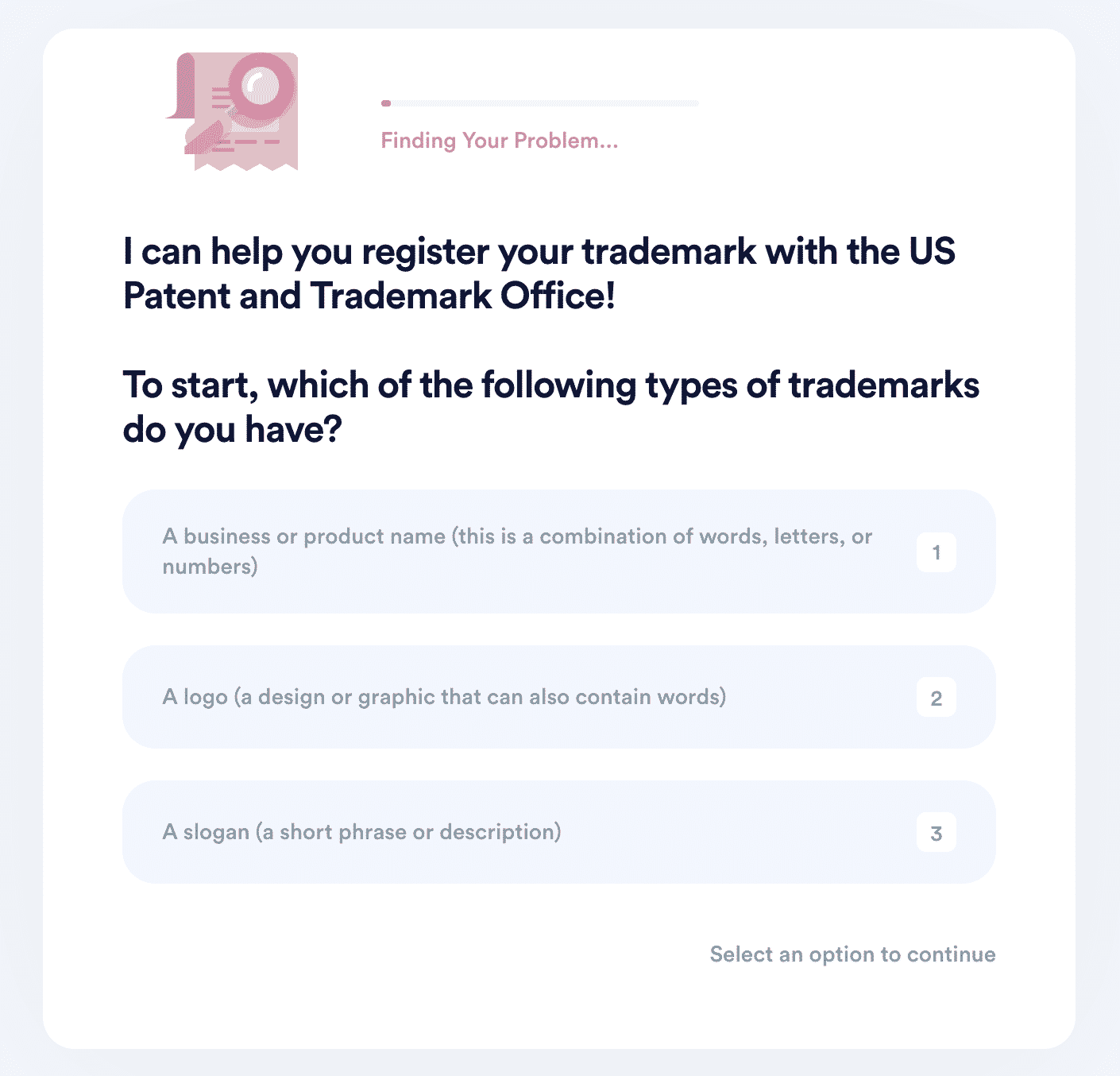 DoNotPay's Trademark Registration tool will manage the following:
Disclosure of required information
Execution and submission of the application
Facilitation of review and signing
After the application is submitted, we will give you an application tracking number so that you can stay up to date on any progress. We also ensure the USPTO has your email and can contact you with any updates or follow-up questions.
To use this fantastic tool, follow these steps:
Opt for our Trademark Registration product
Describe your trademark in detail
Cover the filing expenses
Small Business, Big Issues—Resolve Yours With DoNotPay
DoNotPay is here to offer a helping hand in your business endeavors. We can help you handle various procedures as effortlessly as possible. Want to make sure you get a small business loan for real estate purchases, job creation, debt repayment, and similar? DoNotPay is here to assist you in writing a convincing request letter! Want to make sure your employees and shareholders save money on taxes by filing 83(b) election forms? We can help with that too!
The world's first robot lawyer has a myriad of nifty features at your disposal. Use your precious time to work on your brand while we take care of most business-related issues for you. Our app can help you:
Fight unfair chargebacks
Deal with illegitimate online reviews
Send formal demand letters to clients who won't cover the cost of your services
File the self-certification request with the Privacy Shield program in a matter of clicks
Send documents to your customers or business associates from the comfort of your office with our faxing and mailing tools
DoNotPay Helps You Deal With Various Registration Processes!
One of the first tasks you should complete as a business owner is to obtain an Employer Identification Number (EIN). Applying for it is usually a tedious process unless you use DoNotPay! We can file your application on your behalf and notify you accordingly.
Does your business have a website that allows users to share or store content? An important aspect you should take care of is registering a DMCA agent, and DoNotPay is here to make the process easier!
If you wish to register your business name, slogan, or logo as a trademark but you're not sure how the process goes, rely on DoNotPay and finish your registration in no time! We can also help you protect your trademark by monitoring it every month and filing a cease and desist demand if anyone tries to steal it.