Everything You Need To Know About the Class 14 Trademark
Looking for more information about the class 14 trademark? You are not alone. As the number of watch and jewelry microbrands has exploded in recent years, so has the number of applications for class 14 registrations. To expedite the process, consider .
The fine jewelry and timepiece industries are not nearly as exclusive as they used to be. E-commerce and new production methods have made it easier for entrepreneurs to enter the marketplace. However, as your small brand grows more prominent, the risk of infringement increases—that is why you need to protect your brand with a class 14 trademark.
Do You Need a Trademark?
A trademark protects the registered part of your brand against abuse by other organizations. Competitors in your industry cannot use any of the following once you have registered them as trademarks:
While it may not be a legal requirement, you should register your brand as a trademark. Small businesses can generally do without one, but any organization that intends to grow, break into new markets, and increase value should take this critical step to protect its brand. Those that infringe on your trademark are liable for legal action.
Trademarks, service marks, and copyright are three legally distinct concepts. The United States Patent and Trademark Office (USPTO) uses service marks to distinguish the service-providing brands, whereas copyright protects works of authorship.
What Is Trademark Class 14?
There are 45 classes of trademarks governed by the USPTO. A class 14 trademark specifically protects the following types of goods:
Jewelry
Precious metals
Stones
In particular, this is the trademark class for watches, which explains the high number of registrations over the past decade. Whereas watch brands once operated in an exclusive market, new micro brands are breaking into the sector every year.
What Goods Qualify for a Class 14 Trademark?
Three primary categories covered by trademark class 14 include a vast range of goods:
| Agates | Clock cases | Jewelry cases | Rings |
| --- | --- | --- | --- |
| Alarm clocks | Clocks | Jewelry findings | Ruthenium |
| Alloys of precious metal | Clocks and watches, electric | Jewelry rolls | Semi-precious stones |
| Amulets | Clockworks | Key rings | Shoe ornaments Of precious metal |
| Anchors | Cloisonné jewelry | Lockets | Silver thread |
| Atomic clocks | Coins | Medals | Silver, unwrought, or beaten |
| Badges of precious metal | Control clocks/master clocks | Movements for clocks and watches | Spinel |
| Barrels | Copper tokens | Necklaces | Spun silver |
| Beads for making jewelry | Cufflinks | Olivine/peridot | Statues of precious metal |
| Boxes of precious metal | Dials | Ornamental pins | Stopwatches |
| Bracelets | Diamonds | Ornaments of jet | Sundials |
| Brooches | Earrings | Ornaments | Threads of precious metal |
| Busts of precious metal | Figurines of precious metal | Osmium | Tie clips |
| Cases for clock- and watchmaking | Gold, unwrought, or beaten | Palladium | Tie pins |
| Cases For watches | Gold thread | Paste jewelry | Watchbands/straps for wristwatches/watch straps |
| Chains | Hat ornaments of precious metal | Pearls made of ambroid | Watch chains |
| Charms | Ingots of precious metals | Pearls | Watch springs |
| Chronographs | Iridium | Pendulums | Watch glasses/watch crystals |
| Chronometers | Ivory jewelry | Pins | Watch cases |
| Chronometric instruments | Statuettes of precious metal | Platinum | Watches |
| Chronoscopes | Jet, unwrought or semi-wrought | Precious metals, unwrought or semi-wrought | Works of art of precious metal |
| Clasps for jewelry | Jewelry of yellow amber | Precious stones | Wristwatches |
| Clock hands | Jewelry | Rhodium | |
How To Apply for a Class 14 Trademark
Before starting your application, make sure to consult the USPTO and double-check that your brand will not overlap with any other registered trademark. Once you confirm that, begin the filing process by following these steps:
Visit the Trademark Electronic Application System (TEAS)
Log in or create an account for TEAS
Open a new application for a class 14 trademark
Input the requested information about your brand
Pay the filing fee
Once the application is complete, the registration may take 9–12 months to complete. In that time, the USPTO may issue an Office Action regarding one of the following potential issues:
Objection on substantive grounds—Your mark may too closely resemble a previously registered brand
Technical issue—Your application lacks the necessary information
Once the Office Action is resolved, the process will continue.
How Long Does a Trademark Last?
A federal trademark is valid for ten years. If still in use between years five and six, you can renew your trademark.
DoNotPay Can Apply for a Class 14 Trademark on Your Behalf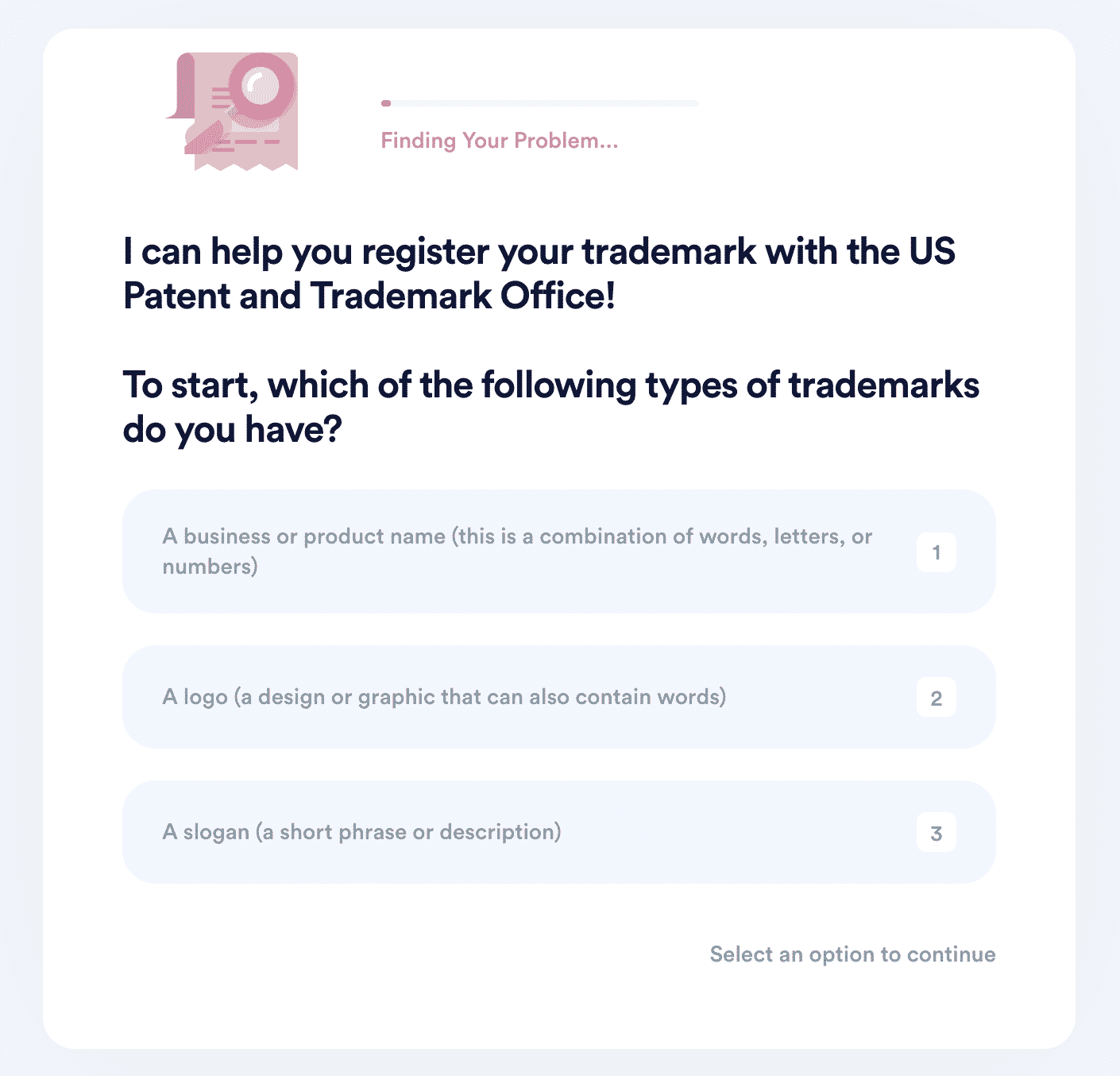 Are you finding the process of registering your brand to be a bit daunting? .
We designed a Trademark Registration tool to help you with the critical steps, including:
Gathering required information
Submitting the application
Making sure you review and sign it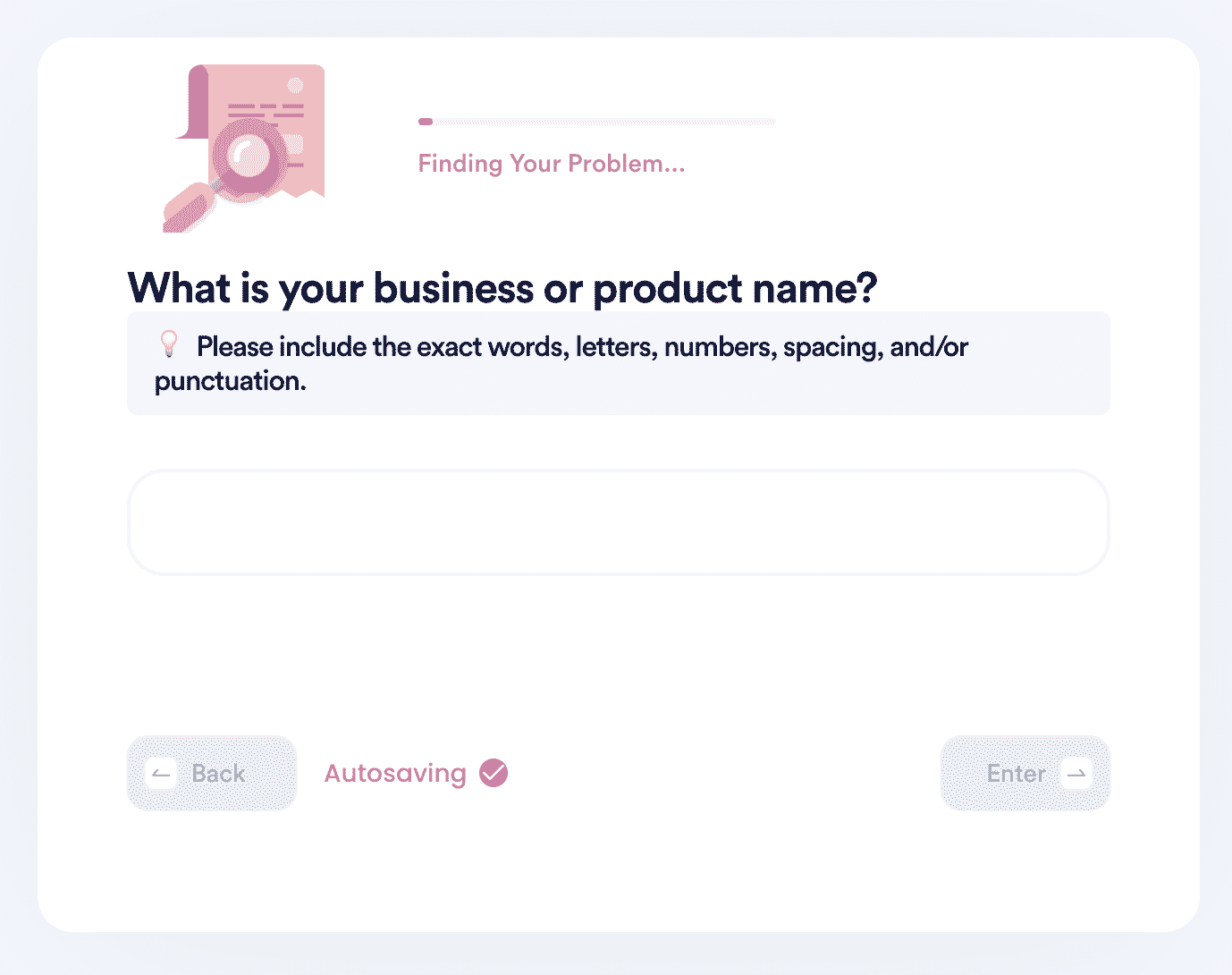 That is not all—DoNotPay will also conduct a clearance search to ensure that mark is not already registered by another business. Here are the steps to take:
Subscribe to DoNotPay
Select our Trademark Registration product
Describe your trademark and answer our questions
Pay the filing fees
We will provide you with an application tracking number and make sure that the USPTO has your correct contact information to follow up if needed.
Deal With Any Small Business Matter With DoNotPay's Help!
Being a small business owner is not an easy task, and all the details that you need to pay attention to might seem overwhelming. From handling trademark registration and protection to dealing with crucial paperwork, such as the Employer Identification Number (EIN) SS-4 form and 83(b) election forms, you need to invest a lot of time and energy into each business-related aspect. That is why you should rely on DoNotPay and have us take care of everything in your stead!
If you need help handling copyright issues, you should consider registering a DMCA agent with the U.S. Copyright Office. Not sure how to do it? Use DoNotPay, and we will take care of it for you!
We can also help you dispute chargebacks and avoid losing your money to scams by generating a personalized chargeback rebuttal document based on the info you give us.
Run Your Business Stress-Free
DoNotPay strives to make your business endeavors free of unnecessary stress, which is why we created a variety of useful products to help you deal with complex issues hassle-free. With our assistance, you can:
Draft a professional letter requesting a loan for your small business
Enjoy convenient faxing and mailing services
Get rid of fake negative reviews that could harm your business
Prove your commitment to your clients' privacy by using DoNotPay's Privacy Shield Self-Certification product
Avoid hiring lawyers or collection agencies as our Breach of Contract product will help you send formal demand letters to clients who refuse to pay for your services