Apply for Clark County Building Permits Today!
For some people in Clark County, the most exciting thing that occurs is building something, but often you need a building permit. This can be a complicated process. There are often many different forms and much data you must have for getting a building permit.
However, the application process doesn't have to be complicated. Here at DoNotPay, we can help make the application process seamless and much easier. Read on to find out how we can help!
Why and When Do I Have to Apply for a Building Permit in Clark County?
While not all situations require a building permit, most do. These are important because they help ensure the safety of the structure. Here are some examples of when you must have one.
Housing, including prefabricated and modular homes
Garages and additions
Pole barns and additions
Carports
Single story structures over 200 square feet
Patio covers and enclosures
Roof replacement/repair over 25% of the surface area
Building replacement/repair involving structural elements
Foundation replacement/repair
Stairs (interior or exterior)
Ramps
Demolition
There are other situations, but these are the major ones. There is an exception for a single-story structure zoned as being a storage or tool shed if it does not exceed 200 square feet. The only other exception is for building zoned only for agriculture. In all of the cases where you have to have a building permit, you have to have it prior to starting the job. It's important to know that you might need other permits, like if you're running electricity.
How Can I Get a Building Permit in Clark County?
Here's how you can go about getting a building permit in Clark County:
Get your zoning permit from the zoning department.
Get Health Department approval, if required.
Get your building permit, after you submit a full set of construction plans, the auditor's parcel number for the property, and the 2013 energy code requirement form.
So, you'll start by planning your structure, including developing a full set of construction plans, then get a zoning permit, Health Department approval, then complete the work to get the building permit. In short, it's a complex process. It's important that you've got all the right data and forms.
What Fees Do I Have to Pay to Get a Building Permit in Clark County?
There are multiple fees to pay for a building permit. The zoning fee varies by city. If you need inspections, there may be fees for that. Then you have to pay for the building permit itself. Fees and inspections (if required) are estimated to be a minimum of $450.
I'm Lost. How Else Can I Get a Building Permit in Clark County?
This process isn't simple. Unless you have experience or can ask for help, you may need to get a contractor. These people have experience in getting all the required permissions for building permits. However, you'll have to pay the contractor. DoNotPay has a better solution to help you get your building permit.
Okay, I'll Bite. How Can DoNotPay Help Me Get a Building Permit in Clark County?
If you want to get a building permit without a hassle in Clark County but don't know where to start, DoNotPay has you covered. Here's how:
1. Go to the Planning Permissions product on DoNotPay.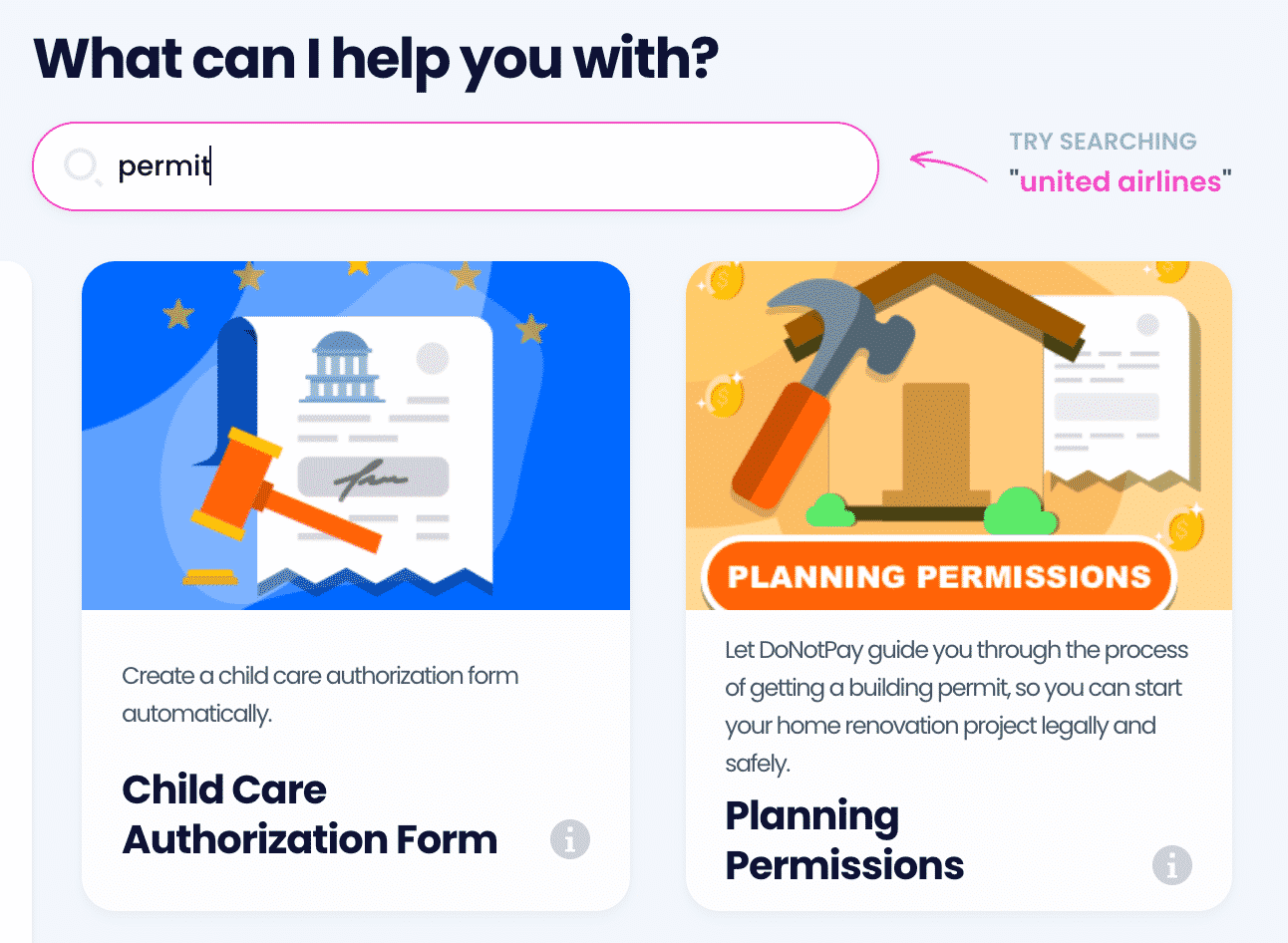 2. Choose one of the following options: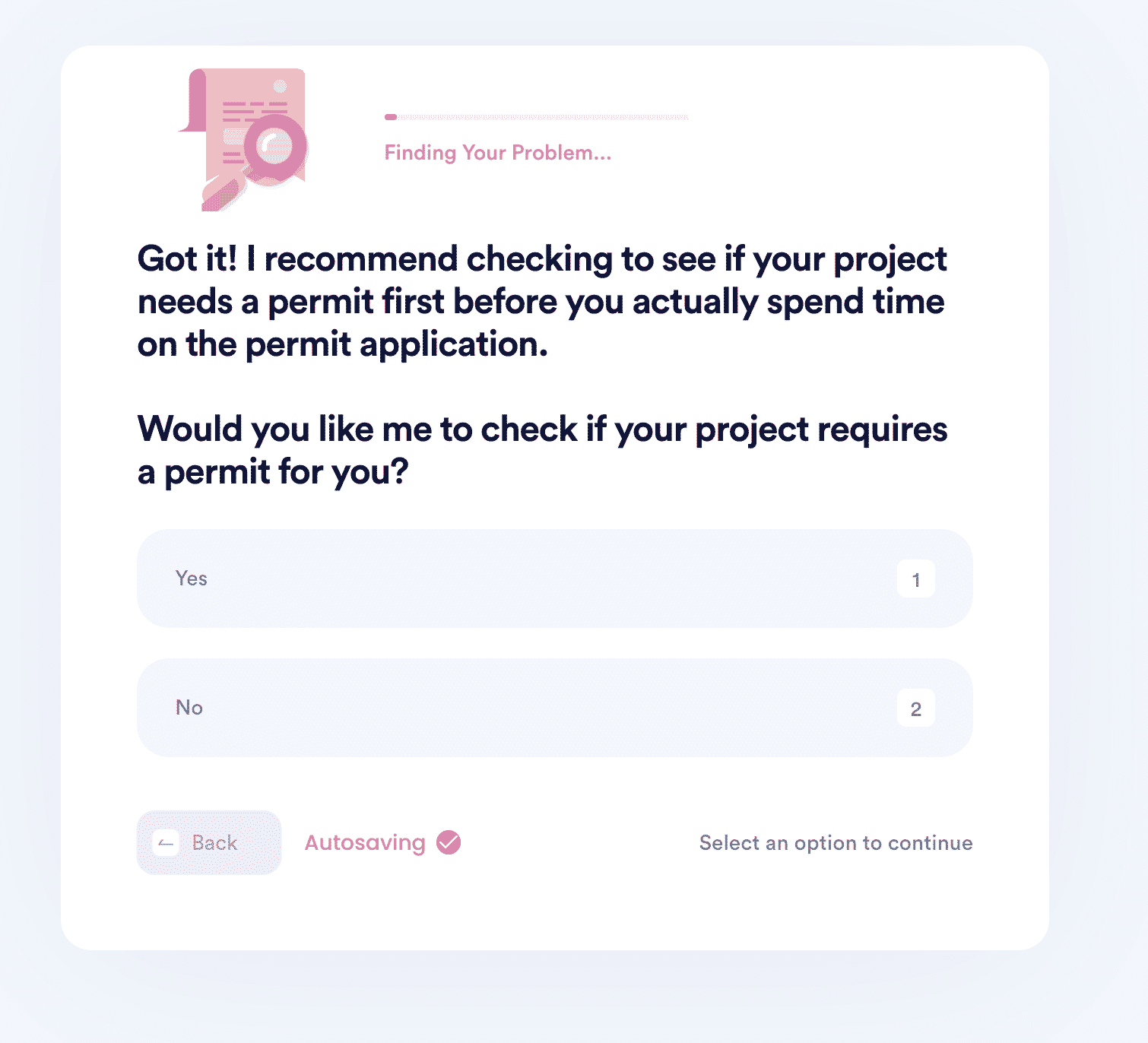 Check whether your project needs a building permit or if it's exempt
Generate a permission request letter to send to your HOA
Generate a guide on how to complete the building permit application
3. Choose the focus of your project (new ADU, pool, shed, fence, etc.) and answer a few questions about your plans, including the size of the structure and estimated cost.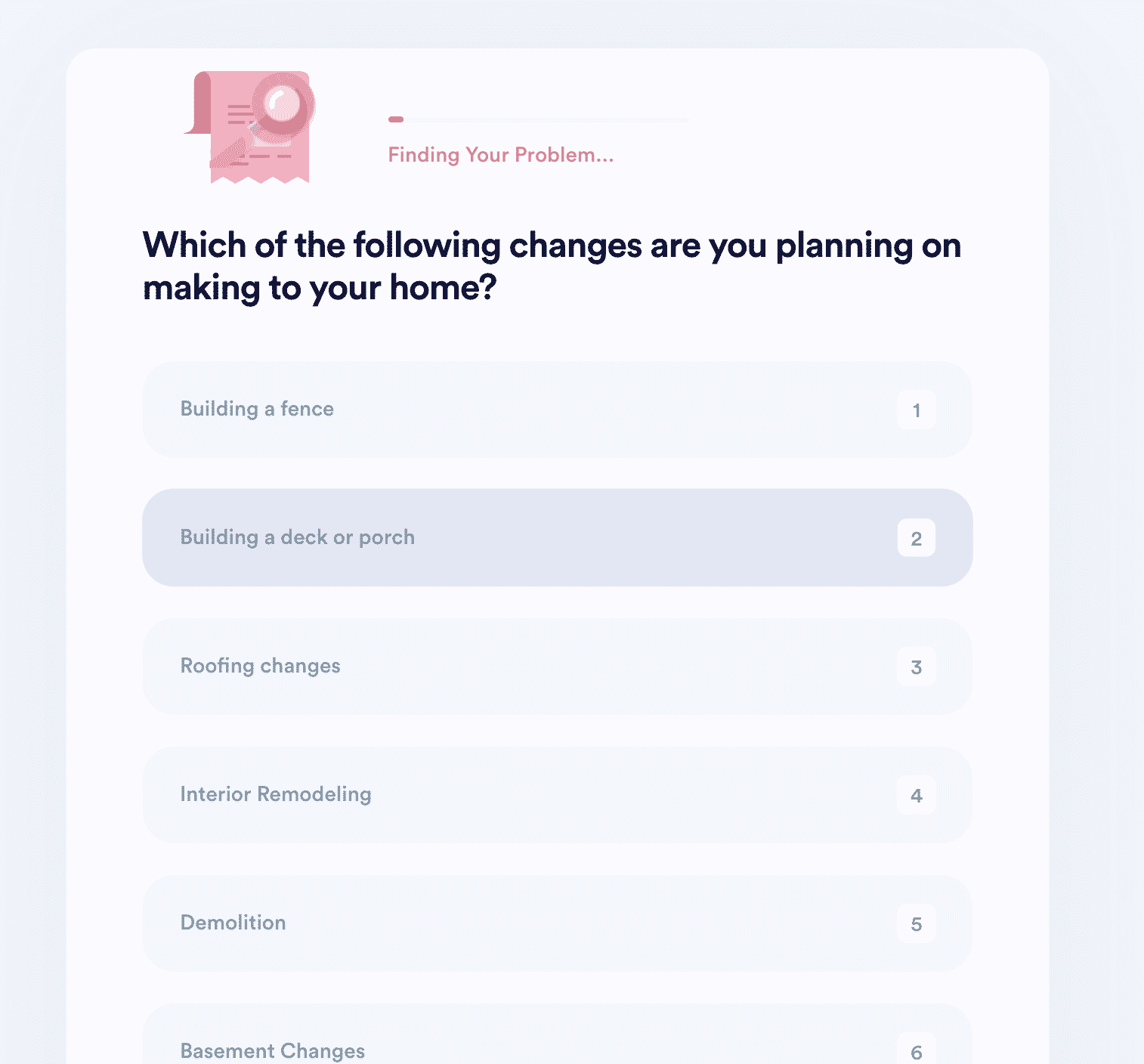 4. Indicate whether you're hiring a contractor and include the estimated start date and timeline for the project.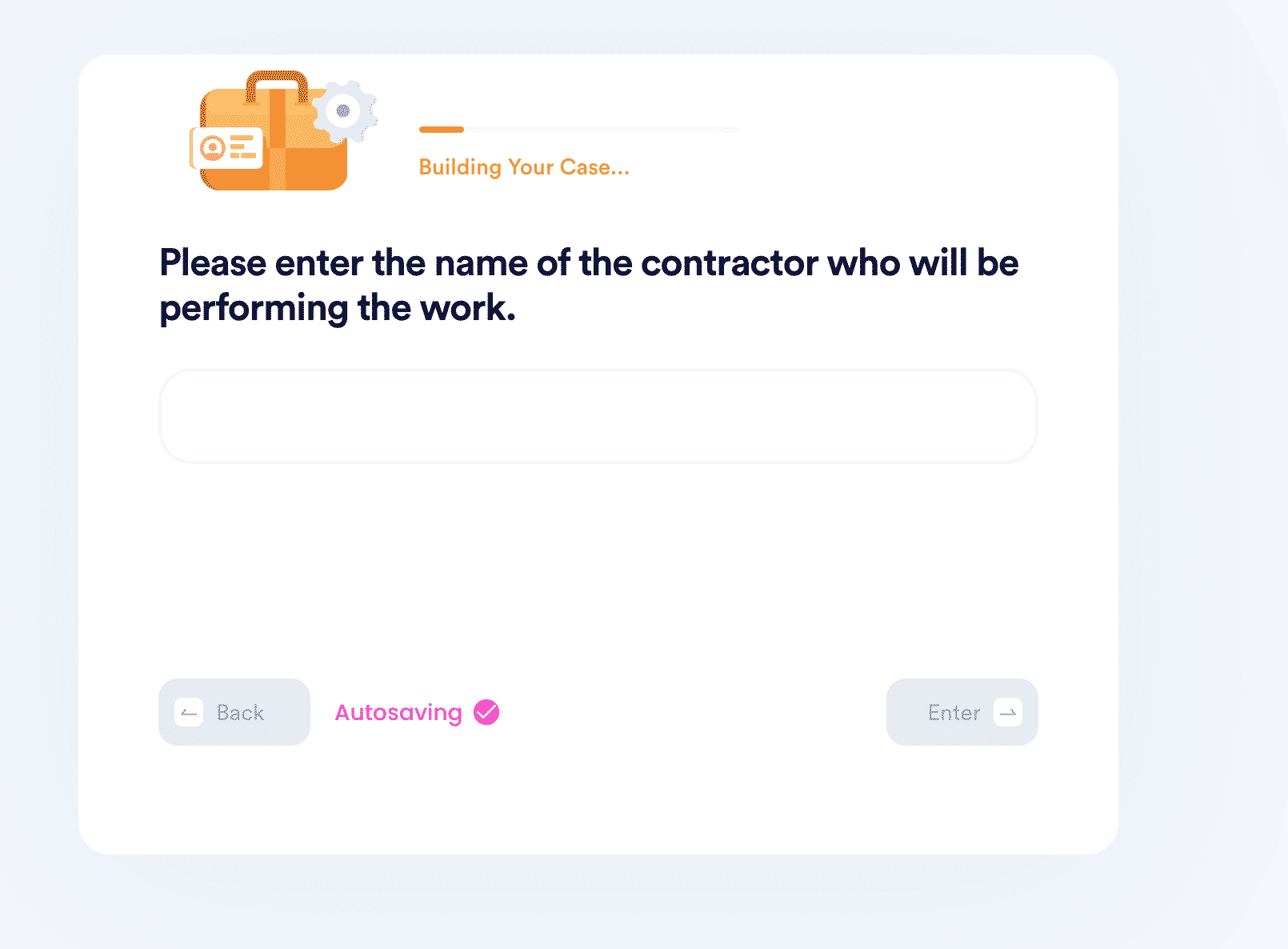 5. Indicate whether any public sidewalk/street space will be used during construction.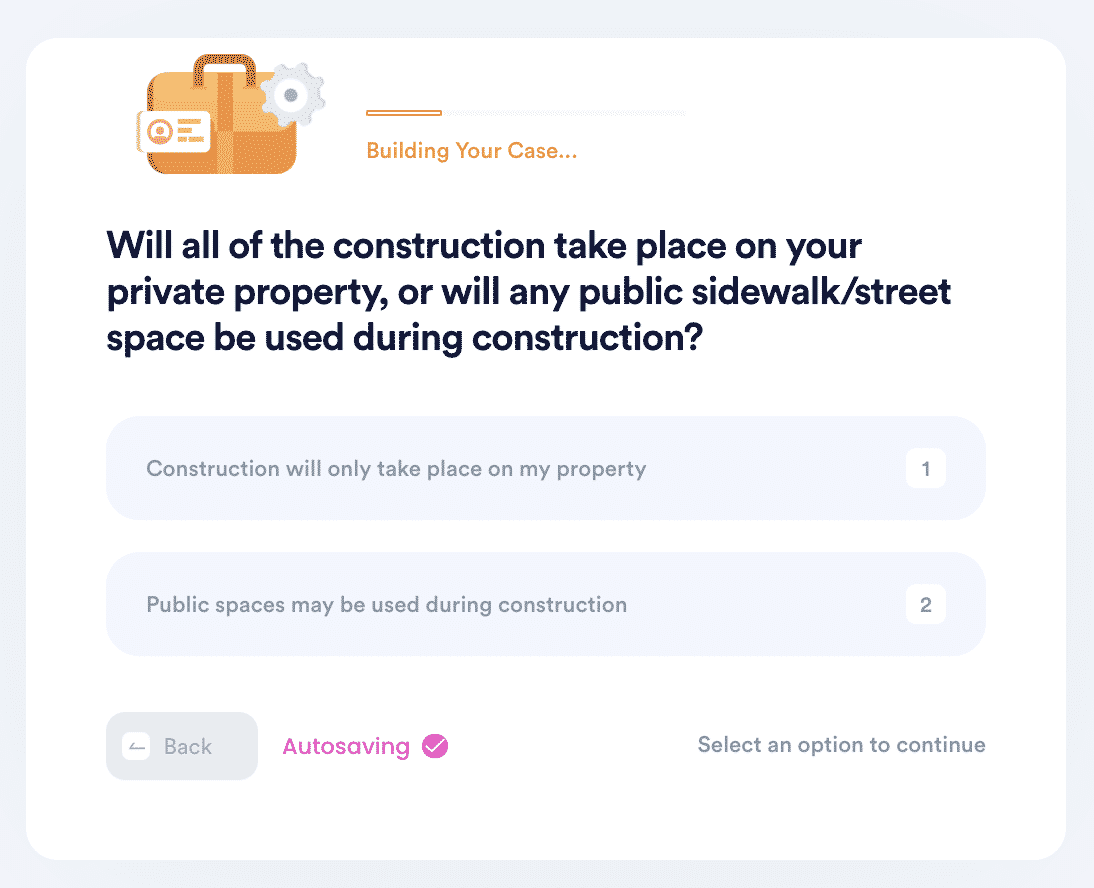 6. And that's it! DoNotPay will help guide you through the building permit process by checking if your project needs a building permit, contacting any HOAs you're a part of to request building permission, or generating detailed instructions on how to start and complete your building permit application process.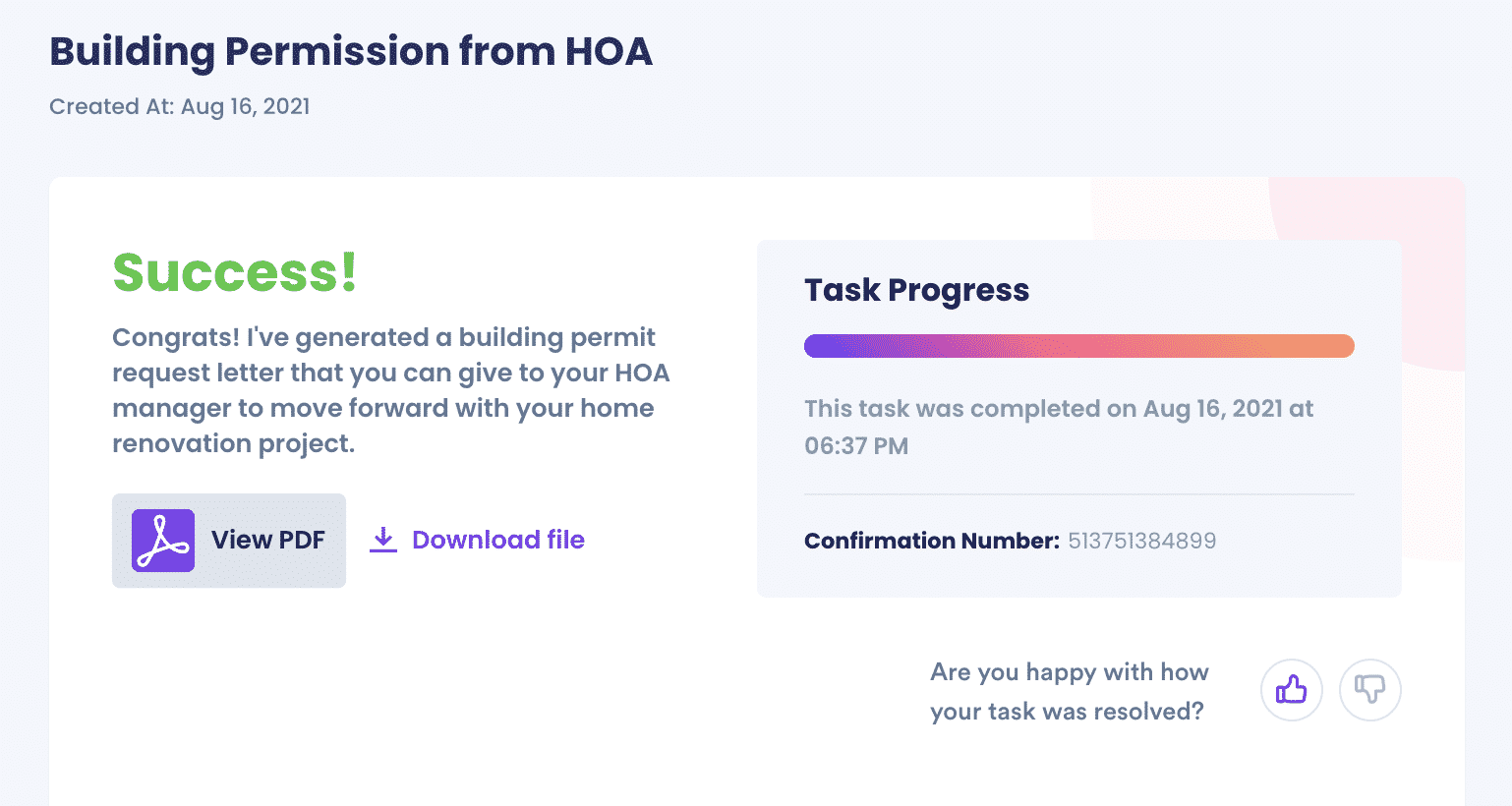 Why Should I Use DoNotPay?
Surely, you don't just need help with your building permit. DoNotPay can help with most of what you need to do! It's:
| | |
| --- | --- |
| Fast | You don't have to spend hours trying to get a building permit. |
| Easy | You don't have to struggle to fill out tedious forms or keep track of all the steps involved in getting a permit. |
| Successful | You can rest assured knowing we'll make the best case for you. |
What Else Can DoNotPay Do?
DoNotPay can help you get building permits not just in Clark County but also in other places like:
You can use DoNotPay to recover account passwords, get your birth/marriage certificate, get a death certificate, and pay your bills. DoNotPay can also help you take care of other pesky tasks, such as:
No problem is too big or too small, so contact DoNotPay to see how we can help you get things done and on with your life.