Clackamas County Divorce Process Explained
Going through a divorce is a difficult time in anyone's life. If you're wondering how you can get an uncontested divorce and finish the entire Clackamas County divorce process as effortlessly as possible—our article will provide all the answers!
Hiring a divorce lawyer can be expensive. We'll save you time and money and help you get a divorce without wasting time in court. Draw up your divorce settlement agreement and learn how to file for a friendly divorce hassle-free with DoNotPay!
Divorce Laws in Clackamas County, Oregon—Deciphered
In Oregon, divorce is called a dissolution of marriage. The partner who files for a divorce is the petitioner, and the other partner is the respondent. Partners can also file for a divorce together, which makes them co-petitioners.
Oregon is a "no-fault" divorce state, which means that spouses can't allege any wrongdoing of the other party as a reason for divorce. The divorce laws in OR recognize irreconcilable differences as the only reason for the divorce.
If you'd like to reach an out-of-court settlement and finish the entire process in a matter of weeks, you can file for:
A short-form summary dissolution
Uncontested dissolution of marriage
A quickie divorce can be reached if the two of you:
Have been married for more than ten years
Don't have children and aren't expecting at the moment of the divorce
Have no real estate together
Don't have more than $30,000 in personal property
Owe less than $15,000
Aren't requesting spousal support or temporary orders
In most cases, uncontested dissolution will be finalized in one to three months. If you and your spouse don't have children, the divorce can be done within a month.
Divorce Requirements in Clackamas County, Oregon
Getting divorced in Clackamas County is a straightforward process, but you need to meet the residency requirement first. If you want to get a divorce in Clackamas, Oregon, you and your spouse need to have lived in the county for at least six months before filing for divorce.
Steps to Filing for an Uncontested Divorce in Clackamas County
To file for an uncontested divorce in Clackamas County, Oregon, you should do the following:
Fill out forms
Pay the filing fees
Serve the papers
File the rest of the documents
Finalize the divorce
Clackamas County Divorce Forms
The first step to getting a divorce is completing and filing the necessary court forms. The safest option is to ask a clerk in Clackamas County court to tell you which documents you need to collect. After you fill out the forms, you need to mail them to court since the online filing of the paperwork isn't available.
Understanding Filing Fees
The fee for filing for divorce in Clackamas County, OR, will set you back for $287. If you have low income, you can request a fee waiver. To file a fee waiver request, you should complete a fee deferral and waiver form at the court clerk's office.
Do You Need To Serve Your Spouse?
If you and your spouse file for divorce as co-petitioners, you won't have to serve your spouse with the divorce papers. Note that you need to submit the acceptance of service.
Filing of the Remaining Divorce Documents
The divorce documents that you need to file are:
Instructions
Petition for Summary Dissolution
Proposed Judgment or Order
Summons
Acceptance of Service (if the other spouse waives service)
Declaration of Service
Record of Dissolution of Marriage, Annulment, or Registered Domestic Partnership
Finalizing the Divorce
If you and your spouse agree on everything, you can finalize your case within a few weeks without involving lawyers. The courts in Oregon don't require the divorcing spouses to attend the hearings if all the issues were previously agreed upon. You can spell out all the divorce-related terms in a divorce settlement agreement, which is a document that contains information on aspects such as:
If you can't see eye to eye on each concern, consider visiting a mediator to reach an agreement as quickly as possible.
The judge will sign the dissolution of marriage to finalize your divorce.
How To Draw Up a Divorce Settlement Agreement in Clackamas County
You can draft a divorce settlement agreement by yourself, but keep in mind that it's a complicated process, and it's highly recommended that you seek legal help. Check the table below to view some options:
| | |
| --- | --- |
| How To Create the Divorce Settlement Agreement | Details |
| Get a lawyer | Getting a lawyer is the safest option, but the biggest downside of hiring a lawyer is that their services are expensive |
| Consult online templates | You can find divorce settlement agreement templates online, but keep in mind that these templates can be risky. They can be full of mistakes, and they will contain legal language that you probably won't be able to understand without a legal professional |
| Use DoNotPay | DoNotPay is, by far, the easiest and least risky way of drafting various legal documents, including a divorce settlement agreement |
Use DoNotPay To Draft a Divorce Settlement Agreement Effortlessly
DoNotPay has created a fantastic product that can help you draft a low-cost divorce settlement agreement in a few easy steps.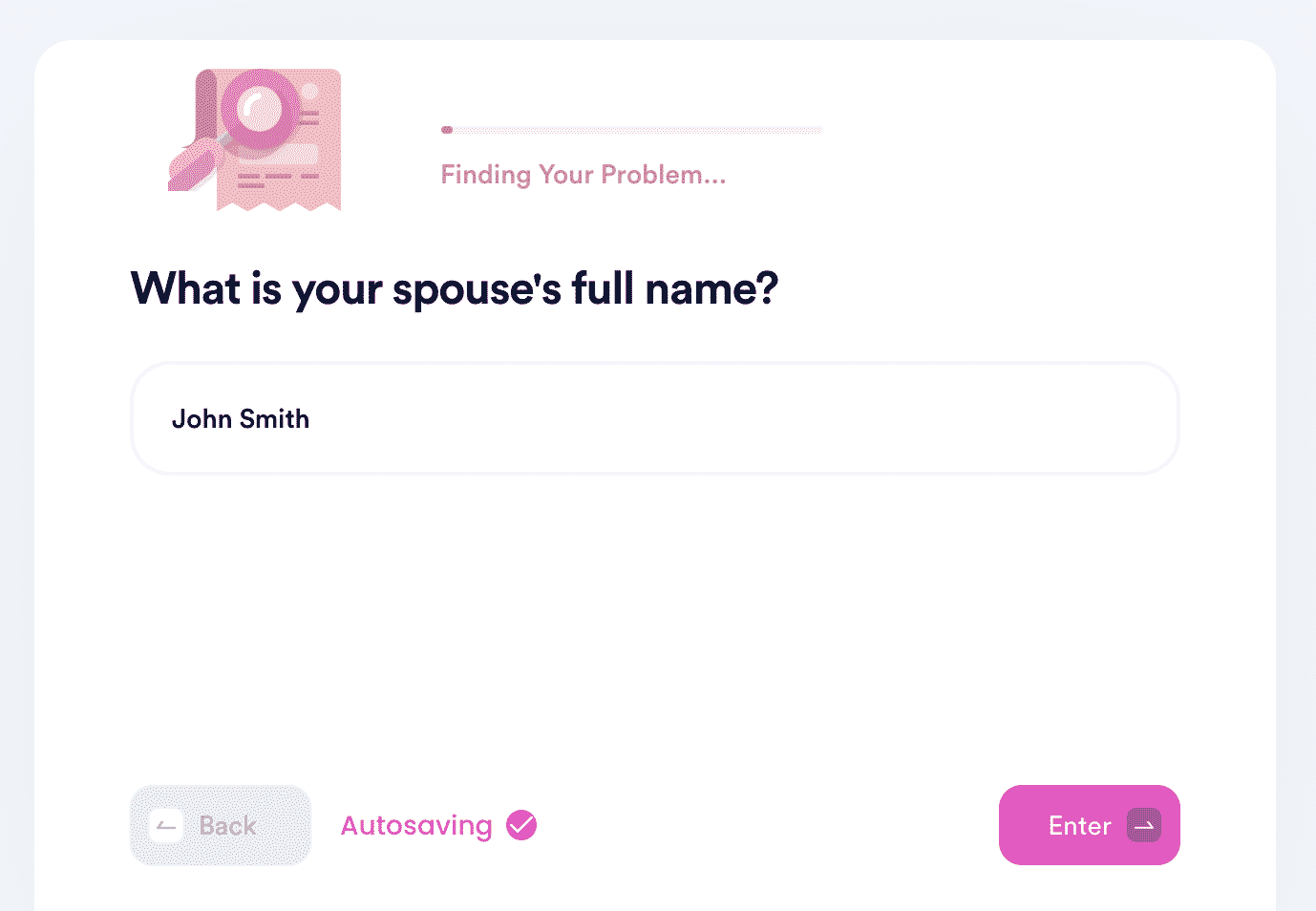 Sign up for DoNotPay and follow the instructions below:
Find our Divorce Settlement Agreement product
Answer a few questions about your spouse and children (if you have any)
Add all the necessary information about your income and financial assets, and tell us how you wish to allocate them
DoNotPay will create a professional divorce settlement agreement on your behalf. You should download it and sign it with your spouse. You should also get it notarized with DoNotPay's help. We will help you set up a meeting with a remote notary and finish the notarization online.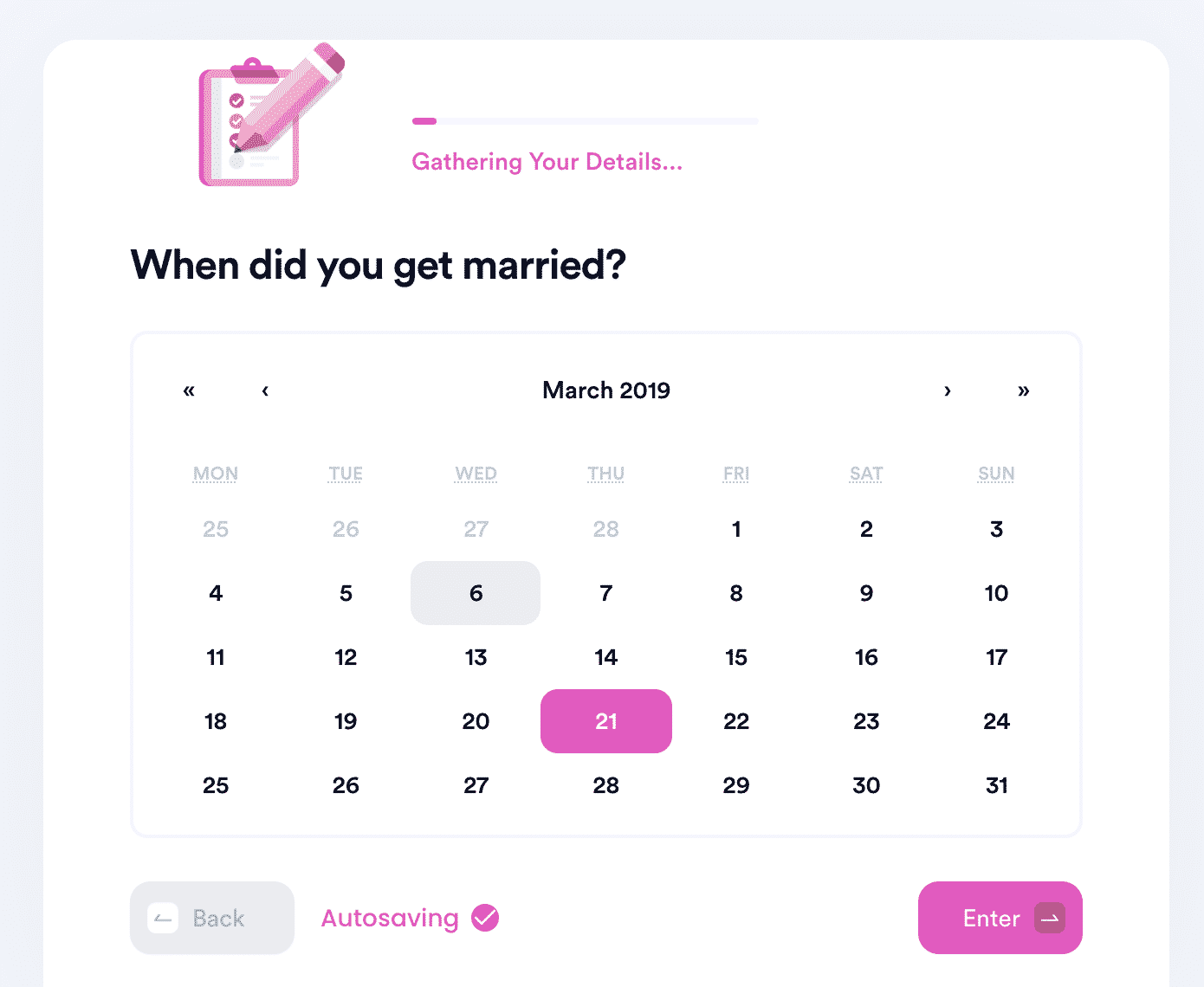 Deal With Your Problems Like a Pro With DoNotPay
Looking for an app that's got enough features to solve any issue you're facing? Look no further—DoNotPay has got your back! Whether you can't sleep from your noisy neighbors or you want to connect with your locked-up relatives, we'll be able to help. We'll bring justice to any person or company that has wronged you and take them to small claims court for you.
The robot-lawyer app can generate numerous legal documents in your name, including:
Once you receive the documents, we can set you up with an online notary so you can get your agreements notarized from the comfort of your home.
Possibilities With DoNotPay Are Endless
DoNotPay stands out not only by the quality of products it offers but by the sheer amount of features it boasts. Check the table below out to see only some issues we can help you resolve: