Good Fences Not Enough? You May Need a Civil Harassment Restraining Order Against a Neighbor
Wondering when the proper time to get a civil harassment restraining order against a neighbor is? We will explain how and when you should take this action. DoNotPay can also help you create a demand letter and warn your neighbors about the consequences of their actions.
What Constitutes Civil Harassment?
Civil harassment is the abuse by someone with whom you don't have a close relationship with—roommates, neighbors, and acquaintances. Actions that have harmed you performed by family members and people you've dated fall under domestic violence.
Before you decide to get a civil harassment restraining order against your neighbor, you need to find out what behavior makes the list. Here is the list of actions that are valid reasons to go forward with your decision:
How To Get a Restraining Order Against a Neighbor
When you want to get a civil harassment restraining order against a neighbor, you need to file a court form where you explain to the judge what orders you want and for what reason. Here is what you need to do to get a restraining order:
Find out if your situation qualifies as civil harassment
Fill out the restraining order forms
Complete your court's local forms (if there are any)
Have your forms reviewed at your court's self-help center
Make at least five copies of all the forms
Take your court forms to the court clerk
File the forms
How the Restraining Order Process Works
The general steps that ensue during the restraining order process are the following:
You file a court form
The judge decides if they will make the order
The clerk sets a date for the hearing
The judge makes temporary orders that last until your court date
You serve your neighbor with a copy of all the restraining order papers before the court date
You and the neighbor go to the hearing
The judge decides if they will extend the temporary order and make it permanent
What Can a Neighbor Harassment Restraining Order Do?
If you get a restraining order against your neighbor, they will not be able to:
Contact you or other members of your household
Get near you or your family members no matter where you go
Go near your work or school
Have a gun
In case your neighbor violates the restraining order, they can end up going to jail, paying a fine, or both.
What Types of Civil Harassment Restraining Orders Exist?
Take a look at the table below to see more information about the four types of civil harassment restraining orders:
| | |
| --- | --- |
| Civil Harassment Restraining Order | What It Involves |
| Temporary Restraining Order (TRO) | The judge can make a temporary restraining order before the court hearing date. It generally lasts between 20 and 25 days |
| Permanent Restraining Order (Restraining Order After Hearing) | This order is an extension of the TRO, and it can last up to five years after the court hearing |
| Emergency Protective Order (EPO) | Only law enforcement can ask for this restraining order by calling a judge. EPO is solely available in cases of stalking, and it can last up to seven days |
| Criminal Protective Order or "Stay-Away" Order | The criminal court can issue a criminal protective order against the defendant (your neighbor) that is in effect while the criminal case is going on |
If you don't need a restarting order from your neighbors, but they are still being annoying, you should sign up for DoNotPay to find help.
Create a Demand Letter With DoNotPay's Help Easily
Most of the time, your neighbors' actions are not life-threatening, but they may feel like that to your ears. Noisy neighbors, barking dogs, Wi-Fi theft, cars blocking your driveway, and similar occurrences can often cause you a headache.
If you want to make your neighbors change their habits without involving law enforcement, you can count on DoNotPay. Our app can help you create a demand letter in a few easy steps. You only need to:
Sign up for DoNotPay in a web browser
Tell us what the problem is
Provide us with some additional information about the situation—what steps you've already taken, for example
We will send the letter to your neighbor on your behalf as soon as possible.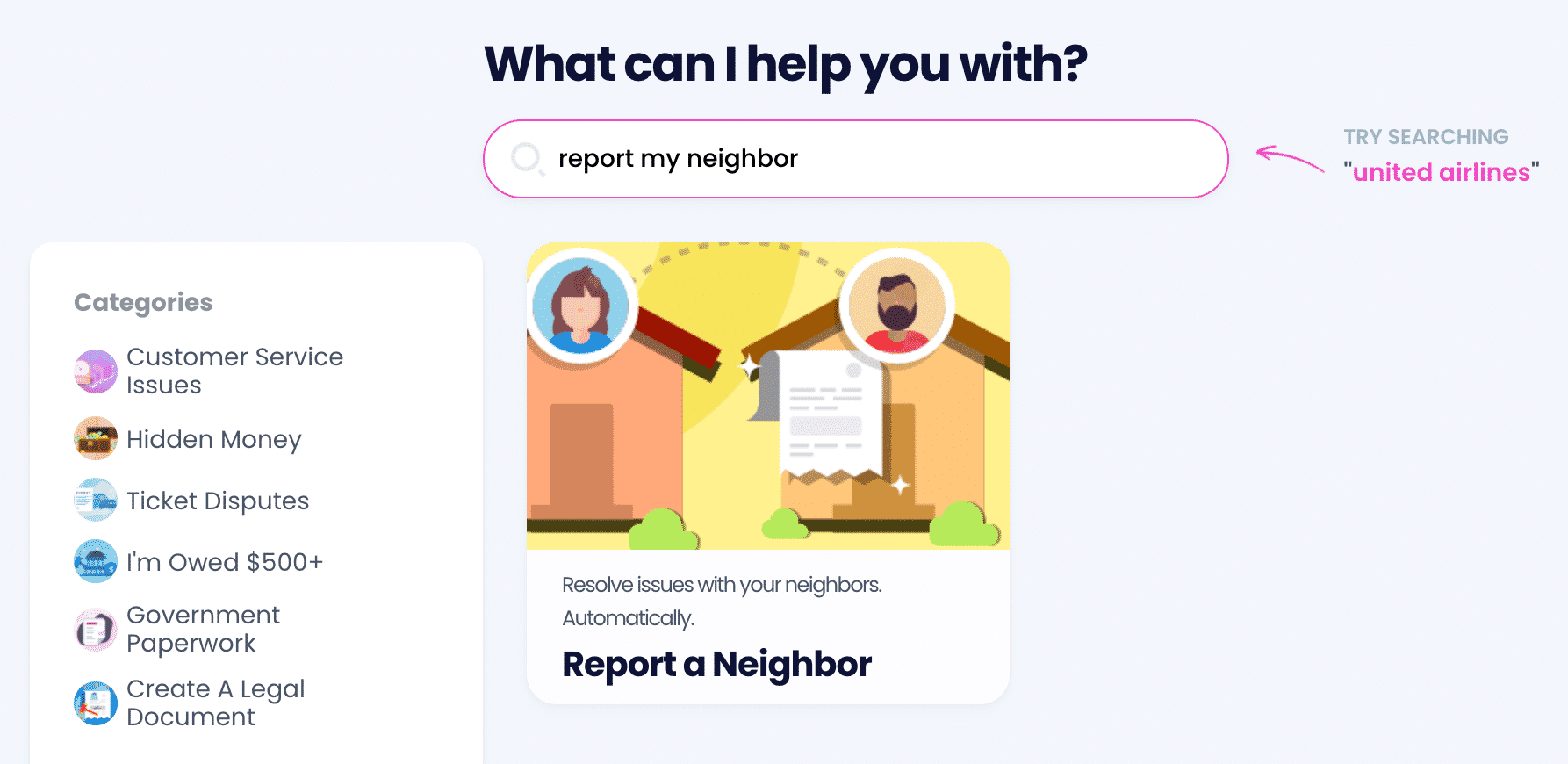 DoNotPay has numerous guides on how to deal with problematic behavior coming from your nearby residents. Here are some of the most common ways neighbors can disrupt your peace:
You should always try to solve the problems with your neighbors legally and document the harassment whenever possible before filing a complaint.
Say Goodbye to Administrative Issues—Rely on DoNotPay
Are annoying procedures—such as canceling memberships, disputing parking tickets, filing warranty and insurance claims, requesting refunds for purchased products or services—giving you headaches? Do you dread calling an airline's customer support to request a refund and compensation for a canceled flight? You're not alone! The good news is—DoNotPay can help you solve these issues stress-free!
You can use our app to prepare for your driving test or other government exams and schedule an appointment with the DMV in minutes.
Are you wondering whether you're paying too much for your property taxes? Make sure to try out our Property Tax feature and learn about the best way to reduce your property tax bill.
Annoyed by Spammers? DoNotPay Can Help!
With DoNotPay, you can get rid of spam emails and text messages and report robocalls in one fell swoop. Our Burner Phone feature will generate a fake phone number that you can provide upon registration for any service!
Besides helping you enjoy free trials without the risk of being charged, DoNotPay's virtual credit card has another advantage. It will provide a random email address you should use when signing up for a free trial. That way, you'll avoid pesky marketing emails and email notifications.