The Crucial Details of the
City of Detroit Property Tax Assessment
To fully grasp property tax, you need to learn about the processes it involves. States, counties, and cities have their specific rules regarding property tax, but coming to the end result (property tax bill) is similar. DoNotPay can explain how the City of Detroit property tax assessment works and show you how to pay less. 
City of Detroit Property Tax Assessment
Explained
In the City of Detroit, the Office of the Assessor's role is to evaluate a property and come up with property tax amounts. The Office of the Assessor is made up of the following divisions:
Administration

Valuation Operations

GIS/Land Records Maintenance 

Operations and Administrative Services 

Central Business District and Major Buildings Valuation
The assessed value is an annual estimation of how much your property is worth. The local property tax assessor establishes the assessed value of the property based on the condition of the residence. 
According to the Michigan Constitution, the property's assessed value must not exceed 50% of the selling price (true cash value) and has to be uniformly assessed. 
The true cash value is also known as the market value. The other two terms you should be familiar with are:
The State Equalized Value (SEV)

—This is an assessed value adjusted after the County and State equalization

Taxable Value (TV)

—This is the value used for determining the property owner's tax liability and can never be higher than the assessed value
The City of Detroit is divided into geographical areas, and the assessor studies the market in each part. Sales of similar homes are compared to figure out the overall market change, which leaves space for a closer evaluation process.
How Are Property Taxes Calculated in Michigan?
In simple terms, a person needs to know the taxable value of their property and the effective property tax rate. Detroit's property tax rate is one of the highest in the whole country—2.35%. 
For example, homeowners with properties valued at $100,000 have to pay $2,350 in property taxes each year. 
If you are unhappy with the property tax assessment, you have the right to appeal it. The easiest way to understand the process is by using DoNotPay.
Learn How To Appeal Property Assessments in Detroit With DoNotPay
Assessment mistakes happen, but you shouldn't have to pay an unfair amount because of them. If you want to get a guide on property tax appeals and learn how to talk to the assessor, check out what DoNotPay has in store. 
The process is simple:
Sign up for DoNotPay

in a web browser of your preference

Find and open the

Property Tax

product

Provide us with some info about your property
Once you complete a short questionnaire, you will find out what evidence you should gather for the property tax appeal hearing to go well.
If you want to learn about property tax exemptions in Michigan, you can also count on DoNotPay's guide.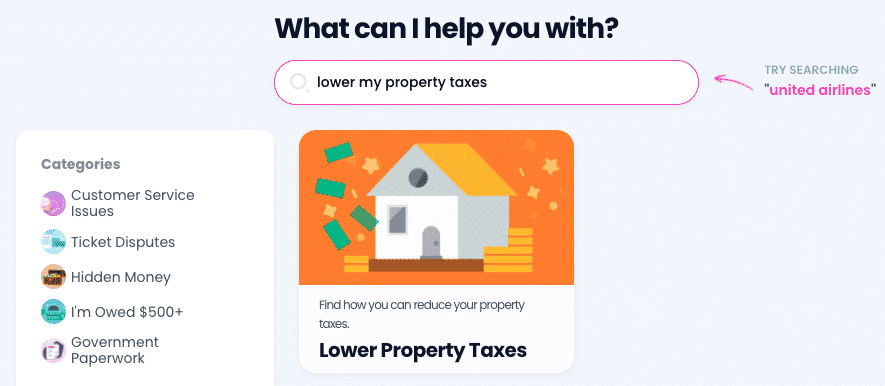 Do You Qualify for a Property Tax Exemption in Detroit? DoNotPay Has the Answer!
Property tax exemptions are a great solution for homeowners who need help paying property taxes. The targeted population categories usually include:
Each state offers different tax relief methods for its citizens, and homeowners need to figure out whether they meet the criteria to apply. This can be a difficult task when going through the process by yourself. 
The good news is that you don't have to—DoNotPay can help you! Our app will provide you with a PDF guide that names all the exemptions you are eligible for and let you know how to apply. You only need to follow these instructions:
Open our app

in your favorite web browser

Locate the

Property Tax

product

Inform us about your property
Property Tax Exemptions Available in Michigan
Check out property tax exemptions that can help you with paying property taxes in Michigan in the table below:
Property Tax Exemption

Available For:

Disabled Veterans Exemption

Disabled veterans

Veterans' surviving unremarried spouses who own and use the property as a homestead

Poverty Exemption 

Individuals who can't afford to pay these taxes due to poverty, which is assessed by a local government unit

Principal Residence Exemption 

Homeowners who use a property as their primary residence

Supportive Housing Exemption

Owners of nonprofit, single-family supportive housing property

Senior and Disabled Housing

Owners of nonprofit, multi-unit properties
What States Have Lower Property Taxes Than Michigan?
Michigan has an average tax rate of 1.44%, which is higher than the national average. If you want to live in a state with lower property taxes, you should consider moving to:
In case you would rather stay in the Great Lake State, you can try to lower your property taxes some other way. Popular methods include following the assessor around the house to make sure they do a fair assessment and avoiding renovations before evaluations.
DoNotPay Is the Champion of Customer Advocacy
If you've never experienced an issue with a purchased item, you should consider yourself extremely lucky. When shopping goes wrong, you usually have to brace yourself for unpleasant and annoying exchanges with customer support centers. 
DoNotPay is here to make exercising your consumer rights easy. Long holds when calling customer service reps and incessant marketing spam emails can stay in the past. We will help you avoid irritating text messages from online retailers by teaching you how to bypass phone verification when signing up. 
Ask for refunds, claim warranties, fix credit card issues, or sue retailers in small claims court—these are just some of the services our platform provides. 
With DoNotPay, you can start free trials for new services risk-free. If you want to get out existing subscriptions, canceling them has never been easier!
Wait, There's More!
Our full portfolio includes features as diverse as contacting inmates and requesting college application fee waivers for students from low-income families. 
If you have a problem with bureaucracy, the chances are DoNotPay knows how to fix it with your minimal involvement. 
Leave the grunt work and unnecessary expenses behind. We will help you pass various government tests with flying colors, find unclaimed money in all states, or get out of parking tickets before you know it!