How to Start a Cinema Paradiso Free Trial Without a Credit Card

Advertisements are everywhere, encouraging consumers to try out new products or services. If you want to explore new television viewing options, you can enrol in a Cinema Paradiso free trial or try out Disney Plus, Sky Cinema, NOW TV, or BT Sport. The choices are endless.
Free trial offers are readily available if you want to lose weight with Slimming World, try a new beverage selection from Beer 52, use PowerPoint Office for a presentation, or get some new shoes or clothing from Shein. While these free trial offers are enticing, they are merely a marketing ploy to get consumers to pay for a membership service or subscription plan.
Most companies offer a free 30-day trial period in exchange for your credit card information. When the free trial expires, your credit card will get charged for a monthly or annual subscription fee, sometimes costing hundreds of dollars. 
Unfortunately, many consumers try a new service and forget to cancel it before the end of the free trial period. The credit card gets charged without their knowledge, and sometimes they encounter several erroneous charges before even realising the transactions occurred.
DoNotPay has developed a virtual credit card for free trials that eliminates the threat of unauthorised charges and allows you to try out new products and services without being charged. The #1 virtual credit card allows you to take advantage of a Cinema Paradiso FREE trial offer without risk!
How to Enrol in a Cinema Paradiso Free Trial Offer
Cinema Paradiso offers the largest film and television library in the UK, with over 100,000 titles available to rent. To enrol in a free 30-day trial offer to access the catalogue of film and television series, you must take the following steps:
Go to the Cinema Paradiso UK website 
Click on Start Your Free Trial Now
The website will direct you to a page with plan costs and descriptions
If you are still interested in trying the service, click "Start Your Free Trial Now"
Enter your contact information, with an address of where you would like the discs sent
Click on "Create an Account"
Once your information is verified, you will receive a confirmation email that your account has been activated. You will then be able to start using the Cinema Paradiso free trial offer for the next 30 days. Subscribers using the free trial offer have access to one title at a time with unlimited rentals for the first month.
When setting up an account, you are prompted to provide valid credit card information. That's where DoNotPay comes in!
Our automated system allows you to generate a virtual credit card without disclosing personal financial information to Cinema Paradiso. You will not receive charges without your knowledge, eliminating the risk of a free trial offer.
What Happens When the Free Trial Offer Expires?

When you signed up for a Cinema Paradiso free trial offer, you agreed to the following terms and conditions:
Eligibility
The free trial offer is only valid for new subscribers and is not available with any other offers. Only one 30-day free trial offer is redeemable per household. You must have access to the internet and a valid credit card or debit card to redeem the offer.
Credit Card Authorisation
When creating an account, Cinema Paradiso will make a transaction totalling £1 to verify the form of payment is valid. It is only a formality, and no charges are made against the credit card.
Automatic Enrolment
When the 30-day free trial offer expires, the credit card on file is charged unless you cancel the subscription. You will automatically become a full paying subscriber and be charged a subscription fee for the level and duration you selected when creating an account.
What Happens if the Credit Card on File Cannot be Used?
Cinema Paradiso will attempt to charge your credit card when the free trial period expires. If the transaction cannot be processed, you will receive a reminder to update your financial information.
According to the terms and conditions, Cinema Paradiso can hire a debt recovery agent within 28 days of the due date. If this happens, you will incur additional fees, costs, and expenses as part of the collection process.
Cinema Paradiso will not automatically terminate an account in debt recovery. You will continue to receive subscription charges until:
All outstanding payments are settled in full
How to Avoid Automatic Renewal of Cinema Paradiso Free Trial Offer Using a DoNotPay Virtual Credit Card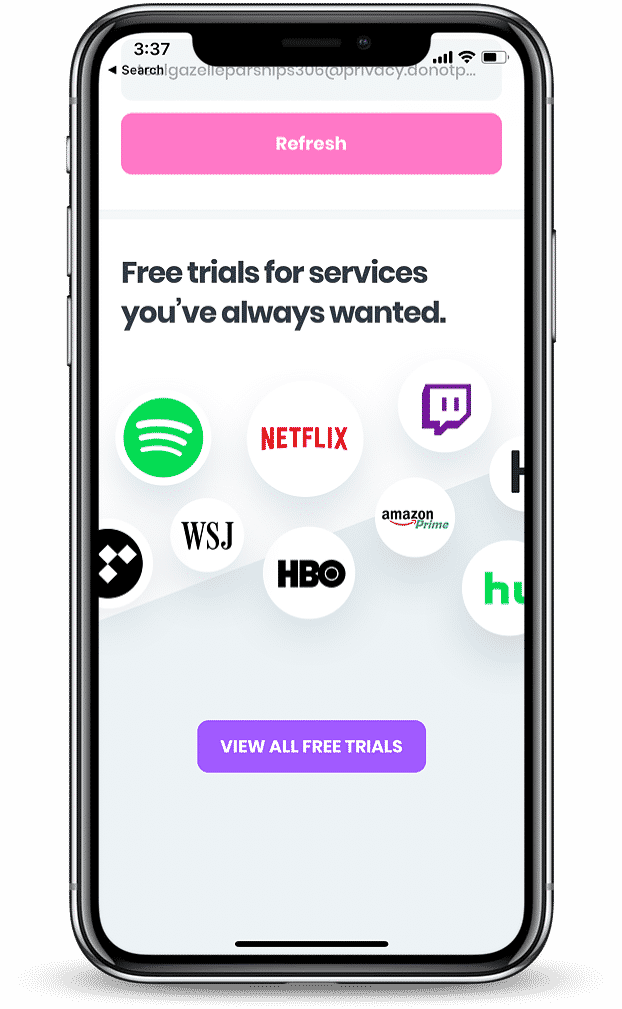 Many consumers enrol in a free trial and forget to cancel before the offer expires, paying for services they did not intend on keeping.
According to a Bankrate survey, 51% of consumers have forgotten at some point to cancel a subscription service resulting in unwanted charges. Chase Bank found the number to be higher, with 71% of Americans wasting more than $50 a month on subscription services they didn't want and two-thirds of consumers forgetting about at least one recurring payment in the past year.
Using a free virtual credit card, DoNotPay allows consumers to use free trial offers without risk or obligation.
Our automated system generates a random number, providing you with credit information that can be used to subscribe to any membership or subscription service free trial offer.
Once the free trial expires, the provider cannot charge you because there is no money on the virtual credit card. You cannot become a subscriber, and the account gets cancelled automatically.
Getting a virtual credit card from DoNotPay is quick and easy, eliminating the risk of unwanted charges from free trial offers you forget to cancel.
How Much Does Cinema Paradiso Services Cost After the Free Trial Offer Expires?
As Britain's largest film and television series rental service, Cinema Paradiso offers two different subscription levels after the free trial period is over.
Both plans include the following perks:
Free 30 day trial offer
Unlimited Monthly Disc Rentals (DVD, Blu-ray, Blu-ray 3D, or 4K Blu-ray formats)
No late fees or due dates
Free delivery and return via Royal Mail first class
No obligation - cancel at any time
The cost of the subscription plans are as follows:
| | |
| --- | --- |
|    Subscription Level | Monthly Cost |
| 1-at-a-time | £10.99 |
| 2-at-a-time | £16.99 |
Customers can select payment renewal options that include:
Monthly
Bi-Annual (every six months)
Annually
Subscription fees are automatically processed on the last day of the plan level for the subsequent billing cycle. All charges are non-refundable.
What Else Can DoNotPay Do?

In addition to showing you have to enrol in free trial offers with no risk or obligation, there are a multitude of services that DoNotPay offers. Some of those include:
DoNotPay offers a ton of great features and is quick and easy to use from the comfort of your home. Whether you want to enrol in a Cinema Paradiso free trial offer or need help contesting parking tickets, DoNotPay is only a click away.