Anchor Your Chile Tourist Visa Application to Success With DoNotPay
There's something ethereal about Chile's contrasting landscapes and bohemian structures that soothe your soul to no end. No wonder the country is fondly called the Land of Poets!
Whether you want to check out the penguins on Magdalena Island or enjoy a laid-back winery tour in Casablanca Valley, the first step to your adventure starts with a Chile tourist visa.
Applying for tourist visas can be a substantial pain in the neck. Even one wrong document is enough to send your travel plans down the drain. DoNotPay's Tourist Visa Guide feature is a convenient aid to handle messy application guidelines for any country. If you want support for error-free visa processing, sign up!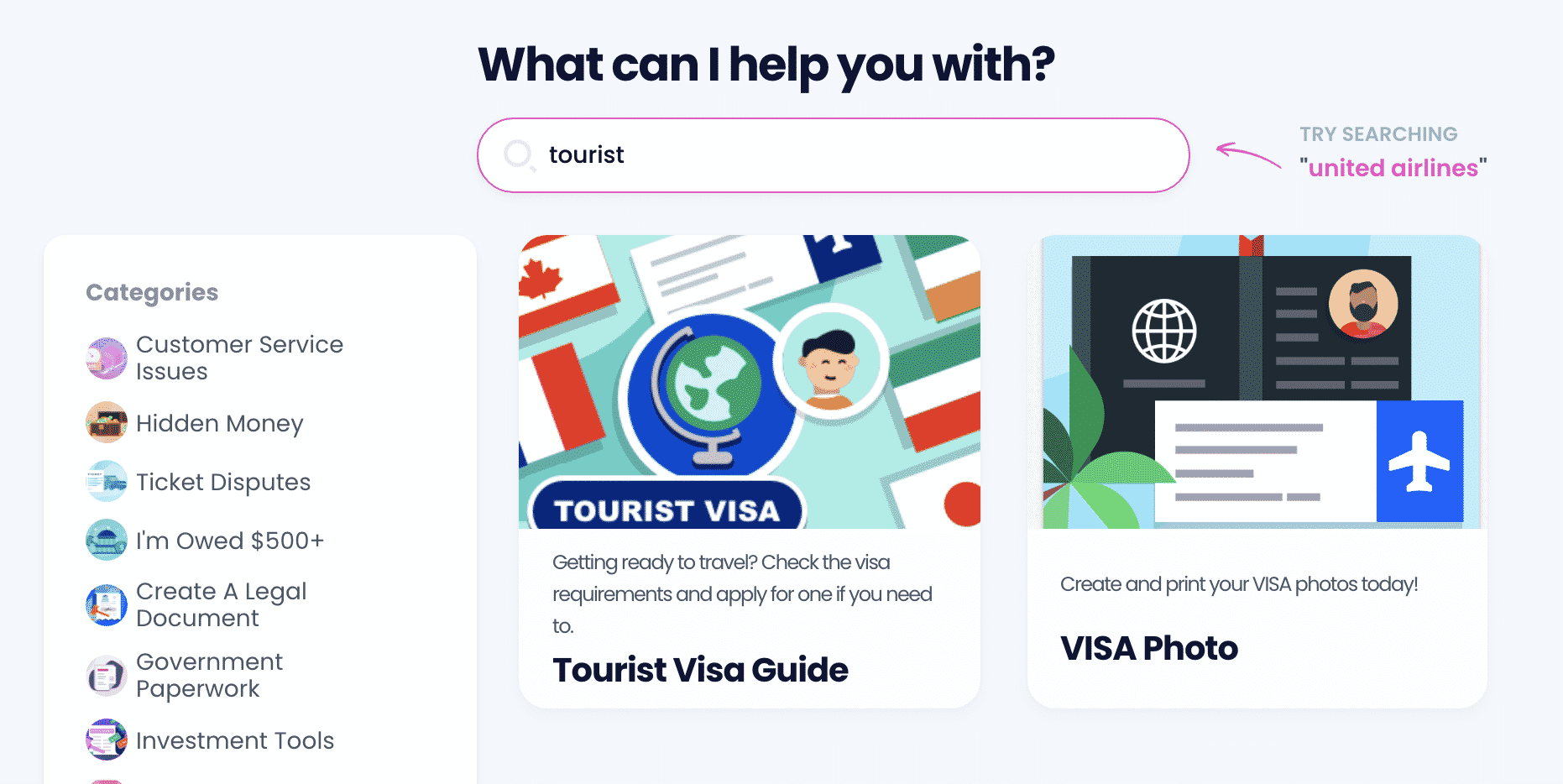 Not Every Visitor Needs a Tourist Visa in Chile—Here's Why
Chile follows a reciprocal visa policy with other countries. At present, Chile allows five types of entries into the country, depending on your place of origin:
| | |
| --- | --- |
| Entry Type Based On | Details |
| ID card | Citizens of certain neighboring countries in South America can enter Chile by producing an ID |
| Reciprocity fee | Travelers from Australia need to pay a reciprocity fee to enter Chile |
| Visa-free | A total of 92 jurisdictions from North America and Europe are exempt from visa requirements as long as they have a valid passport |
| Compulsory visa | The remaining countries not covered above will need a visa issued by one of the Chilean diplomatic missions to enter Chile |
| Diplomat or service category passport | Chile has entered into visa-waiver agreements with several countries to enable official business travel without a visa |
Chile Tourist Visa Requirements for U.S. Citizens
The U.S. is one of the jurisdictions that enjoy visa-free travel to Chile but only in certain cases.
If you are a U.S. citizen with a valid passport, you don't need a Chile visa only if:
You are traveling for recreation, tourism, business, or academic conferences
Your period of stay is under 90 days (passport shouldn't expire within the 90-day window)
You may be exempt from getting a visa, but that hardly puts an end to other procedural compliances for your Chile visit. There may be additional requirements for your trip, like:
Producing full documentation for your return or onward travel
Getting vaccination certificates for diseases like Yellow Fever and COVID-19
Traveling to Chile Visa-Free? Don't Mess With Your Tourist Card
The moment you enter Chile, you will need to procure a 90-day Tourist Card with a barcode. You must surrender this card intact to the authorities before your departure, or else your return will be delayed.
If you happen to lose or misplace your Tourist Card, you need to contact the country's International Police for assistance. Getting your card replaced is a lengthy and stressful procedure, so make sure to hold on tight to it throughout your trip!
Visa-Free Tourists—What if I Get Stuck in Chile Without a Tourist Visa?
Sudden travel bans or any other unforeseen situation can leave you stranded in Chile. As per current guidelines, you must reach out to the Chilean Immigration Office to request an extension for your stay in such cases. You will need to pay additional fees for this service.
If you stay in Chile for more than 90 days and never notify the authorities, your passport may be confiscated and you will not be allowed to depart.
This is what you need to do further:
Visit the Departamento de Extranjería, i.e., the Immigration and Migration Department to check your overstay penalty
Pay the fine and collect the receipt
Get a document from the authorities confirming your passport should be returned
Submit the document and retrieve your passport
This process is time-consuming and full of variables beyond your control, so make sure to get an extension or a tourist visa depending on your circumstances.
When Should I Get a Tourist Visa for Chile?
A U.S. citizen may need to apply for a visa, tourist or otherwise, if their travel comes under:
Work
Study
Adoption
Immigration
Recreational travel for a period greater than 90 days
Special circumstances—like a diplomat entering Chile for tourism
How To Apply for a Chile Tourist Visa
If you need a Chile tourist visa for your travel, you must reach out to the nearest Chilean embassy or consulate near you to initiate the application process. The documents you need to submit may vary from case to case, but it is the pandemic setbacks that have overcomplicated the physical filing process.
Alternatively, DoNotPay can also help you navigate the documentation process and contact the embassy in the U.S. for you.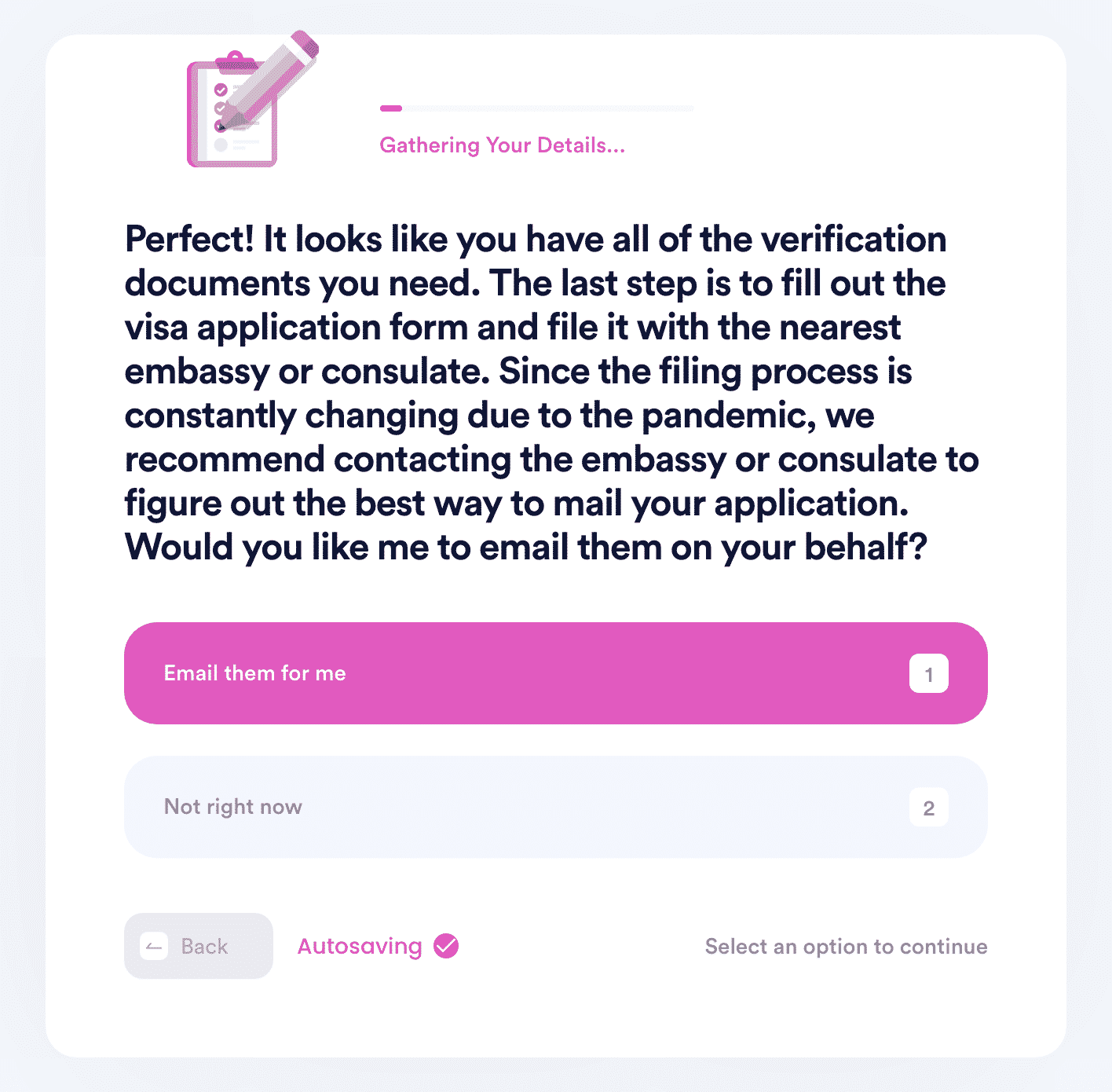 Tourist Visas Won't Make You Nervous Once You Use DoNotPay
There's hardly any fun in applying for tourist visas. You manage halfway into filling the application form, and before you know it, you are sucked into a black hole of exhausting documentation.
You don't have to sacrifice your sanity in this chaos if you use DoNotPay's Tourist Visa tool. Our app can analyze your individual travel needs and guide you in case you need a tourist visa.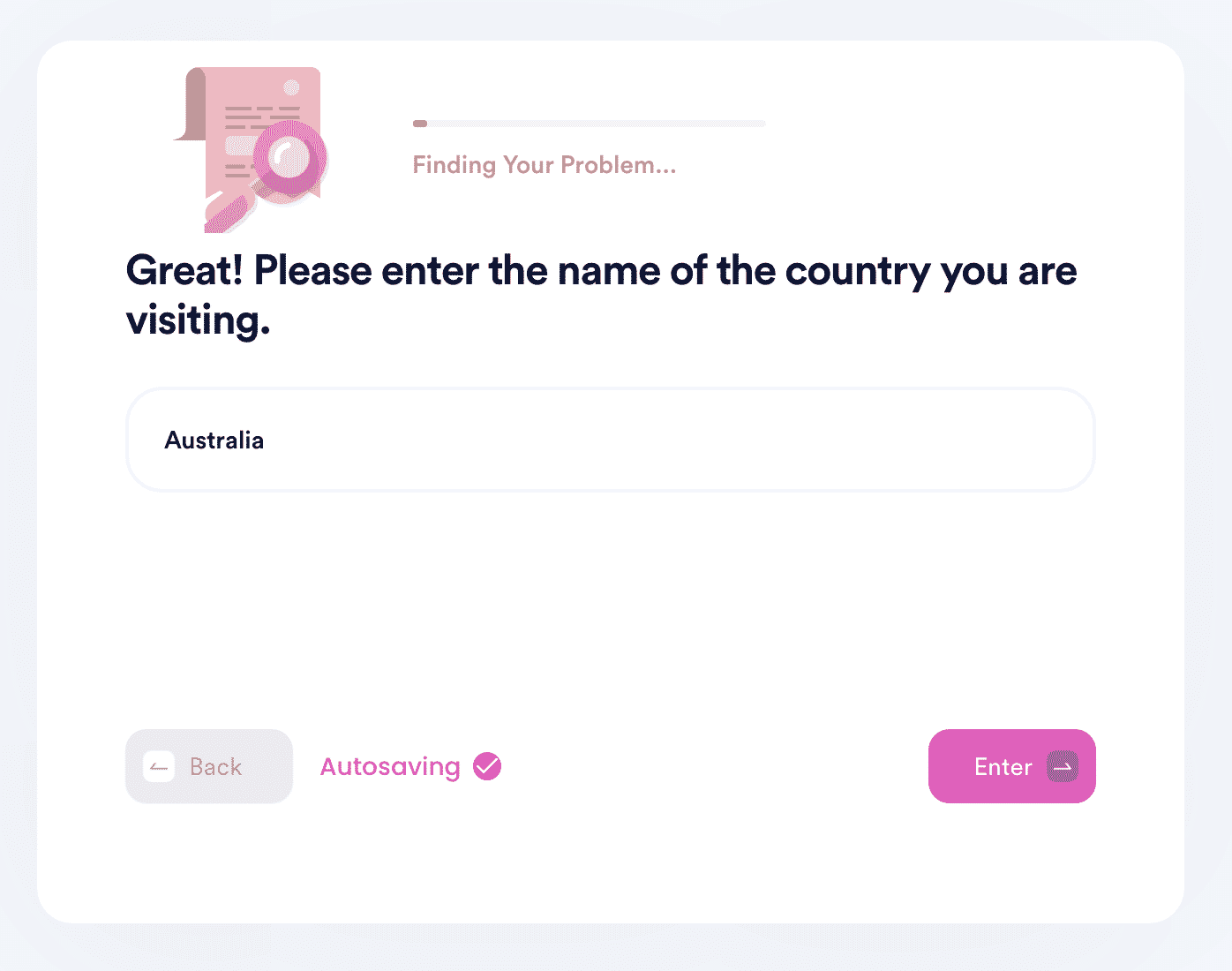 Here's how you use this feature:
Log in to DoNotPay and select the Tourist Visa Guide tab
Confirm whether you have a valid U.S. passport and set your destination country
View our assessment to find out whether you need a tourist visa
As the requirements for visa-exempt countries constantly keep changing, it's prudent to run your visa eligibility before making any foreign trip.
DoNotPay Dispels the Nagging Worries for Your Visa Application Process
If your destination country asks for a travel visa, DoNotPay can assist you in a variety of ways. Interact with our chatbot to:
Find the list of the paperwork required
Get a comprehensive tourist visa manual for a particular country
Generate the visa application form that you can print out and fill in
Discover the authentic portals for countries that accept online visa applications
Reach out to the embassy for visa mailing instructions

Getting Itchy Feet for Latin America? Chase Wanderlust With DoNotPay
Many countries in Latin America score well on tourist safety and the availability of abundant cheap travel options.
DoNotPay can support you on the tourist visa issue of the South American countries listed in the table below, so don't hesitate to plan your next trip!
Solve Your Legal and Bureaucratic Issues With DoNotPay
The primary purpose of our app is to provide you with practical tools that can speed up all the drawn-out tasks you must complete. All you need to do is choose a suitable feature from our offer and get your problems solved in a heartbeat!
Once you create an account with DoNotPay, you can:
Feeling Unsafe or Harassed? DoNotPay Can Help You!
Have annoying calls and messages become your everyday problem? Don't give up on your peace—rely on DoNotPay and deal with robocalls and restless text and email spammers easily.
We also take care of your privacy, allowing you to create burner numbers and virtual credit cards to avoid revealing sensitive information when signing up for various online services.
If you are being stalked by somebody or discriminated against at work, we will do our best to help you fight for justice and report the case accordingly! We will also safeguard your creative work from copyright violation and ask for violent crime compensation on your behalf.