How To Help Children in Divorces Adapt to Parents' Separation
Parting ways is a heavy burden to spouses, but kids may suffer even more. Although you have a lot to deal with, you must not oversee the effect your separation has on your children. In divorces, things can get ugly, so try to keep the process civil.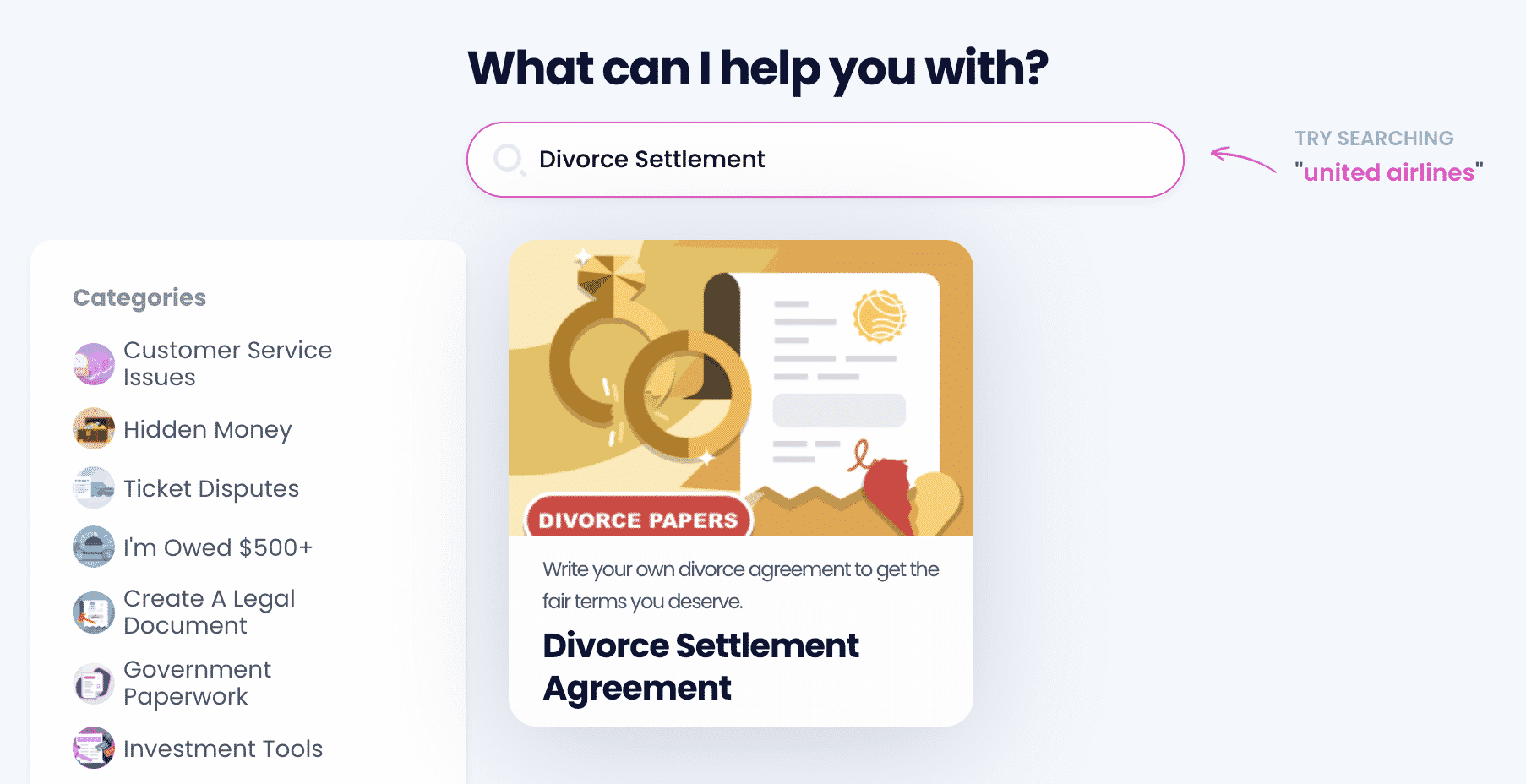 DoNotPay explains the procedural details and helps you complete the marriage dissolution quickly.
Children in Divorces—Everything You Should Know
Although you have many concerns regarding the dissolution of your marriage, helping your kids get through is the most important one. You may have irreconcilable differences with your partner, but you need to work together to prevent your children from suffering more than necessary.
Getting a divorce with kids is less painful and stressful if you opt for a friendly divorce, which entails defining all post-divorce arrangements, such as:
An uncontested divorce is a low-cost and relatively quick option, giving you and your youngsters better chances of coming out as unscathed as possible. You might also complete the procedure without a lawyer or going to court.
In the following table, find clues on how to break the news to your child and help them deal with separation:
Issue
Approach
Telling children about the divorce

Be honest
Address their reactions
Don't blame your spouse

Helping kids cope with stress and uncertainty

Make them feel safe and loved
Work with the other parent to create a supportive environment
How a Child May React Depending on Their Age
Before filing for divorce and checking if you can avoid going to court, learn what you can expect regarding your children's age.
Kids going through their parents' divorce react differently depending on their age. Approach the issue with caution because the trauma may lead to emotional problems later in their lives.
Children Under Three
Although they aren't fully aware of what's going on, babies and toddlers may be:
Fussier than usual
Inconsolable with only one parent around
To address the issue, try maintaining the familiar routine because kids are adaptable at this age.
Preschoolers
Preschoolers rely on their parents for stability. If parents fight and call each other names, your kid may experience conflicting emotions and sleepless nights.
The good news is that children between three and five usually get back to normal quickly once you finalize the divorce.
Schoolers
Kids from six to 12 are typically most vulnerable to their parents' separation, which may lead to short- or long-term depression. Getting divorced with children in school is particularly challenging because they tend to think the split is their fault. You and your spouse must:
Be civil with each other in front of your kids
Keep the nasty details of the divorce away from them
Try to iron out your differences through mediation
Teens
Teenagers are usually old enough to understand the complexity of the situation, and they lead most of their life outside of the home. They usually accept their parents' separation rationally, but be cautious since they are still vulnerable. Be honest about everything and allow them to express their feelings.
How To Deal With Kids Through Divorce
You should take a straightforward approach whatever your kid's age:
Explain the situation and the upcoming procedures
Help them deal with the new reality and stress
Break the News Gently and Handle Reactions
Be honest. Explain that adults may disagree with each other, which has nothing to do with their love for their kiddos. State that some things will change while others will remain the same.
If your child is in elementary school, expect questions such as:
Don't you love me?
Have I done something wrong?
What should I do for you to stay together?
You and your spouse must not blame each other. It's essential to show mutual respect and be united when dealing with your children's fears and concerns.
Be There for Your Kiddos While They Grieve
At this stage, you may need to constantly remind your kid that the divorce isn't their fault, especially if they are schoolers. Be supportive, listen to your children, encourage them to talk about their feelings, and address their confusion. Reassure them that they will always have loving parents, whatever the circumstances.
Prepare a Divorce Settlement Agreement With DoNotPay
Divorce is tough as it is, so opt for an uncontested divorce to dissolve your marriage quickly and don't break the bank. Parting on friendly and fair terms is beneficial to every family member.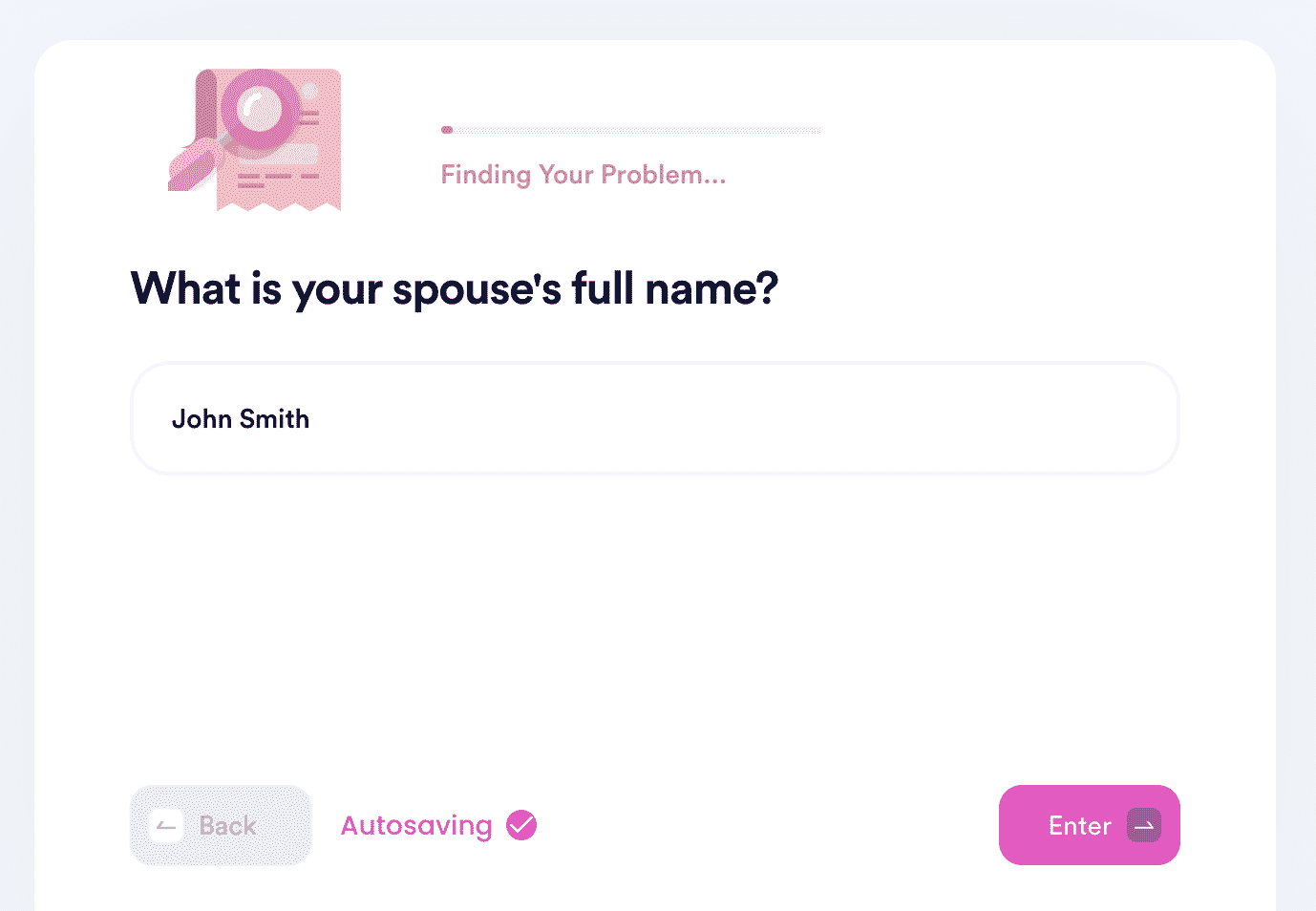 Once you agree on all aspects of your post-marital relationship, draft a divorce settlement agreement with DoNotPay. To benefit from our handy tool, you should:
Sign in to DoNotPay and select Divorce Settlement Agreement
Answer questions about your partner and children
Let us know how you wish your assets and income distributed
DoNotPay generates a customized contract ready for you and your spouse to sign and get notarized. We can help you connect with a remote notary to complete the process in a video call.
We can also teach you:
Choose From a Variety of DoNotPay's Amazing Tools
Did you manage to solve the issue with our app? If the answer is yes, you may also be interested in checking out other interesting features we offer. DoNotPay can help you:
| Get Rid of Spammers By | Deal With Uncooperative Merchants By | Get Help With Your Studies By |
| --- | --- | --- |
| | | |
Let DoNotPay Prepare Important Documents for You
Are you having a hard time drawing up a contract due to insufficient legal expertise? Say goodbye to failed drafts—DoNotPay can generate divorce settlement agreements, powers of attorney, child travel consent forms, and many other legal documents in under five minutes!
We will also help you create anonymous HR complaints and demand letters for your neighbors if you are experiencing any issues with them.