Ensure the Best for Your Children With Our
Child Support Agreement Template
When parents split up, the hardest-hit are often the children from the relationship. As if the emotional trauma were not enough, many young people are also placed in financial hardship through the absence of support from one of their parents.
Child support can at least be regulated if a strong child support agreement is in place. DoNotPay is the expert at providing you with legal documents and contract templates that help you avoid expensive lawyers' fees and protracted legal processes.
If you need help on how to write the contract or you need assistance with figuring out what a child support agreement template is, DoNotPay is the place to look.
How Does Child Support Work?
Child support refers to the money that one parent pays to the other to cover the expenses of raising a shared child or children.
The payments are normally made at regular intervals—monthly or weekly—and should be calculated to take account of all the child's needs.
The responsibility of the supporting parent normally ends when the child reaches majority at 18. Special agreements can be made to support the child through college, though.
How Is Child Support Agreed Upon?
If you are lucky, you and your partner will be able to settle on a mutually acceptable figure for child support without having to involve lawyers or the courts. Even in this case, though, a written agreement should be in place.
There are three formalized routes to reaching a child support agreement, as follows:
Formal negotiations

Alternative dispute resolution (ADR)

Court child support order
Formal Negotiations
The parents enter into formal negotiations to determine the amount, frequency, and duration of child support payments. In such situations, each parent is normally represented by a lawyer.
Alternative Dispute Resolution
ADR is a formal, out-of-court process that may involve external evaluation, mediation, or arbitration.
Court Child Support Order
If child support can't be agreed upon by other means, the courts make a ruling. This normally happens during a divorce or legal separation proceedings.
Is a Child Support Agreement Enforceable in Court?
A child support agreement is a contract between the parents. To make it enforceable, you should submit it to a court for approval.
The approval process also ensures that the agreement complies with state guidelines and is a useful check to guarantee that the agreement is fair and equitable.
If the agreement has court approval, a defaulting parent can be held in contempt of court and can face serious consequences, including fines, custodial time, or loss of civil privileges.
What Needs To Be in a Child Support Agreement?
A child support agreement should be drawn up with the child's best interests at heart—the needs or desires of either parent are secondary.
At the very least, the agreement has to contain the following:
The parent responsible for payments being made (normally the non-custodial parent)

Payment amounts

Payments frequency

Duration of payments

Acceptable uses for payments

Responsibilities of the custodial parent
The most contentious area of the agreement is generally the amount to be paid and the breakdown of what the non-custodial parent should be responsible for.
Guidelines in the U.S. exist at the federal level but vary widely from state to state. Three methods are used to determine the amounts of child support that are considered fair, and they are all income-based:
| | | |
| --- | --- | --- |
| Method | Explanation | States Used |
| Income Shares Model | Both parents' income is combined, and the total is matched against a fixed table of amounts deemed necessary to raise a child. The contributions to the child's upbringing are then divided between the parents based on their percentage contribution to the total household income | Maryland, Wyoming, Washington, Missouri, New York, New Jersey, South Dakota, Oklahoma, North Carolina, Michigan, Utah, Florida, Massachusetts, Louisiana, Pennsylvania, Alabama, New Hampshire, Kentucky, South Carolina, Vermont, Virgin Islands, Nebraska, Georgia, Virginia, Arkansas, Guam, New Mexico, Illinois, California, Kansas, Maine, Indiana, Colorado, West Virginia, Oregon, Tennessee, Rhode Island, Iowa, Minnesota, Ohio, Arizona, Connecticut, and Idaho |
| Melson Formula | A slightly more complicated version of the Income Shares Model uses precedents and prior judgments to factor in the parents' financial needs in addition to the child's | Delaware, Hawaii, and Montana |
| Percentage of Income Model | Determines child support as a percentage of only the non-custodial parent's income | Alaska, Mississippi, Nevada, North Dakota, Texas, Wisconsin, North Dakota, and Texas |
These models are useful guidelines if you are drawing up a child support agreement yourself. Following them will also ease the route to getting court approval for the agreement.
Need Help Writing Legal Documents? DoNotPay Is Here for You!
It is possible to write your child support agreement without involving lawyers, but by far, the easiest way is to let DoNotPay help you.
We have templates for many of your most common legal needs, from prenuptial agreements and custody agreements to bills of sale and independent contractor agreements.
To get the legal document you need, all you have to do is the following:
Open DoNotPay in your

web browser

Fill out the details we need

Wait for DoNotPay to generate your document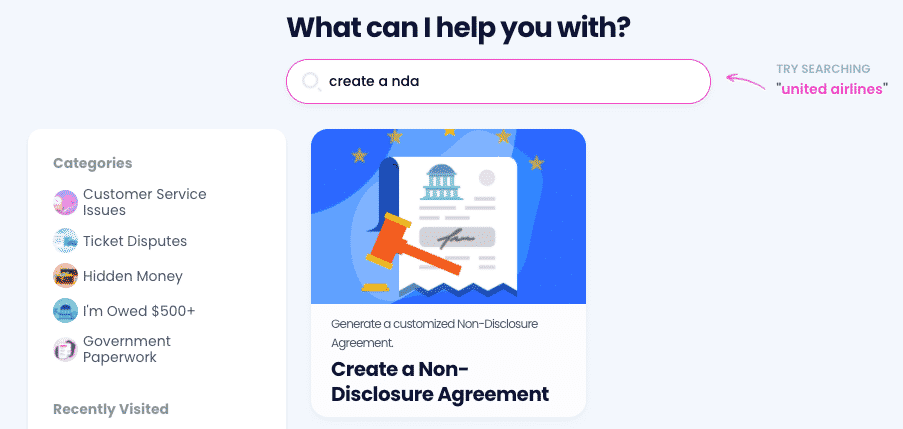 Remember that the document is only binding once it has been signed by both parties. For extra peace of mind, you should also get it approved by a court.
What Other Legal Documents Does DoNotPay Have?
DoNotPay is developing hundreds of legal documents to cover your needs. The list is constantly growing, and here are just a few:
Real Estate
Business

Intent To Purchase Real Estate

Estoppel Certificate

Quitclaim Deed

General Business Contract
DoNotPay—The Easy Way To Save Money
If it looks like your wallet has a hole and the money keeps pouring out for unnecessary expenses, it might be time to come up with a better saving strategy. 
DoNotPay uses AI-powered technology to identify the best opportunities for some serious penny-pinching or earning a few extra bucks:
| | |
| --- | --- |
| Saving Money | Earning Money |
| | |
Do You Need Help With All That Paperwork?
Saving money is great, but cutting the time wasted on bureaucracy sometimes sounds even better. DoNotPay joins the best of both worlds and helps you avoid boring paperwork while preventing future unnecessary charges and expenses. 
With our help, you can enjoy free trials without any risk, file insurance claims, or handle issues with credit cards. 
You won't have to waste time on researching the right procedures or pay for help if you need to stop stalkers and harassers or put together all sorts of legal documents.