Is Getting a Child Support Agreement Outside of Court Acceptable?
Separation doesn't only bring an emotional burden—it may also cause finance-related disputes between former partners. If the couple has children, child maintenance is one of the most important matters to solve once they part their ways. This is why they choose to sign a child support agreement.
Issues surrounding child support may lead to various disputes and legal expenses. To avoid them, parents often agree upon the terms of the agreement beforehand and then present the contract to the court. In this guide, we will explore whether obtaining a child support agreement out of court is effective and help you write this contract the easy way. Check out DoNotPay and find out how to get legal documents drawn up in a jiffy without suspicious online templates! 
What Is a Child Support Agreement?
A child support agreement is a contract between parents that stipulates all the child maintenance arrangements they agreed upon. 
It's recommendable to sign a child support agreement because it:
Reminds the parties what their responsibilities are

Prevents misunderstandings and clarifies ambiguities

Helps with providing medical care or insurance for children
Why Should a Child Support Agreement Be Approved by the Court?
If signed by both parents and notarized, a child support agreement is enforceable as evidence of both parties' intent, but it's not enforceable in court. The only way to make it binding is to file for custody according to state guidelines and incorporate the contract into a court order. 
Submitting the contract to the court to have it reviewed and approved gives specific legal weight to the document. It protects the other party in case one of the ex-partners stops complying with the proposed terms and conditions. With the court's approval, the defaulting parent can face penalties if they fail to provide the prescribed financial support to the child. 
How To Finalize an Out-of-Court Child Support Agreement
Before getting an enforceable child support contract, you must go through several phases:
Negotiating the terms and conditions of the agreement with the other party—in most cases, the signing entities hire lawyers to help them handle this part. Make sure you include:

The statement that determines which parent is responsible for paying child maintenance

Agreed-upon child support amount

Payment frequency and duration

The purposes for which the child support money can be used

Responsibilities of both parents

Adding the following statements to the agreement:

Both parents are aware of the support rights their children have

Both parents know what the amount of child support will be

No one forced or intimidated the parties into signing the agreement

The parents aren't receiving public assistance, and they haven't applied for it

Both parties consider that the proposed child maintenance amount is in the best interest of their child

Signing the contract

Getting the document notarized

Submitting the agreement for the court's review
Once the judge receives your document, they will decide whether the contract you created is in the best interest of the child. If the court approves your agreement, it becomes enforceable and can't be changed without the consent of both signing parties. 
DoNotPay Can Draw Up Legal Documents in a Snap
Hiring a lawyer to write a child support contract for you is a safe but pricey option. If you want to avoid spending too much money, use DoNotPay and let us draw up an agreement in your stead!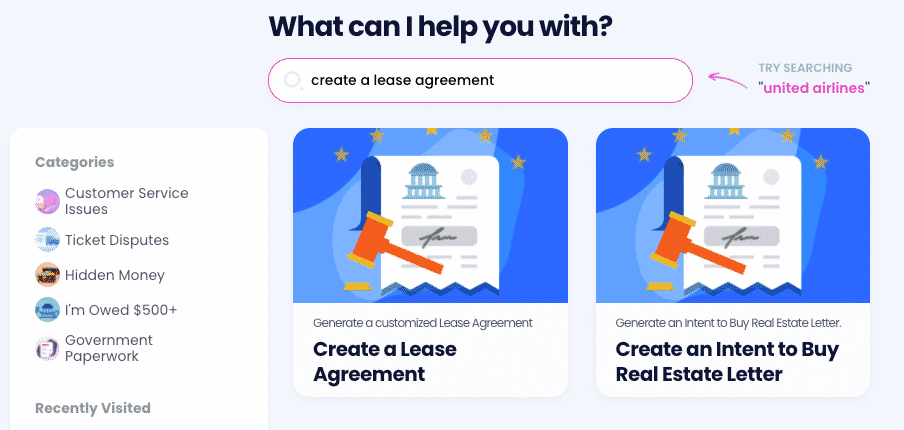 Our database contains standardized legal documents you can modify according to your wishes and create a perfect contract. After you provide us with the essential details in a few clicks, we generate a personalized legal document with all necessary clauses. 
To use the Standardized Legal Document feature, follow the instructions below:
from any preferred web browser

Type in the name of the document you are looking for

Pick the details related to the contents of your contract
You can choose among various documents, including the ones from the table below:
Business Contracts
Real Estate Contracts
Other Contracts

General Business Contract

Intent To Purchase Real Estate

Quitclaim Deed

Promissory Note

General Affidavit

Child Care Authorization Form
The benefits don't stop here! If you subscribe to our service, you'll be able to have your documents notarized without visiting a notary public! Our app enables you to arrange a meeting with a remote notary 24 hours a day and obtain a digital stamp and signature for your contracts. 
Get a Scoop on Many Useful Contracts With DoNotPay's Knowledge Base
Our learning center offers various handy articles that can help you decipher contracts and other legal documents with zero effort! and find out all about:
Let DoNoPay Help You With Your Paperwork
Why waste time on bureaucracy if you can rely on DoNotPay to handle pesky tasks for you? Cancel all your subscriptions at once, find unclaimed funds in a matter of minutes, appeal parking tickets hassle-free, and discover the best way to get your documents notarized remotely. 
In case you need help paying bills or you want to earn some money by participating in paid clinical trials, DoNotPay is here to help you out! 
Fighting workplace discrimination is of utmost importance, but the entire procedure seems rather complicated. The same goes for the crime victims compensation application in most states. DoNotPay is here to change that. We will help you file a report, request compensation, and create numerous other documents, including demand letters for neighbor complaints.
Keep Your Online Safety in Check!
While internet safety should be one of your top priorities, staying anonymous while surfing the web is almost impossible. If you want to avoid giving out your number when registering for services, you should try out our Burner Phone product. 
DoNotPay can also protect your credit card info, name, and email address, all through our handy virtual credit card. Sign up for free trials without worrying about unexpected charges.
With our app, you will learn how to deal with stalkers and harassers and how to access public records the easy way. 
DoNotPay offers many other useful products that can help you prepare for government tests, have your college fees waived, and manage any annoying issue in minutes.