How To Write a
Child Care Agreement Between Parents
and a Care Provider
Writing a child care agreement can be tricky. You have to draft it according to the state-specific laws and include all crucial sections to make it valid. If you are wondering how to write the agreement without too much hassle, stick around! DoNotPay will explain all there is to know about creating a child care agreement between parents and a care provider.
Discover how to create various other legal documents without hiring expensive lawyers or using unreliable contract templates!
What Is a Child Care Agreement?
A child care agreement is a contract between parents or legal guardians (typically referred to as clients) and a child care provider. It outlines terms and conditions of child care for the client's child or children. While many state laws don't require the child care agreement to be in writing, you should document all agreed-upon terms to avoid any possible misunderstandings.
All legal documents, including a child care agreement, could also use a notary's signature. Notarization strengthens the legality of the document by confirming the signers' identities. If you decide to get the agreement notarized, DoNotPay can connect you to an online notary in minutes.
Who Can Use a Child Care Agreement?
Anyone who wants to specify and formalize the terms of child care should create a child care agreement, including:
People hiring a child care provider, like:

Organizations, for example:

Day care services

After school programs

Individuals providing the child care service, such as:

Babysitters

Nannies

Au pairs
What Should I Include in a Child Care Agreement?
While every child care agreement depends on legal and personal requirements, particular sections have to be included. You can use them as a basis and add any other paragraph you deem necessary. 
The table below describes essential elements of a child care agreement:
What To Include in a Child Care Agreement

Details

Personal information

Names of:

Family member(s)

A service provider

Child or children

Statements

Written statement of the family members and child care provider expressing their responsibility in following the contract terms

 

Work hours and compensation

Start and end date of the child care provider's service 

Payment terms, such as the amount the clients will pay per hour

Stipulations concerning late payments by the provider

Criteria for withholding the payment from a provider

Work responsibilities

Ensuring the child's safety

Attending to the child's needs, including:

Preparing meals

Giving medication

Planning child's activities

Termination criteria

Clients can terminate the agreement without any prior notice if the child care provider:

Keeps avoiding their work responsibilities

Neglects the child's safety

Violates the confidentiality clause

Uses illegal substances

Is always late for work

Confidentiality terms

The confidentiality provision prevents the child care provider from:

Disclosing and using any personal information regarding the family in public

Uploading child's photos or videos on social media

Governing law

It is crucial to identify the state law that will interpret the agreement in case of legal disputes

Signatures

Client's and child care provider's signature

Date of closing the agreement 
Use DoNotPay To Create Other Related Contracts
Laws regarding children's safety are strict in all U.S. states. If a third party is taking care of your child, you'll have to prepare numerous authorization documents. A child care provider will need your permission to pick up your child from daycare and make numerous other decisions regarding his or her wellbeing. DoNotPay can help you create a child care authorization form in a matter of minutes!
The steps you have to complete are as follows:
Access DoNotPay

from your web browser

Enter the name of the document you need

Provide necessary information to the chatbot (names, addresses, and other)
Your contract will be ready for you soon after you complete these steps.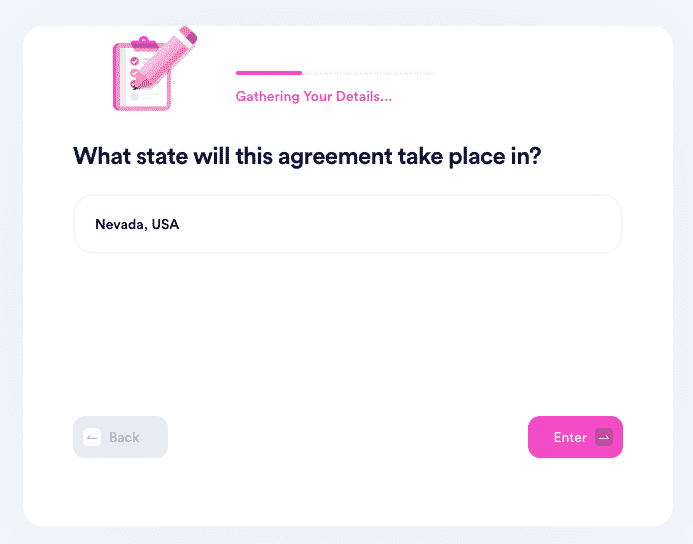 What Other Contracts Can DoNotPay Create for Me?
We have a vast offer of contracts and agreements for business, real estate, and personal matters. All our legal documents are:
Professional

Comprehensive

Tailored to fit specific requirements

State-law compliant
Sign up for DoNotPay to generate any of the document from the table below:
Business Agreements
Real Estate Contracts
Other Documents

General Business Contract

Quitclaim Deed

Intent To Purchase Real Estate

Promissory Note

General Affidavit

Other DoNotPay's Product That May Interest You
Are you thinking of sending your child on a trip without you? Whether the child is traveling within the U.S. or to another country—including Canada, UK, or India—you will need a minor travel consent form. This legal document authorizes a child to travel alone or with an authorized caretaker. You can create it easily by accessing our Child Travel Consent product and following the required steps.
Let DoNoPay Help You With Your Paperwork
Why waste time on bureaucracy if you can rely on DoNotPay to handle pesky tasks for you? Cancel all your subscriptions at once, find unclaimed funds in a matter of minutes, appeal parking tickets hassle-free, and discover the best way to get your documents notarized remotely. 
In case you need help paying bills or you want to earn some money by participating in paid clinical trials, DoNotPay is here to help you out! 
Fighting workplace discrimination is of utmost importance, but the entire procedure seems rather complicated. The same goes for the crime victims compensation application in most states. DoNotPay is here to change that. We will help you file a report, request compensation, and create numerous other documents, including demand letters for neighbor complaints.
Keep Your Online Safety in Check!
While internet safety should be one of your top priorities, staying anonymous while surfing the web is almost impossible. If you want to avoid giving out your number when registering for services, you should try out our Burner Phone product. 
DoNotPay can also protect your credit card info, name, and email address, all through our handy virtual credit card. Sign up for free trials without worrying about unexpected charges.
With our app, you will learn how to deal with stalkers and harassers and how to access public records the easy way. 
DoNotPay offers many other useful products that can help you prepare for government tests, have your college fees waived, and manage any annoying issue in minutes.