Chicago Suburbs With Low Property Taxes—Where To Buy Property in Illinois
Chicago is located in the largest county in Illinois, and it may be hard to find suburbs with low property taxes there.
You shouldn't worry, though—DoNotPay has all the stats for you!
If you need help paying your property taxes or are looking for a suburb that has a low property tax rate, you'll find everything you need in this article.
Can You Find Chicago Suburbs With Low Property Tax Rates?
While Cook County is the biggest county in the state of Illinois, its tax rate is actually lower than the state average by 0.06%. This is good news for you if you are planning to purchase real estate property in Chicago.
Here's all the important data regarding Cook County and property taxes:
| | |
| --- | --- |
| Cook County Property Taxes | Figures |
| Tax rate | 2.10% |
| Average home value | $237,200 |
| Average annual tax payment | $4,984 |
Homeowners in Chicago also pay lower annual tax bills than residents of other cities in Cook County. The average annual property tax payment is between $2,400 and $6,000.
The suburbs that have the lowest property tax rates in Chicago are mostly located in the south. Some of the suburbs you can research if you want to live in an area with a low property tax rate are:
Indian Head Park

Long Grove

Glencoe

Burr Ridge

Deer Park
If you decide to purchase property anywhere in Chicago, you should read all about the:
What About Other Illinois Towns With Low Property Taxes?
Since Illinois is among the top-ranking states in the country when it comes to high property tax rates, you may have a hard time finding areas in Illinois where it won't be expensive to pay property tax bills.
The tax rate in Illinois is 2.16%, but here are some areas that have a slightly lower tax rate than the state average:
Alexander County

Crawford County

Gallatin County

Hardin County

Jasper County

Perry County

Pulaski County

Macoupin County
What You Need To Know About Property Taxes if You Own Property in Chicago, IL
If you want to purchase real estate property in Chicago—or any other city in Illinois—you need to be ready to pay your homeowner taxes.
The local tax appraisers will assess your home's market value to determine how much you'll pay in property taxes every year. This is called a property tax assessment.
Note that local tax rates may change on a two-year basis.
County boards will review the assessed value of your property to make sure it's correct. Once the boards have the right number, they multiply it by the tax rate in your suburb or county. 
If you don't agree with your property's tax assessment, you can appeal it to the county boards. To go through with your property tax appeal, you usually need to:
File a claim and pay a fee

Collect strong evidence to prove your assessment has errors

Appeal your property's assessment in court
Bonus Tips for Reducing Your Property Tax Bills
Before the property assessor arrives at your home, here's what you can do to make sure there are no errors that will lead to higher tax bills:
Check what the appraised value of the neighboring homes is

Stay close to the property assessor when they visit your property

Invite the property assessor into your home and make sure they are not ignoring any defects, such as a leaking roof

Refrain from adding any fixtures or improvements to your property until the assessment is over 
When you get your property tax notice, you should read it carefully to see whether you can spot any mistakes.
Struggling To Find Low Property Tax Areas in Illinois? DoNotPay Can Help You!
Since Illinois is notorious for its high property tax rates, you may need help lowering your tax bills.
Local governments offer many property tax exemption programs to citizens that can reduce a specific amount of their property's market value, which leads to lower tax bills.
Homeowners rarely apply for exemptions because the process takes time and effort.
DoNotPay's product solves this issue! Our app can get you a fully personalized guide on reducing your property taxes. Here's how to get this guide:
Go to our

Property Tax

product

Give us several key pieces of information about yourself and your property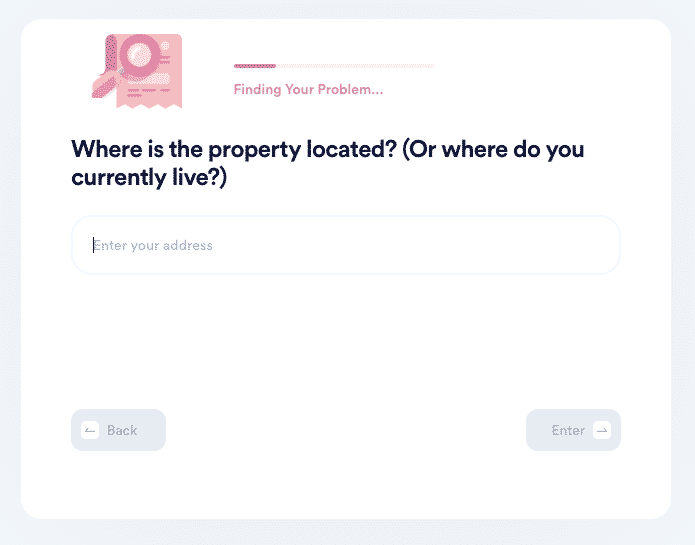 In a few minutes, DoNotPay creates a guide that tells you:
What property tax exemptions you are eligible for—from

homestead

to

senior citizen exemptions

What documentation you will need to collect to apply for the exemption

How to file your claim
Appeal Your Property Tax Assessment With the Help of DoNotPay!
Our all-encompassing guide also contains the essential information on appealing your property's assessment. You'll learn:
What the deadline for filing an appeal in your county is

How to collect the evidence you need

What to do during your court hearing to win your case
Sign up for a DoNotPay account today to get help with reducing your property tax bills and save thousands of dollars in property taxes each year.
DoNotPay Helps You Scam Scammers
DoNotPay helps you stay safe from scammers and fraudsters! 
We have developed a Virtual Credit Card product that helps you sign up for free trials without revealing your real banking information to any suspicious company. We've joined our most popular feature with a Burner Phone functionality that allows you to verify online accounts with a temporary phone number. 
That way, you'll be free to enjoy services while they're free of charge, eliminate the possibility of robocalls, robo texts, and spam emails from the shady companies, and forget about canceling the subscriptions altogether—our product does it for you!
DoNot Pay can even shield you from cyberstalking and online harassment and get you compensation for the crime you've suffered. We'll even help you take individuals or businesses to small claims court by drafting the relevant paperwork for you, accessing any public records that might bolster your case, and supplying you with a court script that you can read to the judge on the day of the hearing.
DoNotPay Is Helping You Out Left and Right
Not only can DoNotPay handle bureaucratic nuisances on your behalf, but we can make your daily life easier too!
No more waiting in endless phone queues to make a warranty claim for a faulty product or wasting the day away in mile-long DMV lines—our app will do the hard work for you! We'll call the reps of any company—even major airlines—and schedule appointments on your behalf in a matter of minutes!