The Best Way To File Chicago FOIA Requests
Filing a Chicago FOIA request can be a confusing task if you're not familiar with the ins and outs of the Freedom of Information Act (FOIA) and its meaning. You may have questions about Chicago FOIA fees and response time.
We will answer all your questions and assist you in submitting your Chicago FOIA request with ease.
Freedom of Information Act in Chicago Explained
The Illinois Freedom of Information Act (FOIA) is a state law that applies to all cities in the state of Illinois, including Chicago. It allows for transparency in all Chicago city departments. Under this law, all citizens should have access to government information or records, such as:
Paper records

Electronic records (e.g., emails)

Photographs

Audio recordings

Video recordings
FOIA Exemptions in Chicago
The Illinois FOIA exemptions are records that are exempt from public access under FOIA because they would cause harm to private or government interests. They include:
Trade secrets

Private information

Law enforcement investigations

Supervision of financial institutions

Internal personnel rules and practices

Privileged communication (e.g., attorney-client privilege)
City of Chicago FOIA Fees
You won't have to pay for the FOIA request submission, but you will have to incur fees to get your hands on the records you seek. The agencies in Chicago cannot charge you for the first 50 pages of photocopies. Every page after that will set you back 15 cents.
You can apply for a fee waiver by stating the specific purpose of the request and explaining why obtaining the records is in the public interest.
How To File a FOIA Request in Chicago on Your Own
According to the Illinois Freedom of Information Act, all FOIA requests must be in writing. An alternative to a written request can be a FOIA request form you can fill in and submit online if the agency provides one.
Before you start writing your request, go through the list of Chicago City Departments and their respective FOIA web pages. This will help you check what records are available under FOIA, what records are already available online, and which department you should submit your request to.
What Should My FOIA Request Include?
Every FOIA request must include your:
Full name

Phone number

Email address

Mailing address

Description of the records you're requesting
You can check out our FOIA request template to see what your request letter should look like.
Some Chicago departments, like the Chicago Police, have a ready request form you can download and complete.
How Do I Submit My FOIA Request?
Ways to file a FOIA request letter vary depending on the agency in question. You can typically submit your request via:
How To Check a FOIA Request Status
To check a FOIA status, you can:
Contact the department or agency you sent the request to

View your status on the department's or agency's website
In case your request gets ignored or denied, check out our article on filing a FOIA appeal. This article will also offer other steps you can take in this situation.
Use DoNotPay To File Your Chicago FOIA Request Fast
Hopping from one website to another and composing your FOIA request letter on your own isn't the only way to go about FOIA requests. Especially if your FOIA request is on yourself, you'd want to get it done fast.
DoNotPay is here to do exactly that—make the FOIA requesting process swift and effortless. While our way is fast, you can rest assured that we take every FOIA detail into account and make sure your FOIA request letter is accurate and well-argued.
All you have to do is click a few times and answer several questions.
Here's how it works:
Visit DoNotPay in a

Locate our

FOIA

feature

Type in the agency of your choice

Choose to apply for a fee waiver or

expedited processing

if you wish
Our chatbot will collect your personal and relevant info to create your FOIA request letter. Your chosen Chicago agency will receive your letter from DoNotPay as soon as possible.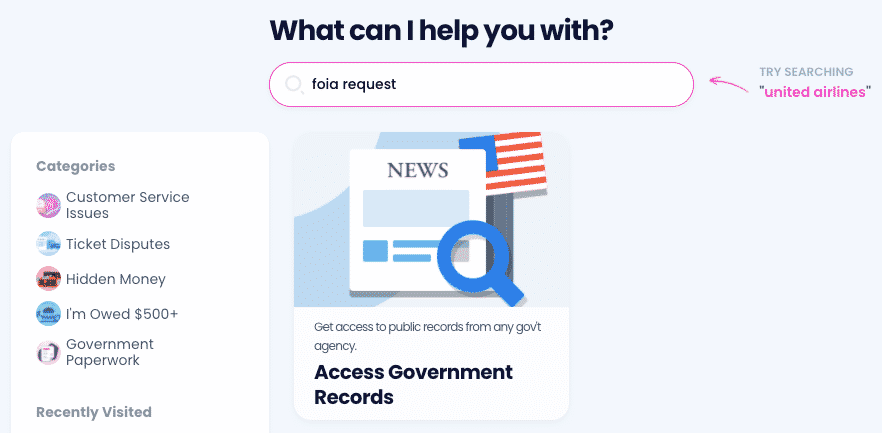 DoNotPay Can Handle Any FOIA Request
can give you insight into the workings of all sorts of agencies—federal, state, or local—regarding their FOIA processes. If you're interested in FOIA requests in other states except for Illinois, we've got it covered.
Reap the benefits of our FOIA guides and AI-powered app, and you'll be able to handle FOIA requests for any agency or state, such as: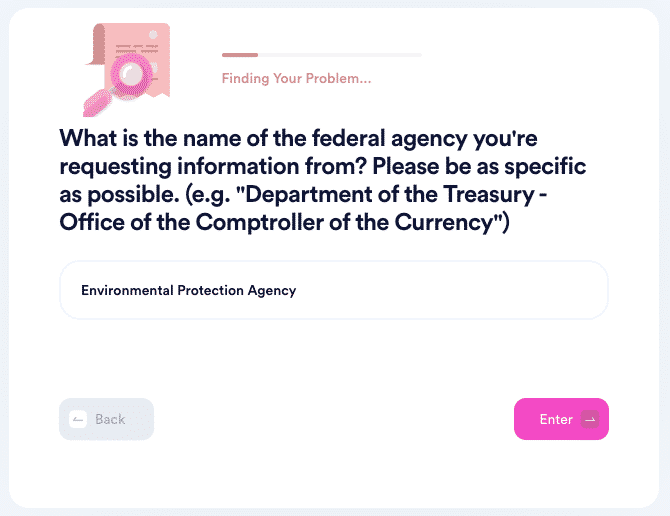 Tired of Companies Not Taking You Seriously? Use DoNotPay To Put a Stop to It
If you're sick of companies that violate your consumer rights, DoNotPay is here to help. If you're struggling with reporting robocalls, requesting a refund, claiming any type of warranty, scheduling a DMV appointment, reporting spam text messages, or anything else, our robot lawyer will help you sue any firm or individual in small claims court.
With DoNotPay, you can also sign up for any free trial, cancel any subscription, avoid getting charged after your free trials end, and much more!
Want Your Money Back? DoNotPay Is Here To Help
Are you looking for your missing money? Do you want to get a refund for a delayed or canceled flight? Are you trying to flip the script on illegal robocalls and earn money off them? DoNotPay will assist you in dealing with any of these pesky issues!
We can also help you bypass phone number verification, sign up for clinical trials stress-free, ace any government test in a jiffy, and block spam emails for good.