What You Need To Know About the Chesterfield County Property Tax Assessment
Are you struggling to understand the relationship between property taxes and property assessments?
If you live in Chesterfield County, you should familiarize yourself with the process of property tax assessments! Since assessments influence how much you'll have to pay in property taxes later on, there are a few ways you can lower your tax bills from the get-go.
In this article, you'll find out:
What property tax assessments are

How they work in Chesterfield County, VA

What you can do during your assessment to get a lower tax bill

How to

appeal your tax assessment

 
What Is a Property Tax Assessment?
Every citizen who owns real estate needs to pay property taxes to their city, county, or state. Property tax assessments are one part of determining the amount of that property tax.
When the Chesterfield County tax assessor comes to your home, they determine its market value. They consider the:
Square footage

Number of rooms in your home

Permanent installations on your property, like sheds, pools, or solar panels

Desirability of your area

Neighboring homes' market value
When the tax assessor calculates the market value of your home, they multiply it by the tax rate of your city or county to set the amount of property tax you'll pay either in one or two installments.
How Does a Property Tax Assessment Work in Chesterfield County, VA?
A property tax assessment in Chesterfield, Virginia, works the same as in any other county in the U.S. What differs, though, is the tax rate of the county.
While there are steps you can take to lower the market value of your home, you cannot affect the tax rate in your county. A property tax rate is determined by your local government, and it can change on a yearly basis. This is why your property tax bills can also increase as the years go by and why many people apply for property tax exemptions to reduce them.
If you consider the average tax rate in Virginia—which comes at 0.80%—you could say that it's a state with a low property tax rate. Market values of homes are high in many parts of Virginia, though. This is why you may be struggling with paying your property tax bills, especially because the tax rate in Chesterfield County is higher than the statewide average.
Check out the specific data regarding property taxes in Chesterfield, Virginia:
| | |
| --- | --- |
| Property Tax Aspects | Figures |
| Average tax rate | 0.88% |
| Approximate tax payment a Chesterfield citizen pays annually | $2,040 |
| Median home value | $231,700 |
If you plan to purchase real estate in Chesterfield County, note that a tax assessor will estimate the value of your property on a four-year basis.
How Can You Lower Your Tax Bills During Your Property Assessment?
While you can't affect the Chesterfield County property tax rate, there is plenty you can do to reduce the number on your property tax bills during the assessment of your property.
If your property is about to be assessed for its market value, here's what you can do:
Research the homes in your neighborhood

—Did you know that property assessment information is available to the general public? By going to your local tax office, you can look for information about the market values of the neighboring homes. This will help you spot errors that the tax assessor makes when evaluating your property. The evaluation should be similar to your neighbors' ones

Be with the assessor at all times

—Tax assessors may make a dozen seemingly insignificant errors while conducting the evaluation of your property. Unfortunately, these errors can result in higher tax bills for homeowners. Make sure you walk through your property together with the assessor to minimize mistakes

Refrain from making any improvements to your home

—Any fixtures go into the final estimation of your property value. Before you have your home assessed for its market value, don't make any constructional changes that will increase your tax bills

Show the assessor the interior of your home

—Even though you don't have to allow a tax assessor to enter your house, it's better to do so. While they're looking around, you should pinpoint any discrepancies that may reduce the market value of your home. Besides, if the assessor doesn't look inside your home, they may assign the highest value possible to it
What if Something's Wrong With Your Property Evaluation?
When you get a notice after your property assessment, make sure to read it carefully. If there are any errors, you should try to appeal the assessment as soon as possible.
In Virginia, you can fill out a form and send it to the Board of Equalization and Assessment Review to appeal your property assessment.
You will have to:
Pay a fee when submitting the appeal

Gather the evidence that proves your home's assessed value is higher than its actual market value

Show up in court

Dispute the tax assessment with the assessor that visited your home
Note that you still have to pay your tax bill in full before your appeal is accepted.
If you sign up for DoNotPay, we'll get you a detailed guide on appealing your property assessment that's specific to your location and your property!
DoNotPay Will Help You Appeal Your Property Assessment!
Information on property taxes is difficult to gather. What may be true for one area in Virginia doesn't have to apply to Chesterfield County.
DoNotPay can help you with paying your property taxes by generating a specific guide that lets you know:
What property tax exemptions you are eligible for—from

homestead

to

senior citizens exemptions

How to apply for specific property tax exemptions

How to appeal your property assessment 

What forms to fill out, where to mail them, and what the deadline for submitting them is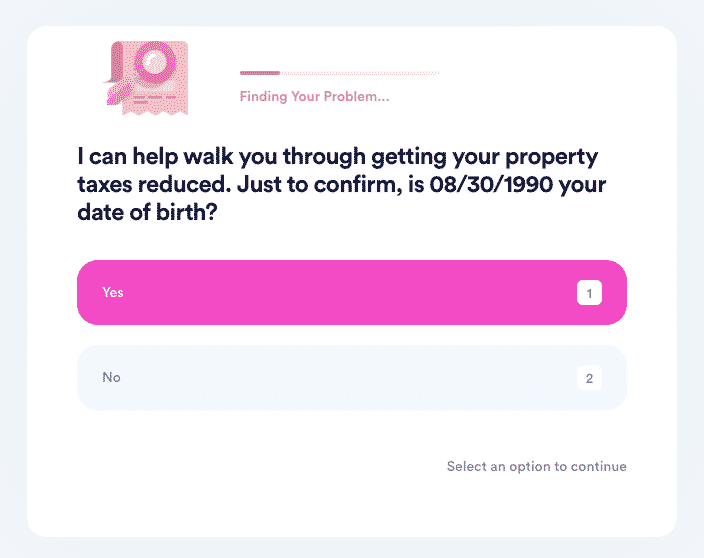 To get this guide, you only need to:
Find our

Property Tax

product

Answer several questions about yourself and your property
Do You Know What Else You Are Eligible For?
DoNotPay is a handy virtual assistant that can reveal a world of possibilities that you may not have even been aware of. We've perfected our algorithms to identify opportunities for you to save up and take charge of your rights. 
Here's a fraction of what we can do for you:
What Else Is New With DoNotPay?
DoNotPay boasts several new features that can help make your everyday life so much easier. 
Have you been wondering how to file an insurance claim but weren't sure where or who to turn to? We'll gladly do it for you. 
Are you tired of outdated faxing practices and manual documentation? Our app can provide you with an online fax solution and draft all your legal paperwork in no time at all.
Do you need a safe place to prepare for your upcoming government test? DoNotPay will give you all the prep tests you need.
We can help out with locating an imprisoned loved one and keeping correspondence with them via our virtual mailbox.
See what else DoNotPay has in store by accessing our web app in any browser.