Check Your Chevron Gift Card Balance Fuss-Free
Having some extra cash on your Chevron gift card may come in handy when looking for a fuel discount, but this isn't the only way to make use of the leftover card credit. Before you decide how to spend it, it's necessary to determine the exact remaining value.
Our guide is here to:
The Overview of the Chevron Gift Cards
To gain a better understanding of the Chevron gift card rules, refer to the table below showing the essential gift card policy info:
Gift Card Features
Details
Available card models

Plastic gift cards
E-gift cards

Accepted in
All Chevron and Texaco gas stations in the USA
Balance range
$10–$100
Can be used to purchase:

All types of fuel
Snacks
Services
Automotive products

Can't be used for:

Lottery tickets
Other gift cards

Can be returned for cash
Yes—under specific circumstances
Can expire
No, unless the card is provided for promotional purposes
Entail extra maintenance fees
No
Can be replaced if lost, stolen, or damaged
Yes, if the remaining amount and the account number can be verified
The Chevron Gift Card Balance Check Explained
Chevron made performing a gift card balance check quite simple. The easiest way to find out how much credit is left is to look at the sales receipt for the last purchase you made with your card. You should find the current amount printed at the bottom of the proof of purchase.
No receipt? You can choose among five other options:
Seeing the available gift card credit online
Contacting the card issuer by phone
Emailing the card issuer's customer support
Checking the gift card at the nearest Chevron or Texaco station

Using DoNotPay
Below is the table showing the instructions for each method:
Checking Method
Steps To Follow
Online

Visit the Gift Cards page of the card issuer's website
Click on View Gift Card Balance Online under the Chevron Gift Card section
Input the required gift card details
Select Submit

Via phone

Dial (800) 352-1090
Ask the agent to check your gift card balance
Provide the gift card info so that they can locate your card in their system

Email

Compose an email with a short balance inquiry
Include your gift card number
Send the email to info@svmcards.com

In store

Open the Chevron website
Click on Menu
Pick Find a Station
Enter your address, ZIP code, or the state where you live
Choose the nearest station and bring the gift card there
Ask the seller to check the card and inform you about the current value

DoNotPay

Click on the

Check Gift Card Balance

feature

Snap photos of your gift card (front and back) and confirm your email address
How Can You Cash Out Your Old Chevron Card?
Chevron has a different cash back policy, unlike many companies that don't allow returns for cash unless prescribed by law.
Chevron will reimburse you for the remaining credit if the sum is equal to or less than $10.00. You don't need to return the card to a station or mail it back to the company—it's enough to call the card issuer's customer support and explain your request.
Can DoNotPay Help You Turn Gift Card Funds Into Cash?
Of course it can! We created an AI-powered tool that can generate a personalized gift card cash back demand in less than five minutes and submit it in your name. Everything is done via our app, which is accessible from any web browser or device. This means you won't need to visit a store or contact the company yourself ever again!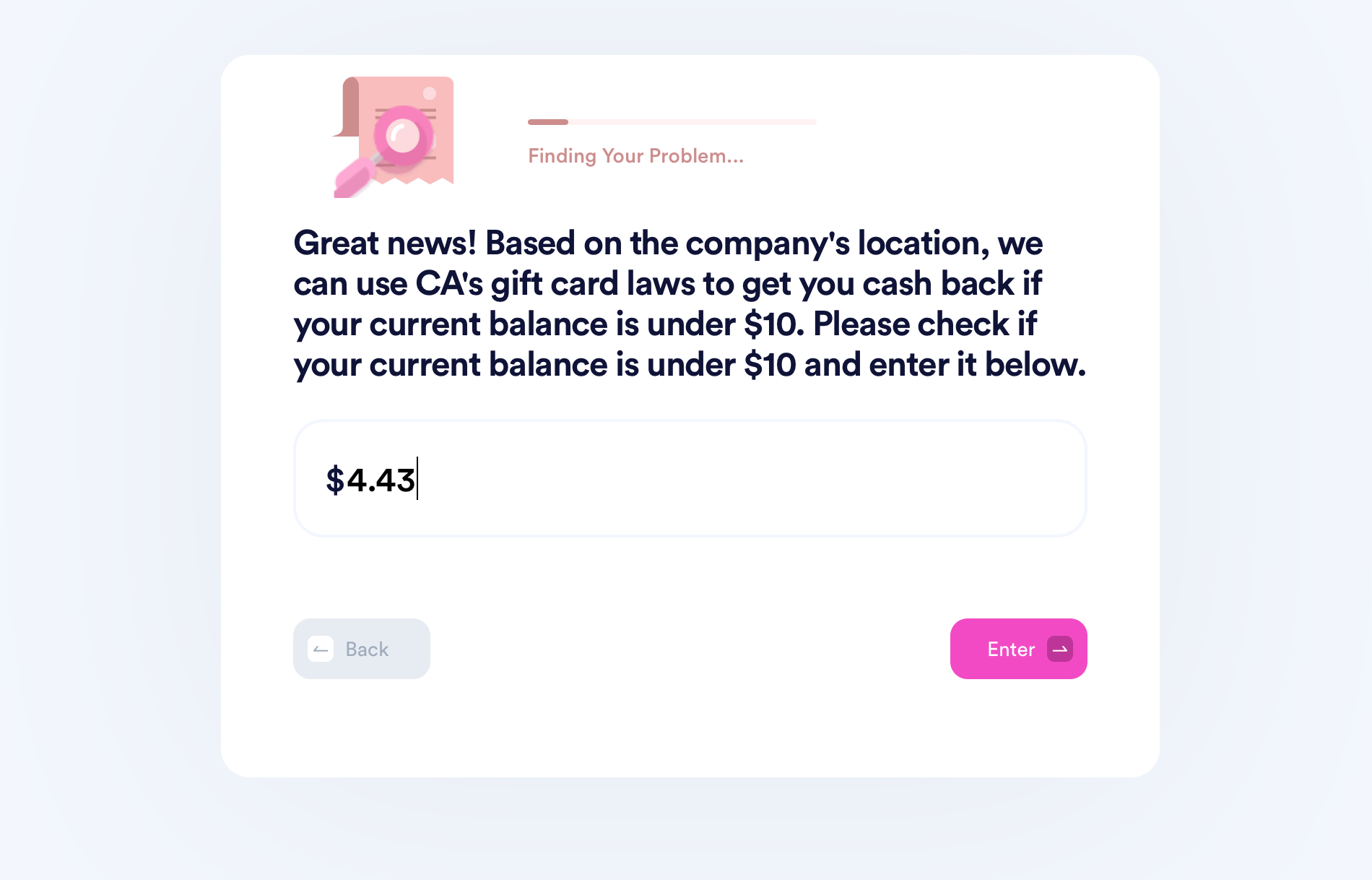 Since most merchants have specific cash back policies that permit or prohibit this option, we will gather your info and check if your state laws are in favor of it. If yes, we will send your request to the company right away.
If not, we will be happy to track down the retailer's office in one of the locations with a cash back policy and direct your claim to it! Long story short—you win either way!
Here's how to use our service:
and sign in
Look for the Gift Card Cash Back product
Let our chatbot guide you through a brief questionnaire and collect the necessary info regarding your request
You should expect to receive the money by mail within 14 business days from the request date!
This process can help you cash out free and paid gift cards from numerous local and international companies, including: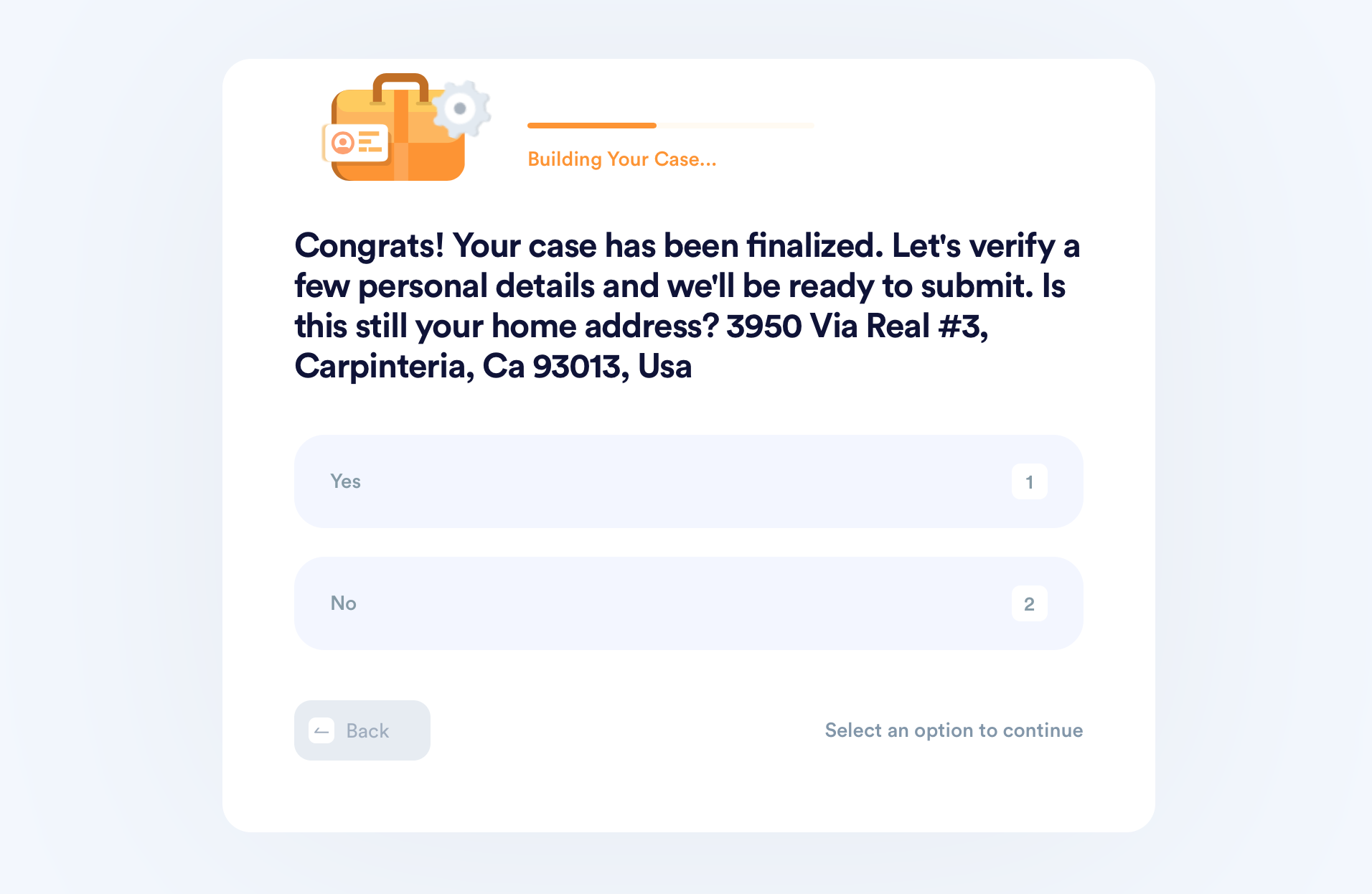 What Else Can You Do With the Rest of Your Gift Card Money?
Besides cashing the remaining gift card balance, you can use some other methods to give those funds a better purpose, such as:
You Can Count on DoNotPay To Resolve Any Issue
Are you stuck in the never-ending subscription cancellation procedures? Do you want to demand a refund once you finally reach a customer support rep? Is the company refusing to cooperate? No need for stress—your personal assistant can lend a helping hand.
Is there anything else we can help you with? You bet! Once you sign up, we can resolve a number of issues in your stead. Count on our app if you're struggling with:
You Don't Have To Suffer in Silence
Have you been experiencing workplace discrimination lately? Do you have a real-life stalker or harasser that you're too scared to confront? Do you want to get rid of robocalls and text and email spammers once and for all? You're not alone—DoNotPay is by your side and will help you deal with all of these issues.
As soon as you subscribe to our app, you'll be able to use our products to your advantage and fight for your right worry-free!