The Ins and Outs of Cheap Trademark Registration
Do you need to register a trademark, but you don't want to spend a fortune during the process? Read our article to find out all about cheap trademark registration! DoNotPay is here to tell you all the details and help you and without paying a pretty penny!
Trademarks 101
Registering a trademark allows you to ensure your business stands out on the market and protect specific elements of your brand from potential infringers that could harm its reputation. When you trademark a business name, for example, other brands cannot use it or register it as their own.
After a trademark is registered, it stays valid for ten years unless you decide to renew it.
What Can Be Trademarked?
You can register various elements of your business as a trademark, including:
What Are Different Trademark Symbols?
Are you confused by various trademark symbols? Consult our table to find out more about them:
| Trademark Symbol | Explanation |
| --- | --- |
| TM | This trademark symbol is usually found on logos or slogans and signifies that a specific good belongs to a company or a single individual but that the trademark has not been registered with the U.S. Patent and Trademark Office (USPTO) |
| SM | A service mark(SM) is used for services that a certain business offers. This symbol can be found on delivery vehicles, digital presentations, and other visual forms |
| R | The R symbol means that a trademark has been registered with the USPTO and that it cannot be used by someone else. If someone copies your registered trademark, you have the legal right to take them to court |
What Is the Cost of Registering a Trademark?
The cost of your trademark registration depends on multiple factors, such as:
Type of trademark protection (state or federal)
Type of trademark form
Lawyer fees
Type of Trademark Protection
You can choose whether you want to register your trademark on a state or federal level, depending on how much protection you seek.
Registering a trademark on a federal level (with the USPTO) is more expensive, but your mark will be protected outside your state. Federal protection also gives you the right to file a lawsuit in Federal Court if someone tries to use your trademark.
Type of Trademark Form
The type of form you need to file has the biggest effect on the final amount you pay for registering your trademark. By filing online with the USPTO, you can choose between two Trademark Electronic Application System (TEAS) forms, including:
TEAS Plus Form—$250
TEAS Standard Form—$350
The cost of each option is affected by the requirements you have to meet when completing the form. To see which form would best fit your specific situation, you should visit the USPTO website.
Trademark Class
The USPTO uses 45 trademark classes to categorize goods and services. When filing a trademark, you must register it under the appropriate class. For example, if your business deals in medicine, you will choose class 3.
You can also choose multiple categories for your product, but the more classes you choose, the higher the price of your registration will be.
Lawyer Fees
If you hire a lawyer to help you during the registration process, they will conduct a clearance search to see whether your mark conflicts with another's business's trademark. A lawyer will recommend what the best solution is and file the claim for you.
While hiring a professional is a reliable option, this solution is pretty expensive as you will have to pay anywhere from $300 to $3,000 for lawyer fees.
How To Achieve Cheap Trademark Registration
Do you wish to save as much money as possible during your trademark registration? Here are some tips that can help you achieve that:
File the TEAS Plus form (if possible)
Register your trademark under only one class
Prepare the paperwork and complete the application process by yourself
If you are afraid you might make a mistake while filling out your application, you can turn to DoNotPay. We will help you deal with the whole procedure in a matter of clicks without you having to spend a small fortune!
DoNotPay Offers the Cheapest Way To Register a Trademark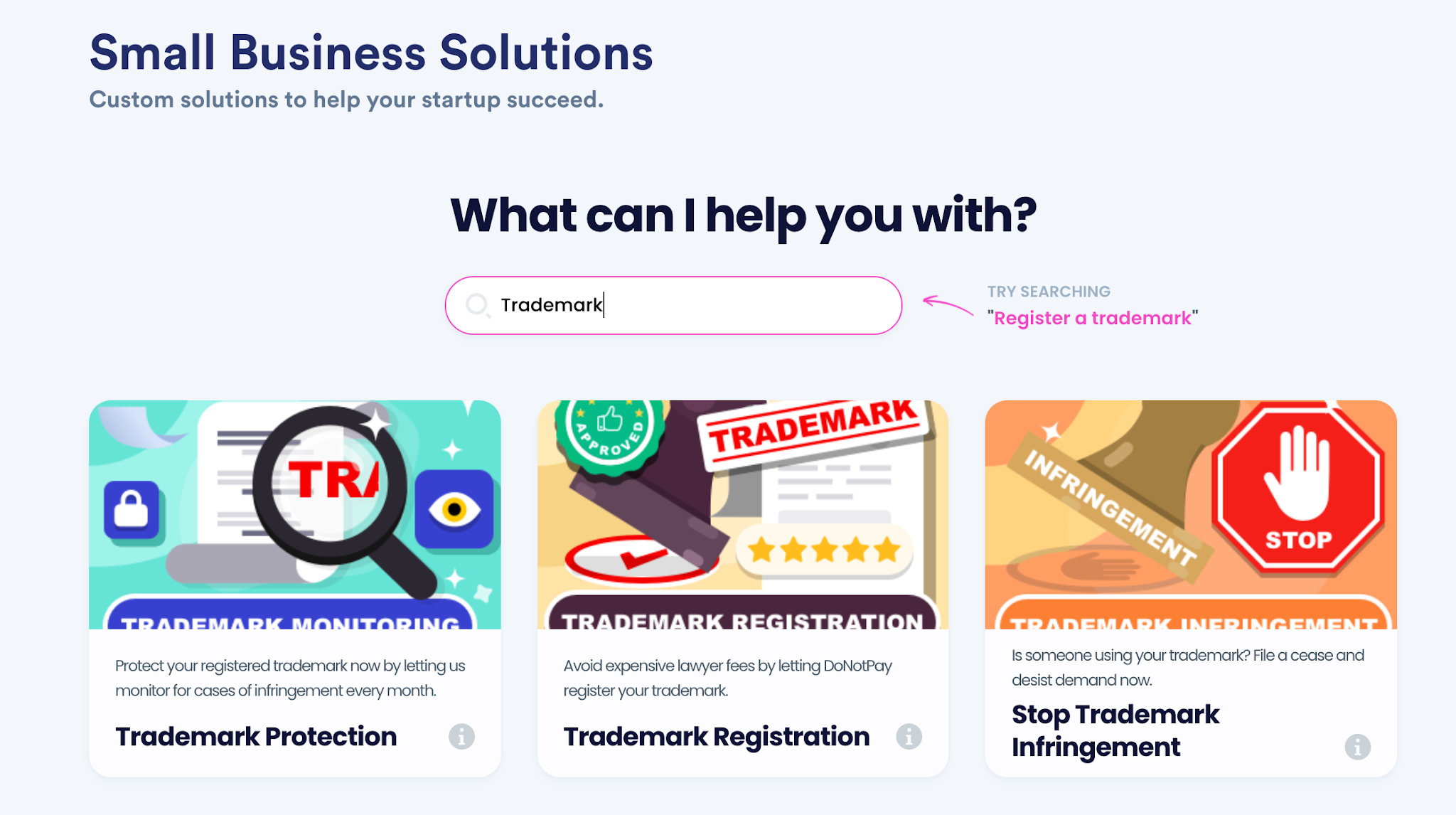 DoNotPay has developed a tool to help you save your money and time while ensuring your trademark registration is mistake-free. Our AI-powered app will do a clearance search to check whether your desired trademark is available and then:
Disclose the information needed to file a trademark
Complete the registration form on your behalf
Send the form to you so you can review it and sign it
Submit the form to the USPTO
Give you the application tracking number so you can track its status
Include your email address in the application so the USPTO can contact you if all the requirements are met and they approve it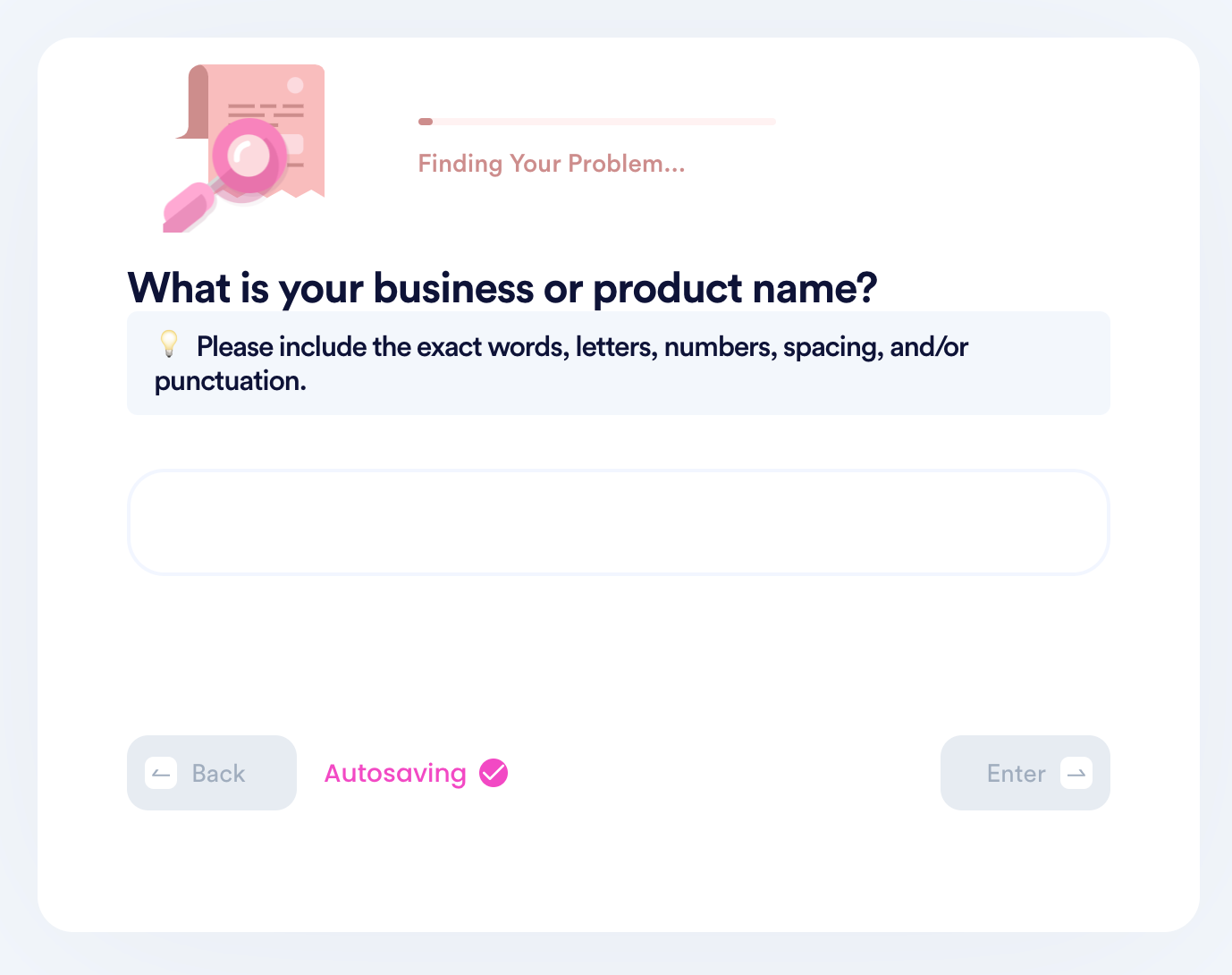 We will do all the work for you, and all you have to do is follow a few simple steps:
Find our Trademark Registration tool
Answer our chatbot's questions regarding your:

Desired trademark name
Type of trademark
Country of citizenship

Hit Submit
DoNotPay will process your request instantly and start working on your registration.
Do you have more questions regarding trademarks? DoNotPay offers various extensive articles to provide valuable answers! Find out what the difference between a trademark and a copyright is, which products are protected under class 9, what types of services are covered with class 38, and similar.
Run Your Business Worry-Free!
Every beginning is challenging, which is why DoNotPay has everything you need to start running your business stress-free! We have created numerous easy-to-use products that will make boring administrative tasks easier to manage.
To help you get started, DoNotPay will assist you in taking care of trademark, Employer Identification Number (EIN), and DMCA agent registration, Privacy Shield self-certification, and business loan requests.
We can even help you maintain a good business reputation by:
Monitoring your trademark and filing a cease and desist letter in case someone tries to use it
Reporting fake negative reviews that could harm your business
Disputing illegitimate chargeback requests in a matter of minutes
DoNotPay Helps You Create and File a Number of Legal Documents
Why waste time worrying about how to draw up and file various legal documents when you can have the world's first robot lawyer do that in your stead? You do not have to waste thousands of dollars on lawyer's fees—our extensive database has a myriad of documents on offer.
DoNotPay will help you automate the procedure of completing and filing 83(b) election forms, write a formal demand letter requesting payment from clients who try to avoid it, and deal with other important paperwork.
Don't want to waste time going to the post office to mail a contract? Now you do not have to! With DoNotPay, you can fax and mail any document in a matter of clicks!