Cheap Divorce? Oklahoma and DoNotPay Can Help Get You Sorted!
Divorce can be a daunting prospect, with fear of expense, litigation, and mental trauma at the forefront of your thoughts.
When you file for divorce, the best you can hope for is for the process to be cheap and quick. As an Oklahoma resident, there are several steps you can take to achieve this.
DoNotPay takes a look at the issue of cheap divorce, Oklahoma statutes, and the ways you can minimize the cost, time, and anguish of a divorce in the sooner state.
Divorce Laws in Oklahoma
To file for divorce in Oklahoma, you or your spouse must have lived in the state for six months before you file and the county of filing for thirty days.
The state does offer divorces based on your spouse having done something wrong, but the only route to an uncontested divorce is to opt for no-fault proceedings.
Uncontested divorce means that you and your spouse reached an agreement on how your marriage should be dissolved before your case comes to trial.
If you can reach an out-of-court settlement before court proceedings begin, you should be able to get away with little need to appear before a judge. If your case is simple, you may not even need a lawyer.
Oklahoma's Divorce Process Explained
Oklahoma law doesn't allow you and your spouse to file a joint petition for divorce, so you have to go through the process of separate filing and service.
The steps to filing divorce papers are as follows:
Filing the papers
Negotiating a settlement
Filing the Papers
As the petitioner, you need to file a petition for dissolution of marriage with the clerk of your county court.
Oklahoma does not offer an online option for either downloading or filing the divorce forms, so you have to obtain the correct paperwork in person.
You may have to fill out financial declarations, listing all your joint and individual:
You will also need to give details of any children from the marriage.
As you file your divorce papers, you will need to pay the Oklahoma filing fee. This varies from county to county but is generally around $200.
Serving Your Spouse
You have to arrange for the divorce papers to be delivered to your spouse via process server or the county sheriff.
You can simplify the process, though, if your spouse signs an entry of appearance and waiver of service form.
This waives the requirement for you to serve the papers officially and needs to be filed a maximum of one day after you have filed your petition.
Negotiating a Settlement
Your settlement agreement can be filed at the same time as the petition for dissolution or before your case comes to court.
Once you have negotiated and filed your settlement agreement, you can apply to the court to schedule your final divorce hearing.
This can take place:
Ten days after filing, if you have no children
90 days after filing if children are involved
Under certain circumstances, a judge can agree to shorten the 90-day waiting time, such as:
You or your spouse agree there is no need to delay
There is good reason to shorten the timeline, such as one spouse needing to leave the state for employment purposes
The judge decides that you and your spouse are unlikely to reconcile, and court schedules allow an early finalization
How Can You Negotiate Your Divorce Settlement Agreement Cheaply in Oklahoma?
The divorce settlement agreement is the most important element of your uncontested divorce, as it regulates:
In an uncontested or friendly divorce, your settlement agreement will be scrutinized by the judge at your final hearing to make sure all aspects of your marital responsibilities and finances have been included.
To negotiate your settlement agreement, you have several options in Oklahoma:
Settlement Agreement Options
Explanation
Lawyer
You and your spouse can hire attorneys and let them negotiate on your behalf—either with or without you being present.

While this may seem a safe option, it is also an expensive one.

Oklahoma lawyers charge an average of $231 per hour, and many will demand an upfront retainer to handle your divorce. Even uncontested divorces in Oklahoma can cost thousands of dollars in lawyers' fees

Mediation service
A cheaper alternative to an attorney is to negotiate face-to-face with your spouse but with a mediator facilitating the process.

Divorce mediation can help you and your spouse reach an acceptable outcome at a fraction of the cost of a lawyer

DIY
If you and your spouse can agree on everything, there is no legal requirement to use any paid help in Oklahoma
What Is the Cheapest Way To Get Your Agreement Drawn Up?
Once the negotiations are over, you need to have your divorce settlement agreement drawn up as a legal document.
To do this, you can use:
A lawyer—While this is the traditional route, a lawyer will charge heavily for drawing up a settlement agreement
An online service—Various online providers offer templates for you to fill out, but many of these are too generic to fit your exact requirements, meaning you often have to resort to a lawyer to have them customized
Your cheapest and most effective solution is DoNotPay.
We can create a watertight and comprehensive settlement agreement for you in a few clicks and with no need for expensive attorneys!
DoNotPay Keeps Your Divorce Costs Low in Oklahoma!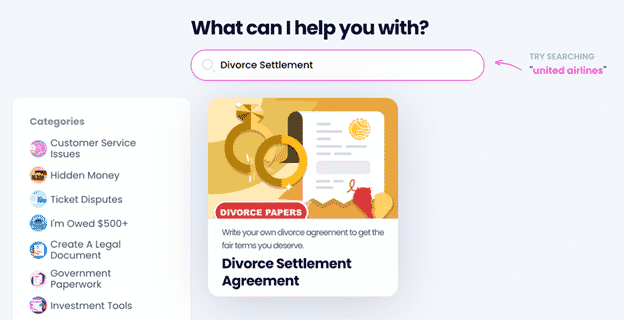 If you need to watch the pennies in your Oklahoma divorce, DoNotPay is the partner you've been looking for!
Our Divorce Settlement Agreement product is designed to give you a document tailored to your exact specifications—but without paying sky-high fees.
Here's how to set your settlement agreement up:
Sign up with DoNotPay in your web browser
Search for our Divorce Settlement Agreement feature
Follow the prompts and give us the terms you and your spouse have agreed on
Once we have all the details, we will generate your agreement in a flash.
You and your spouse can sign the agreement, have it notarized, and file it with your county court—your path to a cheap divorce in Oklahoma is clear!
If you can't find a notary in your area, there's no need to worry. DoNotPay is here to help with our online notarization service!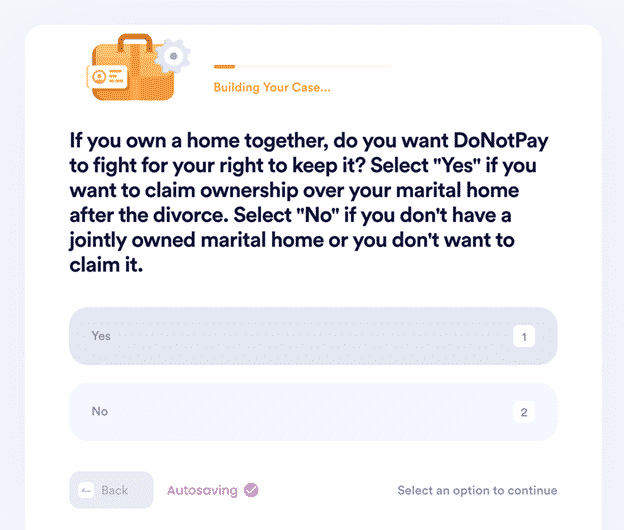 Our App Solves Your Legal Issues!
Do you really have to set aside astronomical amounts to pay lawyers for drafting legal documents or taking a person or business to small claims court?
The answer is no—all the cash remains in your pocket, thanks to DoNotPay! From now on, you can perform many legal tasks from home with the help of our app. It enables you to create flawless powers of attorney, divorce settlement agreements, and child travel consent forms in a snap.
That's not all—once we generate these documents for you, we also help you have them notarized via a video meeting. No need to waste your time and fuel visiting notary offices.
Check Out Other Perks DoNotPay Offers!
DoNotPay provides a wide selection of services, from creating virtual credit cards and burner phone numbers to getting refunds from companies and canceling subscriptions. Have you received an unfair parking ticket? Appeal it with our app before you know it! Are email spam and robocalls making your life a living hell? No scammer stands a chance against our efficient AI-powered tools and features!
We also work in your favor when it comes to safety. Our app offers perfect ways to prevent copyright infringement, stalking and harassment, work discrimination, sex offenses, and disputes with annoying neighbors.