Tips and Tricks for Getting a Cheap Divorce in MN
Getting a divorce can be an emotionally and financially draining process. If you need help with getting a cheap divorce in MN, we have got you covered! DoNotPay provides valuable info on the rules and regulations of getting a divorce in Minnesota and creates the ultimate divorce settlement agreement in the blink of an eye!
No-Fault Divorces in Minnesota
If you want a cheap, quick, and stress-free divorce, you're in luck because Minnesota is a no-fault state. The no-fault divorce law states that:
Any spouse can file for divorce if the spouses experience irreconcilable differences
A spouse can file for divorce even if the other spouse does not agree to it
The court does not accuse any spouse of being at fault for ruining the marriage
While it doesn't matter whether you or your spouse caused the divorce, it matters how you approach it. You may want to sue your partner in court at first and make their life a living hell, but an amicable divorce is generally recommended whenever there's any room for it.
How Does an Uncontested Divorce in Minnesota Work?
For ending your marriage on a good note, the best and most affordable option is the uncontested divorce. In this type of divorce, both spouses agree on the main divorce-related issues and end their marriage without unnecessary complications. The main divorce-related matters you need to settle can include:
How Much Does a Divorce Typically Cost in MN?
Divorce costs vary from county to county, but most counties in MN charge between $350 to $400 for divorce filing fees. This amount can rise to $5,000 in case of the following expenses:
In case you have low income and are unable to afford the basic divorce filing fees, fill out the IFP or In Forma Pauperis form to request a waiver.
How To File for a Cheap Divorce in MN
Follow the steps mentioned in the table below to get a quickie, low-cost divorce:
Instructions To Follow
Explanation
Fill out the necessary forms
Fill out the Petition for Dissolution of Marriage, along with other required documents. Include information about your spouse, children, income, assets, and debts
Serve the divorce papers
Once you have filed the paperwork with the District Court, serve the divorce papers to your spouse through a friend, family member, or professional server
Wait for your spouse to respond
If the spouse agrees on the divorce terms and conditions, they will file the following documents:

Stipulate Findings of Fact
Conclusions of Law
Order for Judgement

Create the divorce settlement agreement
Draw up a divorce settlement agreement where you and your spouse set in writing that you agree on issues such as spousal support, child support, and property division. This agreement is extremely useful and will prove that both parties agree on everything, speeding up the divorce process considerably
Visit the court for a final hearing
After all the documents have been signed, you and your spouse need to go to court for the final hearing. Once the judge is satisfied, they will sign the Judgement Decree and finalize the divorce
File the papers with the District Clerk
File the divorce papers with the District Clerk for official records. Make sure to ask for two copies for you and your spouse
The easiest and cheapest way to file for divorce is to do it yourself instead of hiring a lawyer. If you have the proper legal knowledge, you can even write the divorce agreement yourself. You can look up contract templates online to get a gist of how to write one, but most of them have outdated state laws. If you want to avoid wasting time, subscribe to DoNotPay and get a customized document in under five minutes!
Want an Even Cheaper Way To Get a Divorce? Use DoNotPay To Generate a Divorce Settlement Agreement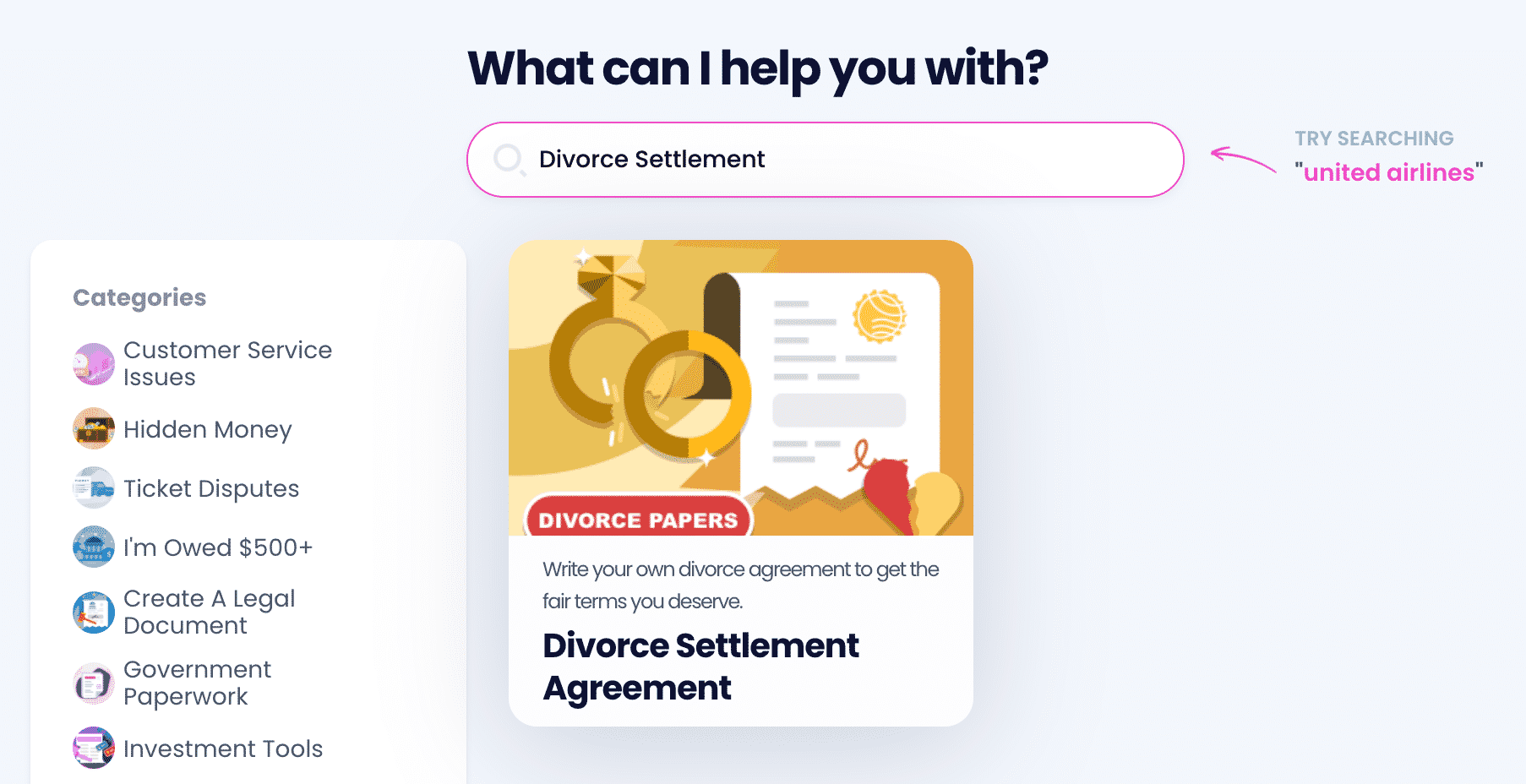 Want to get a watertight divorce settlement agreement? Choose our Divorce Settlement Agreement tool and get a customized document tailored to your specific requirements. You don't need to worry about your state's rules and regulations—our app will make sure your document incorporates all of the necessary details.
Here is what you need to do:
Open DoNotPay in your web browser
Select the Divorce Settlement Agreement tool
Enter the required info about your spouse and children
Provide some insight into your income and assets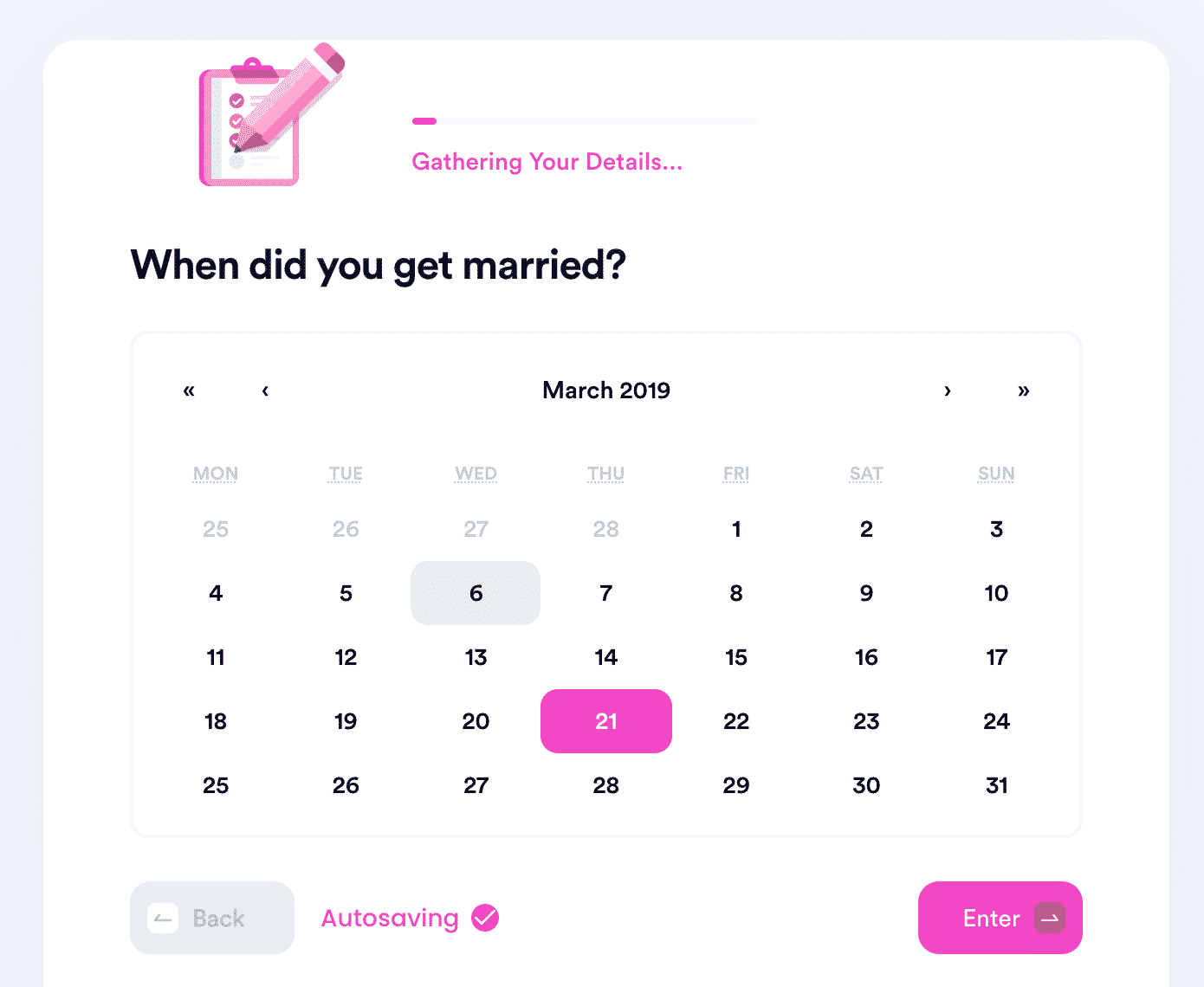 We will create the document and send it to you. After you and your spouse sign the agreement, according to Minnesota state laws, you should get it notarized to confirm that no party is being coerced into signing the document.
If you need help finding a notary, all you have to do is fill out our questionnaire, and we will schedule an appointment for you in no time! You can get your document notarized in a video meeting.
Want answers to more divorce-related questions in Minnesota? We can help you with the following:
DoNotPay Is the Robot Lawyer You Need!
Dealing with the law and understanding legal protocols is difficult if you're not used to doing it on a daily basis. That's why DoNotPay comes to the rescue!
Assisting you in drafting legal documents, creating a neighbor complaint letter, and suing companies in small claims court is what we do best.
That's not all! With us, you can tackle any legal task head-on, no matter how big or small, including:
Deal With Companies Hassle-Free
If you love to shop and you want to make the experience as easy and enjoyable as possible, you're in the right place! DoNotPay provides you with various features that allow you to accomplish just that.
You don't have to struggle trying to reach customer support or figure out how to claim a warranty or file an insurance claim by yourself. You can cancel any subscription, sign up for free trials, and discover how to use every last penny from your gift cards in minutes!
In case you made a purchase, but your package is missing, don't fret! Finding your missing parcel is only a few clicks away.