Need a Cheap Divorce? Knoxville, TN, Is a Good Place To Start, and DoNotPay Shows You How!
Ending your marriage can be a daunting prospect—when you file divorce papers, all you want is for the ordeal to be over quickly, cheaply, and without pain.
Divorce in Tennessee follows a similar procedure to most other states, but as a Knoxville resident, you have a few options to keep your costs under control.
DoNotPay takes a look at the idea of cheap divorce, Knoxville, TN, opportunities for cost reduction, and ways you can smooth your path to freedom!
What Are the Steps in a Knoxville Divorce?
Divorce is a legal process that can be hard or easy, depending on how you and your spouse approach it.
The steps in divorce for Knoxville residents are:
Filing your divorce papers
Deciding on a divorce type
Filing Your Divorce Papers
In Tennessee, you can file for either a fault-based or no-fault divorce.
In a fault-based divorce, you will have to prove your spouse has broken your marriage contract, whereas no-fault divorces can be filed based on no more than irreconcilable differences between you.
At-fault divorces always end up in court, but a no-fault divorce means you may be able to:
To start your divorce process, you need to fill out the approved Tennessee divorce forms available from the State Court. When you file them, you will need to pay the filing fee of between $190 and $300.
Serving Your Spouse
Your next step is to have the forms served on your spouse by a deputy sheriff or private process server.
This will cost between $50 and $75.
Deciding on a Divorce Type
Depending on how well you and your spouse are willing to work together to reach an out-of-court settlement, you will now be able to choose between a contested or an uncontested divorce.
If your spouse disagrees with any of the terms of your settlement, your case will be deemed contested and will go to trial.
If the two of you can work towards a friendly divorce with a settlement agreement in place before your first court hearing, you will be able to avoid the hassle—and expense—of lengthy court proceedings.
What Makes Divorce Expensive?
Your total divorce costs in Tennessee consist of these elements:
| Cost Element | Explanation |
| --- | --- |
| Filing fees | Filing for divorce can cost up to $300, depending on the complexity of your case |
| Court costs | If your case is contested and involves complex issues like child custody, your court fees can add up to $2,500 to your total costs |
| Lawyers' fees | By far, the largest slice of your money will go to attorneys if you and your spouse engage them to negotiate and fight your case. A contested divorce in Tennessee costs up to $20,000 per spouse, and even an uncontested case involving lawyers can cost up to $4,000 for each party |
You can reduce some of these costs with the following steps:
Filing fees—You can request your filing fee to be waived if you can prove you are suffering financial hardship
Court costs—The quicker your divorce, the lower your court costs will be, so it makes sense to aim for an uncontested case
Lawyers' fees—The amount you pay for attorneys is entirely dependent on you and your spouse and your willingness to cooperate
How Can You Reduce Lawyers' Fees?
The two areas where you can significantly reduce the amount you spend on lawyers are:
Representation in court
Negotiation of your settlement agreement
If you can achieve an uncontested divorce, you will only have to appear once before the judge. There is no need for you to have legal representation at this hearing.
Negotiating your settlement agreement can also be made significantly cheaper by using:
DIY discussions
Mediation
In mediation, a trained facilitator helps you and your spouse negotiate face to face and work towards a mutually acceptable settlement. Knoxville mediators typically charge between $100 and $200 per hour.
DIY Discussions
If the two of you agree on most of the terms of your settlement, you may be able to reach a settlement agreement with no outside help.
Drafting Your Settlement Agreement
There are also ways of reducing the cost of drawing up your Knoxville settlement agreement.
Various online services offer settlement agreement templates that you can download and fill out, but you need to be careful—many of these are too generic to cover your exact circumstances, and a judge will reject an agreement that isn't comprehensive.
Your agreement needs to cover every aspect of your married life, including:
DoNotPay has the answer—we can create a complete, tailor-made settlement agreement for you that:
Ticks all the boxes
Doesn't involve lawyers' fees
DoNotPay Keeps Your Knoxville Divorce Costs in Check!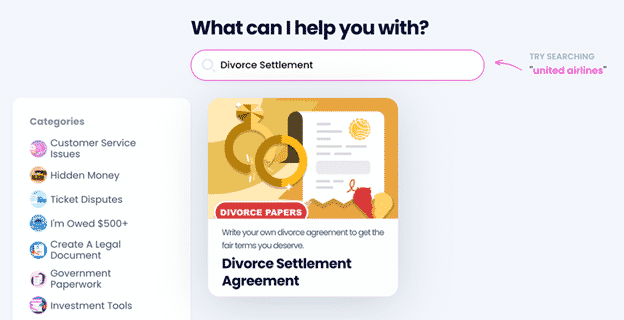 DoNotPay is here to help you keep your divorce costs under control in Knoxville!
We can take out a huge chunk of lawyers' fees with our Divorce Settlement Agreement product—while still giving you a legal document that fits the bill in court.
We will take all the terms you and your spouse have agreed on and build them into a watertight settlement agreement ready for you to sign and get notarized.
Here's how to set your agreement up:
Go to our Divorce Settlement Agreement feature
Answer the questions about the terms of your settlement
As soon as you're done, your agreement will be ready to go.
No need for you to even look for a notary in your vicinity—DoNotPay has that covered with our online notarization service!
Knoxville isn't the only area in Tennessee we have deets on. Check out DoNotPay's info on Shelby County and Hamilton County!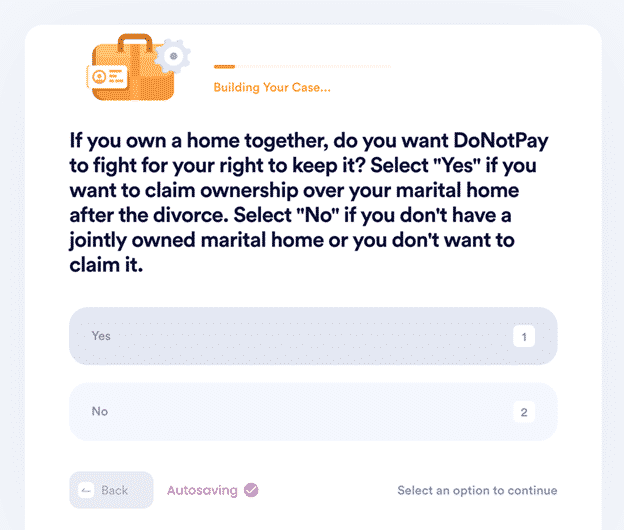 Learn How To Solve Legal Issues in Minutes!
Do you need to draft a legal document? Spending hundreds of dollars on lawyers is not the answer. We came up with a faster and more affordable solution. Not only can our app draft child consent forms, divorce settlement agreements, and powers of attorney for you, it can also provide legal assistance by helping you take anyone to small claims court!
Drafting numerous documents is not all DoNotPay does for you! Aside from drawing up contracts and agreements, we can also assist you in getting them notarized online from the comfort of your home or office!
Explore DoNotPay's Other Nifty Features
There is more assistance on the way! You can use DoNotPay's features to handle various tasks with ease, including:
We can also help you protect your safety. If you don't know how to deal with copyright infringement, stalking and harassment, work discrimination, sex offenses, and disputes with annoying neighbors, DoNotPay has got you covered.