File for a Cheap Divorce in Texas With DoNotPay's Help
Other than being extremely stressful, getting a divorce can also cost you thousands of dollars. Luckily, we are here to tell you how you can get a cheap divorce in Texas hassle-free. DoNotPay can help you create a divorce settlement agreement in a few clicks, which will reduce the cost of your divorce significantly.
Divorce Laws in Texas—Explained
Texas law allows no-fault divorces. This means that the grounds for your divorce can be discord or conflict of personalities that make it impossible for you and your partner to reconcile.
If you want to get a divorce in Texas, you and your spouse need to meet certain residential requirements, as follows:
One of you has been a resident of the Texas county where you're filing for divorce for at least three months
You or your soon-to-be ex-spouse have lived in Texas for at least six months prior to filing for the divorce
There are two types of divorces in Texas:
Contested
Contested Divorce
A contested divorce happens when partners can't agree on one or more aspects of the divorce and decide to resolve their issues in court.
During a contested divorce, a judge will hold a trial, go through the evidence, and call witnesses. The judge will have full control over your case and determine how your property will be divided, who gets the custody, whether you or your spouse should pay the alimony, etc.
Uncontested Divorce
An uncontested divorce is a fast and low-cost process, and it can be finalized easily if both parties agree on all divorce-related issues. To file for an uncontested divorce, you and your partner must sign a divorce settlement agreement, which should spell out the terms of the following important aspects:
Cheap Divorce in Texas—What You Should Know
You can save a lot of money by opting for an uncontested divorce rather than a contested one. By filing for an uncontested divorce, you will avoid expensive lawyer fees.
You don't even have to hire a lawyer to help with the paperwork—your divorce doesn't have to cost you an arm and a leg since you can draft a divorce settlement agreement with DoNotPay's help.
Are There Any Cheap Divorce Lawyers in Texas, and What Are the Alternatives?
Unfortunately, there's no such thing as a cheap divorce lawyer. An affordable divorce in Texas can be achieved through other means. Check out the table below for more details:
Alternatives
Details
Pro bono or volunteer lawyers
Low-income families and veterans might qualify for pro bono or volunteer legal services in Texas. If you decide to apply for a pro bono service, you'll need to answer various questions regarding your finances
Paralegals
Paralegals may be more affordable than lawyers, and they can certainly help you deal with the paperwork, but they still charge high fees
Do-it-yourself websites and forms
The most affordable option is to handle divorce paperwork on your own.

You can find many websites that offer divorce forms for a price of a few hundred dollars. The forms are blank, and you need to fill them out by yourself.

Filling out blank forms might not be an issue for you if you're familiar with legal terminology. The downside of these forms is that you could make mistakes and find yourself in an arrangement that doesn't work for you
How To File for a Cheap Uncontested Divorce in Texas Without a Lawyer
If you choose to go through the Texas divorce process without hiring a lawyer, these are the steps that you should follow:
Do research regarding which uncontested divorce papers you need to fill out, depending on the county you live in
File your petition for divorce with the court
Pay any incurring fees or apply for a fee waiver
Serve the divorce papers to your partner
Hire a mediator
Create a divorce settlement agreement
Doing Research About Which Documents You Need Depending on Your County
Since all counties have different rules, you need to ask your county court which paperwork you need to complete. DoNotPay has helpful information for various counties and cities in Texas, such as:
Filing Your Petition for Divorce With the Court
To initiate the divorce process in TX, you should file a petition for divorce with the county court.
Paying All the Court Fees or Applying for a Fee Waiver
The court fees are different for each county.
You can apply for a fee waiver if you can prove you don't have enough money. You should get a fee waiver if you:
Receive the government benefits
Were assigned a lawyer through legal aid
Don't have enough money to pay the court fees
Serving the Divorce Papers to Your Spouse
By Texas law, the divorce papers must be served either in person or by certified mail. Only someone who is listed in the Texas Rule of Civil Procedure 103 can serve the papers. The people who can serve the divorce papers are:
Constable
Sheriff
Other people authorized by the court or law
Hiring a Mediator
If you and your spouse agree on most matters but still don't see eye to eye regarding some terms of your divorce, you should consider mediation.
Mediation will enable a fast, simple, and friendly divorce. It is a process that takes four or five sessions of two to three hours, during which a neutral, unbiased third party helps you and your spouse reach a satisfying compromise. Mediation is the perfect way to an out-of-court divorce settlement.
In case you and your spouse already agree on everything, you can skip this step.
Creating a Divorce Settlement Agreement
A divorce settlement agreement is a document that should contain all the important terms of your divorce that you and your spouse agree on.
To save time and avoid paying a small fortune for one document, consider creating a divorce settlement agreement with DoNotPay in a few simple steps.
Get a Cheap TX Divorce by Drafting a Divorce Settlement Agreement With DoNotPay
DoNotPay is the best way for you to get a divorce without going to court. We've developed a new feature that will help you create a mistake-free divorce settlement agreement in a few minutes. Using our platform is one of the easiest and most affordable ways to get this document.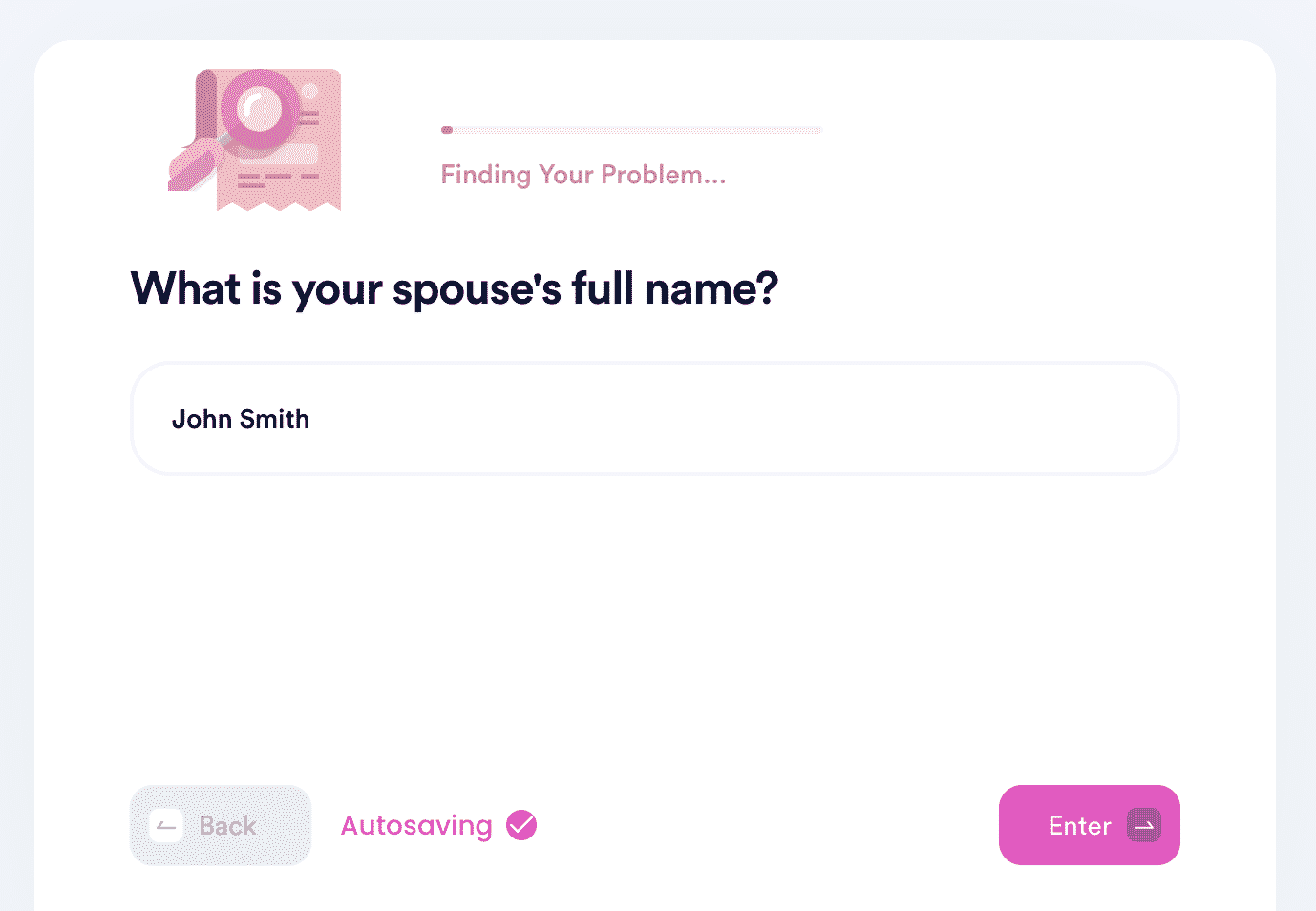 All you need to do is subscribe to DoNotPay and follow the instructions below:
Open our Divorce Settlement Agreement product
Add all the necessary information, such as:

Your spouse's name, address, birthday, and phone number
The date of your wedding day
State in which you solemnized the marriage

Tell us how you want to divide your financial assets
DoNotPay will create your agreement in a flash! All you and your spouse need to do is sign the agreement and have it notarized, and you're ready to get divorced!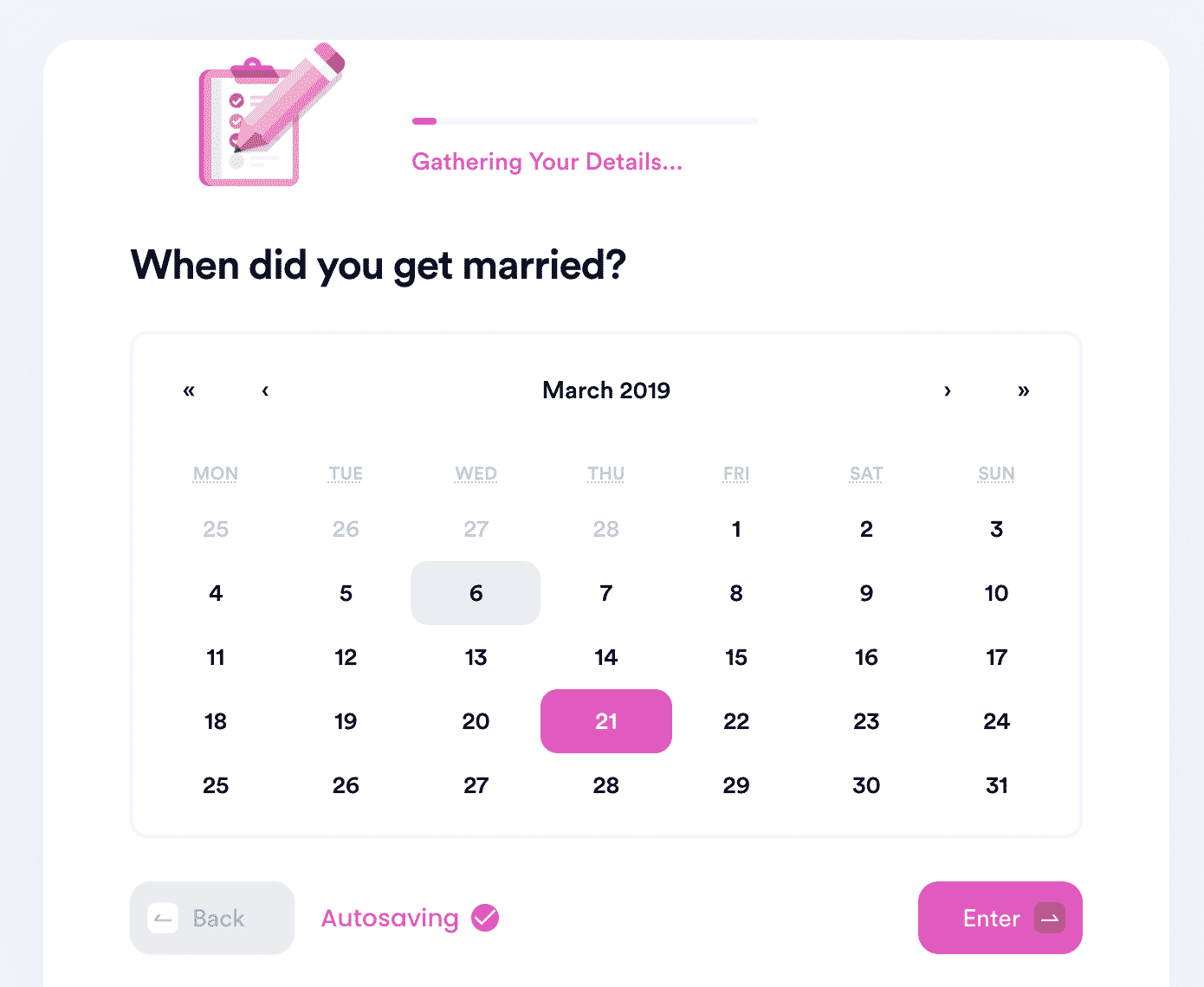 If you have any further questions about divorce-related matters, DoNotPay is happy to clear any confusion for you. In our learning center, you'll find answers to many questions, including:
DoNotPay Is Righting Wrongs Left and Right
DoNotPay is a platform that puts its subscribers' safety in the first place. We can keep you safe from sex offenders, stalking, and harassment. In case you're a victim of a crime, we can help you get compensation.
Fight for discrimination at your workplace with the world's first robot lawyer or sue any company or person in small courts if you feel like you've been wronged.
Is There Anything DoNotPay Can't Do?
The short answer is no, and the list of our AI-based app's features keeps growing by the day. We offer professional assistance with issues that no other platform can help you with. Sign up now and: