DoNotPay Shows You How To Get a Cheap Divorce in Las Vegas
Getting divorced in Sin City can be costly, especially if you consider the sky-high attorney fees, which can build up quickly. That's why most couples opt for a cheap divorce in Las Vegas.
DoNotPay's easy-to-follow guide will tell you all about it and show you how to end your marriage in a friendly manner. We'll help you save even more money by generating a professional divorce settlement agreement that won't break the bank!
Cheap Divorce in Las Vegas Explained
A cheap divorce in Las Vegas is also called:
Summary divorce
Joint petition
This type of divorce is more affordable than a contested one because you won't have to hire a lawyer, financial professional, real estate appraiser for the division of your property, etc. Instead, you and your spouse control the outcome of your marriage dissolution by agreeing on issues such as:
By reaching a middle ground on these aspects, you'll not only diminish the cost of your divorce but will also save a lot of time by not having to go to multiple court hearings. If you can't reach a compromise, try divorce mediation. A mediator will help you and your spouse resolve some of the disagreements.
Requirements for a Cheap Divorce in Las Vegas
To file for divorce in Las Vegas, you or your spouse must:
Have been a resident of Nevada for at least six weeks, with the intention of staying in the state after the divorce
Agree that you aren't compatible with each other and that the marriage is beyond irretrievable
Waive your rights to:

Notice of entry of the decree
Appeal the judge's order
Request findings of fact and conclusions of law

Willingly desire to get a divorce settlement agreement, which permanently terminates your marriage
How To Get a Cheap Divorce in Las Vegas
Getting a cheap divorce in Nevada is simple and consists of a few steps, including:
Completing the required paperwork
Filing the divorce papers
Submitting the divorce settlement agreement
Completing the Required Paperwork
You can find most of the required divorce papers on the State's official website. The forms you will need are:
| Required Divorce Papers | Explanation |
| --- | --- |
| Family Court Cover Sheet | This document contains some basic information about you and your spouse |
| Joint Petition Application | The Petition states that you want a divorce |
| Resident Witness Affidavit | This form needs to be filled by a third-party witness who will need to attest that you or your spouse have lived in Nevada for a minimum of six weeks |
| COPE Certificate | If you have marital children in Nevada, you will have to attend a course to learn about co-parenting to get a divorce. This document serves as verification that you've attended the course |
| Divorce Settlement Agreement | This is a crucial document in the process as it needs to contain the agreements you and your spouse have reached on key divorce issues. The settlement agreement needs to be written by a professional as it mustn't contain any mistakes. If you want to save money on expensive lawyer fees, and get this contract without breaking the bank |
Filing the Divorce Papers
Once you've completed all the required papers, you must file them with the clerk of the court in Las Vegas. You'll have to pay a filing fee, which you can waive by signing a waiver form. The form will require you to state your financial information, which the judge will review.
Submitting the Divorce Settlement Agreement
After your papers have been filed, you'll get a divorce date on which you'll have to file your marital settlement agreement. If it doesn't contain any mistakes and the judge deems that the document is fair to both parties, they will finalize the divorce.
How To Get a Perfect Divorce Settlement Agreement With DoNotPay
Getting a divorce settlement agreement without paying sky-high divorce attorney fees is possible with DoNotPay. We'll create this document for you and make sure it:
Complies with the applicable state laws
Ensures you're getting divorced on fair terms
Is fair to both you and your spouse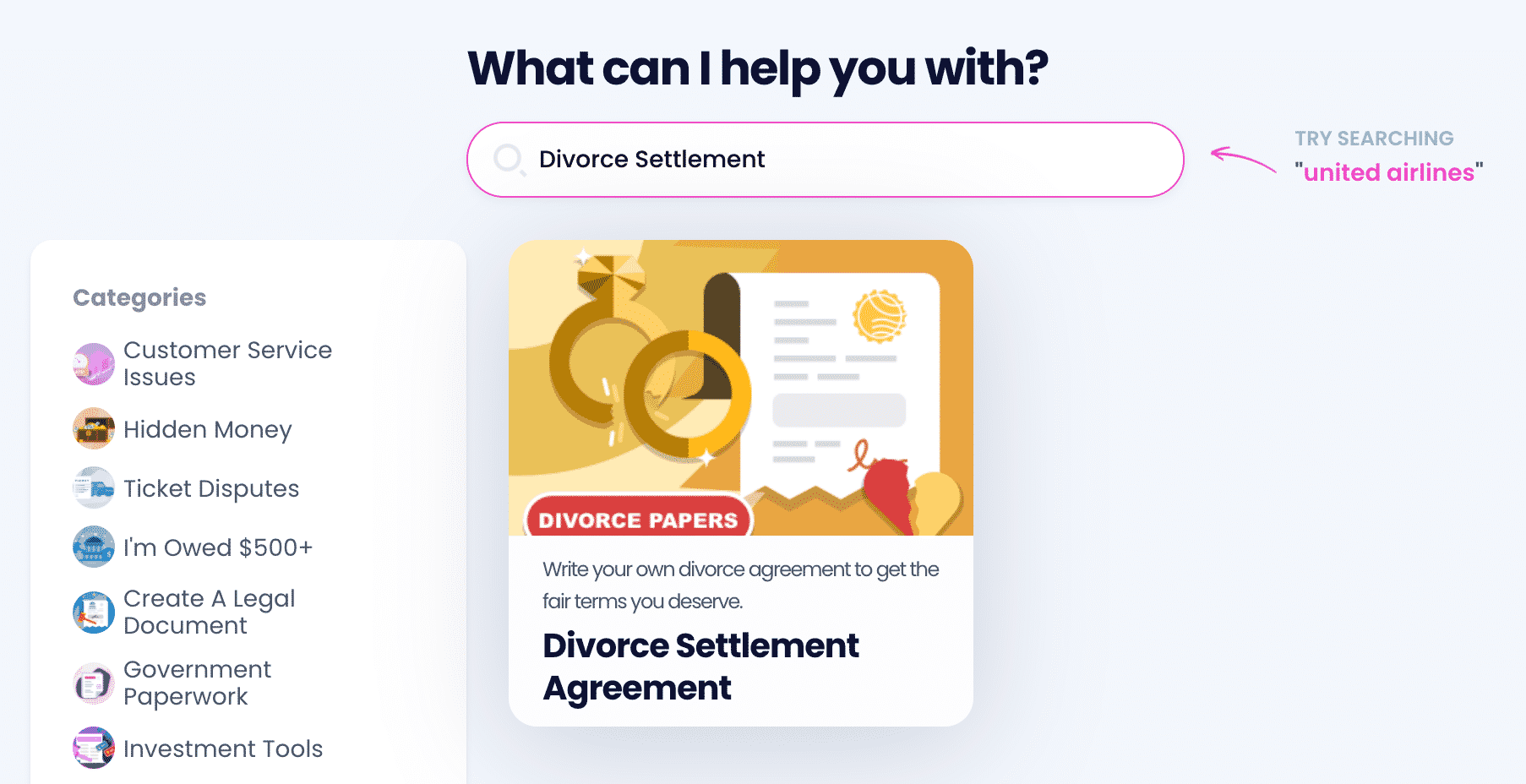 To get this document, all you have to do is follow these steps:
Select our Divorce Settlement Agreement tool
Give us the details about your spouse, children, assets, and income
Opt for online notarization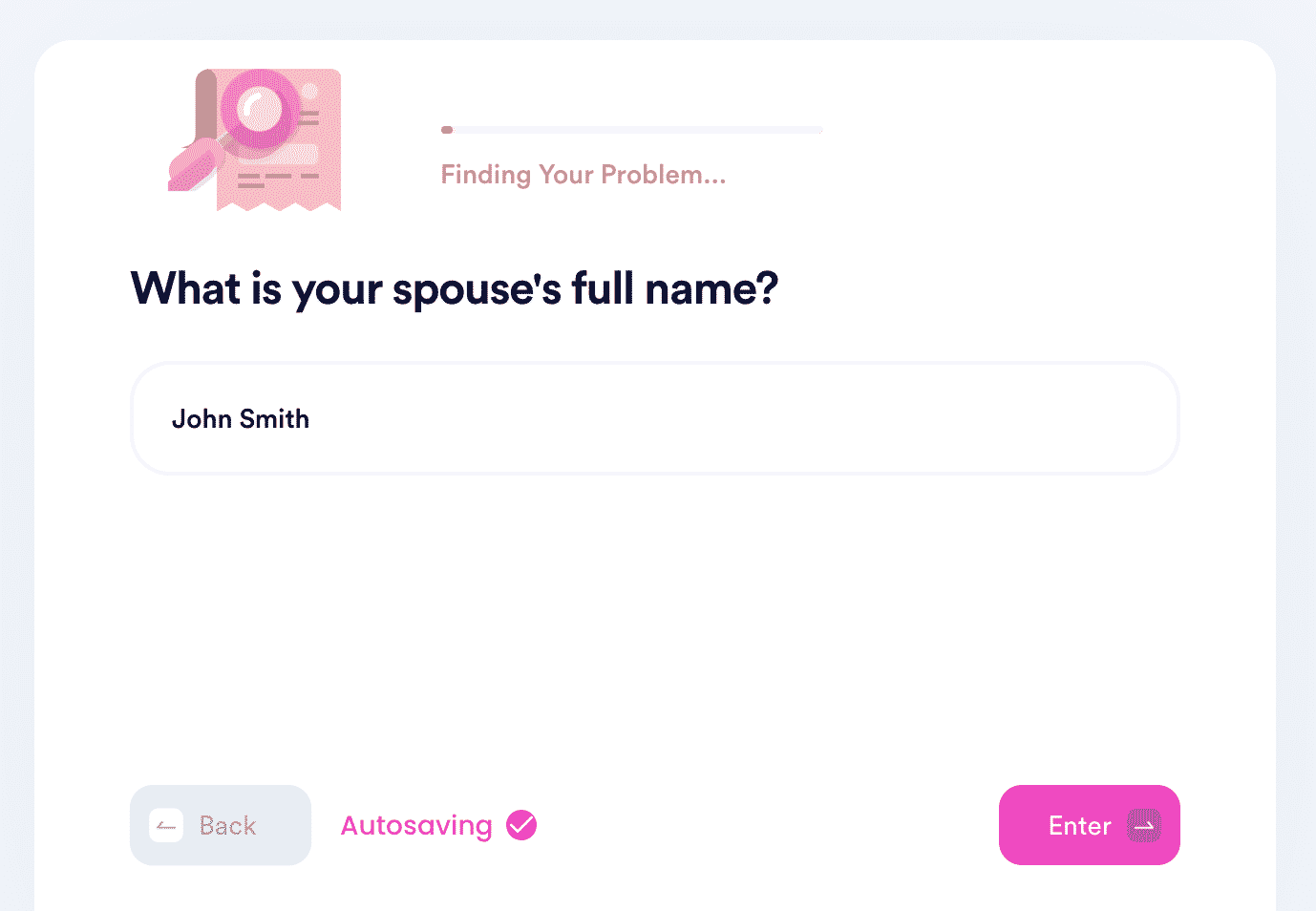 Soon after submitting your request, you'll receive a divorce settlement agreement tailored to your needs. If you want to have it notarized but don't want to leave your home, set up an appointment with an online notary. You can do it by following the link we send you via email.
If you have more unanswered questions regarding divorces, check out DoNotPay's articles, such as:
DoNotPay Is Committed to Solving All Kinds of Problems for You
Are you lost in the sea of administrative tasks? By subscribing to DoNotPay, you gain access to many products and features that can assist you in:
Check Out What Our Robot Lawyer Can Do for You
Not too skilled at drafting contracts and agreements? Keep calm and let DoNotPay, your virtual assistant, do it for you! Our app can generate various legal documents, including divorce settlement agreements, child travel consent forms, and powers of attorney. All it takes is to click a few times or answer several quick questions—we do all the rest!
Besides providing personalized documents, DoNotPay takes over other tiresome legal tasks. These include having your documents notarized, filing lawsuits in small claims court, requesting crime victims' compensation, or submitting HR complaints.