The Ins and Outs of a Cheap Divorce in Arkansas
Divorce is a difficult time for any couple, and after adding all the expenses, the whole process becomes even more stressful. If you want to get a cheap divorce in Arkansas, you're in the right place. We will explain all the details of Arkansas divorce laws and tell you how to have a low-cost divorce without hiring lawyers and attending court hearings.
Need help creating a divorce settlement agreement? to draw up this document effortlessly!
What Do Divorce Laws in Arkansas Say?
There are two types of divorce in Arkansas—no-fault and fault-based. Check out what each of these types entails in the table below:
Type of Divorce
Details
No-fault divorce
A no-fault divorce doesn't require you to prove that your spouse did something wrong. In most cases, a no-fault divorce is based on irreconcilable differences.

To qualify for a no-fault divorce in Arkansas, you and your partner need to have lived separately for at least 18 months and to have separated voluntarily

Fault-based divorce
If your spouse's wrongdoings led to the breakup of the marriage, you can file for a fault-based divorce. The grounds for this type of divorce are as follows:

Impotence
Adultery
Mental illness for three years
Incarceration of one spouse
Cruel treatment
Addiction
Personal indignities
Refusal to support a dependent spouse
To get a divorce in Arkansas, at least one spouse must have lived in the state for 60 days prior to filing.
If you and your spouse are getting a no-fault divorce, you have two options to choose from:
Contested divorce
What Is a Contested Divorce?
If you and your partner can't reach a compromise on the divorce terms, your divorce will be contested, and you'll need to attend court hearings. In this type of process, the judge will have full control over your divorce.
Keep in mind that a contested divorce can drag on for months or even years, and it can burn a hole in your pocket, especially if you hire a lawyer to represent you.
What Is an Uncontested Divorce?
An uncontested divorce is a much faster and simpler process because it requires you and your spouse to agree on all terms of your divorce before filing.
To file for an uncontested divorce, you need to create a divorce settlement agreement, also called a marital settlement agreement, which should cover the following:
By filing for an uncontested divorce, you can avoid costly lawyer fees and reach an out-of-court settlement.
What Costs Can You Expect To Pay for Your Divorce in Arkansas?
Your Arkansas divorce could cost you over $8,000 if you involve lawyers. Here's what you can expect to pay during the process:
Ways To Reduce Costs of Your Arkansas Divorce
To have a cheap divorce in Arkansas, you can consider the following options:
How To File for a Cheap Uncontested Divorce in Arkansas
If you and your spouse can agree on everything, you won't need a lawyer. To file for a friendly and uncontested divorce without legal assistance, follow these steps:
Collect and fill out all the necessary court forms
File the paperwork with the court
Pay a filing fee (or request a fee waiver if you don't have enough money)
Serve the divorce papers
Draft a divorce settlement agreement
How To Create a Divorce Settlement Agreement Using DoNotPay
DoNotPay is the cheapest way to draft a divorce settlement agreement in a few clicks. We will help you draw up a mistake-free document tailored to your needs specifically.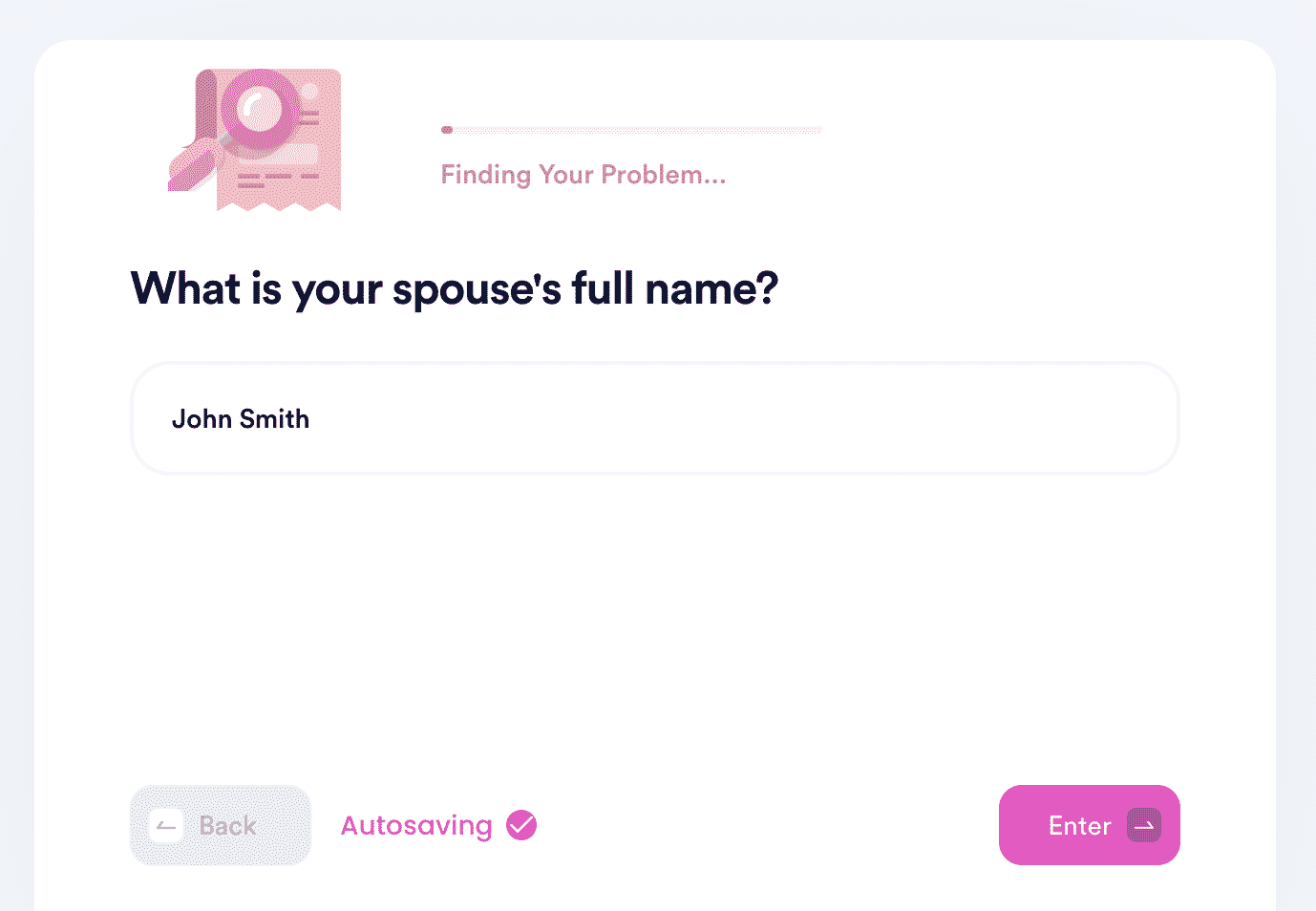 All you need to do is and follow these instructions:
Open our Divorce Settlement Agreement product
Provide all the information our chatbot needs, such as:

The date of your wedding
Your spouse's name, address, etc.
The place where you got married

Indicate how you want to allocate your financial assets
We will generate your personalized divorce settlement agreement automatically, and all you need to do is sign it with your partner. Once you sign it, you need to get the settlement agreement notarized. If you don't want to spend hours on the internet looking for an Arkansas notary, DoNotPay will connect you with an online notary public quickly and hassle-free.
Deal With Your Problems Like a Pro With DoNotPay
Looking for an app that's got enough features to solve any issue you're facing? Look no further—DoNotPay has got your back! Whether you can't sleep from your noisy neighbors or you want to connect with your locked-up relatives, we'll be able to help. We'll bring justice to any person or company that has wronged you and take them to small claims court for you.
The robot-lawyer app can generate numerous legal documents in your name, including:
Once you receive the documents, we can set you up with an online notary so you can get your agreements notarized from the comfort of your home.
Possibilities With DoNotPay Are Endless
DoNotPay stands out not only by the quality of products it offers but by the sheer amount of features it boasts. Check the table below out to see only some issues we can help you resolve: