Where Can I Find Cheap Dentists Near Me?
They say statistics don't lie, and as such, according to a recent survey, an estimated one-fifth (about 50 million) of the American population can't afford decent healthcare services. Regrettably, this has an enormous negative effect on the dental health of these low-income Americans. Most of these lack insurance, while those who have don't have coverage for dental costs.
Fortunately, there are many federal, state, and local programs geared towards helping these low-income individuals or families access medical care, including dental care, for free or at a reduced cost. But it's not easy to find one that meets your requirements/needs. Therefore, the team at DoNotPay is dedicated to providing resources on where/how to find these essential free dental clinics/programs, as well as helping you access the services more straightforwardly. And for today, we want to show you how you can get to see a cheap dentist near you. Let's get started.
Why Oral Health Is Important
It's easy to think that your oral health has nothing to do with your overall wellness. However, studies have proven beyond doubt that poor dental health has an adverse effect on the person's overall health, including connections to heart disease, pneumonia, and premature/underweight births.
Free and Low-Cost Dental Care in Your State or County
People with no insurance or those looking for affordable dental care can get aid from the many free or reduced-cost dental clinics spread across the country.
Free dental clinics offer the services for free and tend to focus on special groups in the community like senior citizens, people with disabilities, vulnerable children, or individuals with severe medical conditions but cannot afford to pay. On the other hand, some may require you to pay part of the bill — a popular method that is used is the sliding scale which considers the household income, and therefore, one only pays what they can.
Some of the locations where you can get dental care service for free or at a cut cost include:
| | |
| --- | --- |
| Federal and State Programs for Low-Income Families | There are numerous government healthcare subsidy programs, such as Medicare, Medicaid, Children's Health Insurance Program (CHIP), or the Affordable Care Act, that target poor or low-income families. Free/reduced-cost dental clinics and centers often work closely with these federal and local government programs to offer dental care to eligible individuals. |
| Dental Hospitals and Schools | These can include universities, teaching hospitals, and dental schools. Under close supervision of fully qualified/licensed dentists/hygienists, training dentists and hygienists provide the required oral care to patients. While this ensures high-quality services, it as well provides the students with much-needed experience. |
| Oral Clinics and Health Care Centers | The Health Resources and Services Administration (HRSA) through the Federally Qualified Center (FQHC) or RHCs (Rural Health Clinics) provides financial aid to local and community health centers within your city, county, or town. To reciprocate the assistance, these clinics and centers offer the community various free and low-cost healthcare services, including dental care. Additionally, some clinics are run by charity organizations or faith-based groups. |
| United Way and Other Non-profit Organizations | Almost every state has at least one non-profit agency that helps vulnerable and low-income members of the community access free or low-cost healthcare services, which often includes dental care. |
Services Provided by Cheap Dentists
All free and affordable dental clinics offer a range of oral services, which can include:
Cleanings and checkups.
Preventive care.
Many community health centers provide pediatric care.
Minor surgery, e.g., root canals, fillings, crowns, etc.
Some may offer comprehensive care like x-rays, tooth replacement, and dentures.
These dental clinics can also help connect you with other assistance programs or refer you to specialists.
Find a Cheap Dentist Near Me
The fact is that you have first to find a dental clinic offering free or subsidized dental services. Another thing is that every state and clinic is different. Therefore, you need to reach or visit them to inquire about your eligibility, the dental care services they offer, and how much you'll need to pay (if need be). You can do this on your own through one of the following
Get in touch with the American Dental Association on 312-440-2500 to find a dental school near you that may be offering a dental care service you require.
Visit the HRSA website dedicated to matching a healthcare center, depending on your location.
Visit the United Way website or call 211 for assistance finding affordable healthcare.
Use DoNotPay to Find a Cheap Dentist Near Me
Your oral health should be a priority, and therefore, you shouldn't allow your current status to get in the way. Our goal at DoNotPay is to connect you with a free or reduced-cost dental care clinic near you successfully and fast.
Here's how you can use DoNotPay to find free dental clinics:
1. Go to the DoNotPay website and search "dentist" on DoNotPay products.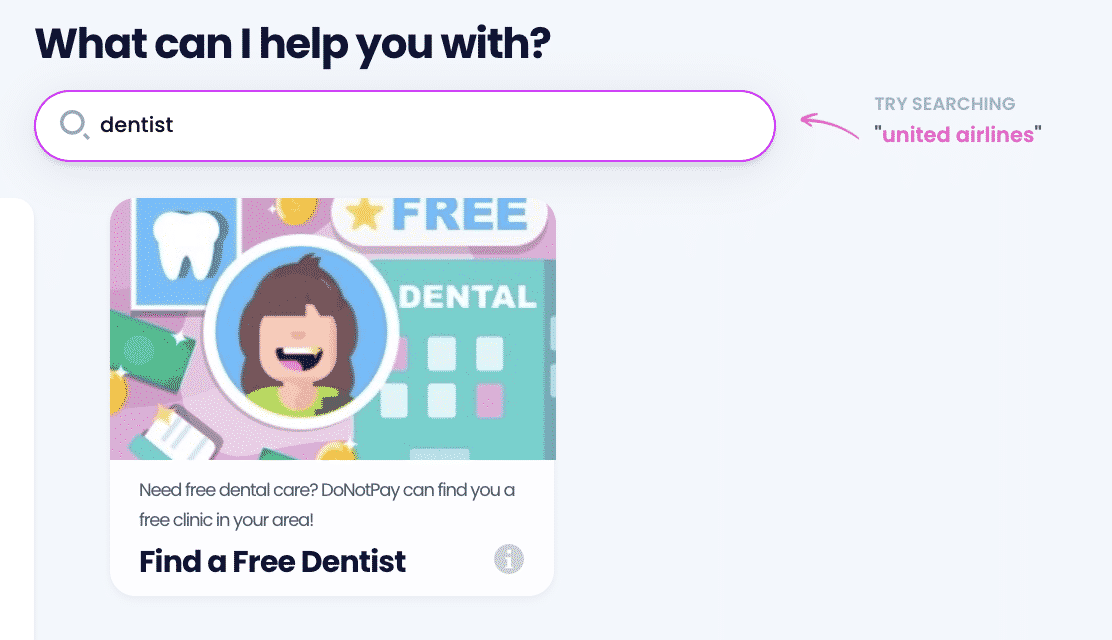 2. Enter your current address, so we can find the clinic nearest to you.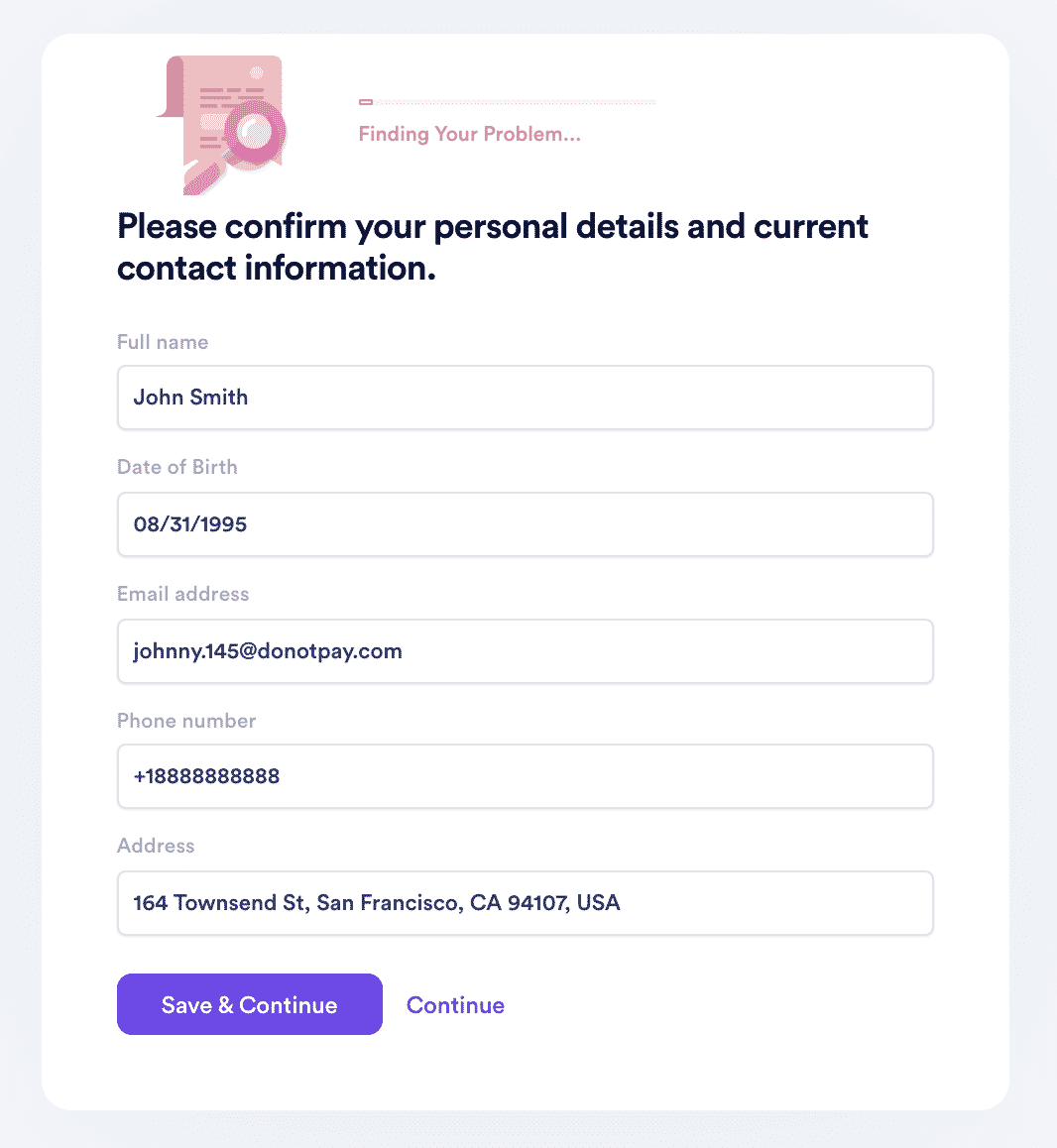 3. Next, choose if you would like to ask a question about your eligibility, receive a quote for a specific procedure, or set up an appointment.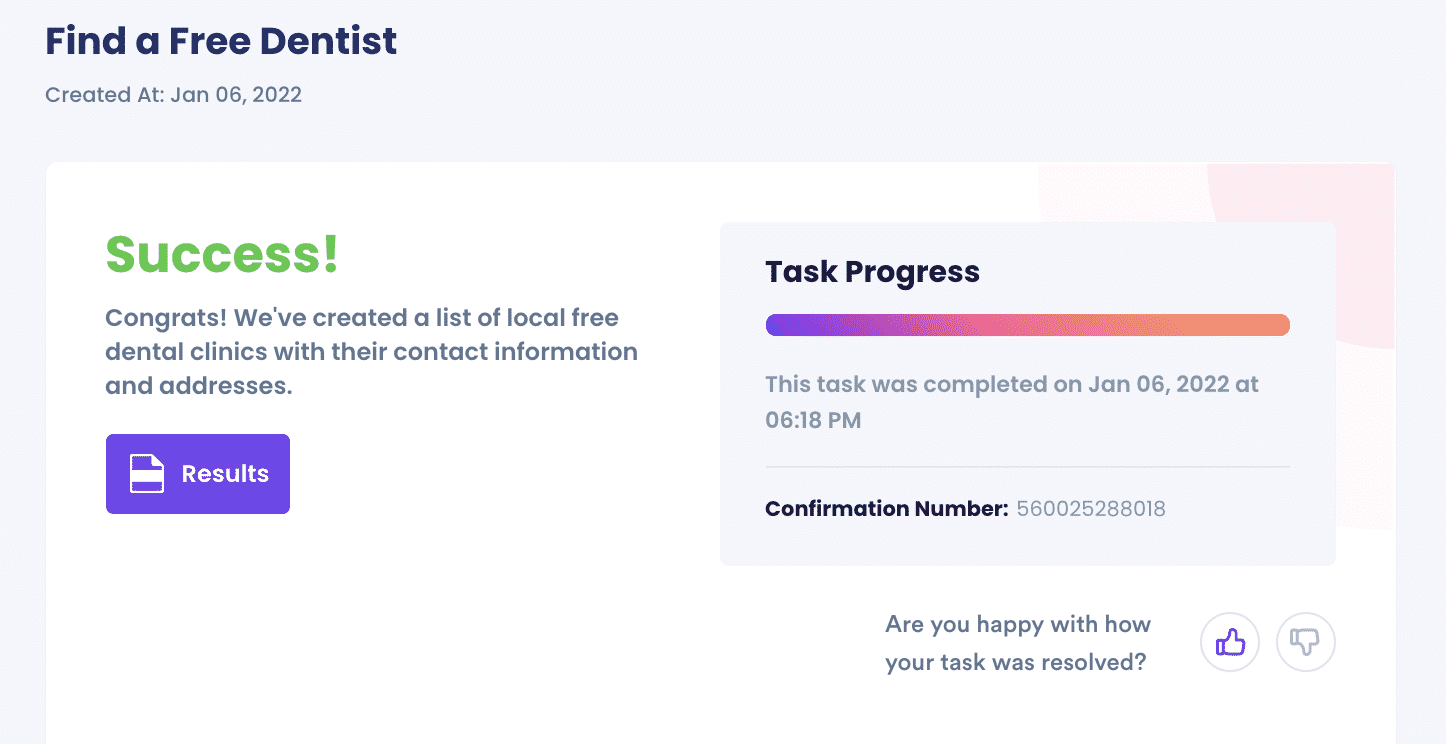 And that's it! DoNotPay will contact the clinic on your behalf and get back to you with the information you requested.
Why Use DoNotPay to Find a Cheap Dental Care
The reason why DoNotPay has been successful with its continued service is due to to the fact that its:
Fast—You don't have to spend hours trying to solve the issue.
Easy—You don't have to struggle to fill out tedious forms or keep track of all the steps involved in solving your problem.
Successful—You can rest assured knowing we'll make the best case for you.
How Else Can I Use DoNotPay?
The struggle thousands of Americans go through to access affordable healthcare and other essential services gives us that push to keep inventing more efficient ways to solve day-to-day problems. Sign up today to access free dental care and other services, including:
And much more!