How to Search for an Inmate at Chatham County Jail Quickly
Chatham County jail is situated in Savannah, Chatham County, Georgia. This medium security facility began operations in 1990 with a bed capacity of 2000, reaching the maximum capacity for such a facility. The facility handles adult prisoners (18 years and above) under the supervision of the Chatham County sheriff's department and over 115 personnel.
If you are looking for an easy and stress-free way to search and link with your imprisoned loved one in Chatham County Jail, we can help. Whether you need to write to them, address letters appropriately, pen palling, or visit, DoNotPay has all the information you need.
Chatham County Jail Contact Info
Maintaining contact and constant communication reduces the inmate's emotional drain caused by the prison experience. Further, the inmate is less likely to repeat their offense, plus they can use a little more love from you.
To conduct a Chatham County Jail inmate search or contact, here is the information you might need:
Physical address
Chatham County Detention Center

1050 Carl Griffin Drive, Savannah, GA, 31405

General Tel No
912-652-7795
General Fax
912-652-7660
Official Website
Chatham County Jail 
Official Chatham County Inmate Search
Inmate mailing address
Inmate Name and Prison ID number, Chatham County Detention Center, 1050 Carl Griffin Drive, Savannah, GA, 31405
How to Contact Inmates at Chatham County Jail
To maintain contact with a Chatham County jail inmate, there are several ways you can use, including:
1. Phone calls
Inmates in this facility are allowed to make outgoing phone calls. However, they'll have to fund the phone calls if they make direct calls, while you have to incur the phone cost should they make a collect call. 
Various third parties provide calling services in the county jail.
2. Visitations
You are allowed to visit your loved one any time of the week:
Weekdays: 7.30 am  - 9.00 pm
Weekends: 7.30 am - 2.30 pm
Before your visit, ensure you contact the prison personnel to book the visit and get more vital information, especially visitation regulations, such as what to wear, bring along, and behave during the visit.
How to Send Money to Chatham County Jail Inmates
Even Chatham County jail inmates need to buy supplies other than what you are allowed to send. The facility provides commissary accounts for all inmates where they can receive funds from their families and friends.
The various methods of sending money include:
Phone deposits.
Deposit personally at the prison's kiosk via credit and debit cards or cash.
Online deposits via third-party companies such as JPay.
Use a money order through a creditable financial institution, Western Union, or US Post Office.
Once you deposit the funds, they'll appear in the inmate's account after a few hours.
How to Send Mail/Packages to Chatham County Jail Inmates
The inmates can send and receive mail. It's vital that when you are sending mail, be sure to include the inmate's full name and prison ID number. If you don't know the inmate's number, contact the prison personnel or use the official inmate search website.
Use the same mailing address when sending packages to the inmate. Chatham County Jail has strict rules on the acceptable packages inmates can receive.
What you are allowed to send:
Photos
Letters
Books
Care packages (personal hygiene products)
Publications, magazines, and Newspapers
Greeting cards and postcards
Clothes and shoes for court appearances
What you shouldn't send:
Jewelry
Pens
Weapons
Drugs and substances
Metallic objects
Foodstuffs
Steps to Take Before Calling or Writing to a Prisoner
While it's possible to search and connect with Chatham County jail inmates, there are a few things you need to note:
Always include the inmate's full and correct name and prison ID number in all mail and packages.
Be ready to incur phone charges for collect calls.
Adhere to the strict set rules when visiting and communicating.
Contact the prison personnel before visiting or mailing anything to set the visits, know the acceptable things to bring alone, or make any vital inquiries.
The inmate will accept anything you send to them to make their lives bearable. However, only the prison personnel can approve it, so ask first.
Whatever packages or mail you send will be opened by the personnel to check for contraband and if it's acceptable or not.
When you have all this information, you are good to go.
Roadblocks to Contacting Your Loved One in Chatham County Jail
While connecting with Chatham County jail inmates is vital, you are bound to face some challenges along the way.
While there are numerous challenges, the most common include:
Bureaucracy from the various departments.
Use of technology when depositing funds and visit booking might be challenging if you aren't tech-savvy.
High connection and communication-related charges.
Slow-moving mail since the prison personnel must scrutinize each mail and package.
These challenges can bar you from searching and contacting your loved one inside the prison. Fortunately, DoNotPay has developed an easy-to-use and effective product to get past these challenges and link up with the inmates. 
Search and Contact Your Imprisoned Loved One via DoNotPay Easily 
Connecting with your loved one in Chatham County jail can be challenging. To make it possible for you and other families, DoNotPay has developed an effective product that you can use stress-free.
From your web browser, head to our online portal and follow the following easy steps:
1. Locate the Connect With an Inmate service on DoNotPay.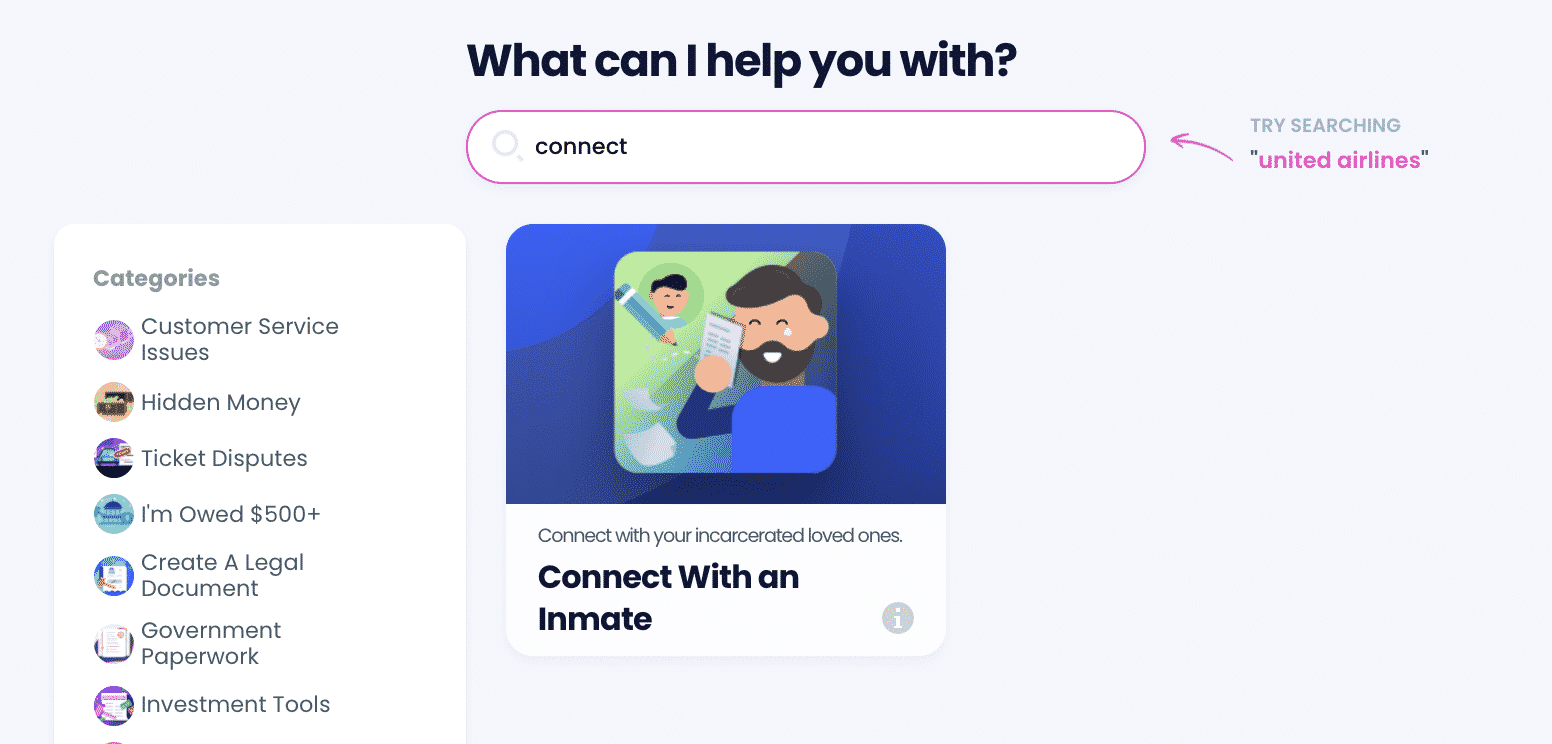 2. Choose whether you want to locate a loved one, create a virtual mailbox, or send a personalized letter.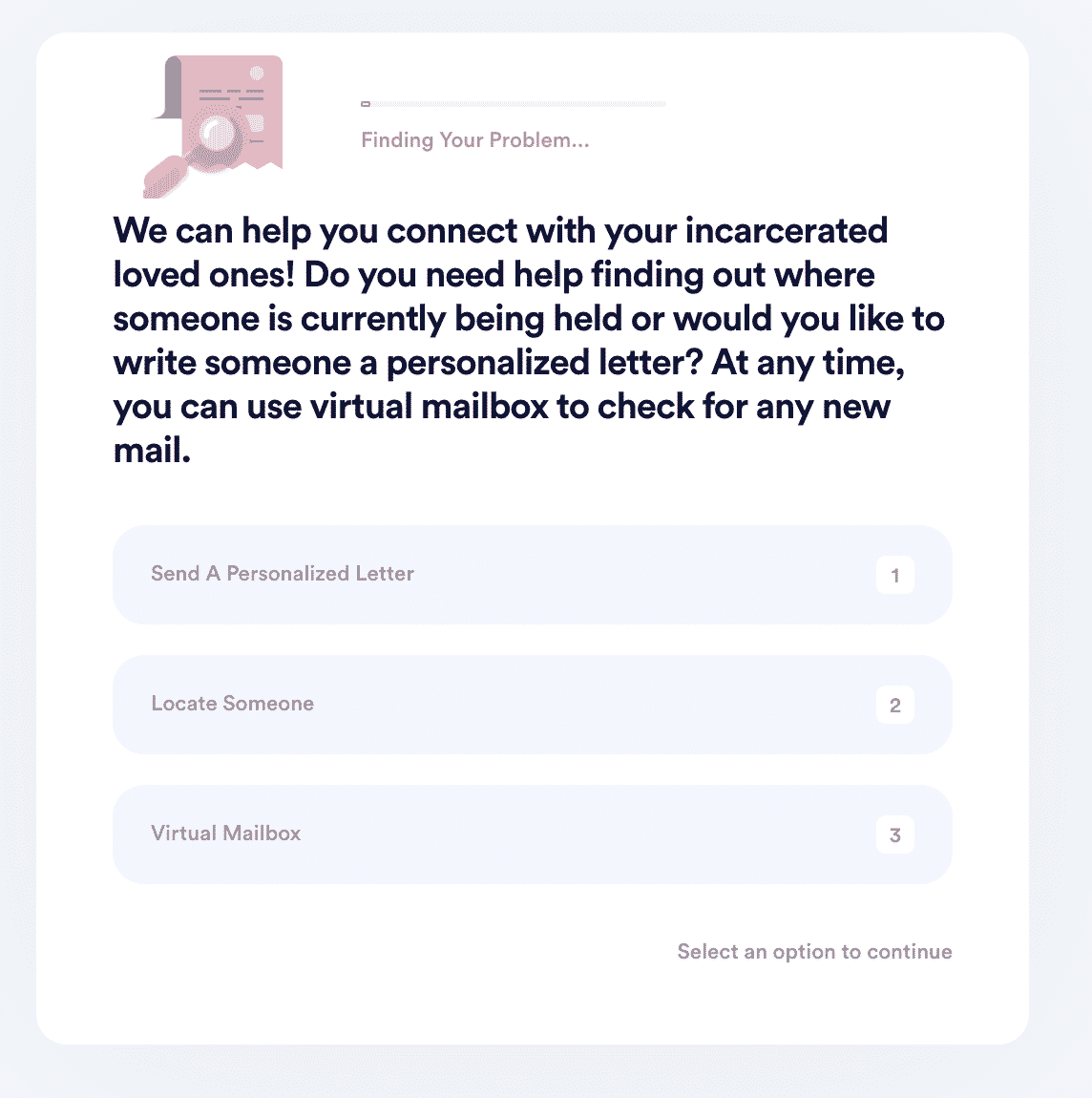 3. If you want us to find your loved one, provide his or her personal details and the state they are located in. We'll then conduct a search on the appropriate state database.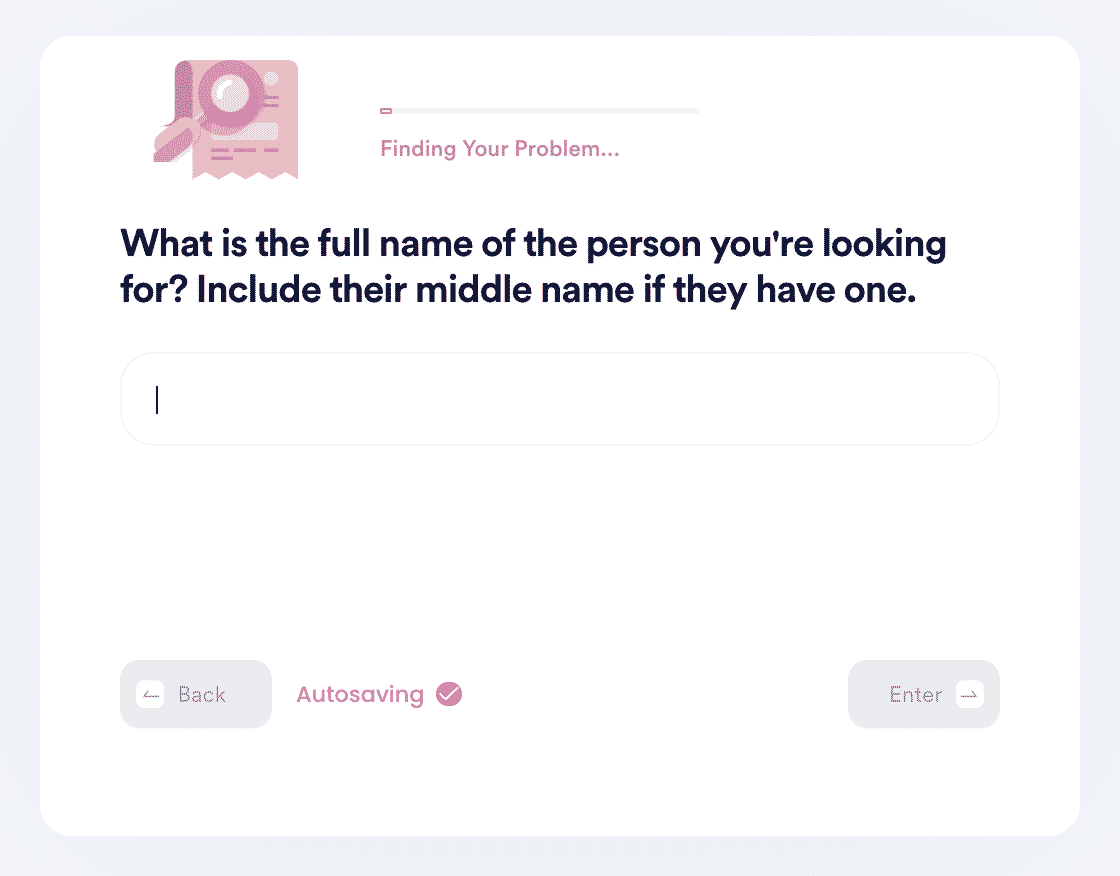 4. If you want to create a virtual mailbox, just provide your full name! We'll set one up for you so you can easily receive incoming mail from your loved one.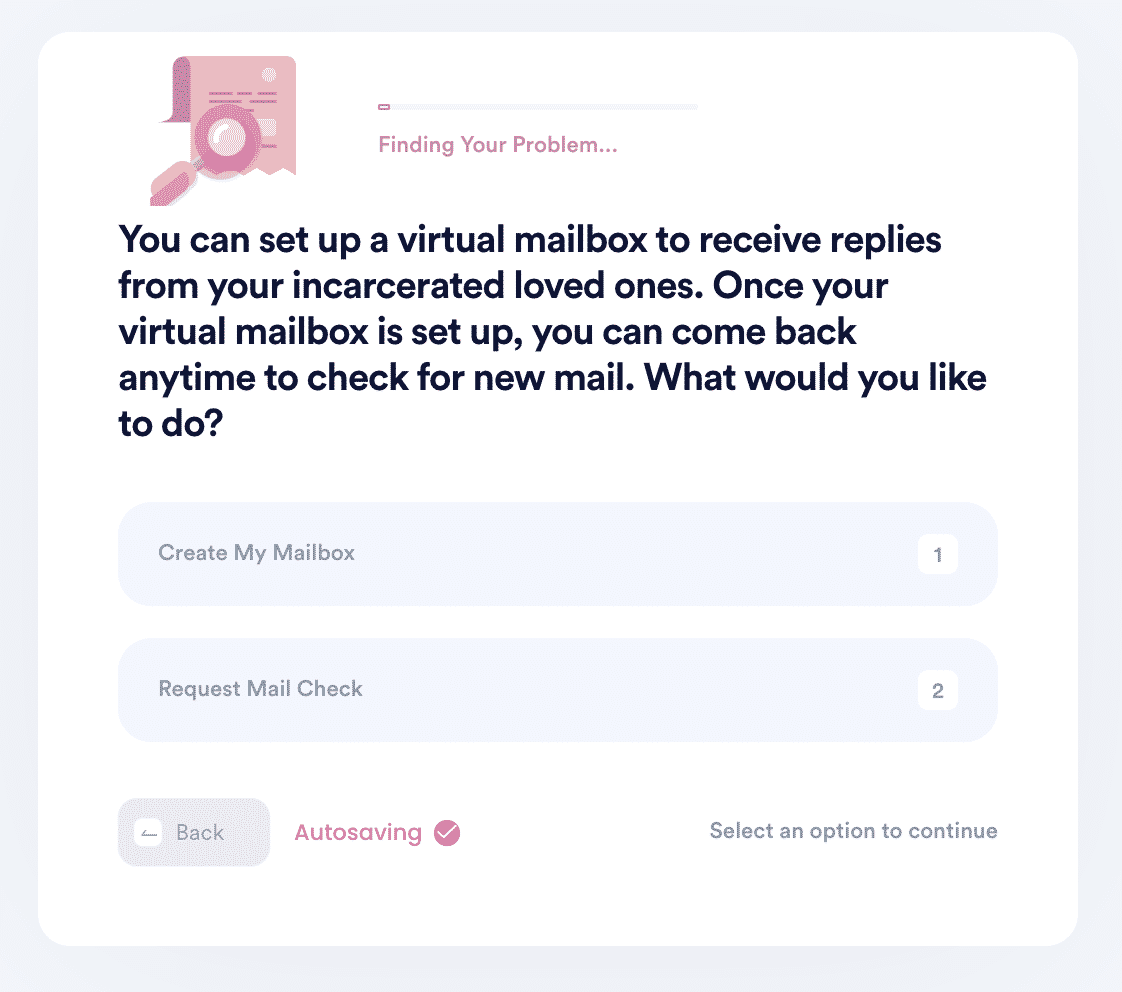 5. If sending a personalized letter, tell us which facility your loved one is located in and what you would like to say to them. You can even include a photo! Your letter will be delivered automatically - just wait 10 days for it to arrive for your loved one!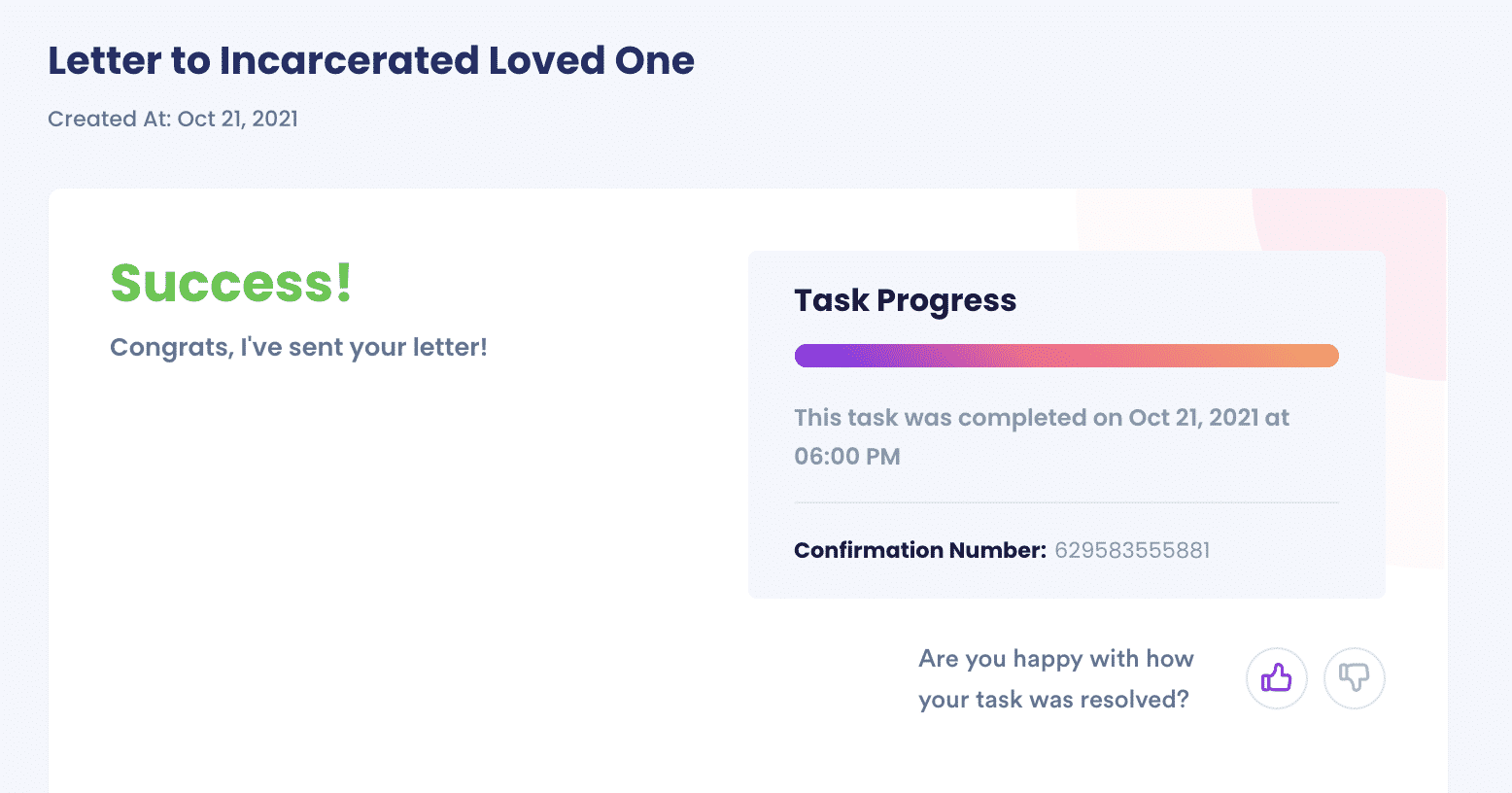 You Can Do So Much More With DoNotPay
There's so much more DoNotpay can do to unburden some challenges you might be facing. Helping you with a Chatham County jail inmate search is a bit of our platform's vast capabilities.
We can also help you:
These are just a few of the things DoNotPay can do for you. Join us today!