A Quick Guide to Chase Small Business Loans
The type of loan that you need or can get depends on several factors, such as your credit score and the intended use. Whether you need funding for working capital or expansion, Chase offers several types of small business loans that you can take advantage of.
In this guide, we will cover the details of the Chase small business loans to help you determine if there is an option that suits your business's budget and needs. As you submit your loan application, to get a convincing loan request letter that will help you secure the funding.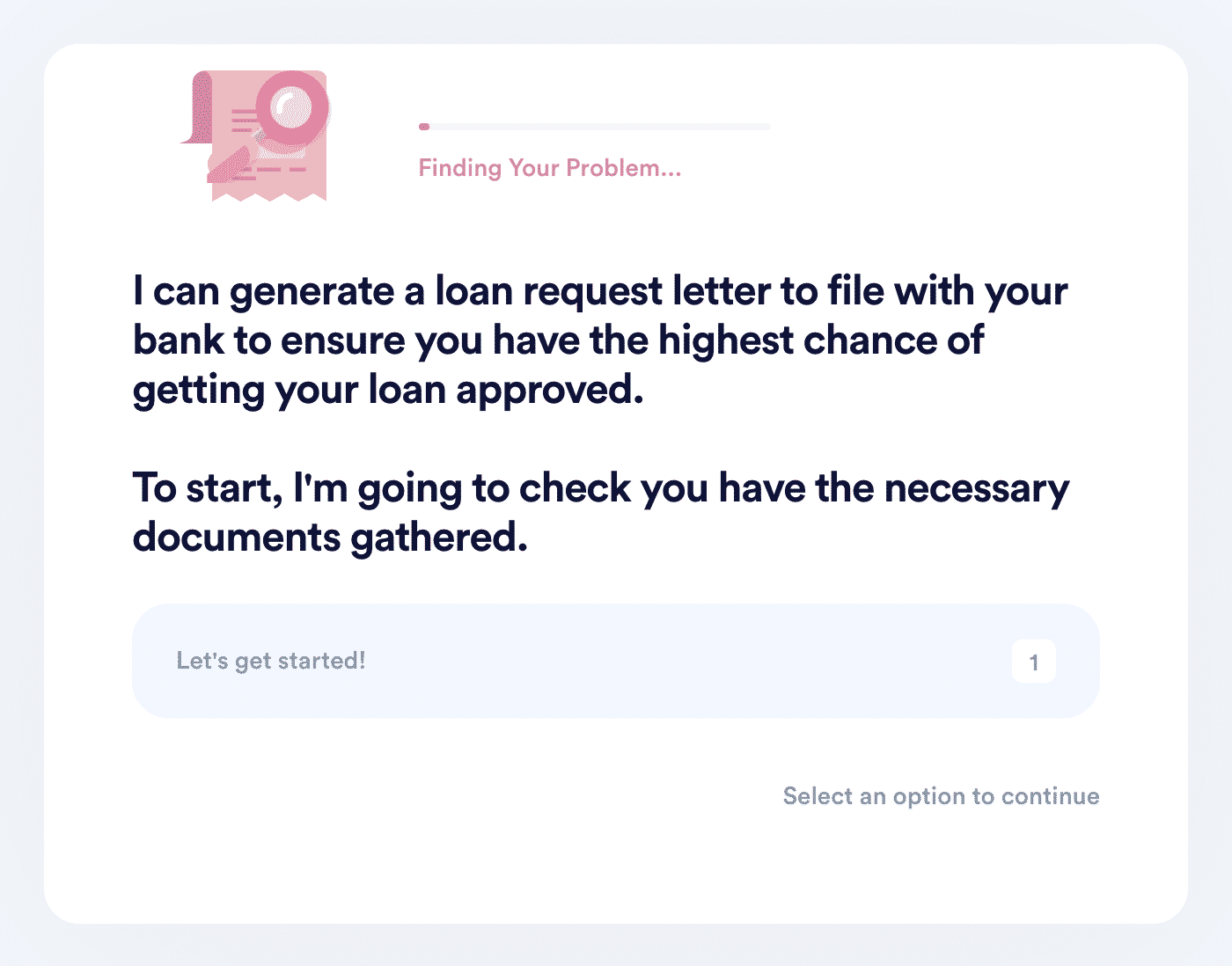 Types of Chase Small Business Loans
Chase is a commercial bank that offers a variety of business loans—both for large and small enterprises—for multiple purposes, like startup costs, expansion, working capital, and equipment purchase.
Below are the types of small business loans offered by Chase Bank:
Line of credit (LOC)
Term loans
Draw loans
Advised line of credit
Small Business Administration (SBA) loans
Line of Credit
A line-of-credit loan works like a credit card. With a line of credit, your business is awarded a credit limit on the basis of cash flow and credit score. Business credit allows you to access quick cash whenever you need it up to your credit limit. You will only pay interest on the amount you use.
Here is everything you should know about the Chase small business line of credit:
Amount awarded ranges from $10,000 to $500,000
You get a waiver on the annual fee if your usage is 40% or more
The interest rate varies depending on your credit report and collateral
You can select a monthly repayment date based on your cash flow
You should pay at least 1% of your balance and the accumulated interest every month
The line of credit is valid for five years unless it's renewed
Term Loans
A term loan gives you a large amount of money upfront, and you repay with interest over an agreed period. Chase small business term loans are best if you need to access large funding fast. The specific interest rate that you get depends on the loan amount and your business credit score.
Below is an outline of Chase small business term loans features:
Minimum loan amount of $5,000
Fixed monthly payments
Repayment periods of 12 to 84 months
Draw Loans
A draw loan allows you to borrow money for a certain period, and you start repaying the amount borrowed along with interest after the end of the set period. Chase small business draw loans are offered for up to 12 months, after which you should repay a fixed amount every month.
Advised Line of Credit
Advised loans help you cover your business purchases for a certain period, usually one year. Chase offers a pre-approved period of up to 12 months, and rates and terms are determined every time you want to make a purchase.
Small Business Administration (SBA) Loans
Small Business Administration (SBA) loans are partially guaranteed by the SBA and offered by partner lenders—credit unions and banks, like Chase. Since Chase is a Preferred Lender for SBA loans, you can take advantage of small business loans of up to $5 million through this bank.
SBA loans are best for small businesses or startups that require low interest rates and large amounts of funding. Since the SBA guarantees the loans, there is minimal risk to lenders, meaning they are more likely to approve loans—even for startups.
Every SBA loan has its own terms, including how you can use the funds, as shown in the table below:
SBA Loan
Appropriate Use
SBA 7(a) Loan Program
You can use these loans for various purposes, such as:

Business acquisition
Real estate and equipment
Working capital
Business expansion

SBA 504 Loan Program
These loans can be used for:

Real estate, facility, and equipment purchases
Building renovations

You cannot use SBA 504 loans for working capital, debt repayment, and rental real estate investment
Chase Small Business Loan Requirements
Chase doesn't offer online loan applications or a lot of details about application procedures on the official website. To get a small business loan from Chase, you need to visit a local branch. A small business loan expert will inform you about the requirements, terms, and application processes.
You can start by gathering the general documents requested by lenders, such as:
Personal credit history
Business credit scores
Business financial documents and projections
Personal resume
Business plan
Get the Help You Need To Secure a Small Business Loan
Do you meet the eligibility criteria for a particular loan? You need to ensure that you have all the documents before submitting your loan application. One of the important documents that can decide the outcome of your loan application is a request letter. A well-written loan request letter informs the lender why your business deserves the loan.
Improve your chances of getting the loan you need by letting DoNotPay help you find the right lender and draft a professional and convincing loan request letter in a minute. All you have to do is:
Find the Business Loan Request Letter tool
Answer a brief questionnaire
Upload the required documents
It's that simple! DoNotPay will automatically generate your letter and forward it to the lender in your stead.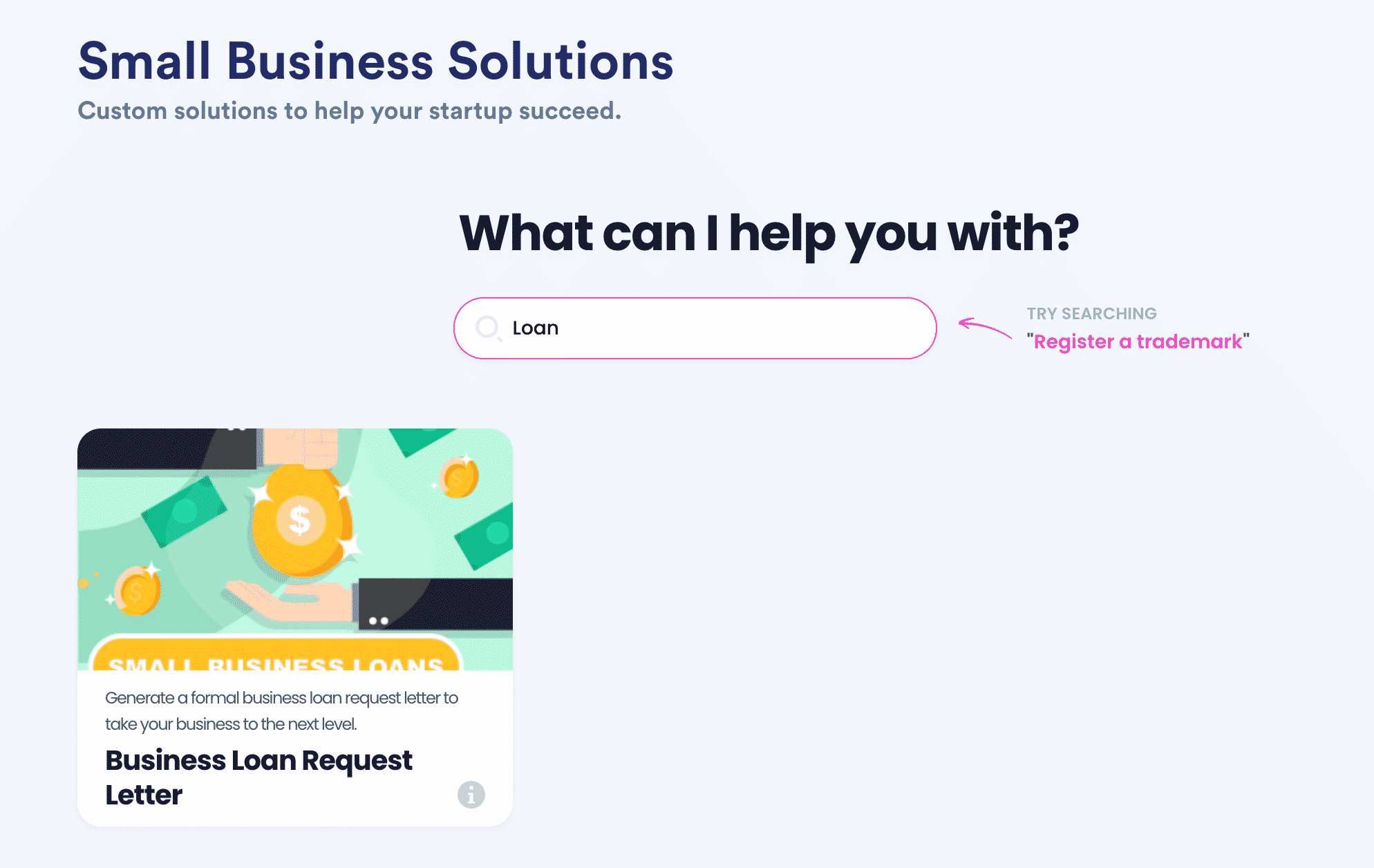 Small Business, Big Issues—Resolve Yours With DoNotPay
DoNotPay is here to offer a helping hand in your business endeavors. We can help you handle various procedures as effortlessly as possible. Want to make sure you get a small business loan for real estate purchases, job creation, debt repayment, and similar? DoNotPay is here to assist you in writing a convincing request letter! Want to make sure your employees and shareholders save money on taxes by filing 83(b) election forms? We can help with that too!
The world's first robot lawyer has a myriad of nifty features at your disposal. Use your precious time to work on your brand while we take care of most business-related issues for you. Our app can help you:
Fight unfair chargebacks
Deal with illegitimate online reviews
Send formal demand letters to clients who won't cover the cost of your services
File the self-certification request with the Privacy Shield program in a matter of clicks
Send documents to your customers or business associates from the comfort of your office with our faxing and mailing tools
DoNotPay Helps You Deal With Various Registration Processes!
One of the first tasks you should complete as a business owner is to obtain an Employer Identification Number (EIN). Applying for it is usually a tedious process unless you use DoNotPay! We can file your application on your behalf and notify you accordingly.
Does your business have a website that allows users to share or store content? An important aspect you should take care of is registering a DMCA agent, and DoNotPay is here to make the process easier!
If you wish to register your business name, slogan, or logo as a trademark but you're not sure how the process goes, rely on DoNotPay and finish your registration in no time! We can also help you protect your trademark by monitoring it every month and filing a cease and desist demand if anyone tries to steal it.